Montecito Firefighters' Charitable Foundation: Providing Financial Support to Community Members in Need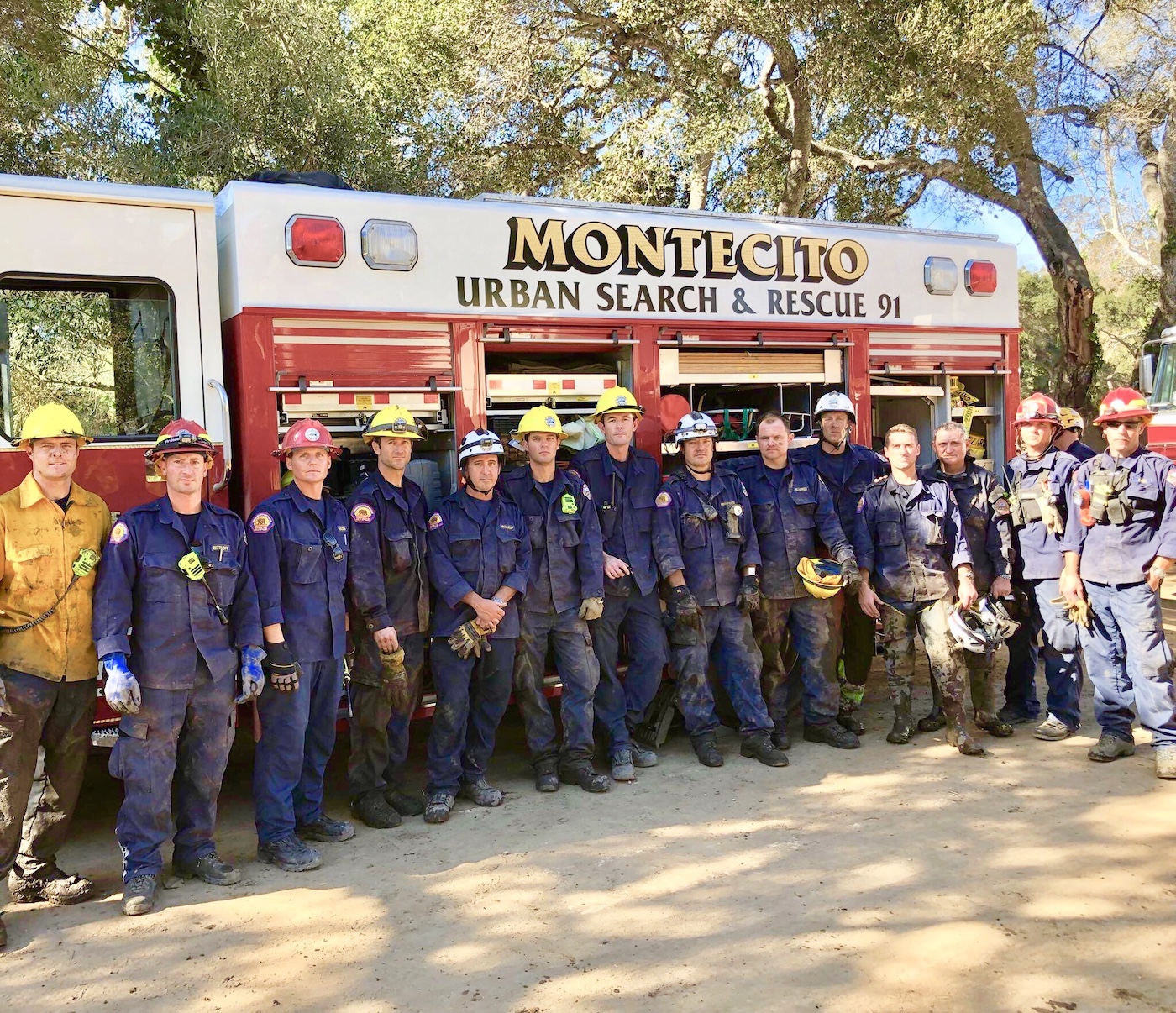 Montecito Firefighter Lucas Grant is too young to have personal memories of what it was like when local firefighters were an integral part of a community beyond responding to emergencies, but that Norman Rockwell image of the local firehouse as a friendly and helpful gathering place still pulls on his heart.
"I hear stories about firefighters and the firehouse back in the old days where people would come over just to socialize, kids could come in to get their bike tires changed, that sort of thing," Grant said. "Firefighters were just part of the community."
The days of dalmatian mascots leading horses pulling pumper wagons to a house fire are long gone, but for Grant, community connection is an important factor for the local force who now a part of the first responder team responding to all sorts of emergencies, from wildfires and debris flows to injured hikers needing to be rescued from a trail or someone suffering from a heart attack.
Which is why he was eager to join four other current members of Montecito Fire on the board of the Montecito Firefighters' Charitable Foundation when the now 15-year-old nonprofit was revamped in 2017.
The foundation started as a benevolent fund aimed at aiding a Montecito firefighter who was battling cancer by alleviating some of the burden of his medical bills, then broadened to give out a couple of smaller grants each year, but had floundered four years ago to where its nonprofit status was threatened for lack of activity, Grant explained. With the reconstituted board, the foundation not only revived its activities of helping Montecito firefighters and their families in times of need, but also reaching out to the larger firefighting community.
In recent years, the foundation partially funded college tuition for a firefighter's child, sent dollars to Arizona to support the families of 19 Granite Mountain Hotshots who perished in an inferno, and once again helped with the medical bills of another wildland firefighter facing cancer treatment.
What's more, the revamped Montecito Firefighters' Charitable Foundation has moved beyond aiding its own to offering financial comfort to community members who aren't directly connected to the firefighting families, giving rise to the purpose expressed on its website: "We use lights and sirens to respond to your calls; We use our foundation to reach out beyond that."
"We are happy to be able to help victims of natural disaster, burn victims that are in our community, and children in our community who need assistance," Grant said, noting that MFCF has donated to the Gwendolyn Strong Foundation and provided funds to a man in Carpinteria whose garage fire forced him to find new housing temporarily. "We have some good leeway to donate to people who just have experienced some tragedy where we can help out."
Indeed, a current goal is to make it easier for locals to let the foundation know they are in need, Grant said.
"We're trying to streamline things and set up an online application program so anybody can let us know they could use some help," he said. "It's always been an internal thing, but we're trying to make it easier for more people in the community to access our website and then be able to submit an application. We want to be able to get to people when they're dealing with a really stressful situation so we can alleviate a little bit of their stress by taking some of the financial worry out."
The foundation is just an unpaid side gig for the board members, who are all active Montecito firefighters that spend working hours responding to emergencies. That explains why making things more formal and marketing the foundation isn't a top priority. But it also explains why the organization's overhead is so miniscule that nearly every dollar donated to MFCF goes straight toward helping people.
All of which just strengthens that goal of community connection.
"I worked for another community before coming to Montecito, and there was a real disconnect, with nowhere near the support we get here," Grant said. "We have pretty much everything that we need. The people that we serve are incredible and they show us such support all the time, from everyday interactions, waving at us when we're driving by, and being so appreciative of what we do. We're so grateful, and that just drives us to just want to reciprocate as much as we can. We just really love our community. We want to do more than just respond to a call."
Montecito Firefighters' Charitable Foundation's website is https://montecitofirefightersfoundation.com. Call Aaron Briner, president, at (805) 895-7896.
Donate now!
Mission
The Montecito Firefighters' Charitable Foundation is based in Montecito, California. It was created by members of the Montecito Firefighters' Association in 2006 as a mechanism for providing assistance to members of our firefighting family and community. Our board members are active duty firefighters dedicated to serving our community in all ways possible.
Begin to Build a Relationship
We know you care about where your money goes and how it is used. Connect with this organization's leadership in order to begin to build this important relationship. Your email will be sent directly to this organization's director of development and/or Executive Director.
Well-Earned Trust
The beauty of our foundation is we don't have anybody to pay," says Secretary Shawn Whilt in explaining that the Montecito Firefighters' Charitable Foundation is entirely volunteer-driven with low overhead of $15,000 per year.
The nonprofit welcomes the generosity of the community to support firefighters who put themselves on the line for all kinds of emergencies. In the same way that you can trust Montecito's firefighters with your life, you can also trust the foundation with your donations.
Key Supporters
Bob and Joan Hollman
Robert Kemp and Melinda Goodman-Kemp
Kind World Foundation
Connie Frank
Diane Boss
Sally Jordan
Merryl and Chuck Zegar
Julianna and Tom Dain
Jeffrey C. Barbakow and Margo Baker Barbakow
Lillian Lovelace
John and Coco Marsala
Peter and Gerd Jordano
Richard and Connie Kennelly
Beverlye and Bob Fead
Jeffrey and Hollye Jacobs
Chauncey and Marion D. McCormick
Family Foundation
Wood-Claeyssens Foundation