Preparing for a Sparkling Anniversary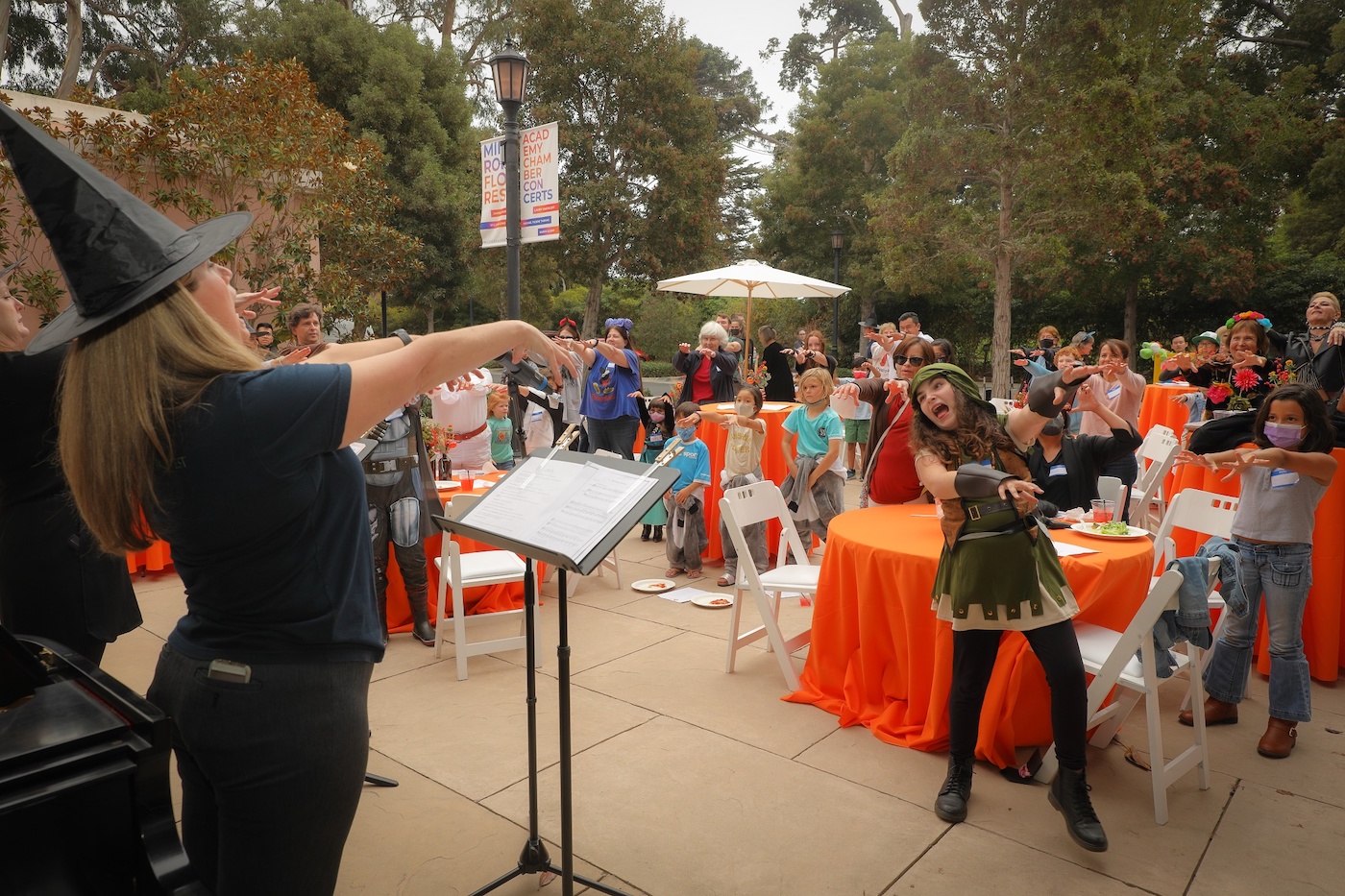 To many, the 2021 Music Academy of the West Summer School and Festival was nothing short of a miracle. Despite the need to plan well in advance of the state's reopening in mid-June, MAW not only managed to pull off a spectacular hybrid season that brought more than 100 fellows from around the world to once again study and make music together in person on the Miraflores campus in Montecito and at the Granada Theatre downtown, but also allowed for quick adjustments to turn a few additional planned online-only events into live concerts for the audience.
The season, which featured upward of 70 events, was nothing short of a testament to the healing power of music-making, determination and, pun intended, fellowship. Now, as fall gives way to winter, MAW — which in 2020 created the unique and wildly successful virtual version of the summer festival called MARLI (Music Academy Remote Learning Institute) during the height of the pandemic lockdown — is hard at work continuing to prepare for 2022, which marks the Academy's 75th Diamond Anniversary.
It's a moment to reflect on the astonishing accomplishments of the past, particularly under the administration of President Scott Reed, whose decade-plus long tenure has seen a groundbreaking four-year partnership with the New York Philharmonic followed by a new international one with the London Symphony Orchestra, both of which hugely contributed to elevating the Academy's prestige and appeal, producing a 34% increase in fellows applications from around the world. Other efforts have resulted in the creation of the Mosher Guest Artist Program bringing classical stars to campus, a new solo piano competition in collaboration with Steinway & Sons, a series of new initiatives that include the Alumni Enterprise Awards, the Classical Music Evolution/Revolution Conference, and a dedicated effort at commissioning new works and residencies from living composers.
On the local front, Reed and MAW have made good on their promise to prioritize our own community, recognizing that engagement is a critical part of the Academy's mission. The Community Access Program provides subsidized $10 adult tickets and free admission for children to all MAW performances all year, while the Sing! children's choral program continues a spiky growth spurt, with a monumental next step of collaborating with Young People's Chorus founder/artistic director and MacArthur "Genius Award" Fellow Francisco Núñez to strategize the growth of Sing! and who will serve as advisor to MAW's artistic team.
All of this, of course, takes money to produce, and the Music Academy is almost as innovative in its fundraising as the institute is in its artistic endeavor. The date of this issue's publication happens to coincide with the launch of its latest campaign called "A Winter Season of Giving," consisting of an exciting online auction and a brand-new community event dubbed "Holiday Magic," both presented by the Music Academy of the West Women's Auxiliary, who produce the annual gala and, previously, the now-defunct May Madness sale.
The auction, which runs December 2-18, boasts a collection of coveted works by area artists that will also be on display at Lehmann Hall on the MAW campus from 1-4 pm daily. Three of the artists — Stanley Boydston, Connie Connally, and Kerrie Smith — found inspiration for their work in October at a solo piano performance of 2013 Academy alumnus Jacopo Giacopuzzi at Lehmann Hall, while local favorites Mara Abboud, Sherri Belassen, Colette Cosentino, Dorothy Churchill-Johnson, Doug DaFoe, Karen Frishman, Rafael Gaete, Ruth Ellen Hoag, Rod Lathim, Karen Lehrer, Paulo Lima, America Martin, Nicholas Mayfield, R. Nelson Parrish, and Joan Rosenberg-Dent are also represented. 
The artwork is augmented in the auction by a number of luxurious packages — several with direct MAW connections — well timed for holiday giving as the auction closes a week before Christmas. The headline package up for bids is a once-in-a-lifetime trip to the Maldives for a stay in a private villa that includes admission to an exclusive performance of Georges Bizet's Carmen by a cast comprised exclusively of Music Academy alumni. Also unique is a party for up to a dozen guests with MAW president/CEO Scott Reed featuring a tapas menu with music by a guitarist, plus a package of four premier tickets to each of the MAW-sponsored London Symphony Orchestra concerts conducted by Music Director Sir Simon Rattle as part of the LSO's landmark Santa Barbara residency next March launching MAW 75 — including access to rehearsals and an exclusive event with LSO musicians.
Other exciting auction items include a five-night stay at the private Ocean Reef Club in Florida with all the amenities; a 10-course wine pairing dinner for four at Caruso's in the Rosewood Miramar Beach Hotel designed and created by Michelin-starred Chef Massimo Falsini; and the opportunity to label a barrel of Mount Veeder Magic Vineyards Cabernet Sauvignon personalized with your own label reflecting the auction-winner's story.
Holiday Magic takes place on the afternoon of the final day of the auction, Sunday, December 18 at MAW's expansive grounds at the Miraflores campus with all sorts of family activities including a sing-along with the Santa Barbara Noël Carolers, a percussion demonstration and instrument "Petting Zoo'' hosted by MAW alumnus Jonathan Wisner ('20, '21), harp music from 2013 alumna Elisabeth Zosseder, sleight-of-hand tricks by professional up-close magician Mark Collier, posing for an outdoor family photo by Katie Abbott, and tables set up for children to make their own craft kaleidoscopes. Refreshments include warm tamales from Mony's Mexican Food in the Funk Zone and donuts and hot chocolate courtesy of Crave Mini Donuts, while mixologist Shaun Belway will be pouring seasonal Glühwein (hot mulled wine), T.W. Hollister & Co. Vermouth spritzers, red and white wine, seasonal beer, apple juice, and sparkling water. Adult tickets for Holiday Magic are $75, while accompanied children under 18 are admitted free.
The auction and event both support full scholarships for the Summer Festival fellows and the Sing! children's choir program that is free of charge for all local students ages 7-11, both of which are important aspects of the MAW mission.
"The Music Academy of the West and its Women's Auxiliary hope to make a change in the lives of children right here in Santa Barbara through music," explains Judy Astbury, co-chair with Ashley Woods Hollister for "A Winter Season of Giving," noting that the county ranks third highest out of 58 in the state in the percentage of students living in poverty and No. 2 in percentage of students experiencing homelessness. "Sing! is our groundbreaking free program doing just this! We'd love your help… Come join us as champions and supporters of a most worthy cause!"
Visit www.musicacademy.org/holiday.
Mission
Since 1947, the Music Academy of the West has been making a unique and enduring contribution to the world of music by: advancing the development of the next generation of great classically trained musicians; and cultivating discerning, appreciative, and adventurous audiences.
Begin to Build a Relationship
We know you care about where your money goes and how it is used. Connect with this organization's leadership in order to begin to build this important relationship. Your email will be sent directly to this organization's director of development and/or Executive Director.
A Home for Santa Barbara's Music Lovers
We are always looking to deliver on our mission at the highest level. From the Sing! Program (pictured below) for young people in Santa Barbara to our national and international orchestra partnerships, the Music Academy's dedication to programs providing music education draws talent here from around the world and around the corner. We are also inspired to welcome and grow the audiences of the future. I love the Community Concerts that bring thousands of music lovers together every summer!
Supporting the Academy
An investment in the Music Academy of the West directly supports vital community-focused programs.
These include:
• the full-scholarship Summer School & Festival presenting more than 150 concerts and masterclasses,
• the Community Access Ticket initiative providing $10 adult tickets and free admission for young people ages 7-17 for all events,
• and underwriting for the free Sing! after-school choir program enabling children from 27 schools to explore music, express themselves, gain confidence, and collaborate.
The Academy relies heavily on philanthropic contributions from our local community to serve its mission. Please visit www.musicacademy.org/donate today to make your gift.
Board of Directors
Eileen Sheridan, chair
Philip L. Bernstein, vice chair
Jerrold Eberhardt, secretary
Ellen Barger
Dean Eric Carter
Margaret Cafarelli
Clive Chang
Ted Cronin
Meg Di Napoli
Dianne Duva
Paul Guido
Thomas Orlando
Stephanie Shuman
Maurice Singer
Warren Staley
Pamela Strobel
Tim Taylor
Patricia Toppel
Terry Valeski
Peter Ziegler