On a Mission to Address the Vulnerable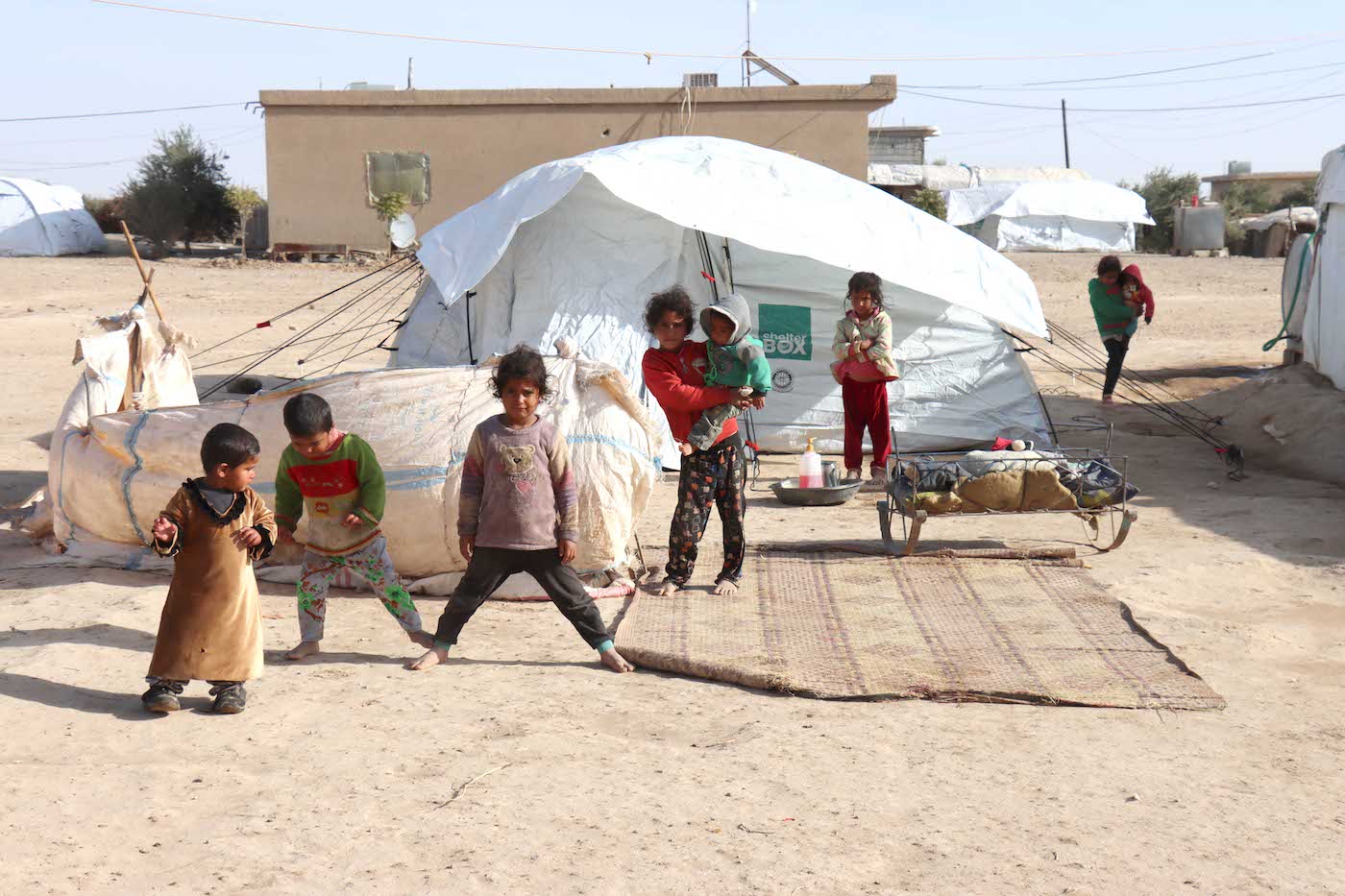 ShelterBox's reason for being is because human displacement is one of the biggest issues plaguing our planet, one that's increasing as time goes on. Over the last year, the nonprofit reports, the number of people displaced due to conflicts, natural disasters, or the consequences of climate change has grown to 113 million people, a staggering figure that represents the largest number in recorded history and an increase of more than 25 million in two years. 
As a global humanitarian relief organization with headquarters in Santa Barbara, ShelterBox works tirelessly to combat the problem, providing emergency shelter and critical household supplies to displaced families around the world, giving them a temporary home where they can begin to recover and rebuild. With disasters on the rise, and the global death toll of the COVID-19 pandemic now surpassing five million people, having a place to call home is more critical than ever for the safety, health, and well-being of displaced individuals and families.
In 2021 alone, ShelterBox delivered emergency shelter and life-saving supplies to tens of thousands of families across communities worldwide in response to 10 large-scale emergencies that included the massive earthquake that devastated Haiti in August, the Tigray crisis in Ethiopia, the twin Category 5 hurricanes Eta and Iota that displaced thousands in Honduras, the ongoing Boko Haram insurgency in Niger causing refugee camps in Cameroon to be vastly overcrowded, and the seemingly endless issues in conflict-riddled Syria, which is now in its tenth year of civil war.
The humanitarian crises are profound ones, and for the displaced population even basic human needs can turn into a hard-to-find luxury.
"We're working with some of the most vulnerable people in our world today," explained Kerri Murray, the president of ShelterBox USA who previously spent five years working with fellow Santa Barbara nonprofit Direct Relief International often on the front lines of disasters, including the 2010 Haiti earthquake, the 2011 tsunami in Japan, and the aftermath of Typhoon Haiyan in the Philippines in 2013. She found ShelterBox on site everywhere she went and saw first-hand how that organization was able to provide basic necessities to those who had been displaced.
"The premise of ShelterBox is to be there with the things that people most need to sustain life: a strong tent shelter, water purification, solar lanterns, blankets, maps, basic tools, cooking equipment," Murray explained. "If you lose everything in an instant, we put all those things you need in a single survival box so that families can focus on recovery."
Only a short time after Murray assumed ShelterBox's helm, the nonprofit's work in Syria resulted in the organization being nominated for the Nobel Peace Prize in both 2018 and 2019. And she's determined to keep building on ShelterBox's mission over its two decades-plus existence, being prepared and targeted to quickly get aid to where it's needed the most to immediately lessen the effects of a crisis, whether man made, or weather related.
Case in point: the Category 5 typhoon Rai that slammed the Philippines barely 24 hours before our conversation. Mobilizing into action immediately, ShelterBox had already delivered its all-in-one boxes to thousands affected a day later, Murray said. 
"As a country island nation, the Philippines is one of those places that are very endemic to natural disasters. So, we actually registered as a nonprofit to have a quicker response," she said. "We had a dedicated ShelterBox staff, and a warehouse filled with aid pre-positioned with 7,000 households' worth of emergency shelter aid in Cebu which we are drawing down on for this response. That's one of the ways we can really work effectively and efficiently when something catastrophic happens in our world."
Meanwhile, the COVID pandemic has only made things more precarious for those without a permanent home, as the lack of a shelter for a family forces them to fail to isolate, increasing the risk of exposure — a greater danger in those third world countries and other hot spots where vaccines are scarce, and the virus still rages.
"Like everyone our work has become much more complex, including global supply chain issues and rising costs, but if anything, the need is more urgent," Murray said. "The pandemic has even caused us to modify our aid package. Beyond the classic box and kits that we've been providing, we've adapted our aid package to include soap, hand washing basins, sanitizers, gloves, and masks."
But despite its effectiveness and resiliency, all what ShelterBox does only scratches the surface of the need around the world among the millions of displaced people. Which is why Murray is on a mission to quadruple the nonprofit's size and scope to be able to shelter a million people per year.
"The numbers are massive, and we have had to selectively choose to go to places that are some of the highest need areas with the highest vulnerabilities and work to find the most vulnerable families to help lift them up," Murray said. "We are the shelter experts in emergency response. We have incredible partners; we have incredible teams. So, really we're only precluded by our ability to raise funds."
Support from Giving List readers on any level helps, she said, whether it's providing large grants or gifts that can propel the scaling up project, a one-time $1,000 donation that covers a full ShelterBox kit complete with tent and all the peripherals, or a couple of hundred dollars that buys a cook set — "Just being able to share a hot meal together is really restorative for these families," Murray said. Even $20 or $30 to cover soap and a hand-washing basin or solar-powered lights are welcome as part of the organization's Stock the Box plan.
A tangible experience about how ShelterBox helps through a tour of the nonprofit's Summerland facility can be arranged in advance for those whose generosity gets sparked by the personal touch. But every gift touches someone in great need, somewhere in the world.
ShelterBox USA's website is www.ShelterBoxUSA.org. Marketing and Campaign Manager Carrie Baptista can be reached at (805) 608-2400.
Mission
ShelterBox is a global organization made up of people who believe in shelter as a human right – that shelter from the chaos of disaster and conflict is vital.
Begin to Build a Relationship
We know you care about where your money goes and how it is used. Connect with this organization's leadership in order to begin to build this important relationship. Your email will be sent directly to this organization's Director of Development and/or Executive Director.
Life-Saving Shelter
"I serve as a ShelterBox Response Team (SRT) member, am chair of the Board of Directors for ShelterBox, and am a longtime donor myself. I see directly how efficient, effective, and transparent we are with donor money. I also witness how those charitable dollars translate into life-saving shelter and supplies to families who have lost everything in disaster and conflict situations. Donors truly make the work of ShelterBox possible."
Meeting a Global Crisis
ShelterBox currently spends about $20 million a year globally to provide a quarter of a million people the shelter and supplies to rebuild.
"Our goal is to scale to shelter one million people a year." A feat that will necessitate, as Murray says, "raising a lot of financial support. Shelter is the first in recovery and it is an area that is chronically underfunded and overlooked. Shelter is deeply connected to livelihood. When you have a place to call home, you can get back to work and your children can get back to school."
To get there requires donors like you. ShelterBox makes it easy to support the work with a registry where you can "Stock A Box" with everything a family needs to rebuild, including emergency tents. For $1,000 you can cover the cost of an entire box for a displaced family.
To help, visit: www.ShelterBoxUSA.org
Board of Directors
Katherine Fick, CHAIR, Senior Counsel – IBM Corporation
Rob Wavra, VICE CHAIR, Expert Associate Partner – McKinsey & Company
Jan Stern Reed, SECRETARY, Former Senior Vice President, General Counsel and Corporate Secretary – Walgreens Boots Alliance, Inc.
Marlise Skinner, TREASURER
Bruce Heller, President – JaRyCo Development, LLC
Mahesh Turaga, Director, Business Development/Partner Management, VS, Americas – Dassault Systemes
Samer Jaber, Dermatologist – Washington Square Dermatology
Robert Reid
Lopez Island, Washington
President, Waivunai – The Island Development Initiative
Peter Scott, Chief Executive Officer – American Academy of Optometry (AAO)
Matt Gerber, Executive Vice President of Global Business Development – Cardboard Technologies
Glenn Garrett, Managing Director – GFT Technologies
Steve Horan, Global CIO and Independent Advisor
Steven Tonkinson, Managing Director – Tonkinson Financial
Stephen Masterson, CPA – CGMA