Beyond Christmas Unity: No Off-Season for Food and Services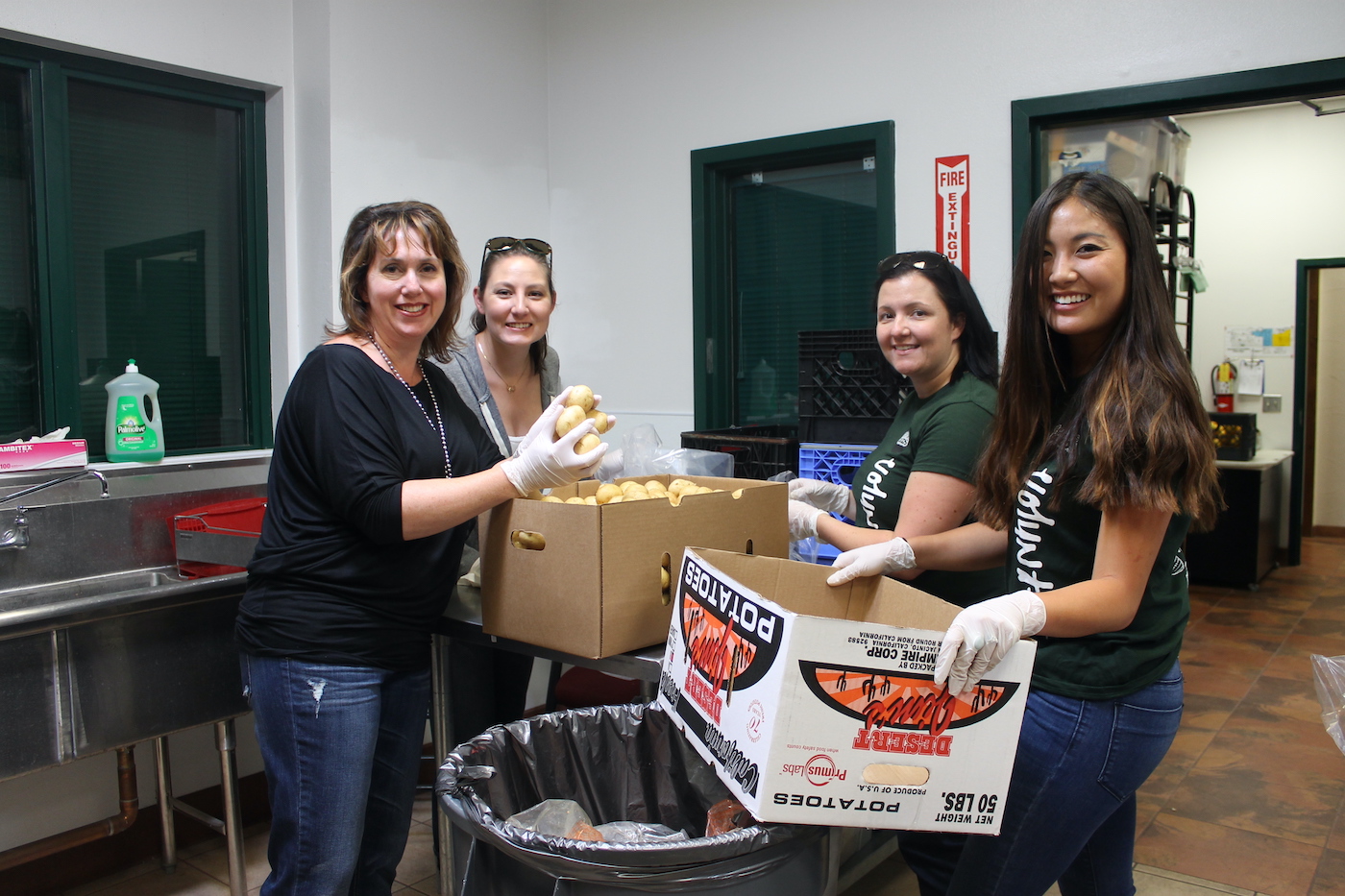 It might seem like bad timing to be writing about Unity Shoppe in the last week of the year, considering the nonprofit just held its 35th annual holiday telethon — the latest edition of the annual marathon fundraiser that airs on KEYT-TV — on December 12. After all, the event brings together all sorts of local luminaries including longtime Montecito-based Unity Shoppe supporters Kenny Loggins and Brad Paisley to encourage people to donate to fill the coffers for the organization that grew from a small charity to serve more than 20,000 people each year with free food and essentials from its downtown "store."
But as it turns out, January is more than just a time of renewal for the nonprofit, as it's also when restocking is a requirement.
"Our Quarter 4 is when everybody needs services, everybody needs food and toys and everything," explained Liat Wasserman, Unity Shoppe's director of development & communications, who assumed her position in September after working for the organization as an independent consultant for years. "We come into January 1, and we are decimated. We're depleted. We have nothing: No food on the shelves, nothing to shop for. The place is a mess and it's like we're starting from scratch."
It's not that Unity supporters stop caring when the calendar changes to a new year. But things go in cycles, especially when you've got a fundraising event as well known as the telethon.
"Everybody remembers us at Christmas," Wasserman said. "In spring when it gets warm again people are doing food drives and coming out to help us. But we've got this really dark period in between. But for our clients, their needs are not seasonal."
Of course, Wasserman and her colleagues at Unity know how to handle the situation, as decades of experience have resulted in all sorts of refinements to the process that is summed up in the organization's tagline: "Dignity. Respect. Choice." It's spelled out even more clearly in its statement that "Unity serves residents in need by providing essential services that offer them choice and preserve their dignity and self-respect."
That's reflected at Unity's Grocery Distribution Center, where its clients have the opportunity to shop in a store-like setting for groceries that support a healthy and well-rounded diet and to pick up other household necessities, personal care products and clothing at no cost.
But times are changing and so is Unity, Wasserman said.
"With the backdrop of the pandemic, some of the ways in which we do what we do have shifted," she explained. "The pandemic just reinforced that we have to be responsive to our clients' needs, not what we thought they were, but what they really need."
So, when it became clear that the decades-old model of having clients come into the store to shop excluded some of its clients, Unity and its partners developed Unity Shoppe Delivers to meet those needs, too.
"We discovered that there is a very large swath of low-income people who may not have access to a vehicle, those who are immunocompromised and people who are in multi-aged households that don't have the capabilities to come to us," Wasserman said. "Now, we are able to deliver their customized groceries and essentials to them so they can still receive our services."
What has also shifted in the wake of the COVID crisis is an increased demand for services via a spike in the number of agencies that vet and refer people in need to Unity, Wasserman said.
"When an agency such as a hospital, or social service agency, schools, religious institutions, or community center — 308 in all — sees someone or a family in need, they refer that person to us so they can get services. What's happened since COVID hit is that the list of referring agencies has grown and now even includes organizations like law firms who work with low-income clients. That's something that's brand new."
Among the other upgrades at the organization in the last year is a new digital and automated inventory program to help Unity manage its resources and keep track of the quantity of foods and other goods coming in and going out.
"We count every client who comes through the door," Wasserman said. "We count what they took off the shelves so we can manage the depletion and know how much we need to put back on the shelves."
The more accurate info made Unity realize that limiting its clients to only one visit per month wasn't meeting the need, especially during the pandemic, so in addition to the new delivery service, clients are now allowed to come twice a month if necessary.
"We don't want our clients to rely on us for services," Wasserman said. "We're here as a safety net when they hit hard times and most only come six to nine times a year. But with the pandemic, that need is growing."
Wasserman pointed out that with the pandemic still not defeated — and the Omicron variant looming ominously as winter weather creeps in — the area might be headed into another cycle of people getting sick and families needing help.
"The ripple effect on people who are low income is significant, and we want to be here for them."
So even though the wrapping paper from Christmas presents might still be in the recycling bin, it's a good time to consider supporting Unity Shoppe again, whether it's through financial gifts, donations of food and new clothing, or joining the community of almost 2,000 volunteers who come through Unity's doors every year.
"The need is year-round and every day," Wasserman said. "This is exactly the time frame when we need support, for people to remember that we're still here serving that need."
Donate now!
Mission
Unity Shoppe is dedicated to providing residents impacted by temporary conditions of poverty, natural disaster or health crisis with resources, including groceries, clothing, and other essentials, that reinforce human dignity and encourage self-sufficiency and independence.
Begin to Build a Relationship
We know you care about where your money goes and how it is used. Connect with this organization's leadership in order to begin to build this important relationship. Your email will be sent directly to this organization's director of development and/or Executive Director.
I Never Thought This Would Happen to Me
I was first introduced to Unity Shoppe when my son was volunteering for community service hours. We volunteered and worked side-by-side and saw first-hand the clients shopping with dignity by choosing items that they needed and then we watched as it appeared that they checked out at the register just like they would do in any other store but at Unity Shoppe, no payment changes hands. One of my favorite programs is Unity's Seniors Helping Seniors Center. This program provides basic need requests from hospitals, senior centers, and other organizations helping seniors who are homebound or disabled. It's no wonder why I love Unity's slogan: DIGNITY. RESPECT. CHOICE.
Taking the Legacy Countywide
Unity Shoppe is counting on the durable success of its annual telethon to continue investing in its programs and services. This includes JobSmart, which supplies low-income people with work clothes, and the Senior Resource Center, in which long-time senior volunteers knit, sew, quilt, paint, woodwork, and assemble clothes and toys to the delight and comfort of Santa Barbara's vulnerable residents. In 2023, Unity Shoppe also plans to begin serving families in north Santa Barbara County. It's a move inspired in part by Brad Paisley, who was so taken by Unity Shoppe that he brought the concept to his adopted home in Nashville. "Until now, people from north county have had to travel down to get our services," says Executive Director Angela Miller-Bevan. "In 2023, we will go to them."
Key Supporters
Patricia and Paul Bragg Foundation
Mithun Foundation
Susan and Ronald
Rodriguez Giving Fund
Golden Rule Family Foundation
John and Marcia Goldman
Bank of America Foundation
William Corbett Foundation
Maxine R. Waughtell
Donovan and Kathryn Chalfant
Santa Ynez Band of Chumash
Indians Foundation
Brittingham Family Foundation
Milton Hess
Victoria Ward
Ann Jaxson Family Foundation
MUFG Union Bank
Community West Bank
ZIA Group
Santa Barbara Foundation
Dana Newquist
Brad and Kim Paisley
Montecito Bank & Trust
Kenneth Richardson
Consumer Fire Products
Dena Stein