Camp Chit Chat Applications Are Open!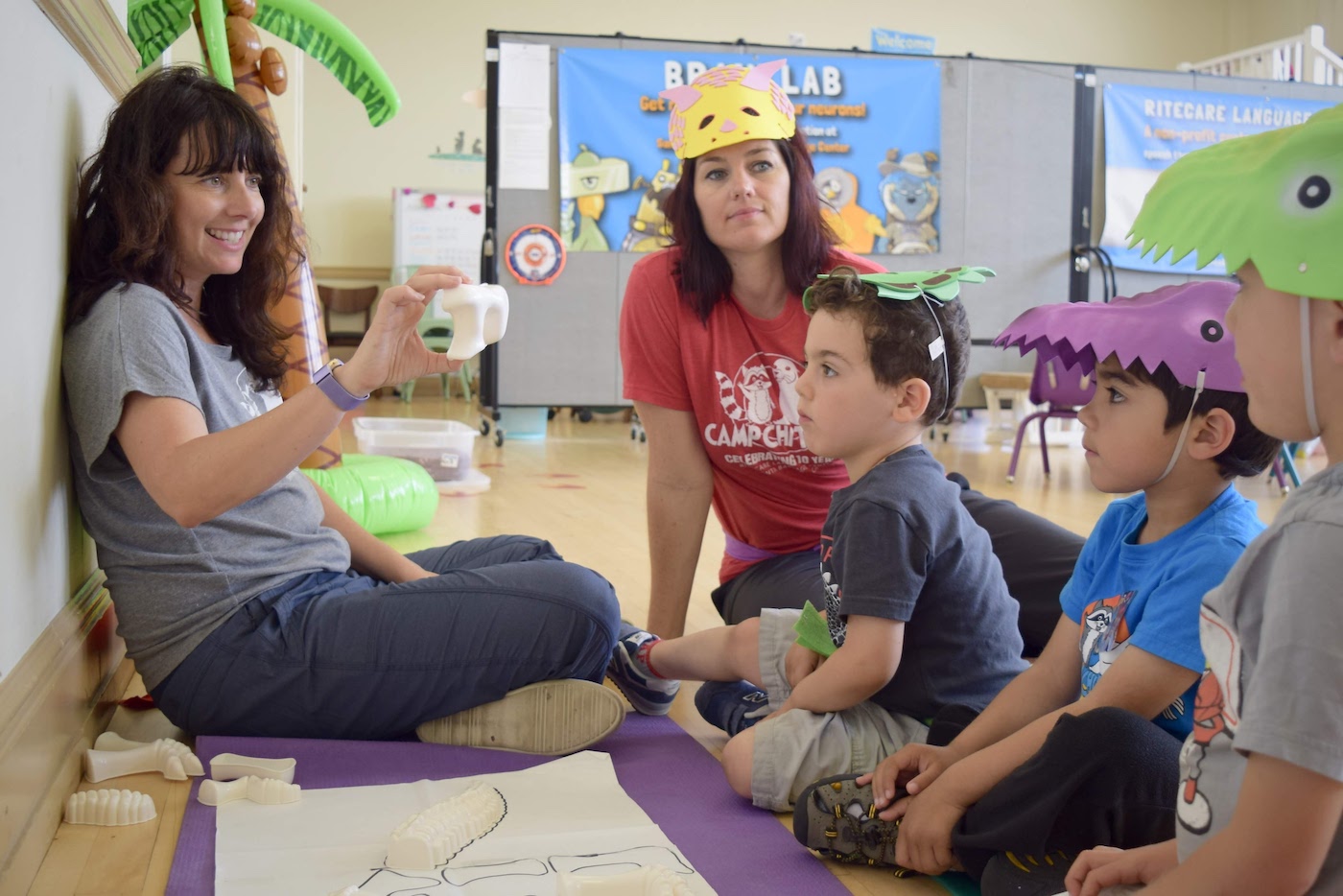 Link to sign up: https://docs.google.com/forms/d/e/1FAIpQLSdYRM7gLiADn6ICahwDOG7eR8m7WKuzj4daAe0R8Vpy9-E0qg/viewform?usp=sf_link
Applications due April 15th!
What are the camp dates?June 6th to July 28th. All children must be able to attend at least 6 weeks of camp (in order for your child to get the full benefit of camp and not take a spot from another child).
Who will be enrolled in camp? This program is for children ages 3-6 who have a diagnosis of a speech and language delay, this includes stuttering. If your child does not have a diagnosis but there is a delay, we will set up a time to meet your child and determine if they qualify for camp. Only children with a significant delay in speech and language will be enrolled in camp. All children must be three by the first day of camp. Children with later June birthdays will be considered individually. Your child should be able to attend a program without 1:1 assistance. If your child requires extra assistance to attend teacher-directed activities to stay with the group and participate in camp, then they are not a candidate for camp this year.
What will my child work on in camp? We cover many areas of development at camp! Our primary focus is on speech and language goals. In addition to these, we always work on social skills, early literacy skills, increasing attention, participation, following the group plan and gross/fine motor skills. Your child will have opportunities to work on specific speech sounds and grammar concepts that might be in the IEP or that our clinicians determine to be an appropriate goal
What are your Covid protocols?As of this printing (January 2022), anyone entering our building must wear a mask at all times. During camp there will be times when your child will be asked to lower the mask so we can watch his/her mouth in order to work on speech skills. Most of the time your child will wear a mask, but there will be times when it comes off. Please talk directly to your clinician about any concerns you might have. We will be cleaning with universal precautions during camp. Our clinicians are fully vaccinated and boosted and will be wearing masks.
I have more questions. Please email us! snbadmin@casrf.org
Donate now!
www.casrf.org/santabarbara
(805) 962-8469
Executive Director, Speech-Language Pathologist: Julie DeAngelis
Mission
Help children find their voice. The California Scottish Rite Foundation is dedicated to support and assist children in California by providing childhood speech-language, literacy and education programs for a lifetime of improved communication and confidence.
Begin to Build a Relationship
We know you care about where your money goes and how it is used. Connect with this organization's leadership in order to begin to build this important relationship. Your email will be sent directly to this organization's director of development and/or Executive Director.
I first became interested in RiteCare of SB because I saw the great work they were doing for under-served local children through their free services, like Camp Chit Chat. As a Board Member, and former recipient of speech therapy, I am proud to do my part to help other children gain access to life-changing speech and communication. So many of the kids who use these services have stories of making their first friends, or being able to participate in school and social situations because they can communicate clearly. Supporting RiteCare of SB is the best way to support children across the community after the challenging few years they've endured.
Expanding Reach and Speech
RiteCare Childhood Language Center of Santa Barbara offers free speech therapy to more than 100 children every year. But, the long tail of the pandemic on children's educational development – especially in spoken language – means the nonprofit needs to expand to meet the need.  
The center is raising $60,000 this year to hire a clinician to help serve more children.
"We have the need to expand our therapy services to help more children in Santa Barbara," says Julie DeAngelis, the director of RiteCare Childhood Language Center of Santa Barbara. "We have always had a waitlist for our services. Hiring another staff member would allow us to see more children annually, around 30 more a year with a full-time clinician."
Key Supporters
Wood-Claeyssens Foundation
Santa Barbara Foundation
Hutton Parker Foundation
Towbes Foundation
Montecito Journal
Santa Barbara Lodge of Perfection
King David's Lodge #209
Westerlay Orchids
Mark and Amy Frank
Carpinteria Masonic Center
McGowan Guntermann
William Safina Trust
David Bradley and Chelsea Rangsikitpho
Toine and Kandie Overgaag
Edmund Heath
Maurice and Mary Sourmany
MERCK Foundation
Serviot, INC.
Roy and Ida Eagle Foundation