Love and Care Work Miracles at Redwings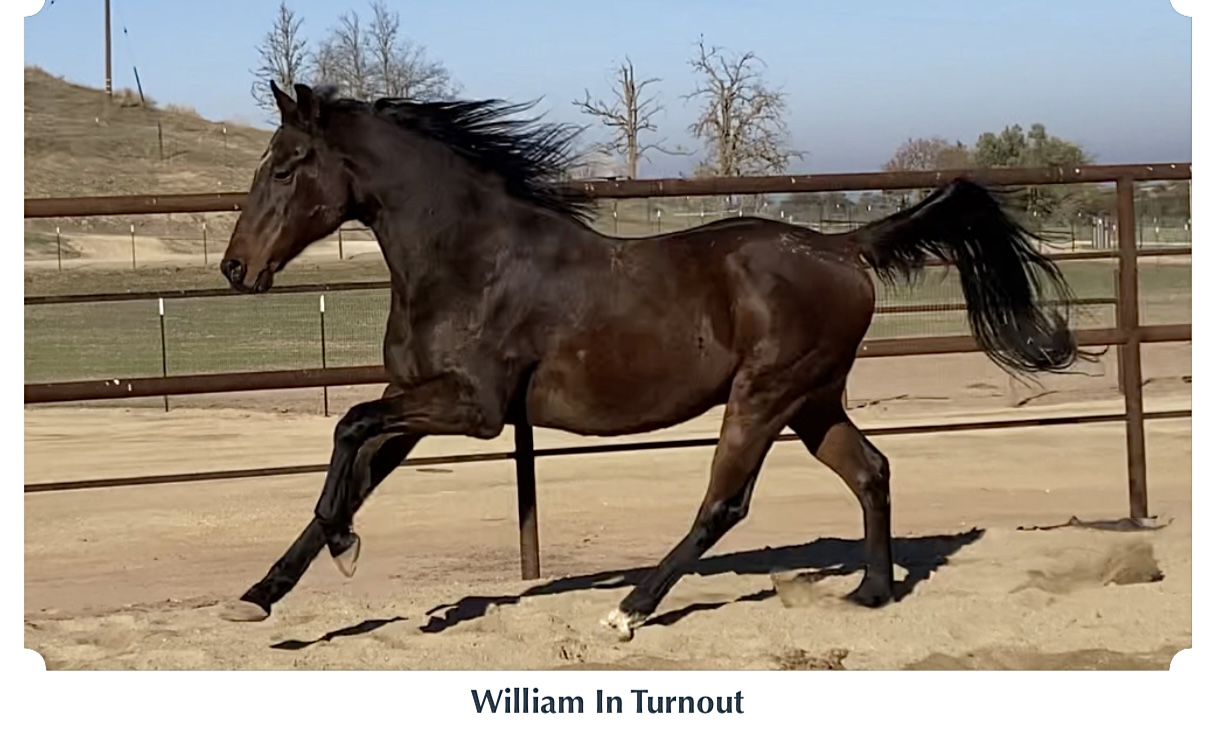 William was found by Tulare Animal Services tied on a 30-foot chain in the middle of a field in the scorching heat with no food or water. The investigating officer found a horse that was completely emaciated, covered in fungus, hair falling out, hooves in terrible condition and badly in need of dental work.
William arrived at Redwings in the summer of 2021 with all these conditions, plus a Grade 5 heart murmur was discovered by the Vet. The journey began with a refeeding plan recommended by UC Davis, with small amounts of food given around the clock. William had a strong will to live and quickly responded to the love and care he was given. In just 6 weeks, William went from a body score of 1 (emaciated) to a body score of 5 (ideal body condition).
There is power in the collective caring of our staff and volunteers, together we can work miracles. William is one example of the meaningful work we're doing with your help. William is now thriving and is now where he belongs – in a place where he is happy and loved.
Donate now!
redwingshorsesanctuary.org
(805) 237-3751
Equine Care Manager: Sara Ruggerone
Mission
Our mission is to eliminate the causes of equine suffering through education and community outreach programs, rescue abused and neglected equines, and provide permanent sanctuary or selected foster homes for those equines.
Begin to Build a Relationship
We know you care about where your money goes and how it is used. Connect with this organization's leadership in order to begin to build this important relationship. Your email will be sent directly to this organization's director of development and/or Executive Director.
Marilyn and I have been associated with Redwings Horse Sanctuary for over twenty-one years. We started to support Redwings shortly after it was founded and have served as volunteers, officers, and board members. We have visited the sanctuary to view with compassion the horses who had been rescued from dire situations and rehabilitated and restored to good health.
"We also helped in the relocation of the sanctuary to Paso Robles, California. The wonderful care given to the animals by the staff and volunteers of Redwings has been the driving force in our continuing to support the mission of the organization. I am sure the new facility will enhance the care of the animals and we wish Redwings continued success.
Paso Here We Are
Prior to moving to its new spread in 2021, Redwings Horse Sanctuary led a capital campaign called "Paso Here We Come" to pay for its new permanent facility. Even though Redwings has arrived in Paso Robles, the fundraising campaign continues with a target of $1 million. "Now that we've completed the move, we expect to have additional volunteers and to be able to offer more guided tours and educational outreach to the public. With our new proximity to the San Luis Obispo County community, we anticipate more interest in Redwings, which hopefully turns into more fundraising support," says Linelle Soxman, a board director.
Key Supporters
Marilyn and Jack Clifton
Catholic Community Foundation
Community Foundation for Monterey
Evelyn Gaul
The Mary Jo and Hank Greenberg
Animal Welfare Foundation
Harden Foundation
Diana Tiernan Hunter
Sharon Johnston
Kinnoull Foundation
Belina Lee Lazzar
Maureen Marshott
Joan and Terry McHenry
Kristan Otto
Rosamund Reece
Juanita Reid Trust
Dr. Yvonne Robinson and Don Buss
Patricia Theis
Jan Vanderbilt
Ward Family
California Retirement Management Account
and Thoroughbred Aftercare Alliance
With special thanks to all the Redwings volunteers
who give their time so generously to the horses