Preserving a Piece of Montecito History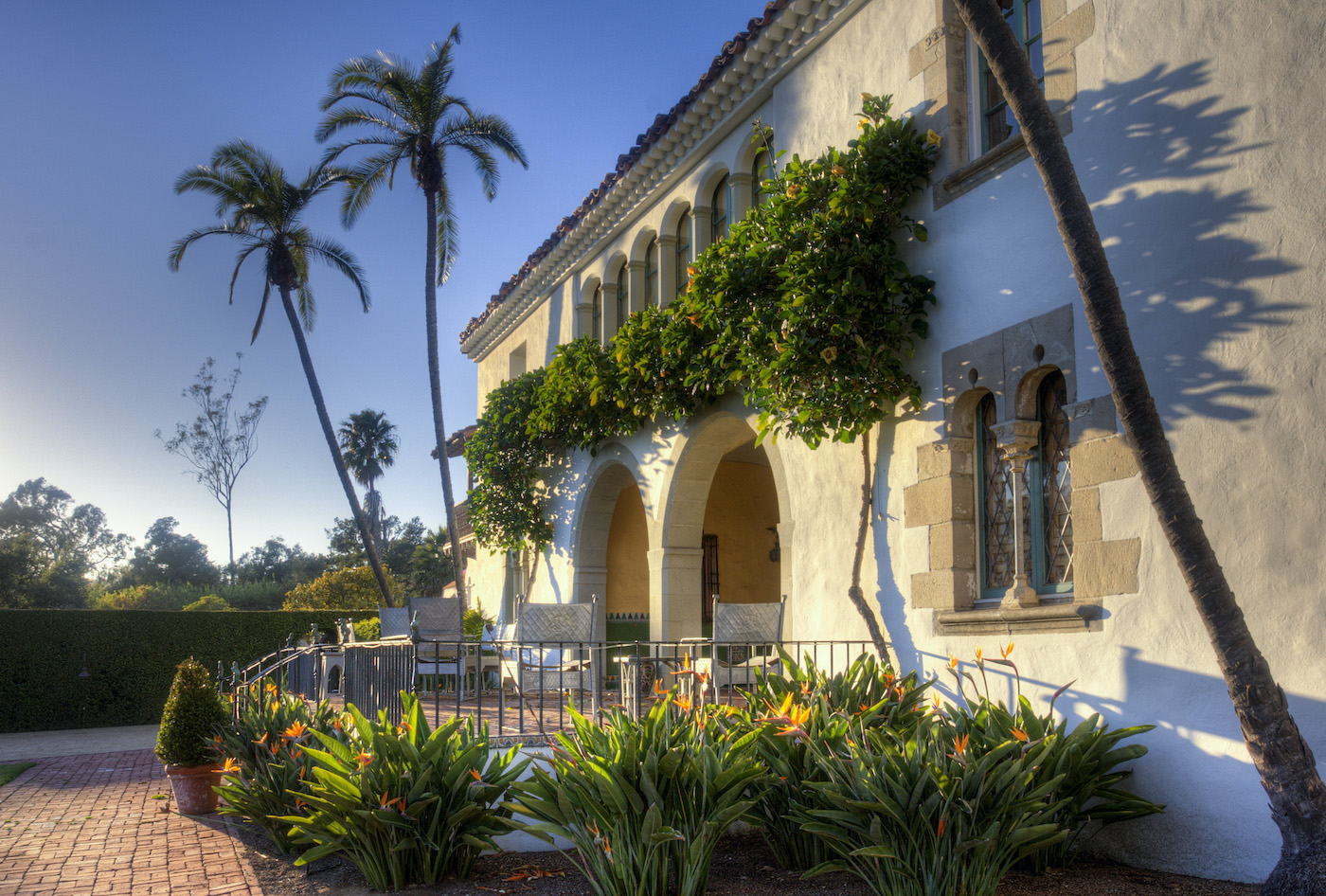 Laura Bridley comes by her affinity for Casa del Herrero honestly. A native of Montecito, Bridley has a lot of memories of connection with the land and structures in the community that channeled into a career in city planning that has included positions with the Architectural Board of Review, the Historic Landmarks Commission, the City of Goleta, and County of Santa Barbara.
Bridley worked with Lotusland on the gardens' original Conditional Use Permit in the early 1990s, and soon after began her association with the nearby estate known as Casa del Herrero. The process of preserving the estate began when she met George Bass who was looking to act on his mother's wishes to preserve the family's Montecito estate as a house museum and public gardens. Based on her experiences as a planner seeing modern buildings replacing older ones, Bridley shared that desire to keep things intact.
"It went from a private home to a foundation so it could be saved and not sold," she said. "Otherwise it's like a new buyer would want to remodel it, which is usually what happens in Montecito."
Instead, Casa del Herrero, or the "House of the Blacksmith," still evokes Montecito in the 1920s and '30s, when original owner George Fox Steedman hired architect George Washington Smith to design the estate, springboarding the architect's trajectory as an emerging expert in Spanish colonial design. As one of the finest examples of Smith's Spanish revival architecture, Casa has earned a spot on the National Register of Historic Places and status as a National Historic Landmark.
In the early 1990s, Bridley drafted Casa del Herrero's CUP, helping to shepherd the estate through the process, a task made far easier by her experience with the much more controversial Lotusland conversion, whose path made Casa's that much easier.
Bridley became Casa's first executive director, a position she has returned to repeatedly on an interim basis to fill in when subsequent directors left. And apparently Bridley's passion for the historical place knows no bounds, as she has again taken on the role since the sudden departure of the latest ED last fall. So once again, she's singing Casa's praises.
"Casa del Herrero is unique in that every single thing there is still intact," she said. "It's not just the architecture, but all the original pieces of furniture that the family brought from mostly Europe and every tile that they got from Portugal, Liberia, and Spain is still there. That's really unusual for historic house museums. It's like a time capsule."
Bridley also proudly boasts that all the artifacts also remain: the drawings that George Steedman did in consultation with George Washington Smith, including his notebooks that are in the workshop or the archives, the furnishings purchased specifically to fit in the Smith-designed spaces, and so much more.
"The experience is astounding the moment you walk in the front door, which itself came from Europe," Bridley said. "The main foyer ceiling came from a 14th century monastery. So many components of the house itself, not just antiques, were imported. How cool is that? And the extent of the art – it's like a vault. Casa has the same caliber in its decorative arts collection that the Hearst collection does."
But Casa's appeal extends beyond antique buffs, Bridley said, because the estate is also a living exhibit of the early era of great estates in Montecito, one that is fast disappearing as movie stars and Internet billionaires snap up and modernize the great properties of the past.
"It's really important to preserve these historical sites because our history informs what we are today," she said. "The ambiance, the creativity, and the quality of Casa Del Herrero helped define the community of Montecito. That is still what people who come to Montecito are seeking. Seeing and understanding our past helps people to understand and inform how we maintain our built environment today."
Much like Lotusland, visitors can see all of this firsthand by booking a tour, although the nature of indoor buildings call for much smaller numbers. Casa del Herrero is currently showing the exhibition "Channing Peake – To Mexico and Beyond" through March 26, featuring several drawings made by the internationally celebrated California artist who worked as an apprentice at Casa in the early 1930s before venturing to Mexico later in the decade.
Casa's variety of educational programs welcomes educational field trips from classrooms or after-school programs, while the estate also hosts a few special events every year, including the popular Christmas at the Casa every December.
Meanwhile, February marks Casa del Herrero's annual membership drive, which offers several levels for potential donors, from the Forger's Guild at $75 to the Director's Circle at $5,000. Income dropped a bit last year as COVID caused cancellations of tours.
"We started tours again this week and are excited to welcome people back again in 2022," Bridley said, adding that every dollar goes to maintain the estate in its exemplary condition.
That includes hiring a new executive director, something Bridley – a former nine-year President of the Montecito Association who is currently Chair of the Santa Barbara County Planning Commission – hopes happens soon.
"I'm working really hard to get fired," she joked. "We really want to get a new executive director in place to breathe new life into Casa in 2022."
Casa del Herrero, 1387 East Valley Road, Montecito. Laura Bridley, interim executive director. Phone (805) 565-5653 or visit www.casadelherrero.com.
Donate now!
casadelherrero.com
(805) 565-5653
Executive Director: Jessica Tade, PhD
Begin to Build a Relationship
We know you care about where your money goes and how it is used. Connect with this organization's leadership in order to begin to build this important relationship. Your email will be sent directly to this organization's director of development and/or Executive Director.
For me, Casa del Herrero is a 'family affair.' My mother-in-law, Joan, introduced me to the Casa soon after we moved to Santa Barbara in 1995. She was friends with the Steedman family and worked with several generous individuals to convert the fabulous estate into a museum for the public to enjoy," said longtime supporter and former Board President Susan Jackson. "I remain captivated by the Spanish Revival architecture and admire owner George Fox Steedman's attention to detail, and all that he created in his amazing workshop. My other favorite part of being involved is the friendships with the dedicated group of people who serve there. It is rewarding to support a living museum that brings inspiration to many people.
The Casa Collaborates
Collaboration is a key component of the Casa's work. From nonprofit partnerships to local youth and school group visits, the community is able to engage with the preservation and creative aspects of the estate through educational and artistic activities. The Garden Club of Santa Barbara is a frequent partner in the preservation of the Casa's beautiful garden spaces. Additionally, the Casa has a continued relationship with the Foodbank of Santa Barbara County's Backyard Bounty program, welcoming volunteers to harvest fruit to be given to those most in need throughout the county.
Casa del Herrero relies on various annual fundraising avenues including a February membership drive, the Feria Andalusia art show and garden fair, and Christmas at the Casa, a special event with the George Washington Smith house decorated in holiday finery. As Santa Barbara remains resilient after tragedy including devastating fires, mudslides and now the pandemic, Tade is keenly aware that the future of the estate resides in connecting and collaborating with other community institutions. "As they say, 'a rising tide carries all boats,'" she says. "Collaborating with other community nonprofits, volunteers, and the Casa's family of donors, continues the positive trajectory of our mission while allowing our good work to soar."
Board of Trustees
Casa del Herrero board members are engaged volunteers who provide leadership in stewarding the historic house museum and gardens. Through their combined experience and enthusiasm, the board works to preserve the Casa's history in service to the local community.
Karen Jones Clark
President
Robert E. Williams
Vice President
Christopher C. Hardy, CPA
Treasurer
Heather Biles
Secretary
Board Members:
Chris Blau
John P. Duffy
Marc Normand Gelinas
Albert P. Hinckley, Jr.
Emily Jones
Jennifer Kelly
Mari McAlister
Janet McCann
Elizabeth Storm McGovern
Fran Morrow, PhD
Annalisa Hinckley Savin
Meghan Stoll
Katherine Pharibe Wise
George S. Bass
Founding Trustee