Introducing Little Bit of Stardust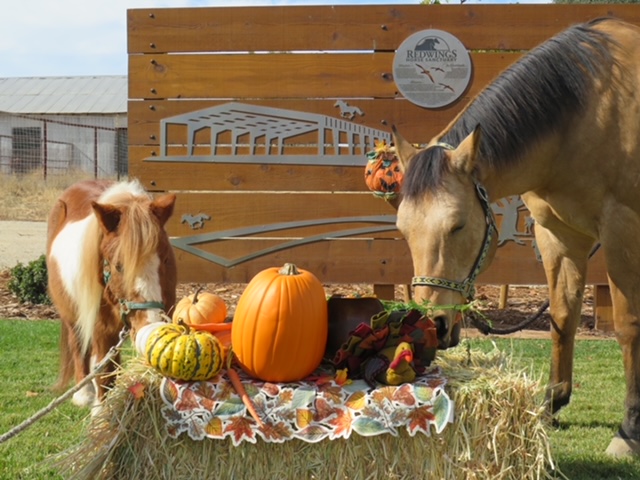 Little Bit of Stardust, or Little Bit, is technically a miniature horse, although he usually gets called a pony. He was born October 7, 2000, to a rescue mini named Bambi. Redwings staff were alerted that Bambi might be in foal, but she didn't look pregnant and didn't start showing until the month before. The staff took turns watching over Bambi as much as possible because miniature horses have been bred to become smaller and smaller and there were concerns that there might be issues with the foal. A staff member on watch went for a quick dinner, came back, and surprise, Little Bit had arrived! He was born a perfect mini pony, inheriting the pinto spots of his dad and the coloring of his mom.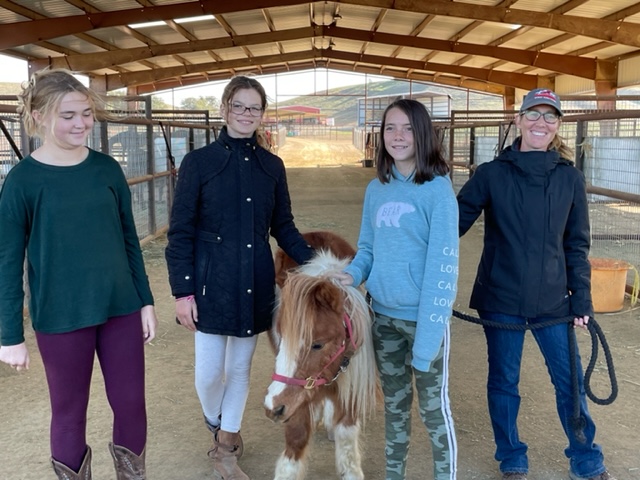 Little Bit is one of Redwing's Ambassadors, so he gets lots of hands-on attention from visitors, young and old alike. He also gets to go on occasional field trips, the latest being a visit to the Paso Robles Event Center to take part in The Great AGventure, which is an amazing yearly educational field trip for grade 4 students on the Central Coast of California. More than 1,000 students take part, moving through a series of 6 interactive stations, each with an agricultural theme such as farm animals, seeds and plants, fertilizer, meteorology, harvesting, and environmental stewardship.
Little Bit is gentle, friendly and LOVES carrots. He is seen in the photos with one of Redwings experienced volunteers, Dawn Peterson. He is available as a Sponsor Horse through the Redwings Sponsorship Program. Be a horse hero and support Little Bit! There are three levels of Sponsorship, and sponsoring a horse also makes a great gift. For more information go to the Redwings website at www.redwingshorsesanctuary.org and look under Ways to Help.
*IMPORTANT NOTE FOR VIEWERS: Redwings wants to make it clear that sitting near any of our horses is NOT part of our normal practice. Our monthly volunteer training emphasizes safety, for people and equines alike, as a number one priority. This was an exceptional situation with a very experienced volunteer and a special horse.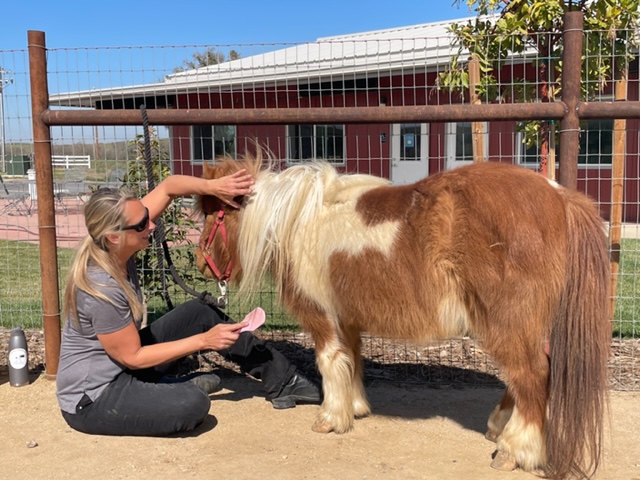 Donate now!
redwingshorsesanctuary.org
(805) 237-3751
Equine Care Manager: Sara Ruggerone
Mission
Our mission is to eliminate the causes of equine suffering through education and community outreach programs, rescue abused and neglected equines, and provide permanent sanctuary or selected foster homes for those equines.
Begin to Build a Relationship
We know you care about where your money goes and how it is used. Connect with this organization's leadership in order to begin to build this important relationship. Your email will be sent directly to this organization's director of development and/or Executive Director.
Marilyn and I have been associated with Redwings Horse Sanctuary for over twenty-one years. We started to support Redwings shortly after it was founded and have served as volunteers, officers, and board members. We have visited the sanctuary to view with compassion the horses who had been rescued from dire situations and rehabilitated and restored to good health.
"We also helped in the relocation of the sanctuary to Paso Robles, California. The wonderful care given to the animals by the staff and volunteers of Redwings has been the driving force in our continuing to support the mission of the organization. I am sure the new facility will enhance the care of the animals and we wish Redwings continued success.
Paso Here We Are
Prior to moving to its new spread in 2021, Redwings Horse Sanctuary led a capital campaign called "Paso Here We Come" to pay for its new permanent facility. Even though Redwings has arrived in Paso Robles, the fundraising campaign continues with a target of $1 million. "Now that we've completed the move, we expect to have additional volunteers and to be able to offer more guided tours and educational outreach to the public. With our new proximity to the San Luis Obispo County community, we anticipate more interest in Redwings, which hopefully turns into more fundraising support," says Linelle Soxman, a board director.
Key Supporters
Marilyn and Jack Clifton
Catholic Community Foundation
Community Foundation for Monterey
Evelyn Gaul
The Mary Jo and Hank Greenberg
Animal Welfare Foundation
Harden Foundation
Diana Tiernan Hunter
Sharon Johnston
Kinnoull Foundation
Belina Lee Lazzar
Maureen Marshott
Joan and Terry McHenry
Kristan Otto
Rosamund Reece
Juanita Reid Trust
Dr. Yvonne Robinson and Don Buss
Patricia Theis
Jan Vanderbilt
Ward Family
California Retirement Management Account
and Thoroughbred Aftercare Alliance
With special thanks to all the Redwings volunteers
who give their time so generously to the horses