Hospice of Santa Barbara's Beloved Bear Program OffersComforting Remembrance During a Time of Grief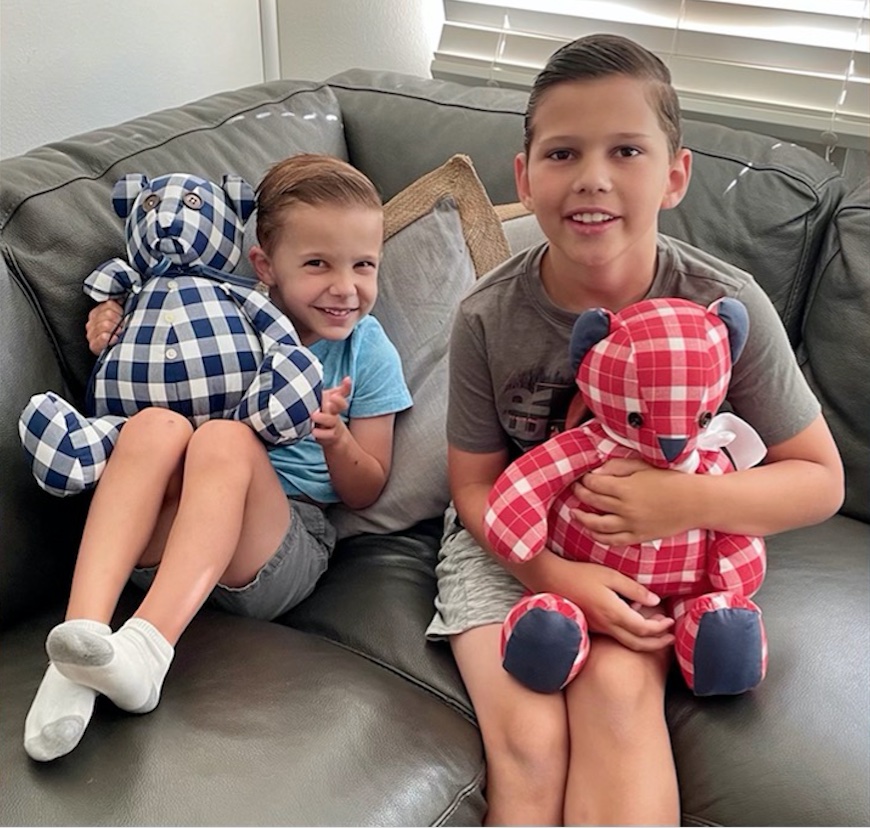 Hospice of Santa Barbara (HSB)'s Beloved Bear Program offers a soft comforting remembrance during a time of grief by making a stuffed bear or pillow out of a passed loved one's favorite article of clothing. Each item is handcrafted by HSB volunteers and provides families with a tangible keepsake infused with memories, texture, and even the familiar comforting scent of their loved one.
The Beloved Bear Program launched in 2010 and helps to offer a sense of security during grieving. It can also act as a transitional object in the healing process; many families do not know what to do with the deceased person's clothing — they want the smell of the clothes or the memory of the clothes. The bear provides a way for memories to continue and serves as a joyful memory of a loved one because it is something "new" and appropriate for both kids and adults.
"It's quite difficult to articulate in words what this program means to family members who receive one of these Beloved Bears," said David Selberg, CEO of Hospice of Santa Barbara. "It is a tangible piece of their loved one; something they can see, touch, smell and hold. It is an incredibly powerful healing tool and becomes a "forever" memento for the family."
Hundreds of bears (and pillows) have been made over the years for HSB clients through the Beloved Bear program—each representing a loved one who has died.
Each bear and pillow take about 2-4 weeks to finish and is about 14 inches tall. Both can be made from cotton shirts, blouses, uniforms, pants, pajamas, flannels, and even sheets. Please note: This program is available to current clients of HSB only.
If you or a loved one are grieving, please contact HSB's Bereavement Services program. To learn more, visit: http://www.hospiceofsb.org/
Hospice of Santa Barbara
Hospice of Santa Barbara provides professional counseling, support groups, and patient care services free of charge to individuals and families who are grieving the death of a loved one or experiencing the impact of a life-threatening illness. Hospice of Santa Barbara also provides counseling in our offices and on fifteen local junior and high school campuses to children and teens who are grieving the loss of a loved one. For more information about Hospice of Santa Barbara, including volunteer opportunities, call (805) 563-8820 or visit www.hospiceofsantabarbara.org.
Donate now!
www.hospiceofsb.org
(805) 570-5611
Director of Strategic Advancement: Charles Caldwell
Mission
To care for anyone experiencing the impact of serious illness or grieving the death of a loved one.
Begin to Build a Relationship
We know you care about where your money goes and how it is used. Connect with this organization's leadership in order to begin to build this important relationship. Your email will be sent directly to this organization's director of development and/or Executive Director.
Hospice of Santa Barbara is that rare treasure that appears in a person's life when it is most needed, during the very darkest of times, and offers compassion and care without asking for any compensation. This heart-centered organization represents the highest ideals of humanity and is well deserving of our support.
Support for the Littles and Middles
$38,300 covers the remaining annual cost of direct services to the Littles and Middles programs.