NatureTrack/Explore Ecology/Freedom Trax Take the Beach at Hendry's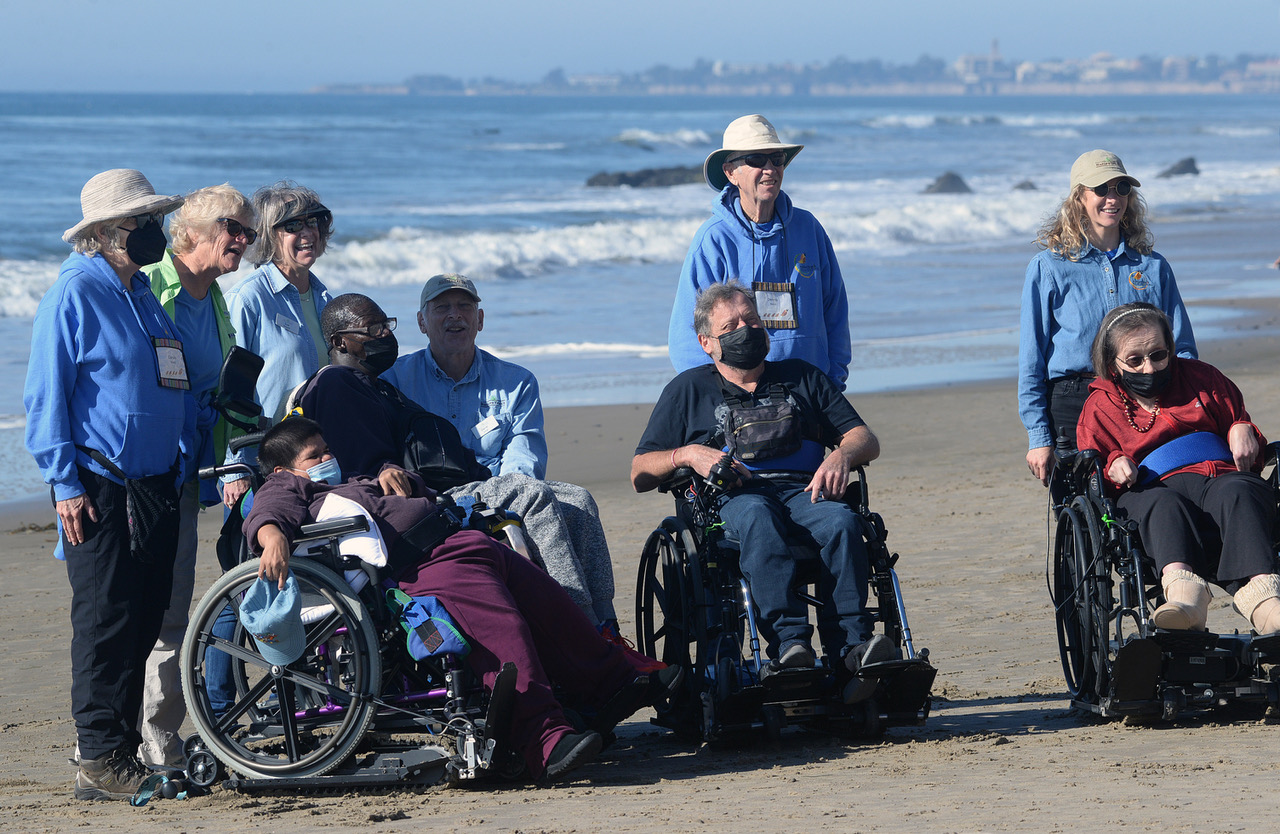 On Sunday, NatureTrack (NT) provided the super power of navigating the great outdoors independently to wheelchair users with the Freedom Trax device free of charge. The anticipation and excitement as the clients from Momentum4Work arrived at Hendry's Beach to enjoy the sun, sand, waves, gulls and wildlife was palpable. Many people who use manual wheelchairs have never independently enjoyed being on a beach or maneuvering along a trail. Sue Eisaguirre, founder and E.D. of NatureTrack noted, "With a Freedom Trax device attached to a manual wheelchair, they can independently navigate along a sandy beach all the way to the surf and, at low tide, even explore tide pools." This group on Sunday went as close to the water as they'd ever been.
Watching Sylvia, Chuck, Brian and Joy, who are all dependent on wheelchairs to get around, on the Freedom Trax and experiencing all the joy nature can bring to our health and well-being. Three of the four hadn't been on the beach before. Brian had been at the November clean-up and was anxious to get more time in the sun. They are all part of Momentum4Work (M4W) and NatureTrack invited them to give the new devices a spin on the beach.
Brian has an identical twin he's anxious to get out to next month's Beach Clean-Up to try out the Freedom Trax. He explained, "This is my second time out. Chuck and Sylvia are my neighbors." For Brian, "the best part of the day was being able to pick up a seashell on my own, first time ever! Finding it, picking it up, and being so close to the water," he enthused.
"A more perfect beach day we couldn't have asked for," cheered Judy Linares, Executive Director of M4W when she met the team from NT at Hendry's Beach this past Sunday. "The accessibility and inclusion NatureTrack is giving to our people is so special. This simple act of being on a beach is something able bodied people take for granted."
Eisaguirre was kept really busy Sunday morning, along with the six NT docents, and new Program Coordinator Abby Pickens. All were there to make sure each person had a docent for the safest option. NT asked the people to fill out a form for the measurements of their individual wheelchairs before going on a hike or to the beach with NT. (Wheel to wheel and from the ground up to the first bar). "Getting those measurements ahead of time made all the difference in the world," she said smiling. Her story on how and why she was in pursuit of something like Freedom Trax is because of her docent, Steve Schultz and also for children who use wheelchairs to join their classmates on the hikes into nature.
Steve Schultz, who has been a NatureTrack docent for ten years, is one of the subjects of the documentary "The Accessible Outdoors" (produced by NatureTrack & Golden Cage Films). This outing was Steve's fifth time back on the local beaches. He helped Explore Ecology with the Beach Clean-Up, "I found a little spray bottle inside some kelp," as he showed it to me. Looked like one of those travel size hair products. Steve, who traveled the furthest on Hendry's Beach on Sunday noted he's still learning how to use the device. "I have gotten stuck in sand that's loose and sometimes I find the same problem on rutted lawns. But, Freedom Trax can take on both surfaces." Schultz was recently on a NT hike with school children at Gaviota Beach. There were 25 – 30 kids in four groups. Each group led by a docent – he's a leader in more ways than one.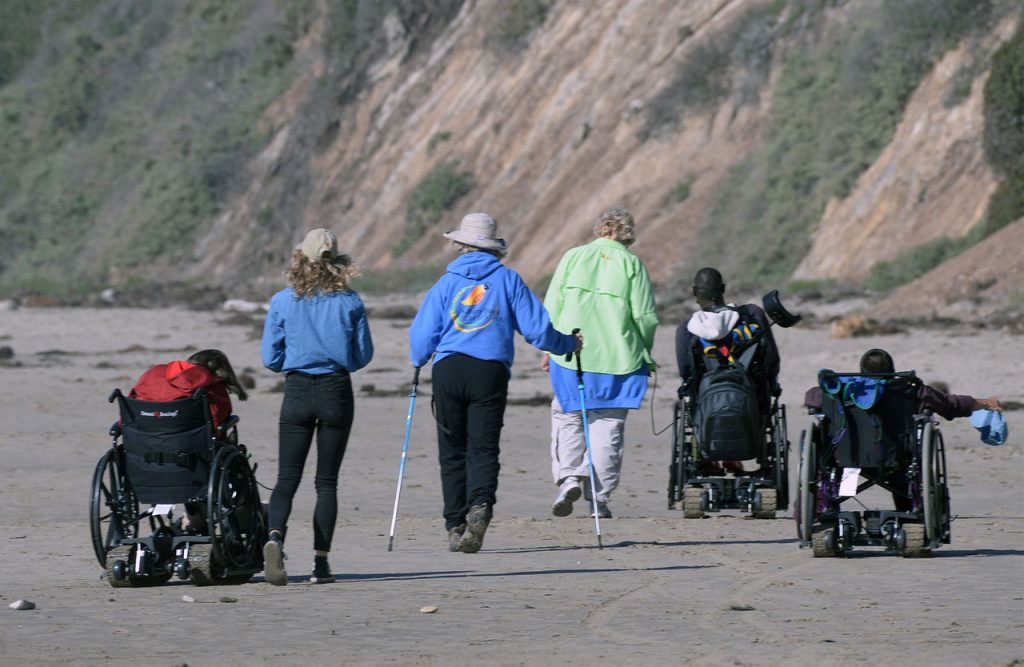 Sylvia took to the Freedom Trax like a fish to water. This Santa Barbara woman had never been on the beach like this. She was the first one to get set up in the Freedom Trax wheelchair. Sylvia also showed off the little treasure she found to bring home – a smooth, rounded rock.
Joy took great care to look fabulous for this adventure in her pearls. She couldn't remember the last time she was on a beach. She was so excited to show off the clam shell she found on her own.
NT docent, Jeanne Dixon, who calls herself a 'newbie' to NT, said the highlight of her day was when Chuck let out a 'woo-hoo' as he went down the little decline onto the beach from the cement path at Hendry's. "His unbridled joy was such a fresh and exciting thing to experience… to be able to take him to the edge of the water was truly an honor." Adding, "It was too much fun!" Chuck, who had never been on the beach before exclaimed, "I love the beach." He found a really cool, old shell to take home for a memory. Dennis and Carole Nord and Dennis Beebe rounded out the NT docent ranks.
Every time Sue takes the Freedom Trax devices to an event or makes a visit to a non-profit where people in wheelchairs want to try out the Freedom Trax, she gets a renewed sense of determination for connecting everyone to nature. Sue is planning to create hikes for small groups comprised of wheelchair users allowing them to connect to nature too. NT continues to take school children on trips maintaining safe distance with trips already booked into June. There are still some open weeks and Eisaguirre invites teachers to reserve their trip soon.
NatureTrack is offering the devices free of charge at Explore Ecology's monthly beach Clean-Ups at Hendry's. On the second Sunday of every month from 10 to noon, people who use wheelchairs, can come with their friends, families or loved ones, to try them out and take a 'stRoll' with your favorite person who's a wheelchair user.
NatureTrack was at Hendry's Beach last month trying out the Freedom Trax devices to make their wheelchairs self-propelled, using a joy stick. Their joy was contagious. 
Donate now!
www.naturetrack.org
(805) 886-2047
Founder & Executive Director: Sue Eisaguirre
Mission
NatureTrack is a 501(c)3 non-profit whose mission is to provide outdoor field trips for school-aged children at no cost to the schools or students.
Begin to Build a Relationship
We know you care about where your money goes and how it is used. Connect with this organization's leadership in order to begin to build this important relationship. Your email will be sent directly to this organization's director of development and/or Executive Director.
We both know it is vital for our young generation to be out in nature and experience what nature offers. Seeing the excitement on students' faces and their reactions to natural discoveries is always a joy. We enjoy being out on the trails and beaches, sharing nature at the moment with future stewards of our natural world.
For the Love of Nature
Transportation costs have increased significantly. In order to keep NatureTrack outdoor field trips cost-free for everyone, we need your help. Every donation you make will help us connect more kids and wheelchair users to nature.
$1,000 – Pays for 15 students to take a field trip (including transportation)
$2,500 – Pays for 35 students to take a field trip (including transportation)
$5,000 – Pays for 70 students to take a field trip (including transportation)
$6,300 – Buys 1 FreedomTrax device
PRICELESS – Becoming a NatureTrack volunteer! Join us. We have as much fun as the students!
Key Supporters
Adams Legacy Foundation
Audacious Foundation
California Coastal Conservancy
Explore the Coast
Coastal Ranches Conservancy
Coastal Resources
Enhancement Fund
Craig H. Neilsen Foundation
deLaski Family Foundation
Herbert and Gertrude Latkin
Charitable Foundation
John S. Kiewit Memorial
Foundation
Natalie Orfalea Foundation
and Lou Buglioli
Pacific HR, Inc.
Parks California – Route to Parks
Santa Ynez Valley Foundation
Santa Ynez Valley Youth
Recreation
Towbes Foundation