Sculpting a Legacy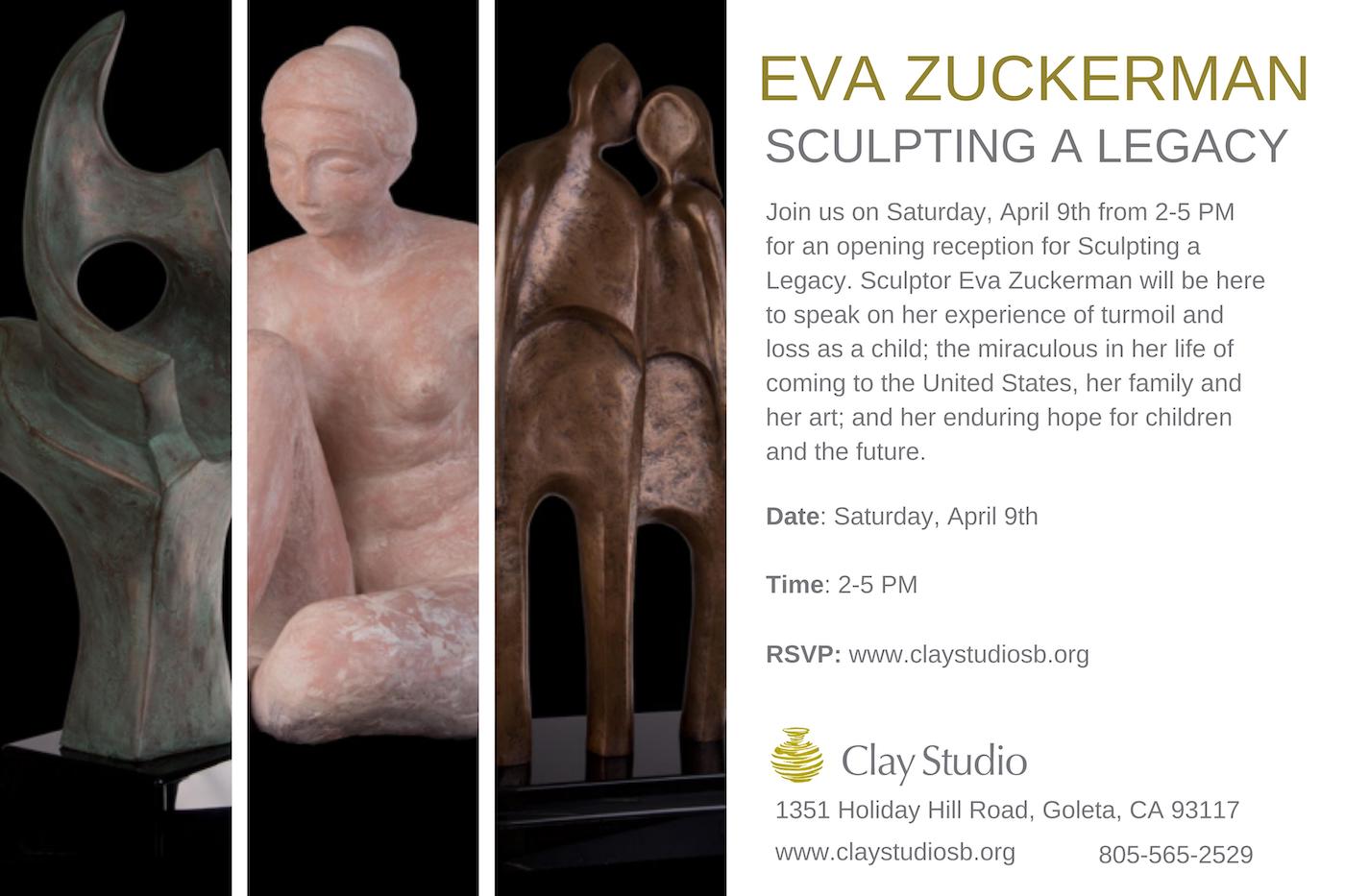 In recognition of Holocaust Remembrance Day, Clay Studio is honored to present "Sculpting a Legacy," on display at their gallery from April 1st – June 1st, featuring the sculptures of Holocaust survivor, Eva Zuckerman. 
An opening reception will be held on Saturday, April 9th, from 2-5 PM, where Zuckerman will exhibit a selection of her sculptures and reflect on her experiences. Please RSVP to let Clay Studio know you will be joining them!
Donate now!
www.claystudiosb.org
(805) 565-2529
Executive Director: Patrick Hall
Mission
Clay Studio is a community art center committed to fostering the creative process in a welcoming and supportive environment. Our goal is to enrich lives by teaching and promoting the ceramic arts.
Begin to Build a Relationship
We know you care about where your money goes and how it is used. Connect with this organization's leadership in order to begin to build this important relationship. Your email will be sent directly to this organization's director of development and/or Executive Director.
It was so fun just letting your imagination go wild as you're kneading this clay and wondering, what am I gonna create today? It is so beautiful to see someone's heart and soul infused into these sculptures, bowls, and pots! Thank you for giving the community a place to work with clay and maybe find a new passion!
Help Us Grow
Thanks to initial seed funding, Clay Studio has built a sustainable operation that is growing, but will need "fortification from others," if it is to continue expanding, says Lynda Weinman, the nonprofit's seed investor.
The studio will undergo renovations this spring to further build out the property and facilities. Once completed, programming will include photography classes, printmaking, painting, drawing, and more. Clay Studio is aiming to raise $625,000 to pay for equipment and furnishings, with the goal of greatly expanding their classes and community offerings in late 2022.
Key Supporters
Patrick Hall, Board Member, Executive Director
Lynda Weinman, Board Member
Amy Ryan, Board Member
Anita Green, Board Member
Josh Rabinowitz, Legal Advisor
Juliette Fish, Glaze Technician
Suzanne Hawtrey, Children's Program Director
James and Linda Haggerty of Haggerty Ceramics
Michelle Griffoul of Michelle Griffoul Studios
Michael Adcock, Artist, Potter & Ceramics Instructor
Isaih Thomas, Artist, Potter & Ceramics Instructor
Sarah Klapp, Artist, Potter & Ceramics Instructor
Sarah McLean, Meditation & Wellness Instructor