Redwings' Latest Rescues: Snickers and Humphrey Bogart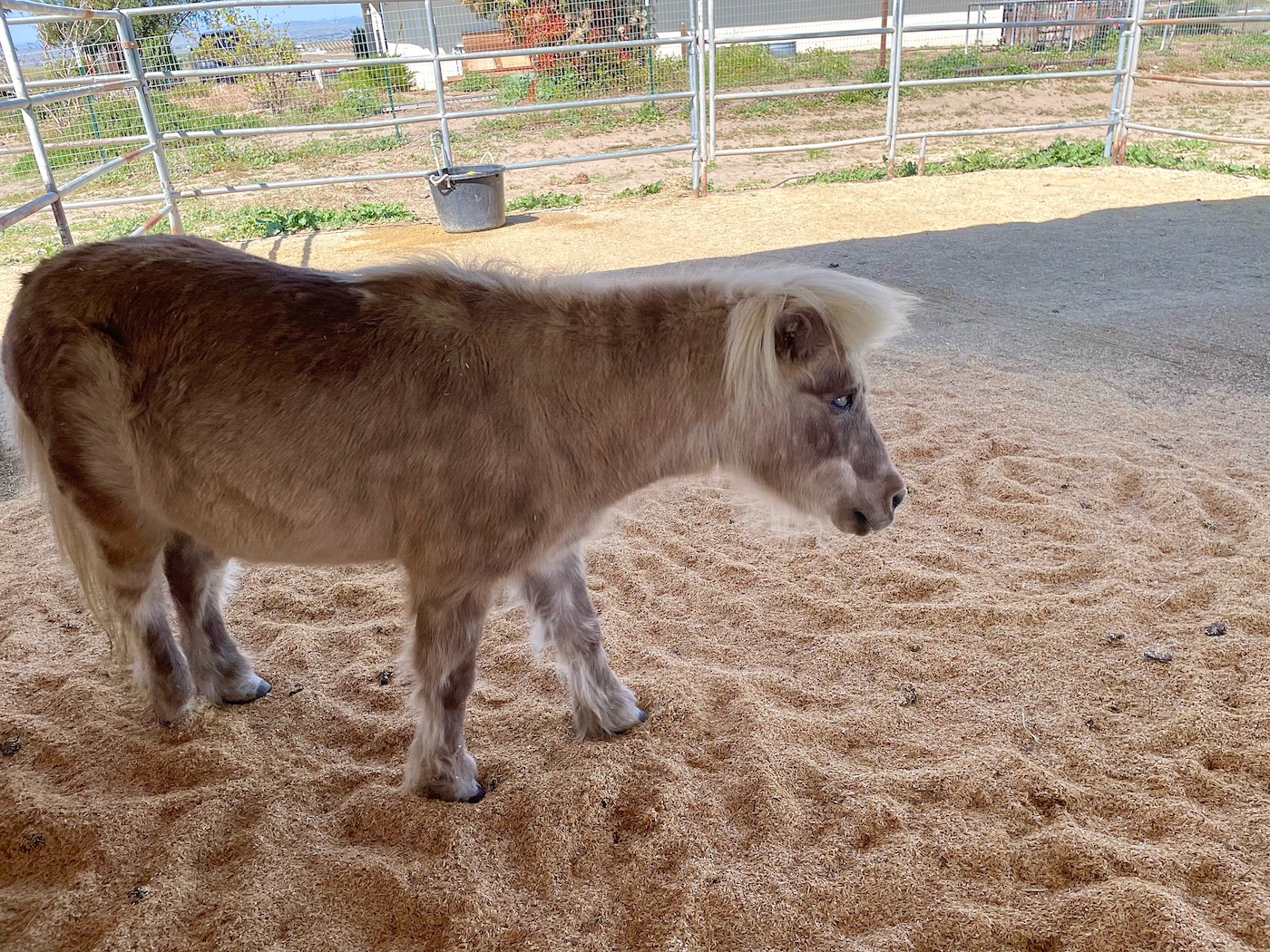 Redwings Horse Sanctuary has two brand new rescue horses, Snickers and Humphrey Bogart!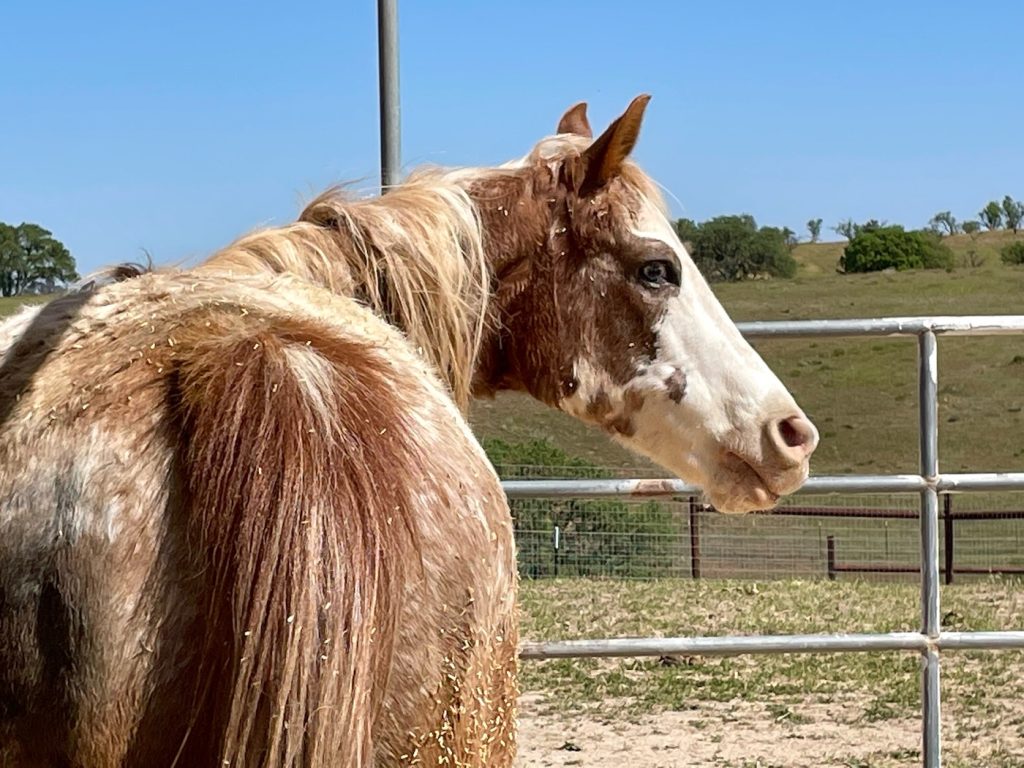 Snickers, a Shetland pony, was first rescued after his owners lost their home in a fire in Santa Cruz in 2020. Snickers is an older pony with lameness and is also blind. Snickers was temporarily housed in a small area with a chain link fence that had been a dog run. His rescuers soon realized that he needed more help and reached out to Redwings. Snickers came to Redwings a week ago and is currently in medical quarantine for two weeks.
Humphrey Bogart just arrived at Redwings on April 1st, and he is estimated to be around 15 years old. Mr. Bogart was found abandoned in a field one morning. The homeowners contacted King's County Animal Services who then reached out to Redwings. The accompanying video and photos show Humphrey Bogart's arrival at Redwings. This good-natured gentleman is on a special feeding program, and as part of Redwing's safety precautions will also remain in quarantine from the herd.
Both equines have laminitis, a very painful condition that affects the hooves. If left untreated and unmanaged, laminitis can deteriorate to the point where the horse is unable to walk or stand, which can result in death. Treatment and recovery from laminitis is a slow and expensive process. Frequent veterinarian and farrier visits are crucial to restore the integrity of the foot. Soft ride boots will be needed as well. These are orthotics with gel which provide significant cushioning. The condition of the horses' feet is currently so painful that they are unable to wear horseshoes.
Redwings staff look forward to working with Snickers and Humphrey Bogart to give these rescues the best possible outcome so that they can enjoy their best, and well-deserved, new life at Redwings.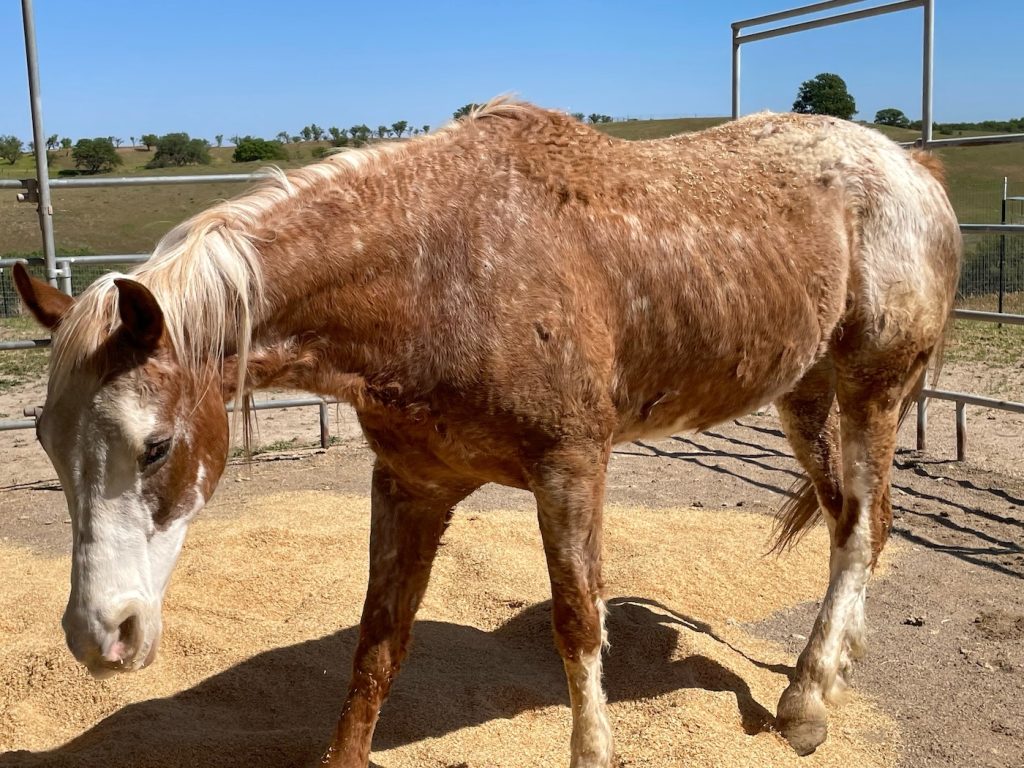 Donate now!
redwingshorsesanctuary.org
(805) 237-3751
Equine Care Manager: Sara Ruggerone
Mission
Our mission is to eliminate the causes of equine suffering through education and community outreach programs, rescue abused and neglected equines, and provide permanent sanctuary or selected foster homes for those equines.
Begin to Build a Relationship
We know you care about where your money goes and how it is used. Connect with this organization's leadership in order to begin to build this important relationship. Your email will be sent directly to this organization's director of development and/or Executive Director.
Marilyn and I have been associated with Redwings Horse Sanctuary for over twenty-one years. We started to support Redwings shortly after it was founded and have served as volunteers, officers, and board members. We have visited the sanctuary to view with compassion the horses who had been rescued from dire situations and rehabilitated and restored to good health.
"We also helped in the relocation of the sanctuary to Paso Robles, California. The wonderful care given to the animals by the staff and volunteers of Redwings has been the driving force in our continuing to support the mission of the organization. I am sure the new facility will enhance the care of the animals and we wish Redwings continued success.
Paso Here We Are
Prior to moving to its new spread in 2021, Redwings Horse Sanctuary led a capital campaign called "Paso Here We Come" to pay for its new permanent facility. Even though Redwings has arrived in Paso Robles, the fundraising campaign continues with a target of $1 million. "Now that we've completed the move, we expect to have additional volunteers and to be able to offer more guided tours and educational outreach to the public. With our new proximity to the San Luis Obispo County community, we anticipate more interest in Redwings, which hopefully turns into more fundraising support," says Linelle Soxman, a board director.
Key Supporters
Marilyn and Jack Clifton
Catholic Community Foundation
Community Foundation for Monterey
Evelyn Gaul
The Mary Jo and Hank Greenberg
Animal Welfare Foundation
Harden Foundation
Diana Tiernan Hunter
Sharon Johnston
Kinnoull Foundation
Belina Lee Lazzar
Maureen Marshott
Joan and Terry McHenry
Kristan Otto
Rosamund Reece
Juanita Reid Trust
Dr. Yvonne Robinson and Don Buss
Patricia Theis
Jan Vanderbilt
Ward Family
California Retirement Management Account
and Thoroughbred Aftercare Alliance
With special thanks to all the Redwings volunteers
who give their time so generously to the horses