Sansum Diabetes Research Institute
Less than three weeks after this issue of the MJ hits newsstands, Sansum Diabetes Research Institute will mark an incredible milestone: 100 years since its founder, Dr. William Sansum, administered the very first injection of insulin in Santa Barbara to Charles Cowan, the first U.S. patient to receive the lifesaving shot. Prior to the discovery of insulin, people who were diagnosed with diabetes died because of the disease.
But Dr. Sansum didn't just inject that historic shot on May 31, 1922, he was the first physician in the country to manufacture insulin right here in Santa Barbara. "That allowed so many people with Type 1 diabetes to live, because prior to the discovery of insulin, the diagnosis was always a death sentence," explained Ellen Goodstein, Sansum Diabetes Research Institute's executive director. "Santa Barbara became a Mecca for people with diabetes from all over the country. They called him 'The Genius of Santa Barbara.' He saved so many lives. There's no overestimating what his work meant for people."
But Dr. Sansum didn't rest on his laurels of that first injection, and his dedication to continuing to develop insulin production is legendary, with a number of anecdotal stories that prove his mettle. While nowadays insulin can be of the genetically engineered, synthetic variety, that wasn't the case back in the 1920s and ensuing decades. Back then, insulin was collected from pigs and cows, so Dr. Sansum would go to the local slaughterhouses to collect fresh pancreas at the moment the animals were killed. But then Santa Barbara outlawed slaughterhouses.
"So Dr. Sansum would drive to Los Angeles to be at the slaughterhouse at three in the morning to harvest the fresh pancreas, put them in alcohol to preserve them, and then drive back to Santa Barbara," Goodstein said. "On one of the trips he got stopped by the police, and the officer wanted to arrest him for violating prohibition because he had alcohol on board. But Dr. Sansum had a friend in a high place, the U.S. Secretary of State who told the officer to let Dr. Sansum get going to do the important work he's doing."
As time went on, that work included refining his methods and research how to help people with the disease, working to combat its adverse effects on physical and emotional health and quality of life. "Insulin in many ways is just the beginning of the story," Goodstein said. "It's a huge milestone, of course. But it's not the cure."
Indeed, Goodstein said, Dr. Sansum's work included investigating nutrition and how that affects diabetes, coming up with an early kind of a diet plan revealed in his writings. Sansum Diabetes Research Institute (SDRI) continues to be a global leader in diabetes research, working on the cutting edge of diabetes research, education, and clinical care.
Among its many accomplishments are the development of the artificial pancreas, an out-of-the-body system made of three parts that work together to mimic how a healthy pancreas controls blood glucose, monitoring the levels, and interacting with the insulin pump. SDRI, along with scientists at UCSB, hold the first U.S. patent that came from developing and testing the algorithm that the monitor uses to keep blood glucose at optimum levels, Goodstein said.
"For people living with Type 1 diabetes, there's no relief from it. It's a 24/7 chronic illness. You can never not be aware and have to deal with what's happening all the time. But the artificial pancreas with the automated insulin system gives you a break from that. It's really gone a long way to relieve the burden."
It's all part of SDRI's commitment to not only basic research, but also clinical trials. "We're not working with real people, not mice or animals," Goodstein said. "It's actually testing devices in people."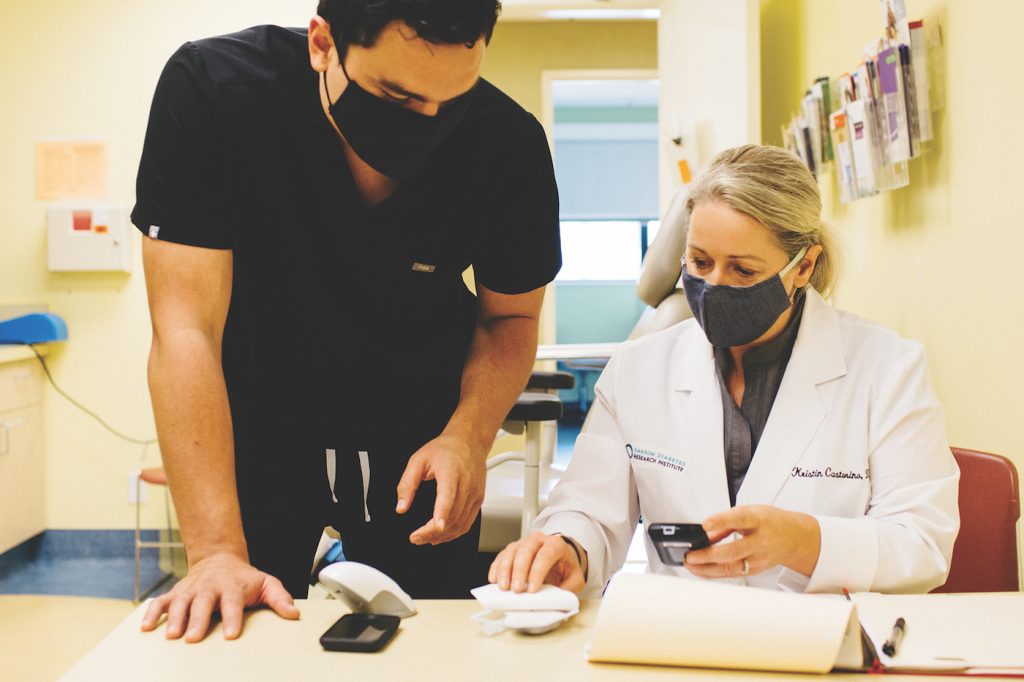 Other people that have received considerable help from SDRI include pregnant women, who either had a preexisting diagnosis of diabetes or developed what is known as gestational diabetes. Taking care of that niche segment of society is one of the examples of SDRI's clinical care department. That was the pioneering work of SDRI's former chief scientific officer, Dr. Lois Jovanovic, who is revered worldwide as the godmother to modern-day diabetes care, the one who changed the face of care for women with the disease.
"Before she came along, women with diabetes were told not to have children because the risk of complications, both to mother and child, was too great," Goodstein explained. "She developed strict protocols that allowed women with the disease to give birth to healthy babies. And she trained so many other women doctors in her work."
More recently, SDRI is doing work on children with diabetes, engaging with a pediatric endocrinologist whose team includes a nurse practitioner, a diabetes educator, and others to teach families how to deal with all the devices that make living with diabetes easier. Meanwhile, SDRI continues to research how the devices work as children grow into adults, or what happens as seniors age.
"It's just the beginning of that technology," Goodstein said. "There's still a lot of testing that needs to be done in particular populations and situations. How does the artificial pancreas adjust? How does it work with exercise? What happens when you catch the flu?"
SDRI is also investigating how diabetes disproportionately affects Latinos, a large local concern given the percentage of the population in the county. "They have two times the rate of Type 2 diabetes, they suffer more complications and with COVID we saw that the risks of more severe consequences from that illness were very high."
Other efforts are digging deeper into diabetes via researching "precision metabolism," Goodstein said, "to try to discover what is necessary for the individual to thrive at the cellular level."
So, with all that's going into researching and treating a disease that afflicts more than 10 percent of the American population, SDRI is pausing only briefly on May 31 to mark the 100th anniversary of that first insulin injection with a small ceremony commemorating the achievement in the nonprofit's peace garden.
Come September 10, however, SDRI will hold its Gratitude Gala, a huge benefit event boasting dining and dancing as well as a short film about the history of insulin and Dr. Sansum's work. Tickets and sponsorships are already on sale. But you don't have to wait to donate to SDRI.
With your support, the nonprofit can further its mission of providing research, education, and care to those impacted by diabetes – both locally and globally – for another century.
Sansum Diabetes Research Institute
2219 Bath Street, Santa Barbara 
sansum.org
(805) 682-7638
Ellen Goodstein, Executive Director
Donate now!
www.sansum.org
(805)682-7640 ext. 246
Director of Development: Kara Hornbuckle
Mission
Dedicated to improving the lives of people impacted by diabetes through research, education, and care.
Begin to Build a Relationship
We know you care about where your money goes and how it is used. Connect with this organization's leadership in order to begin to build this important relationship. Your email will be sent directly to this organization's director of development and/or Executive Director.
Living with type 1 diabetes since age seven made my journey to motherhood uniquely challenging. Thankfully, I found invaluable support and care at SDRI through the exceptional guidance of Dr. Kristin Castorino. Throughout my pregnancy, Dr. Castorino's weekly meetings extended beyond diabetes management; she genuinely cared about my emotional well-being. Our hour-long one-on-one sessions demonstrated the exceptional level of care I received. Working with Dr. Castorino at SDRI felt serendipitous. Her close collaboration with the late Dr. Lois Jovanovic, SDRI's visionary Chief Scientific Officer, whose pioneering work transformed diabetes care during pregnancy, was profoundly meaningful. Dr. Castorino's unwavering support turned my dream of motherhood into a beautiful reality.
Our $20 Million Campaign in the Fight Against Diabetes – Every Dollar Counts
"Creating a state-of-the-art research facility is critical for our future," adds Hornbuckle. "Much of our facility has not been updated since the 1960s. Our team is seeking philanthropic support to make our future possible."
Part of our campaign will also support the recruitment of healthcare professionals whose dedication will help bring about a positive transformation for people with all types of diabetes, explained Dr. Klein.
"We can make significant progress, yet it is imperative that we enhance our capabilities to further engage in groundbreaking work." said Dr. Klein.
To learn more about SDRI's $20 million campaign, please visit https://www.sansum.org/campaign.
Key Supporters
Ann Jackson Family Foundation
Barker Foundation
Jerry and Geri Bidwell
Timothy and Louise Casey
Tom and Nancy Crawford
Virgil Elings
Norman Kurland
and Deborah David
La Centra Sumerlin Foundation
Fred and Joyce Lukas
Mosher Foundation
The Ogle Family
The Paskin Family Foundation
The Radaz Family
The Redman Family
Robert and Ruth Reingold
Lady Leslie Ridley-Tree
Matthew and Natalie Rowe
Santa Barbara Foundation
William K. Bowes, Jr.
Foundation
Etty Yenni