SB Unified Superintendent and Students Present at the State of Our Schools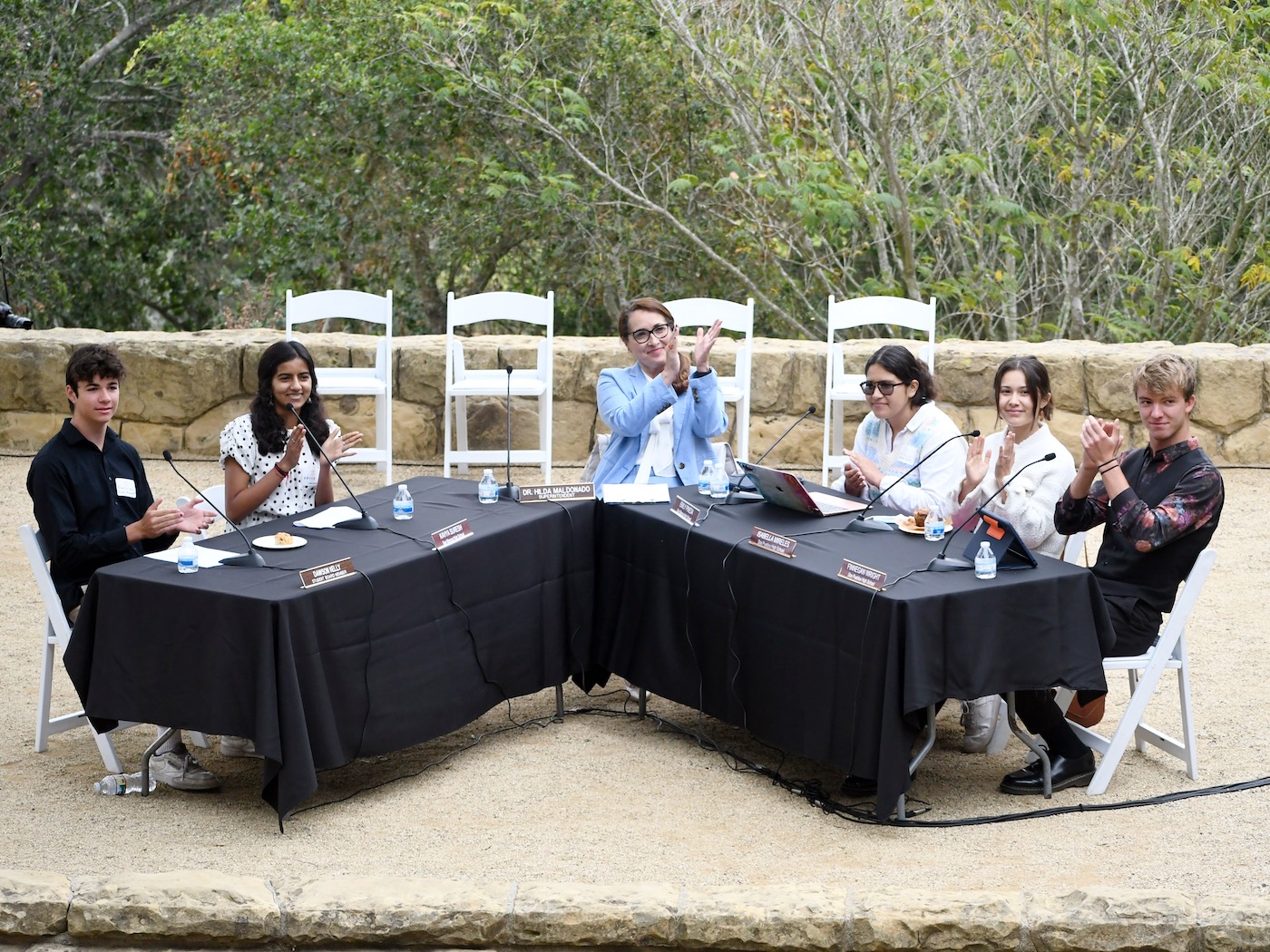 Speaking to community members at the Elings Park Amphitheater, Santa Barbara Unified School District Superintendent Dr. Hilda Maldonado and students addressed the community during the State of Our Schools presentation.
In years past, the event has been an informative and sometimes data-driven presentation. This year, Dr. Maldonado invited student leaders to share the stage to report their perspectives on Santa Barbara Unified schools to the community.
In introducing the student panel, Maldonado explained, "I would be remiss if I didn't do this in collaboration with who I work for. And that is why I have students with me today." She then quipped, "I have all these bosses. I have 13,000, today, I only brought five!"
But aside from the joking, Maldonado started by looking at the Santa Barbara Unified's mission "to prepare students for a world that has yet to be created," and asked the question of what is the best way to prepare students to take on tomorrow's challenges.
The superintendent admitted that there was still much work to do to get the District to where it needs to be. She then highlighted the progress made with a lengthy list of some of the recent improvements to classrooms, facilities, and resources for teachers. She emphasized the District's investment in increasing the staff-to-student ratio with the addition of counselors, tutoring services, and family engagement liaisons at every school site.
Dr. Maldonado then passed the microphone to students so that attendees could hear directly how District policies and efforts are affecting them and their peers.
The student panelists included Dawson Kelly (San Marcos High School), Kavya Suresh (San Marcos High School), Emily Pineda (Santa Barbara High School), Isabella Mireles (Dos Pueblos High School), and Finnegan Wright (Dos Pueblos High School). The students spoke on mental health, campus safety, inclusivity, diversity, and student advocacy. Many of the students highlighted what was working in terms of services for students and used examples from their own experiences.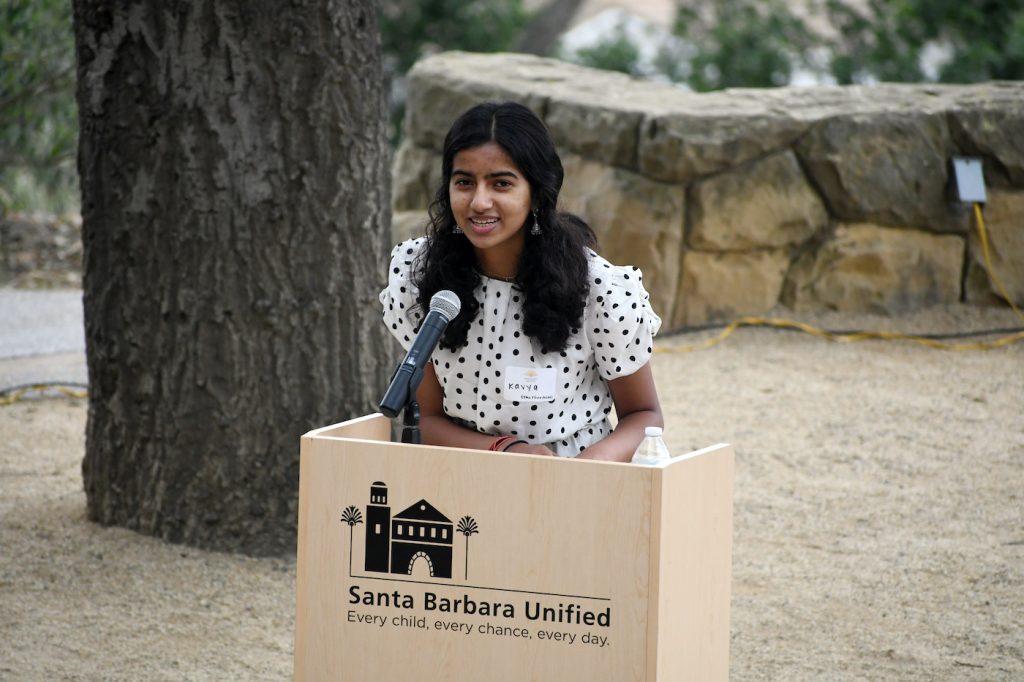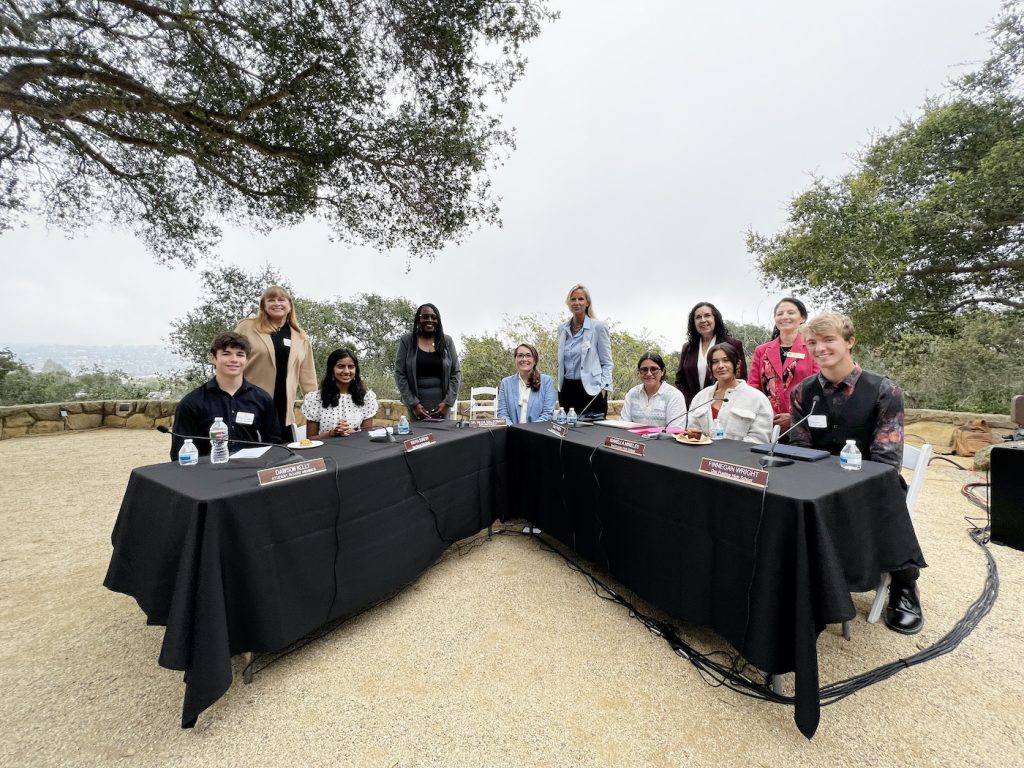 But students didn't just celebrate only what was working well. They also spoke about where they thought the District had room for improvement and made calls to action.
San Marcos High School sophomore and incoming Santa Barbara Unified Student School Board member Kavya Suresh shared student survey data on what is seen as an appropriate response for school safety at all three Santa Barbara Unified high school campuses.
"As a student closely involved in the campaign to reimagine school safety as something to be achieved without the active involvement from law enforcement, I urge the District to continue to investing in mental health professionals, social workers, and campus security to protect our students' mental, emotional, and social well-being."
Suresh went on to say, "We deserve to be in learning environments that grant equitable access to restorative justice and rehabilitation for all students and staff to help us prepare for a world that is yet to be created."
To watch the entire State of Our Schools presentation, please visit sbefoundation.org/state-of-our-schools-tickets.
SBEF also wishes to recognize and thank State of Our Schools sponsors, including 19six Architects, Santa Barbara City College Foundation, Future Leaders of America, Hospice of Santa Barbara, Oniracom, and Jeannine's.
Santa Barbara Education Foundation promotes private support of Santa Barbara's public education system in 19 schools. For more information, visit www.santabarbaraeducation.org.
Donate now!
Mission
Santa Barbara Education Foundation (SBEF) provides and supports programs that enrich the academic, artistic, and personal development of all students in the Santa Barbara Unified School District.
Begin to Build a Relationship
We know you care about where your money goes and how it is used. Connect with this organization's leadership in order to begin to build this important relationship. Your email will be sent directly to this organization's director of development and/or Executive Director.
I have always been impressed with Keep the Beat as it fosters a love of music in children that can last a lifetime. I learned to love music when I was young and wanted to help our young folks experience that same love in their formative years.
Helping Teachers Help Students
The agenda for the 2022/2023 school year is to close the gap and achieve more funding for Teacher Grants while focusing on literacy development and mental health. Despite the $223,000 gap that the Santa Barbara Education Foundation is currently experiencing, their diligence and thoughtfulness bear every single student in mind.
You can help countless students like Bella find their voice.
Key Supporters
Arnesen Family Foundation
Timothy and Louise Casey
Andrew and Mary Jane Cooper
Daniel and Mandy Hochman
Elaine F. Stepanek Foundation
James S. Bower Foundation
John L. Carleton Foundation
Senator Monique Limón
J.M. Lind
Superintendent Dr. Hilda Maldonado
Sara Miller McCune
Mithun Family Foundation
Mosher Foundation
Santa Barbara Foundation
Nick Rail
April Thede
Towbes Foundation
Walter J. & Holly O.
Thomson Foundation
Wood-Claeyssens Foundation
Zegar Family Foundation