Santa Barbara RiteCare
When we connected last week, Santa Barbara RiteCare center director and speech-language pathologist Julie DeAngelis was particularly excited to talk about Camp Chit Chat, the nonprofit's fun and socially interactive camp for preschool-age children with mild-moderate speech and language delays. The program helps children keep up with essential communication skills during the summer when regular therapy services are not offered.
"We ran it for 10 years before COVID caused us to cancel it for the last two summers, so it's great to be able to offer this wonderful program again," said DeAngelis, who holds both Bachelor's and Master's degrees in Communicative Disorders and has worked at the RiteCare Language Center for 15 years. "We have a different theme each week, including Pirates & Mermaids, Space, and Farmer's Market. We incorporate speech and language goals centered around that week's theme, and the kids can dress up for each week's theme, which is part of what makes it such a fun program."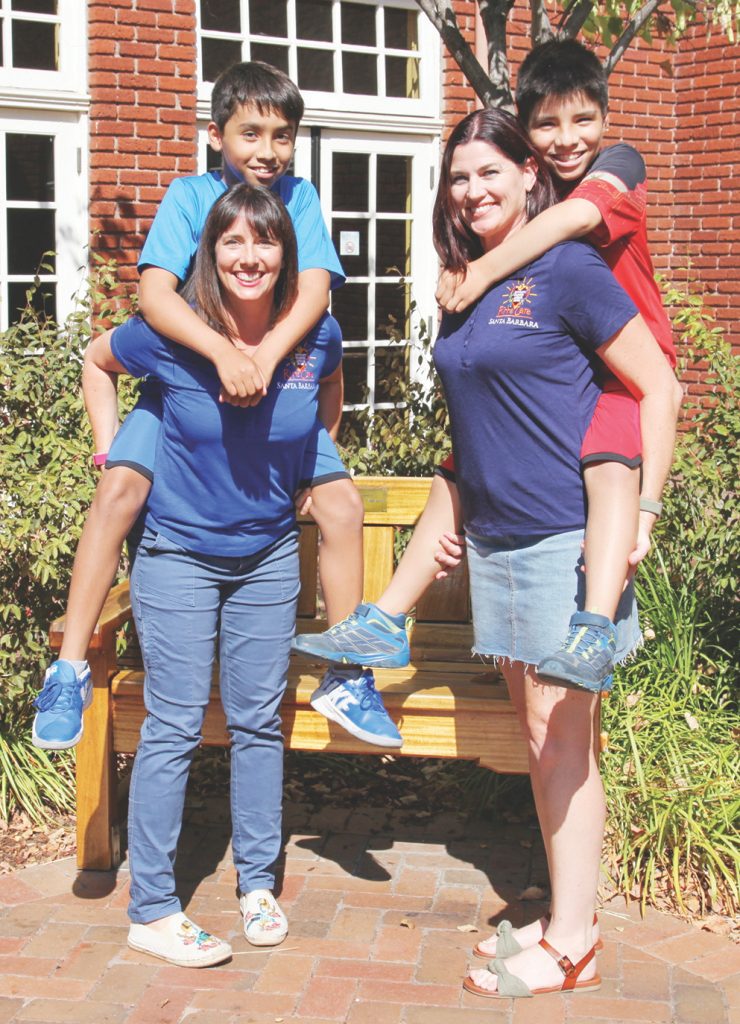 At Camp Chit Chat, each participant is placed in a small group (two to three children) with same-aged peers also working on similar skills such as articulation, language, fluency, and social communication. They engage in gross motor, fine motor, social, cognitive, and early literacy and language activities working on all areas of development for the child, DeAngelis said. But this year the activities have become even more important.
"After the pandemic, we've noticed that many children are hesitant to talk to their peers," she said. "They have some social skills delays, and we think it's because of the lack of exposure from not being able to be in school. These kids already have speech and language disabilities, so communication isn't their strength, and it makes it extra hard for them in ways that a typical developing child maybe wouldn't have. And of course all the services that are provided by the school for speech therapy or IEP (Individualized Education Program) obviously end in the summertime. So unless you can afford to hire a private therapist, we're the only place to get services like that over the summer. So we're super excited to have our camp again this year."
To top things off, at the end of the summer, the Language Center hosts its own free "Fiesta" at a local park to bring together the staff, children, and families to celebrate all of the hard work they have been doing all summer long and perhaps set up playdates for the kids.
But don't go rushing to the phone or website to enroll your preschooler in the program that starts in June. Applications for this year's Camp Chit Chat closed a while ago. "It's very closed," DeAngelis said, noting the increased demand for the RiteCare ritual led to more hopefuls than the 64 kids they had space for.
The good news is that Santa Barbara RiteCare, which has been providing free, high-quality therapy for children in the community facing social, reading, speech, and communication delays since 1984, will be ramping up its efforts again in the fall. DeAngelis and her colleagues are devoted to reaching even more kids who require early intervention to overcome speech disorders, and the nonprofit offers screenings to children ages three to five years old to assess their needs and point them in the right direction.
A few times each year, RiteCare staffers even head to a local library to conduct outreach, DeAngelis said. "We meet with the toddler group and talk to them about speech and language milestones," she said. "We can do a quick screening and show parents where they need to go and get help, whether it's through us or another agency. We want to go to the parents that maybe don't have resources but also don't know how to find us or even that we're here. We're always looking for ways to help more children."
The Santa Barbara RiteCare, which is one of 170 such centers across the U.S., has also expanded to accommodate other needs that weren't being fully met elsewhere, DeAngelis said. "We've done traditional speech and language therapy, but parents were calling us with other concerns like their child wasn't reading well or was having social skills difficulties. So we created all of our programs based on the community need, which is pretty unique. There's no other RiteCare center in California doing all the things that we're doing."
The elementary school students enrolled in RiteCare's Brain Lab, for example, might be getting extra support at school, but it's not sufficient to overcome their issues such as dyslexia, DeAngelis said. "So they come twice a week for an hour and a half intervention and they make really great progress, because it's one-on-one and it's very specific to what the child needs," she said.
Between Brain Lab, Camp Chit Chat, and speech and language therapy programs, RiteCare enrolls over 150 children annually, and services are completely free to the children's families – meaning they rely entirely on donations and grants to provide individual therapy services to those who don't have the means for private help.
"We get calls all the time but we're a small organization, so there's a waitlist, because we hate having to turn anyone away," DeAngelis said. "If we had more funding, we could hire another clinician and we could expand programs."
Santa Barbara RiteCare
16 E. Carrillo Street, 4th Floor
santabarbararitecarecenter.org
(805) 962-8469
Julie DeAngelis, Center Director
Donate now!
www.casrf.org/santabarbara
(805) 962-8469
Executive Director, Speech-Language Pathologist: Julie DeAngelis
Mission
Help children find their voice. The California Scottish Rite Foundation is dedicated to support and assist children in California by providing childhood speech-language, literacy and education programs for a lifetime of improved communication and confidence.
Begin to Build a Relationship
We know you care about where your money goes and how it is used. Connect with this organization's leadership in order to begin to build this important relationship. Your email will be sent directly to this organization's director of development and/or Executive Director.
I first became interested in RiteCare of SB because I saw the great work they were doing for under-served local children through their free services, like Camp Chit Chat. As a Board Member, and former recipient of speech therapy, I am proud to do my part to help other children gain access to life-changing speech and communication. So many of the kids who use these services have stories of making their first friends, or being able to participate in school and social situations because they can communicate clearly. Supporting RiteCare of SB is the best way to support children across the community after the challenging few years they've endured.
Expanding Reach and Speech
RiteCare Childhood Language Center of Santa Barbara offers free speech therapy to more than 100 children every year. But, the long tail of the pandemic on children's educational development – especially in spoken language – means the nonprofit needs to expand to meet the need.  
The center is raising $60,000 this year to hire a clinician to help serve more children.
"We have the need to expand our therapy services to help more children in Santa Barbara," says Julie DeAngelis, the director of RiteCare Childhood Language Center of Santa Barbara. "We have always had a waitlist for our services. Hiring another staff member would allow us to see more children annually, around 30 more a year with a full-time clinician."
Key Supporters
Wood-Claeyssens Foundation
Santa Barbara Foundation
Hutton Parker Foundation
Towbes Foundation
Montecito Journal
Santa Barbara Lodge of Perfection
King David's Lodge #209
Westerlay Orchids
Mark and Amy Frank
Carpinteria Masonic Center
McGowan Guntermann
William Safina Trust
David Bradley and Chelsea Rangsikitpho
Toine and Kandie Overgaag
Edmund Heath
Maurice and Mary Sourmany
MERCK Foundation
Serviot, INC.
Roy and Ida Eagle Foundation