Clay Studio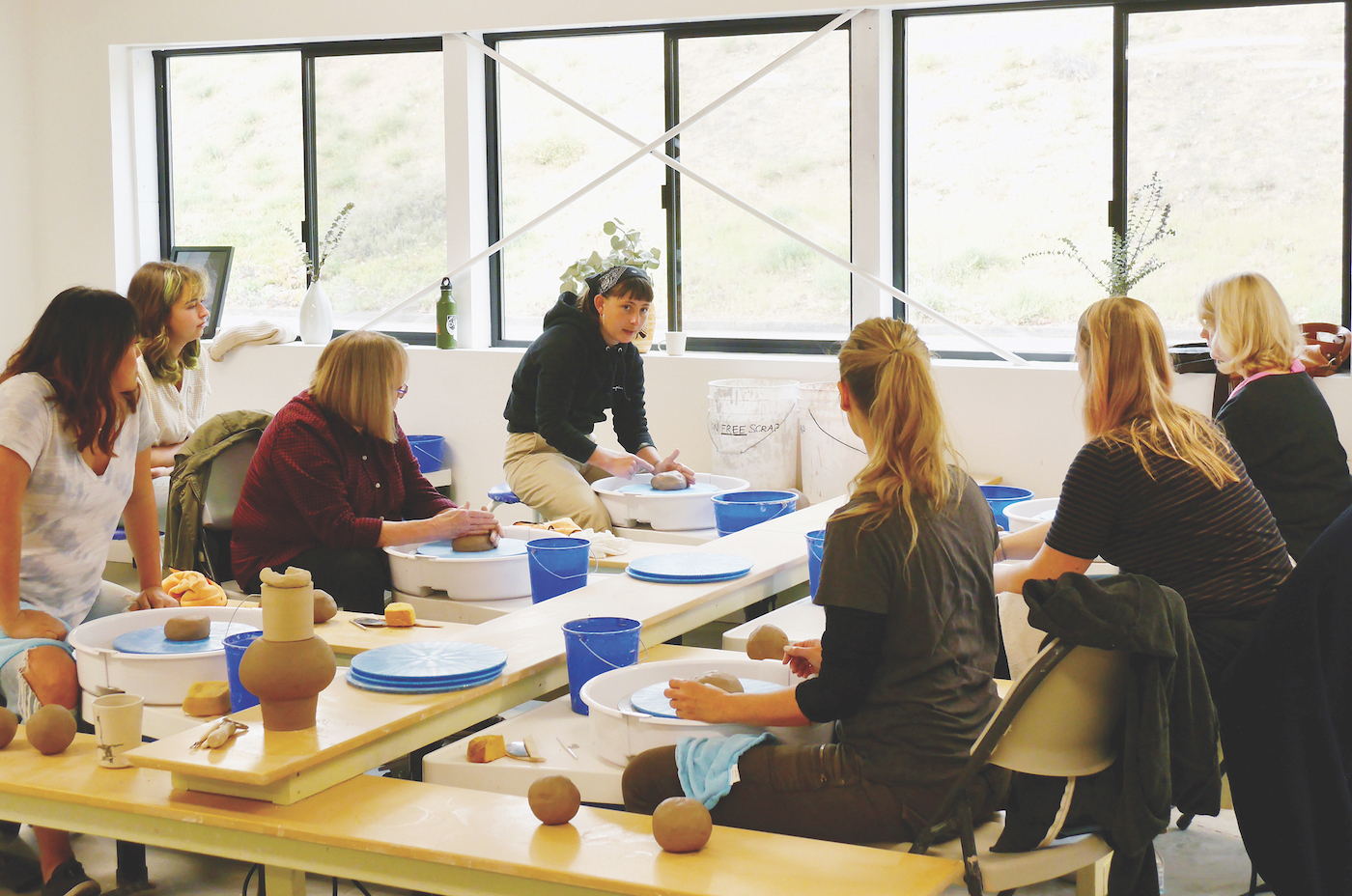 Clay Studio Founder and Executive Director Patrick Hall credits working with clay for a dramatic shift in his life from an ADHD-addled kid who couldn't focus, to one who runs a studio that serves as an artistic home and more to many members of our community.
"I couldn't concentrate to even read a paragraph or solve an algebra problem because my attention span was so short back then," he recalled. "I also had a behavior issue because when you can't concentrate on your schoolwork, you find other things to occupy your time."
But a ceramic class as a sophomore in high school altered everything. Once he sunk his hands into the moldable medium, nothing was the same.
"Just the nature of working with clay captured my attention so completely," Hall said. "It's very meditative. You cannot help but be present and fully engaged when you're in the process."
No wonder Hall credits clay with the profound shift in his life, and now it's his mission to help others at Clay Studio experience similar shifts whatever their level of experience in an atmosphere that's both professional and supportive. This expansive 24,000 square-foot space features 20 potter's wheels, several hand building stations, a 3D printer, 10 different kilns, and more.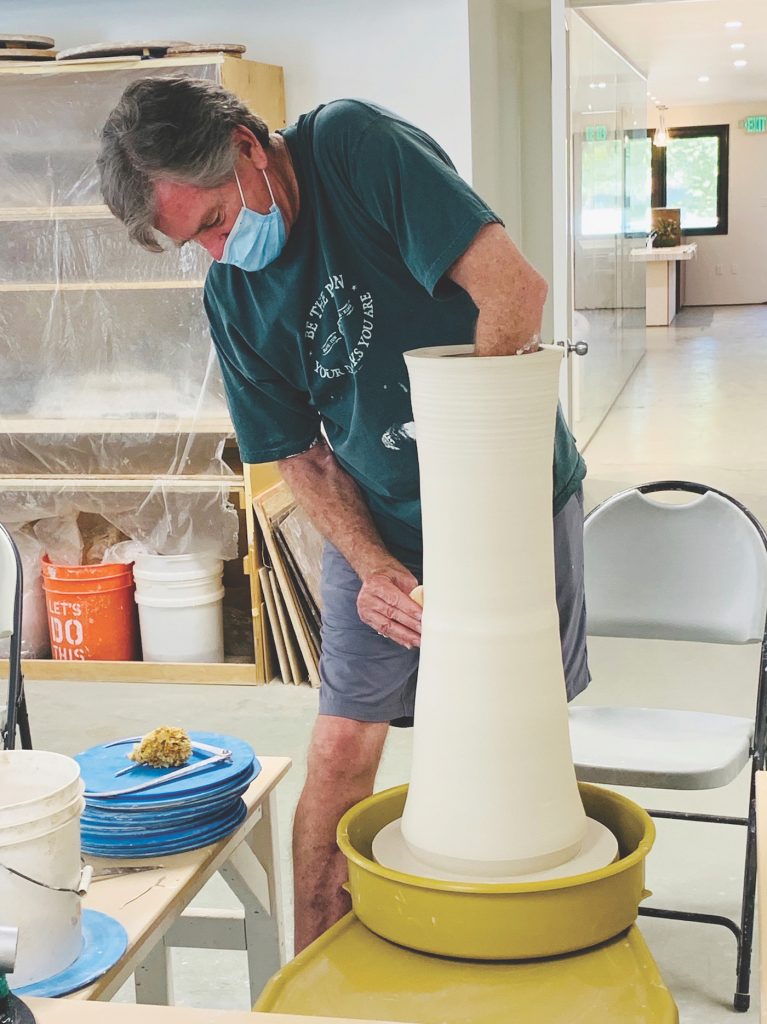 "Whether it's the facility, the classes, the teachers, the programming, or the events we hold, I want it all to be elevated," he said. "I want it to be better than people who may have taken classes elsewhere expect it to be so you can really develop as an artist or accomplish whatever you are looking to do."
That's why classes – there are more than a dozen each week – average just eight students per session with a maximum of 12, so everyone gets enough instruction and attention, and the instructor can actually spend significant hands-on time with budding artists.
"The feedback we get from our participants tells me that we're doing that," Hall said. "One student told me she'd been taking classes in town for six years but that the 45 minutes with me eclipsed everything that she'd learned before. That's the kind of impact we want to have."
But you don't even have to be enrolled in a class to get informal help from professionals or other Clay Studio members, Hall said.
"We have about 80 members and it's not just a bunch of individuals but much more collaborative. It's like a hive in here. I'm always moving through the studio, answering questions. And if I see somebody struggling, I'll go help them. So will others. That's the vibe and community that we've created, where everybody helps each other."
As a growing community arts center, Clay Studio boasts ceramics as its core discipline but also teaches drawing, painting, printmaking, and more, plus private artist studio rental space, a library with adjoining outdoor fire pit, and has plans for lecture and conference rooms for special events and corporate gatherings.
There's also an on-site art gallery with rotating exhibits; a new show featuring American ceramic art of the 20th century opens this week. The outdoor gathering area features seating and tables partially shaded by mature oak and palm trees amid native California wildflowers. Hall recently acquired a large inflatable screen to host a summer series of movie nights curated by Roman Baratiak, who recently retired from UCSB Arts & Lectures where he ran a film program for decades. Other plans include keeping one room open for revolving seminars or workshops in watercolor or oil painting, figure drawing, charcoal, and pastel drawing, among other artistic endeavors, Hall said.
"We really want to be a hub for the arts in Santa Barbara so we're going to do whatever shows up in front of us that sounds like it's going to interest the community and be educational and valuable," he said.
But while a significant investment from Lynda.com co-founder and philanthropist Lynda Weinman helped launch Clay Studio, and operational income from membership and class fees make it self-sustaining, more help is needed to fund renovations, expansion, and programming growth – including a computer lab to teach digital art-making and fabrication techniques, Hall said. "We're diversifying our offerings and embracing more kinds of arts and community engagement and we need to raise money to make all that happen."
The public can get a taste of what takes place at Clay Studio next weekend when the facility hosts its 2022 Summer Open House and Fundraiser from 12 pm to 6 pm on Saturday, June 11. The free event features open studio tours where visitors can watch potters at work, demonstrations in throwing clay and raku firing, plus lawn games, live music from The Summerland Band, and wine, beer, and food trucks on site.
It's also a chance to take in Clay Studio's culture. "I'm very careful and protective about our nurturing vibe that all of us try to exemplify," Hall said. "It's incredibly important to us that people continue to walk in here and say this place just feels magical."
Which is part of what draws folks to take a class or join up, whether they suffer from ADHD or just want to try something new.
"We're living in informationally intense times with so many digital things coming at us all the time," Hall said. "People need to balance that out with something tactile, something analog and human. Working in clay is interior and contemplative. It's a great antidote."
Clay Studio
1351 Holiday Hill Road, Goleta
(805) 565-CLAY 
claystudiosb.org
Patrick Hall, Executive Director
Donate now!
www.claystudiosb.org
(805) 565-2529
Executive Director: Patrick Hall
Mission
Clay Studio is a community art center committed to fostering the creative process in a welcoming and supportive environment. Our goal is to enrich lives by teaching and promoting the ceramic arts.
Begin to Build a Relationship
We know you care about where your money goes and how it is used. Connect with this organization's leadership in order to begin to build this important relationship. Your email will be sent directly to this organization's director of development and/or Executive Director.
It was so fun just letting your imagination go wild as you're kneading this clay and wondering, what am I gonna create today? It is so beautiful to see someone's heart and soul infused into these sculptures, bowls, and pots! Thank you for giving the community a place to work with clay and maybe find a new passion!
Help Us Grow
Thanks to initial seed funding, Clay Studio has built a sustainable operation that is growing, but will need "fortification from others," if it is to continue expanding, says Lynda Weinman, the nonprofit's seed investor.
The studio will undergo renovations this spring to further build out the property and facilities. Once completed, programming will include photography classes, printmaking, painting, drawing, and more. Clay Studio is aiming to raise $625,000 to pay for equipment and furnishings, with the goal of greatly expanding their classes and community offerings in late 2022.
Key Supporters
Patrick Hall, Board Member, Executive Director
Lynda Weinman, Board Member
Amy Ryan, Board Member
Anita Green, Board Member
Josh Rabinowitz, Legal Advisor
Juliette Fish, Glaze Technician
Suzanne Hawtrey, Children's Program Director
James and Linda Haggerty of Haggerty Ceramics
Michelle Griffoul of Michelle Griffoul Studios
Michael Adcock, Artist, Potter & Ceramics Instructor
Isaih Thomas, Artist, Potter & Ceramics Instructor
Sarah Klapp, Artist, Potter & Ceramics Instructor
Sarah McLean, Meditation & Wellness Instructor