La Granja Más Pequeña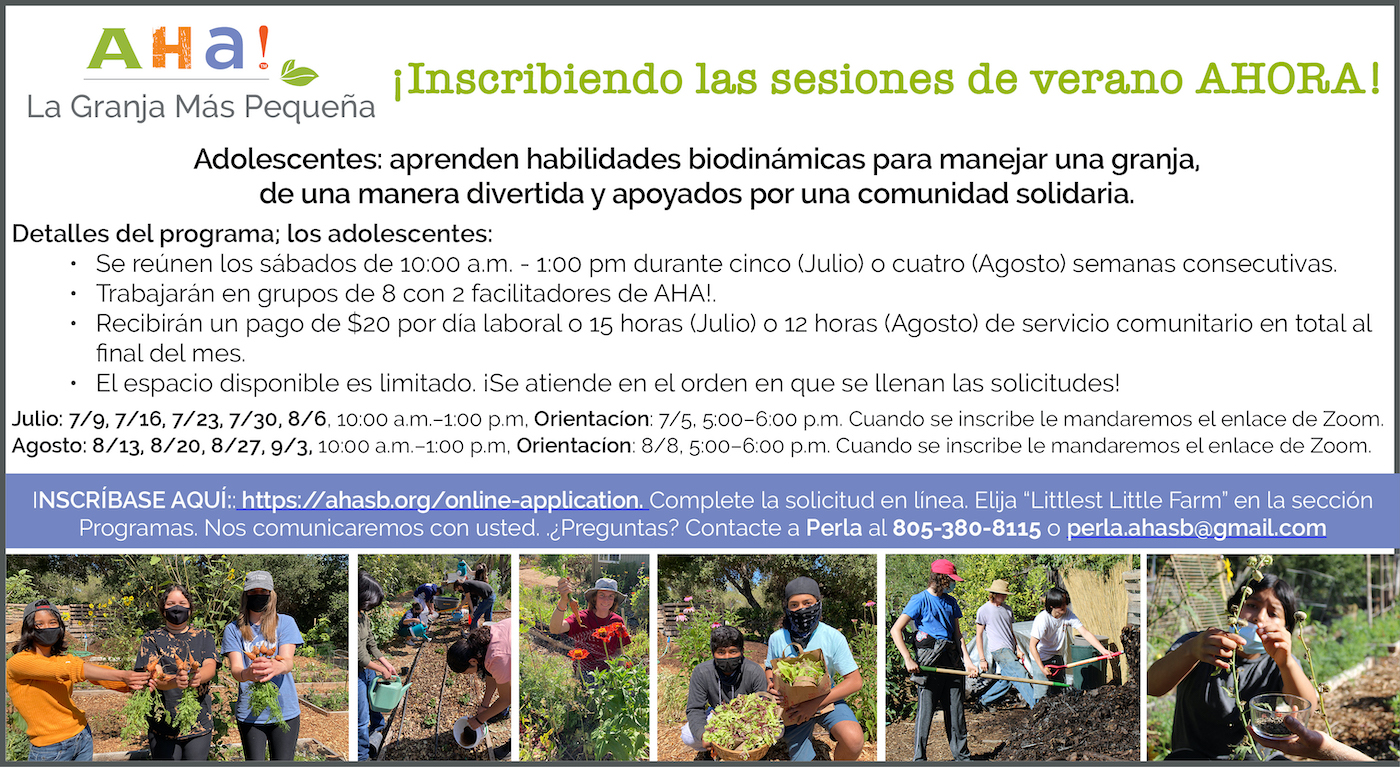 Nueva sesión para La Granja Más Pequeña — ¡Regístrese ahora!

Adolescentes: aprenden habilidades biodinámicas para manejar una granja, de una manera divertida y apoyados por una comunidad solidaria.

Detalles del programa:
Los adolescentes se reúnen todos los sábados desde las 10:00 a.m. hasta las 1:00 de la tarde durante cinco (Julio) o cuatro (Agosto) semanas consecutivas.
Los adolescentes trabajarán en grupos de 8 con 2 facilitadores de AHA!
Los adolescentes que cumplan con su contrato LLF recibirán un pago de $20 por día laboral o 15 horas (Julio) o 12 horas (Agosto) de servicio comunitario en total al final del mes.
El espacio disponible es limitado. ¡Se atiende en el orden en que se llenan las solicitudes!
INSCRÍBASE AQUÍ

Complete la solicitud en línea (vinculada arriba). Elija "Littlest Little Farm" en la sección
Programas. Nos comunicaremos con usted para confirmar su lugar.

Vea a continuación la fecha y hora de la Orientación OBLIGATORIA para cada sesión
.¿Preguntas? Contacte a Perla al (805) 380-8115 o perla.ahasb@gmail.com.

Cualquier individuo que experimenta síntomas de enfermedad debe quedarse en casa.
Donate now!
www.ahasb.org
(805) 770-7200 x 2
Senior Director of Development Molly Green
Mission
AHA! equips teenagers, educators, and parents with social and emotional intelligence to dismantle apathy, prevent despair, and interrupt hate-based behavior.
Begin to Build a Relationship
We know you care about where your money goes and how it is used. Connect with this organization's leadership in order to begin to build this important relationship. Your email will be sent directly to this organization's director of development and/or Executive Director.
It's never been harder to be a teenager. Social isolation, skyrocketing gun violence, social media divisiveness, bullying and discrimination, and persistent anxiety about an uncertain world have led to unprecedented levels of mental health issues in youth. For me – as a donor, volunteer, and now board member of AHA! – I know we must show up for our teenagers now more than ever, and this program is the surest way I know to make a profound difference. AHA! provides lifetime tools for social and emotional well-being, enabling teens to better care for themselves, each other, and their communities.
Give Teens the Tools to Tackle Life
Our in-school programs have served some 55,000 students since our founding, and we receive just 14% from districts toward the cost of services. We need help reaching our goal of raising 33% of our budget – half a million dollars – to continue to provide social-emotional learning programming, mentorship, and support to the SBUSD and CUSD.
Key Supporters
Lisa and Bryan Babcock
Jennifer and Peter Buffett
Deckers Brands
Daun and Daniel Dees
Lisa Foley
Erica Gervais
Kerrilee and Martin Gore
Nancy Grinstein and Neal Rabin
Karen and Bayard Hollins
Danialle and Peter Karmanos
Jill Martin
Nora McNeely Hurley
and Michael Hurley
NoVo Foundation
Natalie Orfalea and Lou Buglioli
Marla McNally Phillips and Lee Phillips
Stacy and Ron Pulice
The Rodel Foundations
Justine Roddick and Tina Schlieske
Rand Rosenberg and Teran Davis
Leanne Schlinger
Regina Scully
Susan and Bobby Shand
The Smidt Family
Kind World Foundation