Junior Wheelchair Sports Camp Returns Live for Week of Fun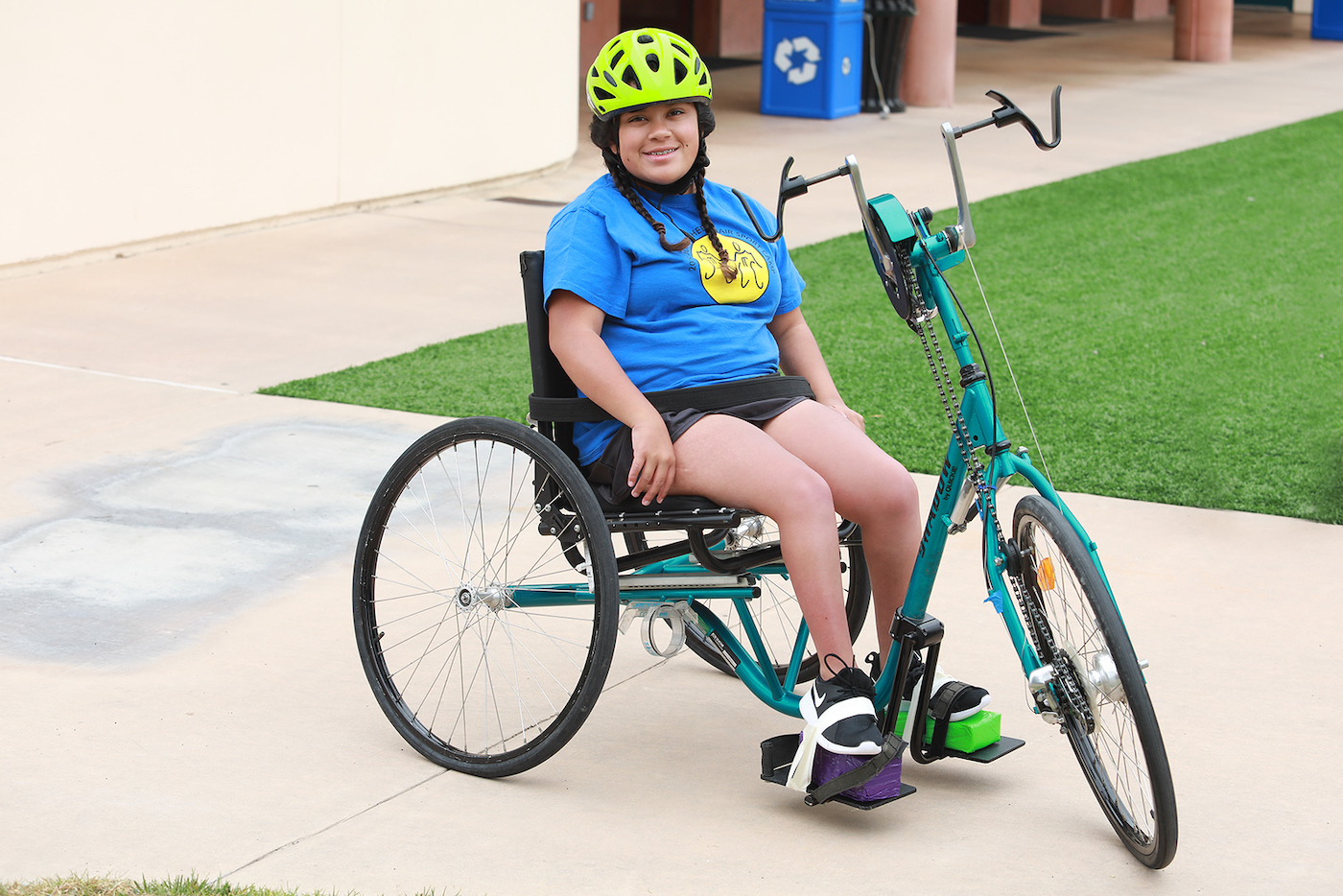 The 2022 Junior Wheelchair Sports Camp returns in person at the UCSB Recreation Center after a two-year pause to welcome dozens of enthusiastic campers, on July 11-15.
The annual camp provides sports and recreation skills development for children, youth, and young adults between the ages of 6 to 21 years old who can use a wheelchair to participate in activities. A new young adult group has recently been added for athletes up to 21 years old.
Funding from the Cottage Rehabilitation Hospital Foundation enables all campers to attend the camp for the entire week at no cost.
Camp activities range from beginner to advanced wheelchair sports and recreation activities, including rugby, basketball, tennis, hand cycling, swimming, SCUBA diving, racquetball, power soccer, climbing wall, ropes course, dodgeball, obstacle course, baseball, dance and pickle ball.
Counselors and instructors are wheelchair users themselves, so they become natural mentors to the campers on how to stay healthy and active while living with a disability.
The Junior Wheelchair Sports Camp was founded in 1986 and is the only camp of its kind on the Central Coast. It attracts campers from the tri-counties and beyond, including Los Angeles and Bakersfield, and even Oregon. Transportation for campers is provided free of charge from Oxnard, Santa Maria, Lompoc, Carpinteria and Santa Barbara.
Cottage Rehabilitation Hospital and Cottage Rehabilitation Hospital Foundation sponsor the camp with support from individuals, organizations, and businesses in the community. The camp is led by director Rene Van Hoorn, Recreation Therapist at Cottage Rehabilitation Hospital.
For more information, visit www.cottagehealth.org/wheelchaircamp.
About Cottage Health – cottagehealth.org
The not-for-profit Cottage Health is the leader in providing advanced medical care to the Central Coast region. Specialties include the Cottage Children's Medical Center, Level 1 Trauma Center, Neuroscience Institute, Heart & Vascular Center, Center for Orthopedics, and Rehabilitation Hospital. The Cottage Health medical staff is comprised of more than 700 physicians, many with subspecialties typically found only at university medical centers. Last year, the Cottage Health hospitals in Goleta, Santa Barbara and Santa Ynez Valley provided inpatient care for 21,000 people, treated 80,000 patients through their 24-hour emergency departments and helped deliver 2,100 newborns.
Donate now!
www.cottagehealth.org
Contact:(805) 324-9929
Cell (805) 448-0293
Director of Development: Magda Stayton
Mission
To provide superior health care for and improve the health of our communities through a commitment to our core values of excellence, integrity, and compassion.
Begin to Build a Relationship
We know you care about where your money goes and how it is used. Connect with this organization's leadership in order to begin to build this important relationship. Your email will be sent directly to this organization's director of development and/or Executive Director.
Where else can one do so much for a dedicated group of healthcare students starting on their careers of service to the various communities in the world, including our own? The effect is widespread and lasting, and of increasing importance.
A New Home for Cottage Rehabilitation Hospital
Cottage Rehabilitation Hospital (CRH) is moving from its current De la Vina Street location to state-of-the-art space on the Goleta Valley Cottage Hospital campus to provide patients with:  
•spacious, private rooms for comfort and healing 
•expanded inpatient and outpatient therapy areas  
•new outdoor aquatic therapy center
•therapeutic and healing gardens
The project will exceed $40M and the Foundations at CRH and GVCH are collaborating to raise at least $15M through the new 'Rebuild & Renew' Campaign.
Generous community participation is essential. 
To learn about giving opportunities and how this campaign will strengthen Cottage's ability to serve our community please call (805) 660-2496 or visit renewcrh.org
Cottage Health Friends List
Susan Christol-Deacon
Thomas Cusack
Jelinda DeVorzon
Gregory Faulkner
Pamela Gann
Roberta Griffin
Hollye Jacobs
Dorothy Largay, PhD
Robin Malone, MD
Peter MacDougall, EdD
Babji Mesipam, MD
Gretchen Milligan
Nancy Nielsen
Robert Nourse
Steve Ortiz
Ernesto Paredes
Gamble Parks
Richard Ponce, MD
Ginger Salazar
Wesley Schooler, MD
Mark Scott, MD
Bhupi Singh
Marshall 'Chip' Turner
Yulun Wang, PhD
Steven Zola