One805 Live! The Bash is Back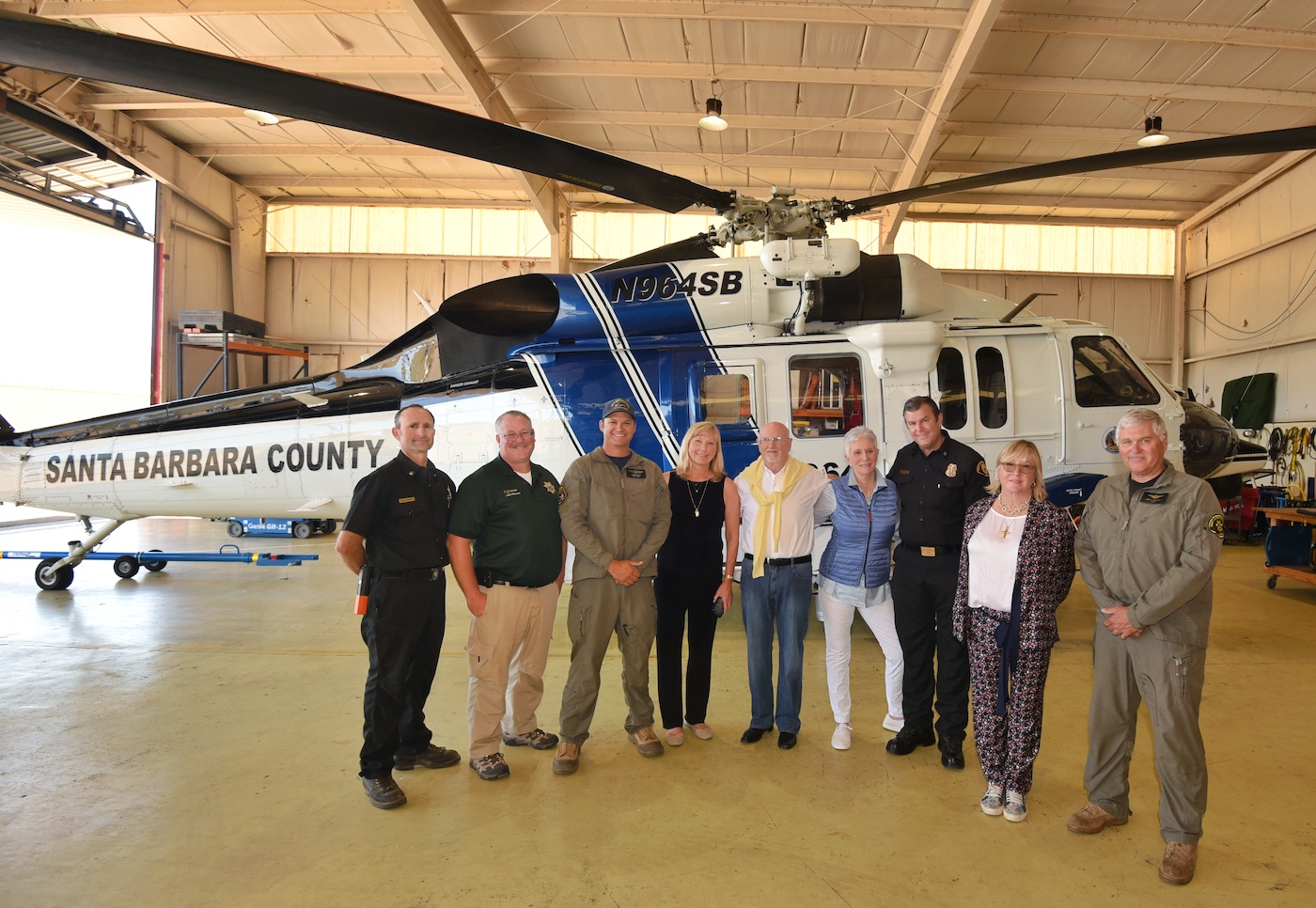 One805's original Kick Ash Bash was a legendary gathering that will forever be etched in the community's consciousness. This huge star-studded event and concert in early 2018 was held at Bella Vista Ranch and Polo Club in Summerland to celebrate our community's first responders after the Thomas Fire and Montecito debris flows. But the event's success and the connections created also sparked One805, originally organized as a one-off, to become a permanent 501(c)(3) organization, operating a single nonprofit raising funds for all three first responder groups (fire, police, and sheriff) to purchase emergency equipment and support mental health and wellness care for the individuals who are on the front lines caring for all of us. 
The COVID pandemic forced either cancellation or drastic downsizing of subsequent annual parties to a smaller scale donor appreciation event, but now the Bash is coming back in a big way. Now known as One805 Live!, the gathering will take place in the late afternoon and evening of September 17 at a private oceanside estate, with tickets going on sale as this issue hits the newsstands.
"Nothing's ever going to be quite as extraordinary and amazing as the Kick Ash Bash, but we're excited to get back on track to do another, albeit more modest festival-style event that's open to anyone," said Richard Weston-Smith, the organization's president and one of its co-founders. "We're not all about black tie fundraisers. We just want to go and have fun in jeans at a fun, relaxed, informal music-driven event that's accessible to anyone who goes to the Santa Barbara Bowl."
No acts have yet to be announced, although attendees can expect something akin to last year's donor event which featured Danny Seraphine of Chicago and Robby Krieger of The Doors. In-roads and inquiries are also in the pipeline to secure other local talent, perhaps even some of the bigger names in the entertainment world who live in the area who might be available closer to the date, Weston-Smith said.
There's also the hope that those who can't perform might agree to make a quick appearance to help the cause.
"Having celebrities turn up and get up on stage for five minutes to introduce an act can really make a difference," he said.
As with all of One805's fundraising, proceeds get funneled directly to the police, fire, and/or sheriff organizations for providing needed equipment much faster than it would take through the typical arcane government budgeting process, if ever.
"We are a volunteer-only organization," Weston-Smith said. "We have zero overhead, no offices, no salaries. Everything we raise goes to the cause that is most urgently needed in the county."
How that happens is through a uniquely cooperative and transparent process that has funding decisions made by the heads of the 11 first responder agencies in the county, who first came together surrounding the original Kick Ash Bash and now meet with the One805 committee to talk among themselves and determine how to disburse the collected donations from the grant applications.
"We collect the money, but they're the ones who make the decisions," explained Nina Phillips, another co-founder and executive board member. "They pretty much didn't know one from the other before, but now they'll sit in the room and work very closely together to prioritize as a group where to spend the money. It's an incredibly fair way because they're making the decisions."
Allocations from last year's fundraising went to buying new goggles for the sheriff's aqua team, whose antiquated equipment made searching for the victims of the horrific fire on the Conception dive boat an even more harrowing and challenging task, Phillips said. Guadalupe police and fire received new chainsaws, while Santa Maria police were awarded drones for tactical emergency response and monitoring criminal activity.
But One805 also has the ability to respond to needs that come up between those meetings by digging into reserves, securing grants, and finding donors to step up and fill in the gaps. Last month, that allowed One805 to present a $90,000 check to Santa Barbara County Fire to expand the capability of its recently-acquired Firehawk helicopter – a former military chopper that had already been retrofitted to vastly increase the agencies' ability to perform rescues, apprehend suspects, and quickly suppress fires – to also perform medevac operations that will allow for transporting airlifted injured people in a much more safe and secure way.
"That's exciting because it will save a lot of lives over the years," Weston-Smith said.
Looking ahead, the upcoming One805 Live! on September 17 will serve to help replenish the coffers toward the multiple millions raised by the original bash. The organization is hoping corporate sponsors, Montecito philanthropists, and more deep-pocketed donors will once again get involved in making the event both a big fundraising success and a truly community-connecting gathering, Weston-Smith said.
"Everybody should feel that they're part of the first responder community because they look after us in our time of need," he said. "We need to look after them, too."
One805
(805) 698-2209
one805.org
Mission
One805 is a permanent 501(c)(3) corporation, raising funds for all three First Responder groups – Fire, Police, and Sheriff – purchasing equipment, counseling & taking care of those who take care of us.
Begin to Build a Relationship
We know you care about where your money goes and how it is used. Connect with this organization's leadership in order to begin to build this important relationship. Your email will be sent directly to this organization's Director of Development and/or Executive Director.
"One805 has been a valuable partner for first responders in Santa Barbara County. They are dedicated to supporting community preparedness, public safety, counseling services and financial support for un-budgeted equipment. One805 re- cently purchased sanitizing foggers to help keep us safe from COVID-19 and also provided QRET helicopter harnesses for the County Air Support Unit.
Thank you for making a difference here in our local community."
Social Solidarity
Through local natural disasters and COVID-19, the team at One805 has recognized the power of Santa Barbara's "social solidarity" – the interdependence between individuals in a society – to survive a crisis together.
Despite the glamour of One805's first benefit concert, the charity is dedicated to including ALL county residents in equitable safety initiatives. Future benefit concerts titled "One805 Live!" will further the tradition of live music to raise funds for public safety emergencies.
"One805's mission is to support the public safety needs of our community in an efficient, equitable fashion," says Executive Director Angela Binetti Schmidt. "We are not another black-tie charity. We are stronger as ONE and are asking everyone to join. Our $25 members are just as appreciated and important as our honorary board $10,000 members." Honorary board members meet with public safety Department Heads to collaborate on donation expenditures.
Together we are One805. Visit One805.org to learn more, become a member and donate.
One 805 Executive Board
Richard Weston-Smith, President/Co-Founder
Eric G. Phillips, Chief Executive Officer/Co-Founder
John J. Thyne III, Chief Financial Officer/Co-Founder
Advisory Council
Chief Laurie Luhnow, Santa Barbara Police Department |
Sheriff Bill Brown, Santa Barbara County Sheriff Department
Fire Chief Eric Nickel, Santa Barbara City Fire Department
Fire Chief Mark Hartwig, Santa Barbara City Fire Department
Fire Chief Kevin Taylor, Montecito Fire Department
Fire Chief Gregory Fish, Summerland/Carpinteria Fire Department
Chief Phil Hansen, Santa Maria Police Department
Chief Joseph Mariani, Lompoc Police Department
Chief Michael Cash, Guadalupe Police & Fire Department
Fire Chief Leonard Champion, Santa Barbara Fire Department
Fire Chief Jerry Kuras, Santa Maria Fire Department