Environmental Defense Center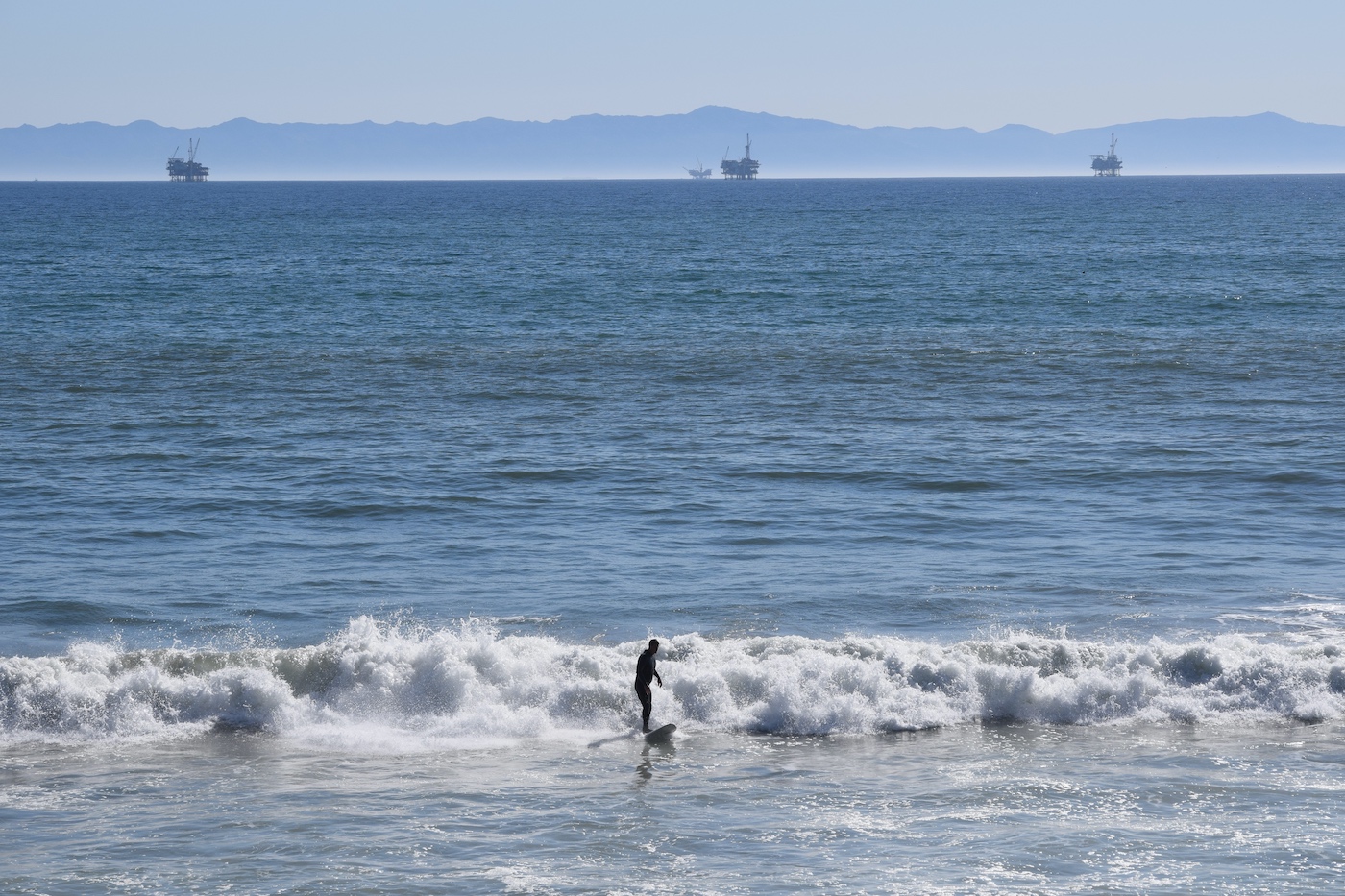 Exactly one month from this issue's publication, the Environmental Defense Center (EDC) will be having a 45th anniversary celebration at its headquarters in downtown Santa Barbara, a special community gathering that marks the first public event in the space in three years.
Think of it as a one-shot revival of TGIF!, the environmental organization's much-beloved spring and summertime monthly gatherings at their charming sunken courtyard in downtown Santa Barbara. This event served as a networking opportunity where the who's who of the nonprofit environmental communities – including many of EDC's clients – would come together to connect, share their work, and learn about new groups and new people in the field doing the important work.
Tickets are priced, appropriately, at a very modest $45 to mark the 45th anniversary. But even those funds are much needed to further EDC's mission to enhance the environment of California's southern Central Coast through education, advocacy, and legal action.
EDC is a highly-praised and effective nonprofit environmental advocacy group and the only nonprofit environmental law firm between Los Angeles and San Francisco, one that provides free and low-cost legal services to other like-minded community groups. The organization, which raises about 85 percent of its budget on its own, has represented more than 130 such groups over the years.
Its work has been astonishingly effective, with victories that include protecting endangered species on land and sea as well as local creeks, rivers, and other waterways, plus helping to secure more than 100,000 acres of beachfront open spaces including the Douglas Family Preserve, Ellwood Mesa, the Carpinteria Bluffs, as well as the Sedgwick Reserve in Santa Ynez Valley and Fiscalini Ranch in Cambria, preserving them for public park use in perpetuity.
"But the greatest victories of EDC are often what we don't see," said Betsy Weber, EDC's Assistant Director. "We don't see more platforms. We don't see more oil spills. Our open spaces and agricultural lands aren't filled with development. There's not another power plant down on the beach in Oxnard."
Some of the most prominent victories in EDC's prevention of potential pollution are listed in a two-page "road map" spread marking milestones in the organization's history. Many of the concrete examples involve curtailing oil exploration, drilling, and transportation which date back to EDC's founding in the wake of the famous blowout at Union Oil's Platform A – then the largest oil spill in U.S. history, causing four million gallons of crude to pour into the Santa Barbara Channel and onto our beaches.
In March, EDC was instrumental in influencing the Santa Barbara County Board of Supervisors to reject ExxonMobil's proposal to transport oil by tanker trucks along hazardous California highways, in the process restarting three 1980s drilling platforms off the Santa Barbara coast that have been shut down since the Refugio disaster in 2015.
"That was a pretty dangerous proposal that, even beyond restarting these aging platforms, would have sent nearly 70 tanker trucks per day up and down our highways," Weber said, noting that Get Oil Out and Santa Barbara County Action Network were its major partners and/or clients in the case. "Tanker trucks are one of the riskiest ways to transport oil, and a big part of our success was our putting together a map of crashes and spills showing the decision makers everything that had already happened along these routes to date."
Even more recently, just last June, the Ninth Circuit Court of Appeals ruled that the federal government violated environmental protection laws when it approved permits for fracking and acidizing other platforms offshore, agreeing with the Environmental Defense Center and its client Santa Barbara Channelkeeper that the government failed to conduct full environmental review.
"It's a big one, because we were up against the federal government," said Weber, noting it's been an ongoing fight for decades. "The ruling really protects our sensitive coastline, our waters, our endangered wildlife, and our beaches."
Threats to the environment continue to multiply, though, and EDC continues to do its part to combat them through its multi-pronged approach, Weber said.
"There are endless issues, and we can't take them all on," she said. "So we look at what's important to the community and what our partner groups need help with, and provide them not only with legal services, but also the tools and expertise and help with research for them to succeed in their mission on their own."
Which leads back to the 45th anniversary event, slated for 4:30-7 pm on September 10 at EDC's historic courtyard where, just as with TGIF!'s season-ending events, tickets include live musical entertainment, full dinner from Buena Onda Empanadas, plus two free drink tickets from an array of select non-alcoholic beverages, wine from Lieff Ranch, and beer from M. Special – not to mention a chance to reconnect in person.
"It's been a rough couple years of not getting together, so it's exciting to finally be able to bring all of our partners and nonprofit clients together with our donors and supporters and friends, and take the time to just gather and celebrate everything that we've done together," Weber said. "Everyone loves the courtyard, and there are a lot of memories of things that have taken place here over the years. It's a great time to be bringing our community together again."
Environmental Defense Center
906 Garden Street
EnvironmentalDefenseCenter.org
(805) 963-1622 x111
Betsy Weber, Assistant Director
Donate now!
Matching Challenge
Through December 31, 2022, the first $5,000 donated will be matched thanks to a generous challenge grant from the Natalie Orfalea Foundation.
In Their Defense
Most of the Environmental Defense Center's in-person fundraising activities were canceled during COVID-19 and went online, including its main gala, Green & Blue. EDC raises about 85 percent of its funds on its own, so individual contributions remain vital to its existence as the nonprofit aims to attract up to $1.6 million this year. Plus, the work that the EDC does also supports 40 environmental organizations in the Tri-County area.
"A gift to EDC does more than help just one organization," says Executive Director Owen Bailey. "This is because EDC provides free and low-cost legal services to so many other groups, and your gift supports all this work."
Mission
The Environmental Defense Center works to protect and enhance the local environment through education, advocacy, and legal action.
www.EnvironmentalDefenseCenter.org
(805) 963-1622 x111
Assistant Director: Betsy Weber
Begin to Build a Relationship
We know you care about where your money goes and how it is used. Connect with this organization's leadership in order to begin to build this important relationship. Your email will be sent directly to this organization's director of development and/or Executive Director.
The Environmental Defense Center has been an essential partner in our legal work – from fighting off a massive expansion in oil drilling through a critical drinking water aquifer, to defeating a polluting gas power plant in favor of battery storage, to enforcing creek setbacks. Together we are protecting our air and water, advocating for endangered species, and pushing forward solutions to the climate crisis.
Key Supporters
Dennis Allen & Jennifer Cushnie
Laurie Ashton & Lynn Sarko
The Ruth H Brown Foundation
Dave & Jean Davis
Denison Family Foundation
El Gato Channel Foundation
The Emmett Family
Lee Heller
Gary & Helena Hill
Lori Lewis
The Looker Foundation
Manitou Fund
Gloria & John McManus
Nora McNeely Hurley
& Michael Hurley
Roger S. Firestone Foundation
Leanne Schlinger
Joel Shefflin
Suzanne & John Steed
Peter Schuyler & Lisa Stratton
Carolyn Cogan & Jules Zimmer