Santa Barbara Education Foundation Raises Over $30,000 for Student Literacy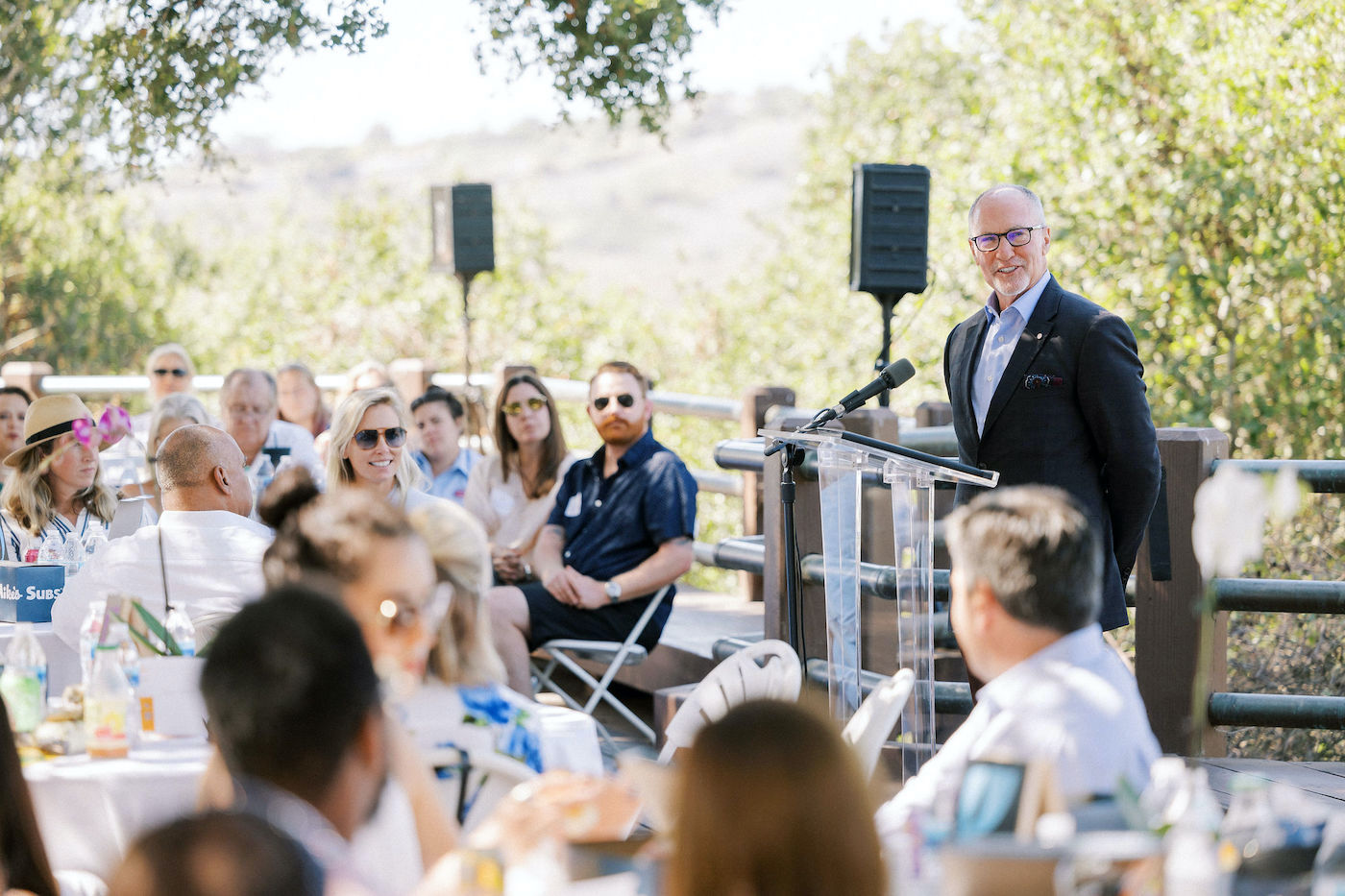 On Thursday, September 29, the Santa Barbara Education Foundation hosted the Love of Literacy Luncheon to highlight the need for support for students struggling with reading in the Santa Barbara Unified School District.
The outdoor lunch in Elings Park's Godric Grove raised over $30,000 in funds to train Santa Barbara Unified teachers in methods to identify and more effectively teach students who are struggling with reading, emergent multilingual learners, and students with disabilities, including those displaying characteristics of dyslexia.
Santa Barbara Unified School Board member Wendy Sims-Moten served as the event's emcee, which featured speakers who highlighted literacy efforts in our local classrooms and shared their personal literacy journeys.
Santa Barbara County Supervisor Gregg Hart shared his perspective on the importance of literacy as a son of an elementary school teacher and a librarian. Acknowledging that not all students have the same opportunities, he emphasized, "We need to have a system that embraces everybody and their learning needs."
Superintendent Dr. Hilda Maldonado compared the District's approach to staff development in literacy to giving teachers options or road maps to help students reach the ultimate goal of meeting standards. "We want teachers that understand that they are all teachers of academic language and literacy and that they continue to affirm the unique gifts every student brings to school while building their capacity to become a more proficient reader," said Maldonado.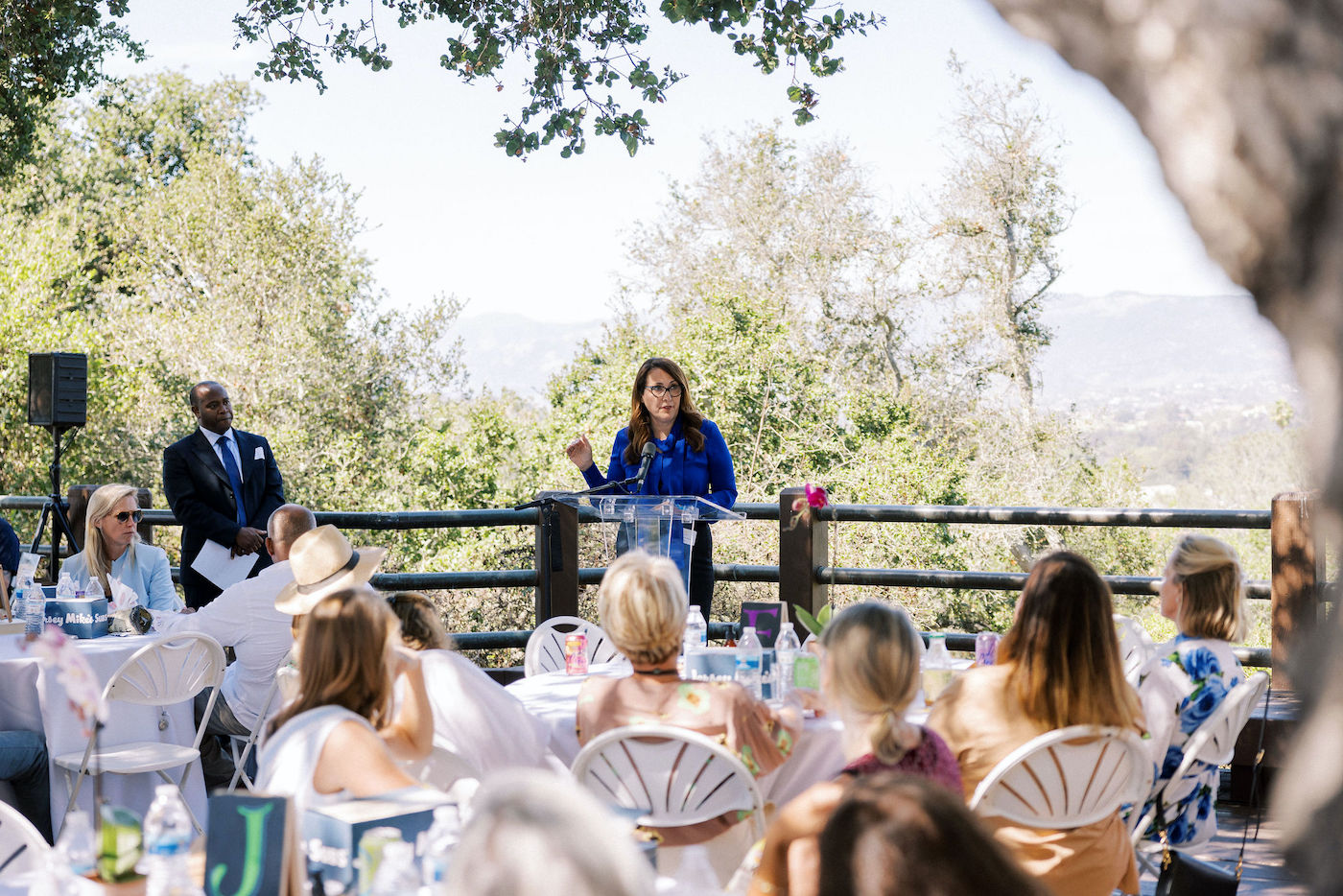 The program reached an emotional high point when Santa Barbara High School student Eva Zackrison shared her story of making gains in her reading skills under the challenging circumstances of remote learning and a post-covid return to the classroom. Zackrison proudly proclaimed, "I feel more comfortable and confident with my words per minute going up. I started 7th grade with 30 words per minute and ended 10th grade with 140 words. Thank you, Santa Barbara Unified School District, for making this possible!" Guests in attendance stood up and applauded Zackrison for the progress made due to her hard work and dedication.
To support literacy for all Santa Barbara Unified students, the Santa Barbara Education Foundation is committed to continuing to fundraise for this important professional development project.
SBEF also wishes to recognize and thank Love of Literacy Luncheon sponsors, including Pillar Sponsor: Montecito Bank & Trust; Ambassador Sponsors: Chevron, Jersey Mike's, McGillivray Construction, and Tisha Ford; Champion Sponsors: 19six Architects, Arroyo Seco Construction, Atkinson, Andelson, Loya, Ruud & Romo, Cottage Health, First 5 Santa Barbara County, KBZ Architects, Lazy Acres, Montecito Journal, Mosher Foundation, and Santa Barbara City College Foundation, with additional support provided by San Marcos High School Culinary Arts Program.
Santa Barbara Education Foundation promotes private support of Santa Barbara's public education system, serving over 12,000 students in 18 schools. For more information, visit www.santabarbaraeducation.org.
C) Dr. Hilda Maldonado
Donate now!
Mission
Santa Barbara Education Foundation (SBEF) provides and supports programs that enrich the academic, artistic, and personal development of all students in the Santa Barbara Unified School District.
Begin to Build a Relationship
We know you care about where your money goes and how it is used. Connect with this organization's leadership in order to begin to build this important relationship. Your email will be sent directly to this organization's director of development and/or Executive Director.
I have always been impressed with Keep the Beat as it fosters a love of music in children that can last a lifetime. I learned to love music when I was young and wanted to help our young folks experience that same love in their formative years.
Helping Teachers Help Students
The agenda for the 2022/2023 school year is to close the gap and achieve more funding for Teacher Grants while focusing on literacy development and mental health. Despite the $223,000 gap that the Santa Barbara Education Foundation is currently experiencing, their diligence and thoughtfulness bear every single student in mind.
You can help countless students like Bella find their voice.
Key Supporters
Arnesen Family Foundation
Timothy and Louise Casey
Andrew and Mary Jane Cooper
Daniel and Mandy Hochman
Elaine F. Stepanek Foundation
James S. Bower Foundation
John L. Carleton Foundation
Senator Monique Limón
J.M. Lind
Superintendent Dr. Hilda Maldonado
Sara Miller McCune
Mithun Family Foundation
Mosher Foundation
Santa Barbara Foundation
Nick Rail
April Thede
Towbes Foundation
Walter J. & Holly O.
Thomson Foundation
Wood-Claeyssens Foundation
Zegar Family Foundation