Hospice's Light Up a Life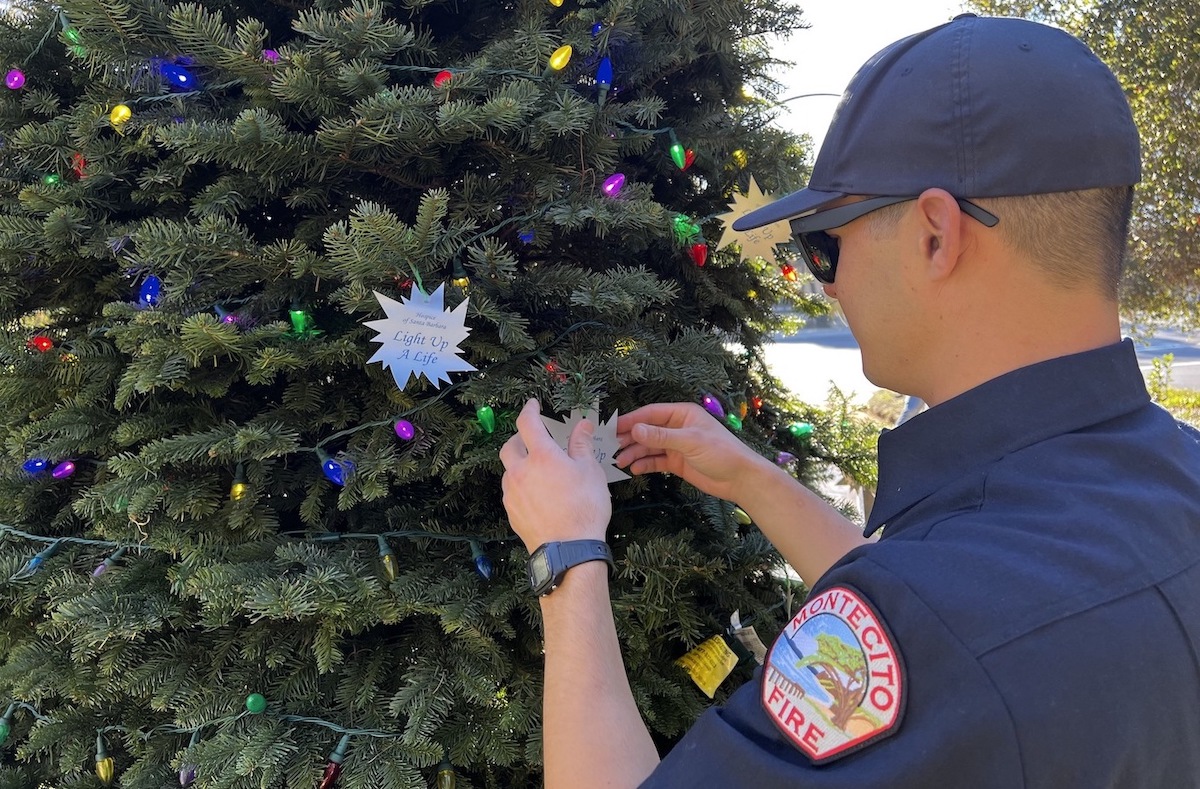 After two years lost to the pandemic, Hospice of Santa Barbara (HSB) is gearing up to once again brighten up the holidays in Santa Barbara and neighboring communities with its 39th annual Light Up a Life. The events – which were offered only virtually in 2020 and 2021 – take place live this year at four different locations in Goleta, Santa Barbara, Montecito, and Carpinteria within the span of a week in early December. They're designed to bring people together to remember and honor loved ones who might be especially missed during December's festivities, a seasonal service from the organization that all year long provides professional counseling, support groups, and patient care services free of charge to individuals and families who are grieving or facing life-threatening illnesses.
"We're truly thrilled to be back in person with each other, because at Hospice of Santa Barbara, it's fundamental to our mode of operation and our philosophy to establish and build upon personal relationships," said Charles Caldwell, the nonprofit's Director of Strategic Advancement. "The ideology behind Light Up a Life is that people experience profound grief during the holidays because they're struck by poignant memories of their family members from years of being with each other at this time of year. So it's crucial for us to be able to be together in person so people don't have to go through that isolating feeling of grief by themselves, but rather do it together side-by-side."
The idea isn't to ignore the grief or bypass the feelings, but rather to lighten the burden by the sharing of moments and memories, Caldwell said. "It helps us to bare it a little bit better."
To that end, each of the Light Up a Life ceremonies can be both a solemn and joyous gathering. The events, which last about 45 minutes, are emceed by local civic leaders – Steve Jacobsen, the former Executive Director of HSB and La Casa de Maria Retreat Center; Santa Barbara County Board of Education member Marybeth Carty; and Reverend Julia Hamilton of Unitarian Society of Santa Barbara – and includes a spiritual reflection at each ceremony led by HSB's spiritual counselor Kristen Rohm. But they also include poetry readings from a couple of the city's former Poet Laureates and well as participants in HSB's poetry grief group, led by fellow former Poet Laureate Perry Longo, plus live music (Dos Pueblos Jazz Choir and Cold Spring School Chorus, among others this year) and refreshments, and naturally, the lighting of a memorial tree.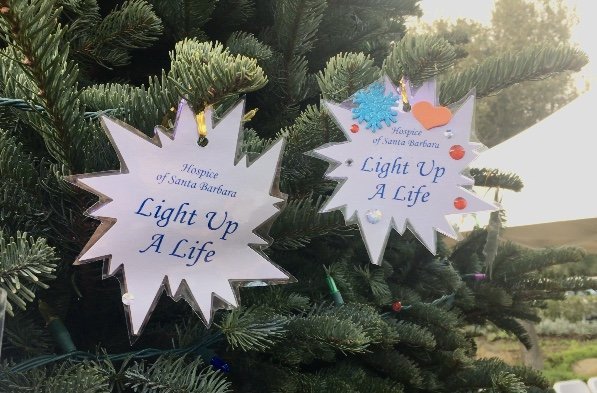 It's the latter activity that gives the events its title as guests are invited to hang one or more star-like ornaments on the Trees of Remembrance bearing the name of a loved one who has died and/or in honor of someone living. Attendees are encouraged to personalize the stars, attaching a photo or scribbling a quote to commemorate memories shared. The trees, which are intended to be inclusive of all holiday traditions, are lit to close out each event with a countdown that climaxes with children gathering round to throw confetti in the air upon their lighting. The trees will remain lit at each site through the end of the year. 
Next month's Light Up a Life ceremonies take place in Santa Barbara at the Lobero Theatre at 6 pm on Sunday, December 4; in Montecito's Upper Village Green at 4:30 pm on Wednesday, December 7; at Carpinteria's Seal Fountain at 5:30 pm on Saturday, December 10; and at Camino Real Marketplace in Goleta at 5:30 pm on Sunday, December 11. Between 100-300 people are expected at each ceremony, Caldwell said.
"There are some people who have been coming for decades, even a few who were at the first one 40 years ago," he said. "Our memory of our loved ones never ceases. The paralyzing anguish can fade over time, but the sense of grief or loss never completely goes away. So there are those who first came as a child having lost a parent who come back to Light Up a Life year after year, as teenagers and adults, and, later, with their own families. It can also be a way of connecting with HSB again, so that if they get triggered or something happens later on and they need us, it's a reminder that we're here for them."
Indeed, Light Up a Life is part of a throughline of HSB's normal activities, a community education program offering from the organization whose counselors, social workers, and volunteers gift what Caldwell called a "wrap-around of the medical aspect of hospice work" provided by doctors and nurses.
"We work with everything from anticipatory grief through the entire grief journey for both children and adults," he said. "Our patient care services program works with those who have life-threatening ailments, not just terminal patients. And we also help our clients figure out their finances, how to get shopping done, and arrange transportation to medical appointments, and even help them understand the various options that the doctors are telling them."
Continuing a tradition of the last two years due to the COVID closure, HSB will also maintain a Virtual Tree of Remembrance again in 2022, and people can dedicate a digital star as well as hang a paper one at an in-person ceremony.
Admission to each Light Up a Life event is free, and the suggested donation of $15 per star that goes to support the event is just that – a suggestion, said Caldwell.
"We absolutely have people who walk up each year who don't feel like they can or want to make a donation," he said. "That's perfectly fine."
Of course, those who want to make a larger donation in remembrance of a loved one or simply to support HSB's services are also more than welcome to do so.
Call (805) 563-8820 or visit hospiceofsantabarbara.org.
Donate now!
www.hospiceofsb.org
(805) 570-5611
Director of Strategic Advancement: Charles Caldwell
Mission
To care for anyone experiencing the impact of serious illness or grieving the death of a loved one.
Begin to Build a Relationship
We know you care about where your money goes and how it is used. Connect with this organization's leadership in order to begin to build this important relationship. Your email will be sent directly to this organization's director of development and/or Executive Director.
Hospice of Santa Barbara is that rare treasure that appears in a person's life when it is most needed, during the very darkest of times, and offers compassion and care without asking for any compensation. This heart-centered organization represents the highest ideals of humanity and is well deserving of our support.
Support for the Littles and Middles
$38,300 covers the remaining annual cost of direct services to the Littles and Middles programs.