Comprehensive, No-cost Healthcare for Those Who Need It Most
In 2011, Dr. Ahmad Nooristani had an important realization. Many of the low-income (frequently undocumented) patients he was treating in his San Luis Obispo County were suffering from chronic health conditions that could have been mitigated with the preventative care built into health insurance plans. However, these individuals did not have insurance. 
Nooristani's response was to launch the SLO Noor Foundation, which, more than a decade later, continues to operate the only free clinic in all of San Luis Obispo County.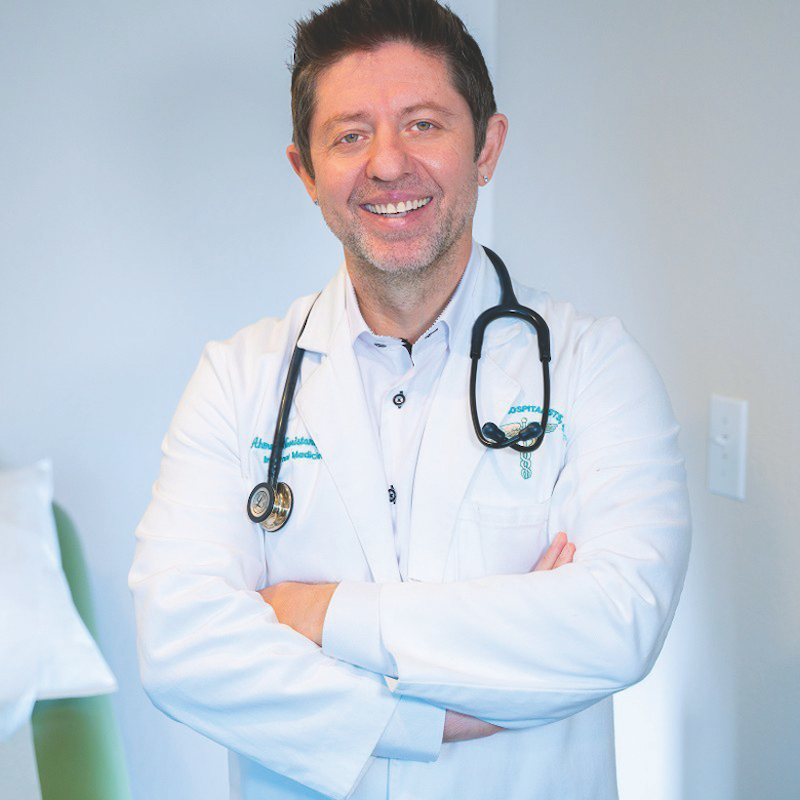 In 2018, Nooristani began working at the Lompoc Valley Medical Center, where he found the same issues. So, he discussed opening a clinic in Santa Barbara County with his board. When they balked, he hired Eryn Shugart, a veteran fundraiser for Santa Barbara nonprofits, to lead fundraising efforts to open a new clinic serving the county. With Shugart's help, Nooristani and generous donors were able to open a free clinic, Savie Health, named after Nooristani's young daughter, near the Medical Center.
Shugart says that the clinic has only been able to operate on Fridays and Saturdays, but thanks to additional fundraising it is now also serving patients on Wednesdays. With sufficient support, Savie Health will soon be able to operate full-time and add dental and vision care in addition to preventative medical services.
"Many of our patients haven't seen a doctor for a number of years," Shugart says. "We pay for lab tests and for imaging like mammograms, ultrasounds, and X-rays. We're a small staff of less than three full-time employees; the rest of the people, who include several physicians, are all volunteers."
The impact that Savie Health is having in Santa Barbara County, as well as its potential to provide even more crucial medical care, cannot be overstated.
"Santa Barbara County doesn't have another free clinic," Shugart points out. "We do not require any proof of income; we do not ask any questions about people's documentation status. The only criteria we have for patients to be seen is not having health insurance."
Savie Health also provides mental health care completely free of charge.
"The people we serve, whether in Lompoc, Santa Maria, or Los Alamos, are all part of this county," Shugart says. "But the resources for medical care in North County are so meager compared to what exists in South County. There is a stark difference. There is such a need for this."
Donate now!
saviehealth.org
(805) 455-0165
Executive Director: Eryn Shugart, PhD
Mission
Our mission is to provide free medical, behavioral health, dental and vision care to uninsured adults in Santa Barbara County and beyond regardless of race, gender, ethnicity, immigration status, religion, or sexual orientation.
Begin to Build a Relationship
We know you care about where your money goes and how it is used. Connect with this organization's leadership in order to begin to build this important relationship. Your email will be sent directly to this organization's director of development and/or Executive Director.
I was a little skeptical before coming to my appointment at Savie Health Clinic, but after my appointment and to my surprise, the outcome was better than I expected it to be. This clinic is exactly what any one without health insurance needs! My health care concern was addressed at no cost to me. I now have peace of mind knowing that I am in the hands of a health care provider caring for my health.
Make Healthcare Free, Forever
Savie Health needs your help to not only continue its crucial work in providing free medical care in Santa Barbara County, but more importantly, to broaden the scope to include dental services. 
To accomplish this and long-term sustainability, Savie Health is raising money to create a permanent endowment. The nonprofit invites you to make a Founding Donation of $5,000, supporting the only permanent and full-time free clinic in Santa Barbara County.
To donate and learn more about Savie Health, please visit www.saviehealth.org.
Key Supporters
James S. Bower Foundation
Roy & Ida Eagle Foundation
Direct Relief/Teva Pharmaceuticals
Williams Corbett Foundation
California Wellness Foundation