Credible Messengers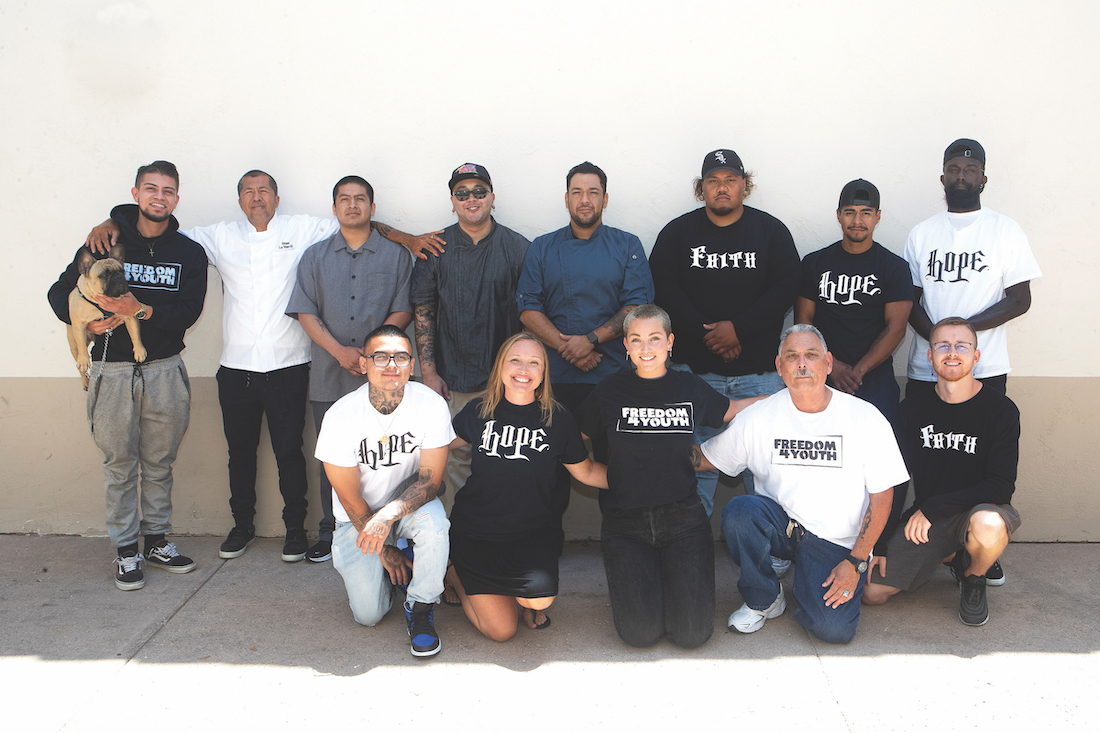 At first blush, Yaskin Solano may seem like a typical native of Santa Barbara. He grew up here, and he attended local schools. 
He is representative of Santa Barbara's unique socio-economic makeup. Santa Barbara County certainly has a reputation for its affluence, but according to statistics published by the Public Policy Institute of California, it has the third highest rate of poverty among 58 counties in the state. It's something Solano knows too well. Growing up in a low-income household, he soon found himself getting into trouble and in a several-year relationship with Santa Barbara County's juvenile justice system.
That's when he met Dr. Billi Jo Starr, who had encountered the justice system from a different perspective. Starr moved to Santa Barbara in high school, and often found herself in situations where her friends were arrested, and she was told to go home. A key difference was that she had race and gender privilege, being a white girl. Sensitive to this disproportionate and inequitable treatment, along with her own family experience – her uncle Billy, after whom she is named, was murdered in prison – Starr knew that she wanted to work with youth who were involved in the system.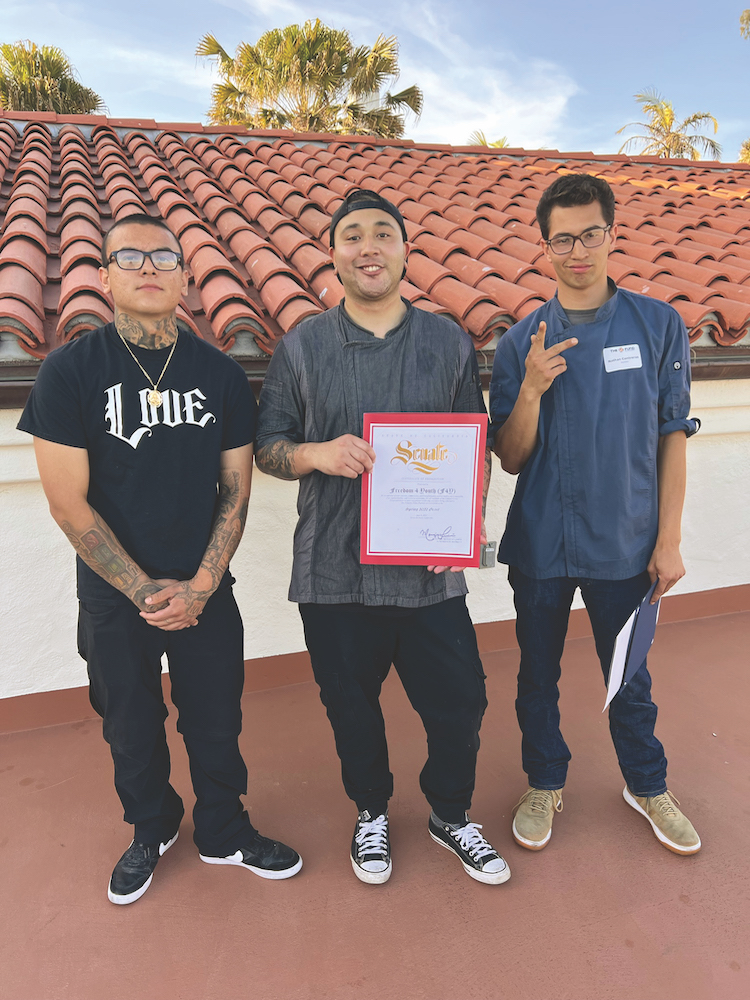 Starr, Solano, and other youth who were incarcerated with Solano, founded Freedom 4 Youth, a community-based organization that serves people, mostly ages 13-26, who are currently or formerly incarcerated or otherwise impacted by the justice system throughout Santa Barbara County.
"Our approach is to meet people where they're at, not some kind of cookie-cutter program," says Freedom 4 Youth Director of Development & Advocacy, Dylan Griffith.
Freedom 4 Youth concentrates on four main program areas: education, career, leadership, and mutual aid. Upon meeting a young person who might benefit from their programs, Freedom 4 Youth goes right to work, Griffith says.
"We hook youth up with someone, co-create a plan together, help them identify their long-term and short-term goals and needs, and then we go about meeting those needs, whatever they may be," he says. Often, those needs are essential: access to housing, food, or clothing.
Freedom 4 Youth refers to their approach as the "credible messenger model." "We want to make sure that people who have been impacted by the system have the opportunity to serve the next generation of people," he says.
Many of Freedom 4 Youth's mentors are alumni who have been through the justice system themselves. They are "credible messengers," successful at reaching youth because they have been through similar experiences. The program's success is statistically indisputable. The recidivism rate of youth who participate in their program is 45%, as compared to the state average of 79%.
After Solano was mentored by Starr and helped co-found Freedom 4 Youth, he graduated as valedictorian of his high school, became an accomplished mixed martial artist, and has recently graduated magna cum laude from UCLA on his way to medical school. He currently works in the emergency room at Cottage Hospital in Santa Barbara.
His involvement with Freedom 4 Youth as a credible messenger remains high on his priority list. As he explains, when he deals with a youth in the program, he can look at them and say, "I was once in your shoes, anything is possible."
Donate now!
freedom4youth.org
(805) 708-1292
Director of Development & Advocacy: Dylan Griffith
Mission
As part of our vision to expand services and partnerships, we recently moved into our new multi-purpose Freedom 4 Youth (F4Y) Center, located at 187 South Patterson Ave., Suite A. in Santa Barbara. The F4Y Center fills critical gaps through individualized case management involving families to reduce the challenges of recidivism.
Begin to Build a Relationship
We know you care about where your money goes and how it is used. Connect with this organization's leadership in order to begin to build this important relationship. Your email will be sent directly to this organization's director of development and/or Executive Director.
I love Freedom 4 Youth (F4Y). They have been there for me since I was a kid locked up at Los Prietos Boys Camp. Because of F4Y I met my mentor Scott Budnick from Anti-Recidivism Coalition (ARC) and they helped me move to L.A. Now I'm studying film at West L.A. City College and working on my portfolio to finish the Hollywood Cinema Production Resources program. Without F4Y I wouldn't be where I'm at today. I'm always part of F4Y advocating for youth that come out of the same place I do. Being able to focus on my career and future is a blessing and I'm grateful for F4Y and ARC for always being with me and giving me endless support and opportunities.
Expansion
Freedom 4 Youth is in the midst of a significant and long-needed two-year expansion project. 
Their office is merely 1,360 square feet, shockingly small for an organization of their reach and magnitude. They plan to take over an empty space adjacent to their current office, where they will build a commercial kitchen and begin a catering and meal delivery service fully operated by people who are formerly incarcerated.
It will also house a multi-purpose educational and mixed martial arts space.
The expansion is in two initiatives, split by calendar year. 2022's goal is budgeted at $713,572, so Giving List donations will be gratefully put towards this expansion.
Key Supporters
Board Chair Susan Washing
Elisabeth Fowler
Tom Washing
Santa Barbara Unified School District
Zegar Family Fund
McCune Foundation
Fund for Santa Barbara
Santa Barbara Foundation
Women's Fund of Santa Barbara
Elizabeth Calvin & Human Rights
Watch Children's Rights Division
National Child Traumatic Stress Network
Santa Barbara County Sheriff's Office
Santa Barbara County Probation
Santa Barbara County
Board of Supervisors
Tides Foundation
UCSB Blum Center
Santa Barbara City College
Foundation
Anti Recidivism Coalition
Homeboy Industries
F4Y's Board of Directors
F4Y's Advisory Council
UCSB, The Blum Center, UCSB First, the Associated Students Community Volunteer Foundation, Community Affairs Board, Finance & Business, the Executive Office of Statewide Affairs, the Student Initiated Recruitment and Retention Committee, the Student Initiated Outreach Program, and Smart Media Solutions