Saying Yes to Santa Barbara's Nonprofit Needs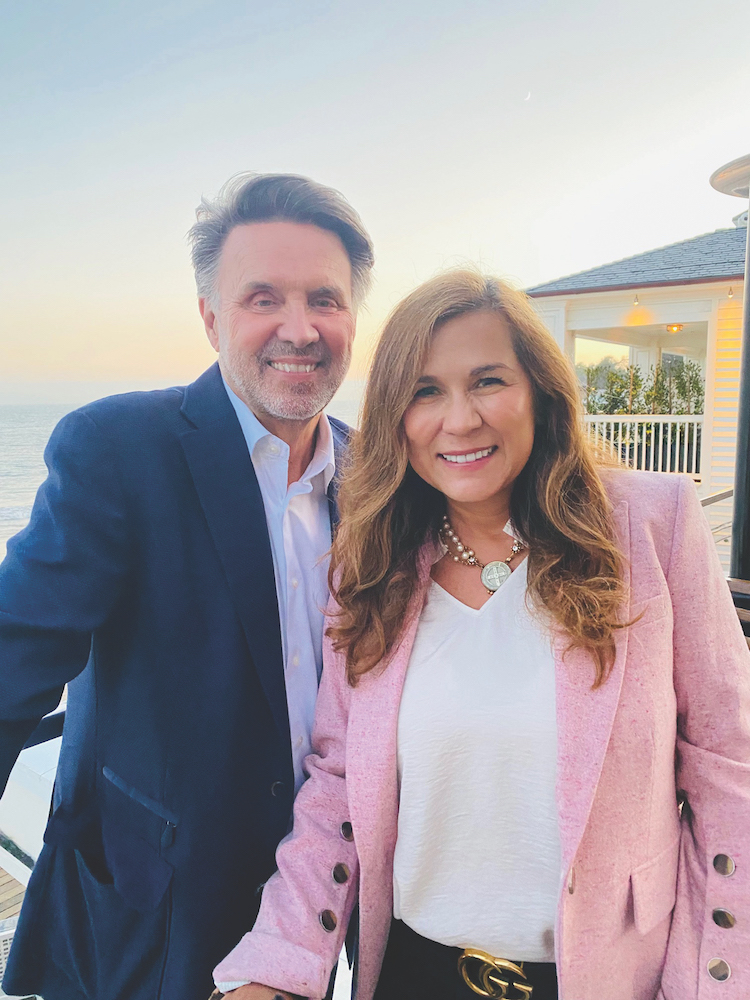 When Monte and Maria Wilson moved to Santa Barbara in 2010, the idea was that this beachside community would be the place where they would eventually wind down their careers for good. It's been almost 13 years, and that has yet to be true. In fact, the Wilsons are busier than ever, both deeply involved in Santa Barbara's philanthropic community while still engaging in business endeavors. 
Back in 2010, Monte, who hails from the American heartland city of Peoria, Illinois, had parlayed his tech career, which included stints at industry giant Oracle and start-up style firms Documentum and Initiate Systems, into a role in Denver with Adobe. That's where he met Maria, who is from the South American country of Colombia, but had spent a formative decade in Santa Barbara into her mid-twenties before moving to the Rocky Mountains.
Denver was also where the couple's philanthropic efforts, that had begun a few years earlier, amped up exponentially in 1997 when their infant daughter, Alex, was hospitalized with health issues.
"We met a few people at the Denver Children's Hospital that really went that extra mile," Monte says. "You could tell they were working so hard and cared so much because, deep down, they really wanted our child to be healthy. It was inspiring to see what they did, and we knew immediately we wanted to help out."
Using Monte's longtime hobby of racing cars as a catalyst, the Wilsons launched The Children's Hospital Race of Champions, a benefit to support the facility and medical team that had helped Alex, who is now a healthy adult working for a Santa Barbara tech firm. The couple initially thought they might raise a few thousand dollars, but the benefit grew quickly and by the time they moved on, the Race of Champions had become a nationally televised Indy Car event and one of the largest fundraisers of the year for the hospital. It exists today as the Morgan Adams Concours D'Elegance.
When the couple moved here more than a dozen years ago, with Monte still working for Adobe, Maria founded The Painted Cabernet, where guests sip wine while painting, with locations on State Street and in Oxnard. Monte soon retired, but within two years had jumped back in with some ex-Adobe friends at Sitecore (where he was the CRO) before forming his own consulting firm that specializes in launches, turnarounds, and rebuilds of tech organizations.
"It's never boring, and just when I'm ready to take a step back, new things happen and it gets really exciting and I jump back in," he says.
That's the same level of enthusiasm the Wilsons exhibit with their Santa Barbara philanthropy, which still has the car community as a centerpiece of how they give back. The couple helped establish Rally4Kids, a road rally through the backroads of the Central Coast that culminates in a gala, which serves as a benefit for the United Boys & Girls Clubs. They also created Santa Barbara Cars and Coffee, which has supported charities like the Santa Barbara Police Foundation, Police Activities League, and Unity Shoppe. Maria, whose Painted Cabernet has hosted innumerable benefit events over the years, also joined the board of the Teddy Bear Cancer Foundation and chairs, among many other events, The Teddy Bear Picnic.
The thread in their choices of nonprofits to support is that they always involve children. Monte likes to quote Michael Baker, the CEO of United Boys & Girls Clubs, to explain why.
"Kids are the innocent victims," Monte says. "They don't ask for these things. They had nothing to do with getting sick, having their parents get divorced or losing their job. They're just the innocent victims. Maria and I share that we want to do what we can to give them a break."
In the nonprofit world just as in business, the Wilsons love finding creative ways to meet challenges, making an impact on the world they're living in, and connecting with people through causes about which they're passionate. The business experience helps with having an outsized impact with the boards on which they sit.
"People join boards because they want to help but can get very shy about speaking up because they're not sure what they offer," Maria says. "I understand it because I had that feeling as a kid because I spoke a different language. And the first time I sat in a board meeting, I really felt out of my element. But we've run businesses, so we're not afraid to be assertive and try new things, and be willing to take a chance."
Both of the Wilsons stressed that running a business isn't necessary to make a difference, though.
"Neither of us came from wealth, but we benefited from friends, mentors, and a bit of good luck and hard work to get where we are today," Maria says. "We know how important it is to pay that forward. The key is that you just say yes and get involved."