School Gardens Help Children Grow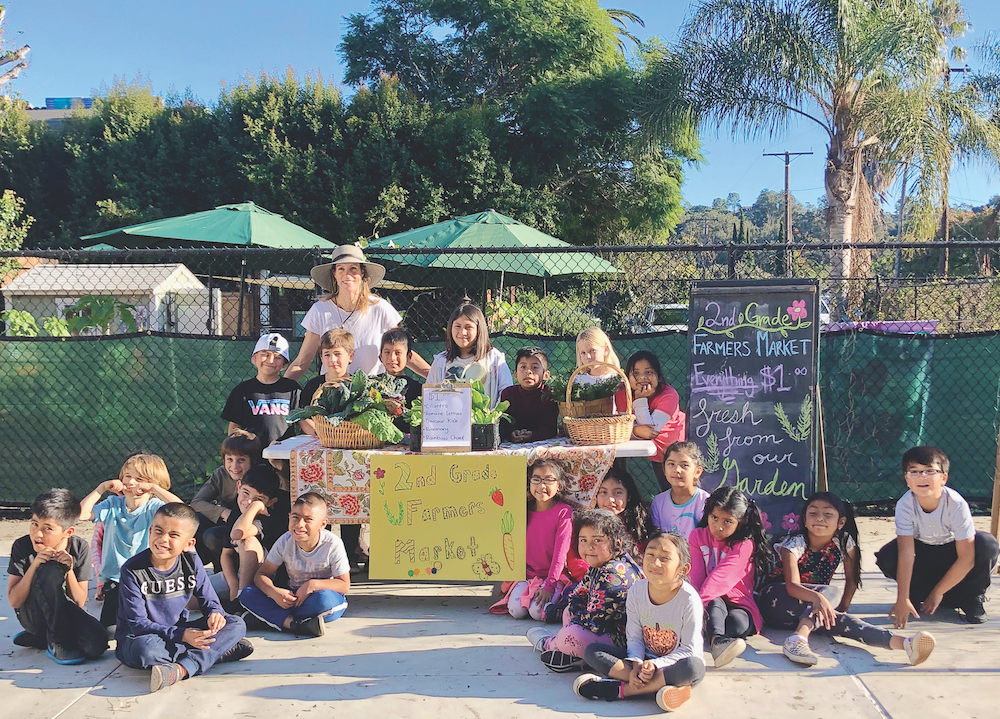 It's a typical school day and time for an Explore Ecology garden class. Children line up to head outside. When they enter the garden, their excitement is palpable. Students notice that the flowers they planted from seed are now being visited by butterflies, bees, and hummingbirds. They harvest ripe fruits and vegetables and try new foods like kale, parsley, and passion fruit. When the compost bin is opened, there is always a collective gasp of wonder as students see firsthand the bustling world inside. In school gardens, science comes alive!
Approximately 14,000 elementary and junior high school students benefit from this program that brings students outside into nature as part of their school day. Explore Ecology School Gardens are found in over 30 schools throughout the county. Trained Explore Ecology Garden Educators guide eager young learners through the processes of planting, composting, and maintaining an organic garden. Students have so much fun outside, they hardly even know they're practicing their skills in math, science, and language arts.
Produce is harvested regularly and provides students opportunities to taste new food that they grow themselves. Extra produce goes to the cafeteria and occasionally to the school community.
"Time in the garden is many students' favorite part of their day," says Lindsay Johnson, Explore Ecology's Executive Director. "When I visit school gardens I'm reminded of the importance of our work and instantly have renewed hope for the future of our children and the planet. The garden offers common ground for children to connect with each other while exploring the natural environment and allowing their imaginations to soar!"
Closed-loop systems like vermicomposting, also known as worm composting, are an important part of the program. Green waste and food scraps from the cafeteria and garden are fed to worms and other decomposers and transformed into a rich soil amendment, which is returned to the garden beds to grow nutritious food. These large-scale vermicompost bins reduce waste and are a valuable teaching tool for experiential learning.
Explore Ecology is a leading environmental education nonprofit in Santa Barbara County, providing a wide array of programs to over 40,000 children and adults annually. Programs include the Art From Scrap Creative Reuse Store, Environmental Education, the Watershed Resource Center at Arroyo Burro Beach, and the School Gardens Program.
Donate now!
Support School Gardens in Santa Barbara County
You can help Explore Ecology bring garden education and vermicompost bins to schools in Santa Barbara County. California is now requiring all municipalities to reduce organic waste going to landfills by 75% by the year 2025. To help accomplish this goal, Explore Ecology has installed and manages large-scale worm composting bins at nine school gardens. These bins measure 5' x 10' and are capable of handling 30 to 50 gallons of green waste per week.
Please help us meet our $80,000 fundraising goal to provide garden education and additional composting systems to more schools. Your support makes it possible for children to continue to learn and grow in healthy school gardens.
Mission
The mission of Explore Ecology is to promote a greater understanding of the connections between people and their environment and to encourage creative thinking through hands-on environmental education and artistic expression. We empower our community to protect and preserve the environment through environmental education and creative exploration.
www.exploreecology.org
(805) 884-0459 x3
Development and Finance Director: Melissa Brooks
Begin to Build a Relationship
We know you care about where your money goes and how it is used. Connect with this organization's leadership in order to begin to build this important relationship. Your email will be sent directly to this organization's director of development and/or Executive Director.
School garden activities inspire kids to adopt better nutrition at school and at home. Students pass on what they've learned to the entire family, so it's really a double benefit.
Key Supporters
American Riviera Bank
Audacious Foundation
Cottage Children's Hospital
Deckers Brands
Garden Club of Santa Barbara
Christine Green
Hutton Parker Foundation
Johnson Ohana Foundation
Janet Loughlin
Mission Wealth
Tracy Mongold
Montecito Bank & Trust
Michel Saint-Sulpice
NOAA
Sansum Clinic
Santa Barbara Foundation
SB County Office of Arts
and Culture/City of SB
Towbes Foundation
UCSB Coastal Fund
Union Bank
Tisha Weber-Ford
Village Properties
Williams-Corbett Foundation