Together We Can Make Oceans of Difference
This year, with more than 11 billion snow crabs disappearing from the sea floor, the Alaskan snow crab fishing season was canceled for the first time ever. In Florida, manatees are dying off by the hundreds due to starvation. 
Kimberly Ray, a marine biologist and the CEO and founder of Marine Conservation Network, sees similar things happening all over the world.
"We all need to think about a different way of doing things because it's not like it was hundreds of years ago when there was plenty of everything in the sea," Ray says. "There are almost eight billion people in the world now and we need to find a better way. We need to preserve the ocean and what it provides for everybody."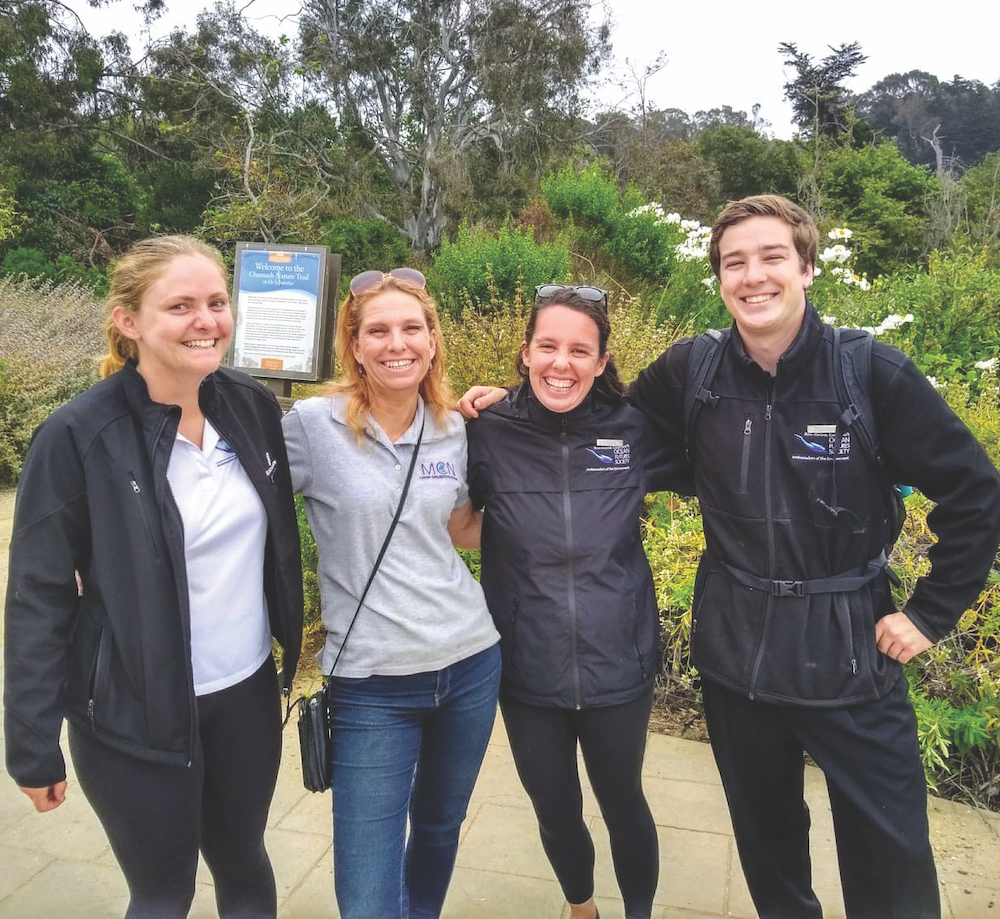 This perilous situation is why Ray started Marine Conservation Network seven years ago. The Santa Barbara nonprofit's mission is to support healthy oceans and marine life by bringing marine science to the public through education and advocacy programs. As a conservationist, she had noticed a disconnect between what scientists knew was happening in the oceans and what the public understood.
The Marine Conservation Network assists scientists and educates the public to create a movement for change through social media outreach and education, marine animal rescue efforts, and ocean monitoring. In coastal California, the network monitors whale strikes and sea kelp, assists with sea lion rescues, and coordinates with scientific organizations and aquariums to inform the public on critical issues. This year, the organization has expanded its presence to communities in Tampa, Florida – where manatees are threatened – as well as Sri Lanka, Canada, and Italy.
Their rigorous Youth Ambassador program offers marine education and conservation courses, and helps with diving licenses and tuition for college to train the next generation of conservationists and environmental scientists. Alosha Samaraarachchi, an 11-year-old Youth Ambassador in Sri Lanka, has already written a published research paper, given a TEDx talk about ocean predators, and is on her way to becoming a marine scientist.
"If we don't start taking care of the ocean, being responsible and only taking what we need, we're not going to have anything left," Ray says. "There's more than enough food and resources to provide for everyone on earth, if it is done in a responsible manner."
Donate now!
Marineconservationnet.org
(805) 699-0215
Compliance Officer and CFO: Charles Ray
Mission
To CLOSE that communication gap between the scientists, conservationists, and the public by networking, education and advocacy programs.
Begin to Build a Relationship
We know you care about where your money goes and how it is used. Connect with this organization's leadership in order to begin to build this important relationship. Your email will be sent directly to this organization's director of development and/or Executive Director.
It is a pleasure to be connected to Marine Conservation Network. Kimberly first reached out to The Marine Diaries on Facebook, and wanted to collaborate. I was excited to be asked to do a video interview and it was actually one of the first video interviews I had done. Since then I have been featured in webinars (including one with MCN), conferences, live discussions on social media, and spoken to schools and at in-person events. The first chat with MCN definitely helped me on this journey and I can't thank Kimberly enough. Her work is so important and vital for our oceans.
Inspiring Our Youth to Save Our Waters
Join in the effort to save ocean ecosystems in peril. The Marine Conservation Network is building a movement for change through outreach and education, marine animal rescue efforts, and ocean monitoring. The Marine Conservation Network is bridging scientific knowledge and public perception.
Their rigorous Youth Ambassador program is inspiring the next generation of marine scientists around the world, helping them learn, get their diving licenses, and earn scholarships for school.The Conservation Network needs $500,000 and donations of scuba equipment, educational materials, and vehicles to continue their work and get the message out that we must find a better way before our ocean ecosystems and the communities that rely on them are lost.
Key Supporters
NOAA
WFCRC
Ocean Futures
Friend of the Sea
IMAREST
El Porto Shark
Shark Bitten
Tikkun Ha Yam
Jean-Michel Cousteau
Julie Packard
Matt Bille
Victor Ferguson
Mario Passoni
Rebecca Daniel
Rabbi Ed Rosenthal
Boris Davidov