Soup-ing up the Holidays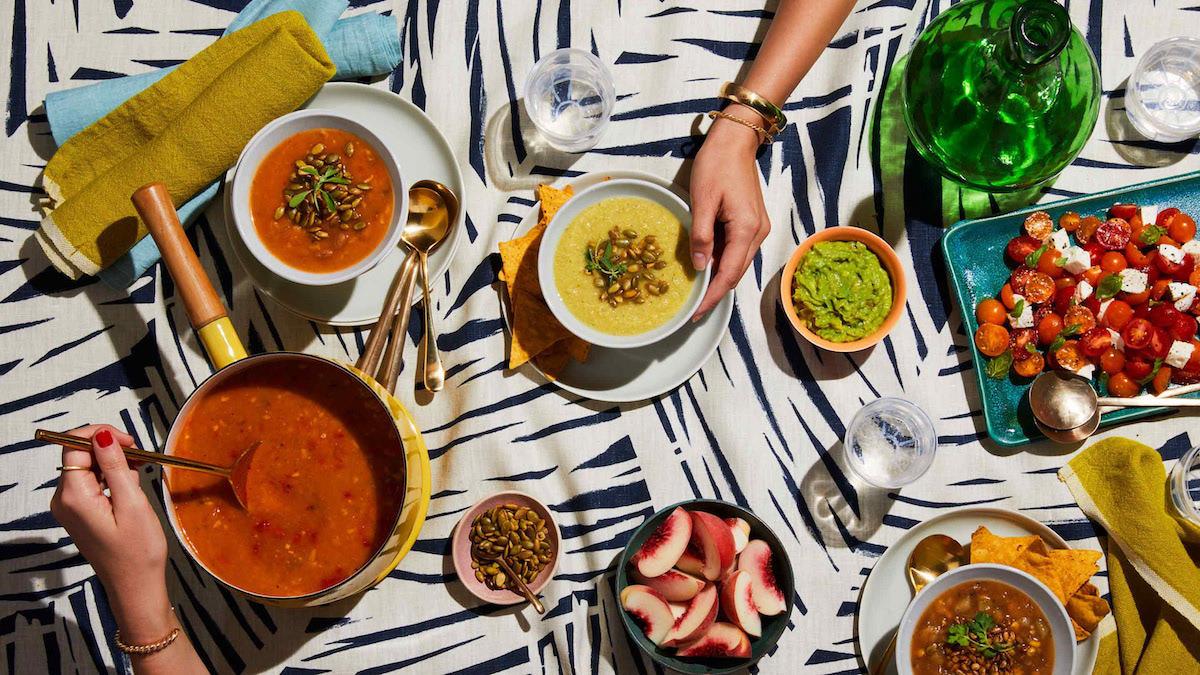 For a decade, the Organic Soup Kitchen (OSK) hosted community meals on Christmas Day at the Veterans Memorial Building on the Santa Barbara waterfront, serving hundreds of warm nutritious meals to the homeless and others. The event eventually grew to include an appearance by Santa to hand out gifts to people of all ages and genders, while singers Michael McDonald and Kenny Loggins would come by to perform.
But the energy and effort that involved the nonprofit's staff and nearly 200 volunteers whose duties ranged from cooking and wrapping presents on Christmas Eve to staying afterward to clean up became overwhelming for the small organization. After all, its year-round mission is to create and deliver vegan, organic, gluten-free, nutrient-dense soups full of essential vitamins and minerals, healthy fats and oils, and non-irradiated spices for cancer patients and low-income seniors.
OSK's Christmas celebration came to a close a year before the pandemic would have closed down the event anyway.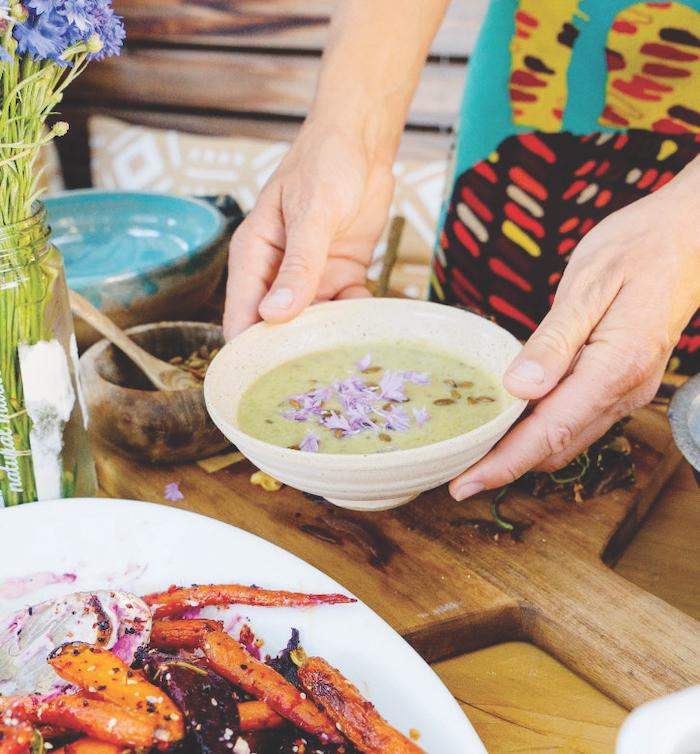 Next weekend, however, there's a new holiday event coming from the nonprofit as Organic Soup Kitchen's first annual Holiday SouperMarket + Soup Tasting Party takes place in the space between its facility in the Antioch College building and the municipal parking lot that hosts the Santa Barbara Farmers Market on Saturdays. The event, which takes place from 9 am to 5 pm on Saturday, December 10, at 608 Anacapa Street, will feature a lively bazaar with dozens of local artisans selling handmade goods, live entertainment, a festive holiday atmosphere, and a chance to sample many of OSK's sumptuous soups.
The Holiday SouperMarket + Soup Tasting Party is being curated by local artist, model, and Organic Soup Kitchen board member Taiana Giefer, a longtime OSK volunteer who joined her mother on the board last year.
"I just took it upon myself to come up with a different kind of fundraising idea, one that was both fun and could help raise awareness," Giefer explained.
To that end, Giefer, who also runs Neighbor Neighbor, a curated women's consignment space handling retail resale for charity, has arranged for more than three dozen vendors to be on hand selling their handcrafted wares in a marketplace that has come together, well, organically.
"The concept was to diversify the type of vendors and attempt to get more than a few who don't usually appear in markets," she said. "I did my best to think outside the box and put together the market in a way that would encourage hobbyists and backyard tinkerers, perhaps people who have a passion but who might be a little shy to sell."
Vendors currently confirmed to participate include Ysidro (sake spritzer), T.W. Hollister & Co. (vermouth), Neighbor Neighbor (curated women's consignment clothing), Banner Day (embroidered linen tees), OmChanti (organic skincare), Megan Hooker (ceramics), RoHo Goods (ethically made shoes and more supporting artisans of Africa), Daniella Manini (art prints), Children of Ra (Sunglasses and eyewear), Chez Justine (pastries), Nona Botanicals (natural dyed goods), Nick Cook (photo prints), Kelli Martinez (crafts), Lulu's Granola + Friends (handmade granola), Coastal Casita (ceramics), Hot Cherry Pillows (warming pillows), Mollusk (surf goods), Hello Coyote (gifts + decor), Riviera Bread, Lineage Botanica (home decor), and Happy Chance (cannabis edibles).
Also, Cuyama Beverage Co. (high desert meads), Propolis Bee Co. (honey + beeswax candles), Chiky Botanica (organically cultivated or wildcrafted skincare), Origin Organs (lamb organ capsules), Pacific Coast Pollinators (honey), Kelly Claus (fine watercolors), Kat Vinegrad (handmade leathers), Stone Hart Jewelry (accessories), BeeWild Candles (hand-poured beeswax candles), Tess Hodges (art and block prints), John Rapp (paintings), Glass House Flora (beauty-creating flowers), Petal Soup Studio (sustainability minded hand-sewn goods), EŸN VAS(humble luxury for your personal ecosystem), Welcome Coffee Cart (coffee cart pop-up), Jessica Foster Confections (chocolates), and Satellite Santa Barbara (T.W. Hollister Hot Toddies).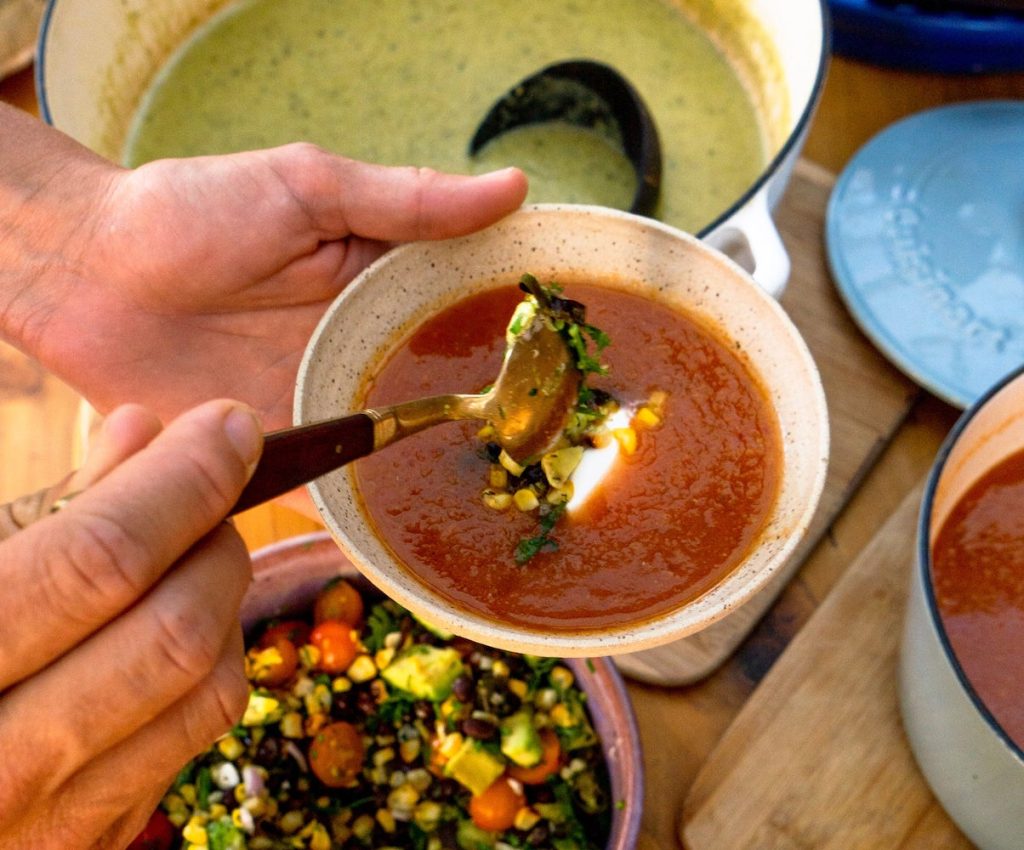 "I believe at least a third of them have probably never really sold to the public before and are coming to try it out for the first time," Giefer said.
By making the event low key with only a $75 donation to be among the merchants, Giefer also endeavored to attract artisans whose prices would be in the more affordable range as people shop for gifts amid an era of soaring inflation.
"I really wanted it to be easy and approachable, where you could buy something without a lot of sticker shock," she said.
The organic angle to the first iteration of the event also applies to the entertainment, as Giefer is still hoping to secure several acoustic musicians to perform solo sets during the day to augment her own contributions as DJ, whose playlists are often a big hit at parties and other functions around town.
"I might also wander over to the farmers market in the morning and let people who are playing there know they can drop by and perform here too in the afternoon," she said.
As for the part of the raising awareness for Organic Soup Kitchen, the SouperMarket is being held right outside of the nonprofit's kitchen door.
"It's an odd location for public use, with the parking lot outside this windowless cement-jungle kitchen in the bottom floor of Antioch," Giefer said, noting that there will be a huge eating section created at the entrance with the marketplace's vendors surrounding the space, while the public is invited to tour the OSK facility.
"We've streamlined our message so people can quickly read five bullet points that will be posted on the walls covering what OKS does and why they're here. It's like a refresher course, and there will be kitchen tours with all the staff available to chat with you and explain everything. We'll be thrilled if 100 people who didn't know much about us before walk away knowing just that much."
Everybody will also likely walk away with a belly full of yummy, nutritious, and delicious soup. OSK will be offering unlimited tastings of several of their varieties for a $10 suggested donation.
"We want everyone to taste the soups because it's called the soup kitchen, and people often associate it as being something to feed the homeless, or what you might get in the hospital," Giefer said. "But it's so, so good. It's always really surprising just how good it is."
Folks will also be able to purchase containers of frozen soup to take home as part of OSK's decision to start pushing retail sales for both awareness and fundraising, as the nonprofit is experiencing a budget shortfall at a moment when it's also eyeing expanding into a larger facility with more capacity.
"Demand has gone up at the same time that grants have been spread more thinly because of the pandemic," Giefer said. "We're hoping to sell a lot of soup and find some new donors."
Visit www.organicsoupkitchen.org/events for more information.
Donate now!
Mission
Organic Soup Kitchen provides oncology nutrition and addresses food insecurity to a diverse demographic of individuals struggling with the effects of cancer and chronic illnesses.
Begin to Build a Relationship
We know you care about where your money goes and how it is used. Connect with this organization's leadership in order to begin to build this important relationship. Your email will be sent directly to this organization's Director of Development and/or Executive Director.
When someone is going through chemotherapy, they need healthy and nourishing food more than anything, but most of the time they don't have the physical and mental energy to get up and do it for themselves. Organic Soup Kitchen does it for them with so much love and care! They work tirelessly in rain or shine to make sure that all their clients get their nutritious soup on time. I feel so blessed and privileged to be a small part of this gem of an organization in our community! I joined hands with them a few years back and I am happy to say that I am here to stay and support this wonderful organization in the years to come!
How Can You Help?
Monthly Givers are the heartbeat of our organization. Your monthly contribution will directly provide a month's worth of SoupMeals to community members in treatment or recovering from cancer.New Distribution Center. As demand grows, we have quickly outgrown our facility and are actively seeking the resources to expand our operation.
Key Supporters
Manitou Fund
Trust in Diversity and Exchange
Deckers OutDoor Corporation
Volentine Family Foundation
The Herbert and Gertrude Latkin Charitable Foundation
St. Francis Foundation
Community Volunteer Foundation
of UCSB
Union Bank
Natalie Orfalea Foundation
Mosher Foundation
Russell Steiner
Hutton Parker Foundation