Martin Luther King Jr. Committee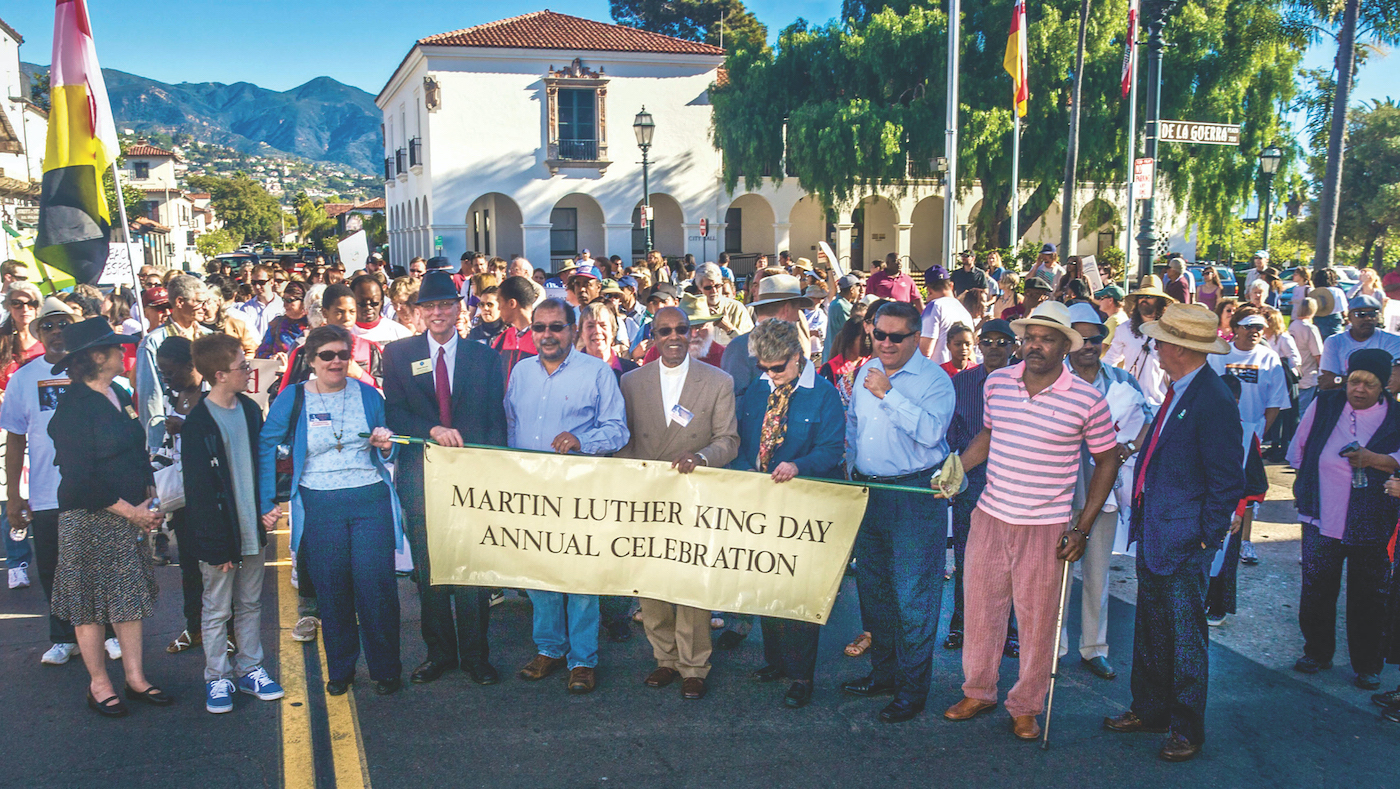 The Martin Luther King Jr. federal holiday is still a month away, but the Martin Luther King Jr. Committee of Santa Barbara is already ramping up for its annual Holiday Celebration of the famed civil rights leader. That's because the 2023 event – the organization's 16th, which takes place on January 16 – will mark the first in-person celebration in three years, as both the 2021 and 2022 events were forced to go virtual. 
"Those two years were really tough because being together is a big part of what the event is about," said MLKSB Board President E. onja Brown. "We're really excited to be able to share our programs and celebration honoring the great Dr. King and all he stood for, live and in person, with our community again."
With the resuming of an in-person gathering, the holiday celebration will begin as usual with a morning program in De La Guerra Plaza at 9 am that starts with an opening prayer followed by live music performances. Then, some of the winners of the annual student essay and poetry programs will read their winning entries. The morning portion concludes with an inclusive dance from the World Dance for Humanity group to warm up the audience and get the body moving in anticipation of the 10 am march up State Street to the Arlington Theatre.
The David Gorospe Jazz group will be playing in the venue's historic plaza foyer to greet the marchers as they arrive. The on-stage 90-minute program at the Arlington includes speeches from local political representatives – Santa Barbara Mayor Randy Rowse, Congressman Salud Carbajal, and State Senator Monique Limón are among those already confirmed, plus mini performances from a choir, soloists, and a demonstration of Capoeira, the Afro-Brazilian martial art/dance hybrid, to break up the spoken word presentations. The Keynote Speaker this year is Dr. Daina Ramey Berry, the newly appointed Michael Douglas Dean of Humanities and Fine Arts at UCSB. Dr. Berry, an internationally recognized scholar of the enslaved, a specialist on gender and slavery, and the award-winning author and editor of six books and numerous scholarly articles, including her most recent book, A Black Women's History of the United States, won the 2021 Susan Koppelman Award for the Best Book in Feminist Studies and was a 2021 NAACP Finalist for Literary Non-Fiction.
Dr. Berry's talk on servant leadership and the impact of Dr. King's legacy is very much in line with the theme of the Martin Luther King Jr. Committee's 2023 event, which was drawn from a speech Dr. King made in Montgomery, Alabama, in 1957: "Life's most persistent and urgent question is, 'What are you doing for others?'"
The theme has also been the catalyst for the student essays and poems – and both programs at the January 16 event will include live readings from the top awardees of the MLKSB Essay and Poetry Awards Program (EPAP). A dozen essay and poetry pieces were chosen by the judges from the nearly 200 entries from students spanning Carpinteria to Lompoc, with the entrants divided into two age groups covering ages 6-12 and 13-18. The top three awardees in each age group receive cash prizes that this year total $2,000, as well as opportunities for training in public speaking, poise, appropriate dress, and stage presence.
"Giving a top award of $300 is something, but we wish it could be more in this day and age, because we really want our students to be receiving a meaningful scholarship," Brown said.
But that takes a bigger budget than the all-volunteer organization currently possesses, a situation Brown, who has been not only the board chair but also a de facto unpaid acting executive director for eight years, would like to resolve soon.
"We really have a need for donations in so many ways, not just to support scholarships," she said. "We need money to pay for the photographer and graphic design, and even the printing of the brochures."
Another way to help would be for more volunteers to get involved in activities surrounding the MLKSB's 16th annual Holiday Celebration.
"I need people to call the churches and the faith organizations to find out whether they're going to have a service or recognition of Dr. King on the weekend before the holiday," Brown said. "We want to bring back the luncheon and we'll need help with the setup and take down of the table, chairs, and decoration. We need volunteers to help monitor the marches at the event. And we could really use a volunteer coordinator right now to help arrange all of that. There are all sorts of things people can volunteer to do, just go to our website and sign up and let us know what you want to do or if you just want to help where it's needed."
And beyond the annual celebration, the MLKSB committee has big plans for the future, all with the goal of getting more connected and involved in implementing Dr. King's vision with the Santa Barbara community.
"We want to be an established, recognized organization in Santa Barbara that will be here permanently, making a difference," said Brown, who currently devotes 40-50 hours a week to everything from administration to coordination, planning, and fundraising. "Right now, we're mostly just looked upon as a once-a-year thing: Oh, it's Martin Luther King Day, so here they come, same old, same old. But we are here all year long and we need financial support to stay afloat so we can continue to provide and grow our programs, meet immediate needs, and address current issues."
Brown said that hiring an executive director, with a salary commensurate with the market – the first in the organization's history – is a top priority. Finding office space is also among the most pressing administrative pursuits for the committee to become a more established and full-service organization.
"We desperately need a place for an office because my second bedroom can't continue to be it forever," she said. "There are boxes and files all over the place."
Martin Luther King Jr. Committee of Santa Barbara
E. onja Brown, president 
www.mlksb.org
(805) 259-5782
Donate now!
Matching Challenge
Through December 31, 2022, the first $2,500 donated will be matched thanks to a generous challenge from the Giving List's novel matching program.
MLK Essay & Poetry Contest
Programs of the Martin Luther King Jr. Committee of Santa Barbara (MLKSB) primarily focus on social justice issues, that promote positive relationships between diverse groups in our community. Every year the MLKSB hosts a children's Essay and Poetry Awards Program, ages six to 18 in which students write about their thoughts and beliefs on the MLKSB theme for the year.
Donations help to pay for publicity, technical support, and minor scholarships for students. We feel that it's very important that our kids know about our national heroes," Isaac Garrett says. "And this Awards Program is a great way for them to do it."
Mission
The mission of the Martin Luther King, Jr. Committee of Santa Barbara is to foster positive relationships between the many diverse groups in the Santa Barbara Community and the surrounding areas; to sponsor programs and events which exemplify the teachings of Dr. King; and to observe, and celebrate the Martin Luther King, Jr. Holiday.
www.mlksb.org
Phone: (805) 259-5782
President: E. Onja Brown Lawson
Begin to Build a Relationship
We know you care about where your money goes and how it is used. Connect with this organization's leadership in order to begin to build this important relationship. Your email will be sent directly to this organization's director of development and/or Executive Director.
'Love, Respect, Equity'
I have always felt our nation owed a huge debt of gratitude to Martin Luther King Jr. with his commitment to nonviolence that guided us out of troubled times and a hurtful past. This extraordinary man gave our nation a chance to redeem itself and the soul of America. Every year I am so moved to participate in the annual celebration the local MLKSB chapter organizes with such care and beauty, inviting the whole community to share in his memory and legacy. A great man had a dream; thank you MLKSB for helping to keep the dream alive.
Key Supporters
Anita Blume
Juliet Betita
Dr. Jamece Brown
Rabbi Steve Cohen
Derrick Curtis
John E. and Nansie Douglas
Shireen Faizullabhoy
Rev. J.B. Ficklin
Christine "Chrissy" Gilbert
Sojourner Kincaid Rolle
Beverly King
Frances Moore
Melvin Richey
Linda Ryles
Toni Schultheis
Wendy Sims-Moten
Betsy Shelby
Dr. and Mrs. Earl Stewart
Delvis Stoute
Judi Weisbart