Hillside's 6th Annual Shining Light on Abilities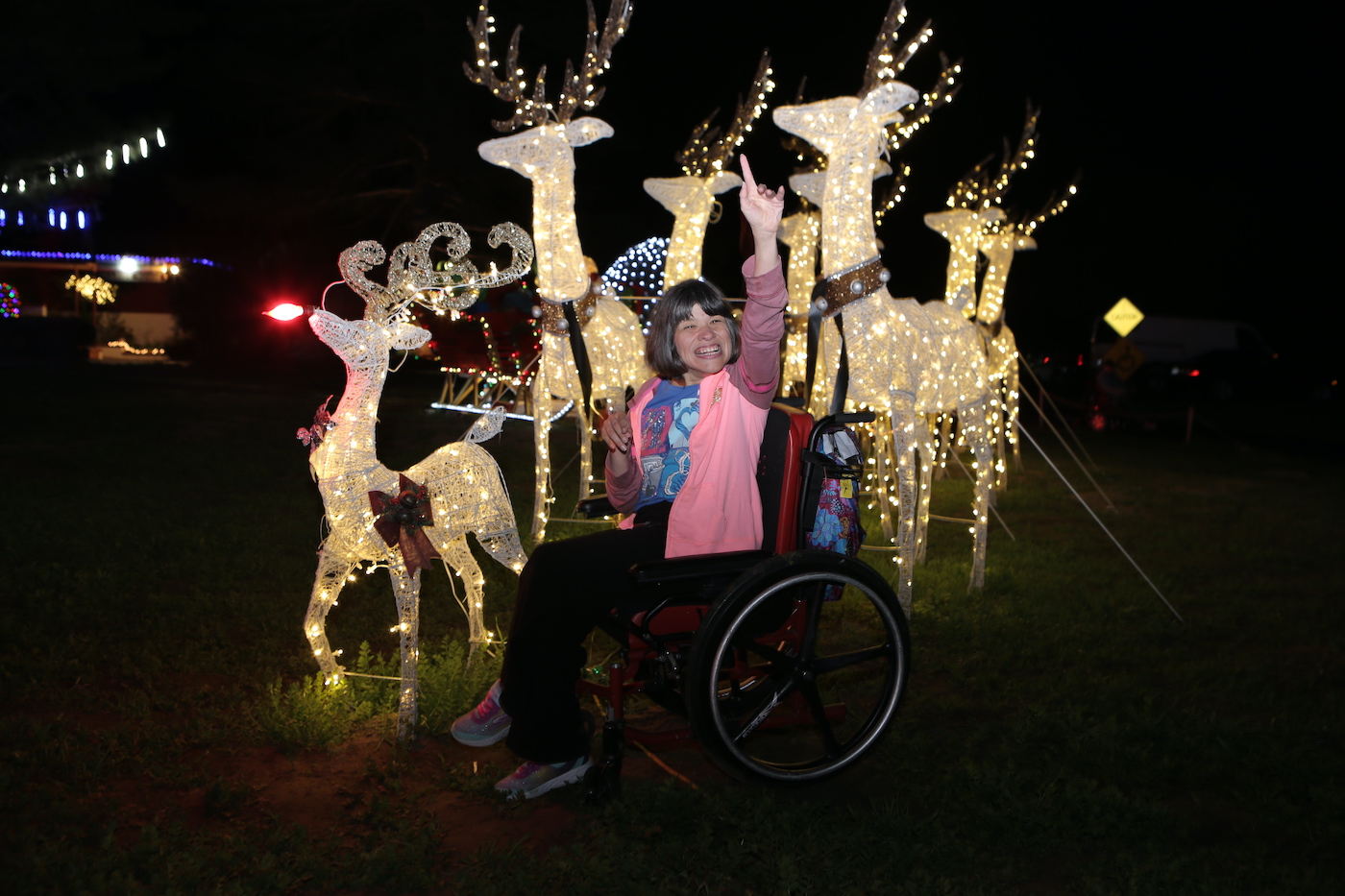 Just about everything Hillside does is for its residents, the 59 people who live at the facility that have developmental disabilities, including intellectual disabilities, cerebral palsy, autism, and epilepsy. That includes everything from the intensive medical support and empathetic caregiving to things like its annual Shining Light on Abilities event, a festive display of holiday decorations and brilliant lights at the nonprofit's homestead at 1235 Veronica Springs Road. 
Sure, the display is open to the public, even those beyond the residents' family and friends, people with no connection to Hillside who merely wander onto the campus after gaping at the over-the-top Christmas decorations that adorn every one of the 16 houses on Veronica Place, the cul-de-sac right across the street.
"The reason we started Shining Light on Abilities was so that our residents felt that they were participating in the holidays like everybody else," explained Hillside's Director of Development, Michael Padden-Rubin. "Across the street, some of those houses are done up like National Lampoon's Christmas Vacation, just wow, while on our side of the street, our neighbor Assistance League and Hillside were both pretty much dark. The brainstorm was to bring some light over here. This is our residents' home and people decorate their homes for the holidays. We wanted to have them be able to have that too."
Bringing residents and visitors alike out of the darkness and into the light has been a mission for Hillside over the years since its founding in the 1930s, when Hillside House was created as a model residential facility for children with cerebral palsy whose parents often hid them away in shame. As the world becomes more enlightened about equality and inclusiveness, Hillside has grown into a facility that provides state-of-the-art services to an adult population on its picturesque 24-acre setting in the Hidden Valley neighborhood – going beyond medical support and 24-hour nursing care to offer aquatic therapy, physical therapy, recreational therapy, sensory motor training, occupational therapy, and independent living skills.
The emphasis on person-centered care goes into program design, which is a joint venture between staff and residents so that each of the 59 individuals has the greatest opportunity to achieve their highest level of independence and accomplishment.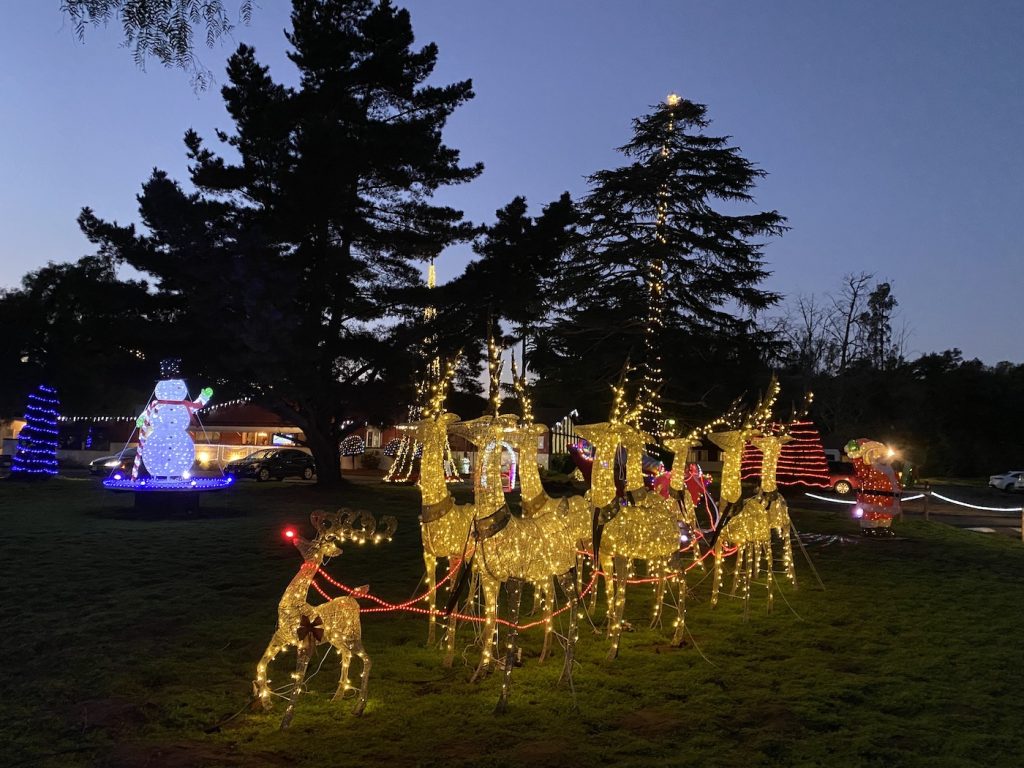 That's why beyond the inflatable snowman, towering polar bear, illuminated wire animals, and brightly-lit palm trees – all of which are partially set up by Troop 37 Scouts, who volunteered for the fifth year during their Thanksgiving break – is an integrally important part of Shining Light on Abilities: a slideshow produced by Elizabeth Arendt, Hillside's office manager, that is unique to the organization. The slideshow – which plays continuously on a large-screen monitor in the picture window of the main Hillside building – features many of the residents who, while living with intellectual and developmental disabilities, shine a light on their abilities, as each slide contains text and photos of a resident who shares who they are and what they can do.
"With the display and the slideshow, Hillside is trying to show that residents want to have full, independent lives like everybody else," Padden-Rubin said. "They want to participate, they want to celebrate and have a great holiday, and we want them to have all of that."
That's also why there are two different sleighs featured as part of the holiday display, he said. There's the regular one with seats that used to carry Santa during the Santa Barbara Downtown Organization's annual Holiday Parade that has since been shelved due to State Street's pandemic pivot. And there's also an adaptive sleigh sans the seats so that the residents can drive their wheelchairs in for an instant photo, although it's also fine for visitors to pile in to get a picture with a larger group.
"It has really worked out well as an educational piece that's also fun for everyone," Padden-Rubin said. "If nobody's around to answer questions, people should feel free to call me at the office during the day and I'm more than happy to explain everything."
While both sleighs have been on display for all six seasons, the Shining Light on Abilities display has grown each year, with new critters and inflatables arriving, and new traditions being created. Opening night of the annual display offers a program created for the residents and their friends and families, and for the third year in a row, with the Assistance League's Carolers led by Ann Rudolph (yes, that really is her last name), accordionist Gail Campanella, and Santa Claus coming over from the nonprofit next door in a procession, playing and singing to greet the residents positioned in front of Hillside in what would normally be the parking spots.
"The residents got the full impact of something like a parade, with front row seats to see the lights go on," Padden-Rubin said of the December 3 event. "There was just so much excitement, especially when the snow started falling."
The added attraction came courtesy of a snow machine provided by Jose Silver, Hillside's director of facilities, with the whole presentation even having an effect on Boston-native Padden-Rubin in recalling holiday times back East. "People were singing, Santa's walking around posing for pictures, then the lights went on and the snow started falling above the main peak of Hillside, and I thought, 'Oh, my gosh, it's like being back at Boston Common. It was just such a great feeling for the residents to have that full holiday experience."
Shining Light on Abilities continues every night after sunset through Saturday, December 31, and while admission is free, donations to support the events and all of Hillside's programs can be made online at hillsidesb.org/donate or on site either using Hillside's QR code or via the donation lockbox at the main entrance. Sponsorships also remain available and interested parties can join Demboski & Chapman Financial and Insurance Solutions; Easy Lift Transportation; Jordano's; Klein DeNatale Goldner Attorneys At Law; MarBorg Industries; John D. Rubin Enterprises; and Unity Shoppe in receiving recognition that includes a slide that will appear in rotation in the show and a banner that hangs on the wall facing the display.
For sponsorship opportunities, contact Director of Development Michael Padden-Rubin at (805) 687-0788 x115 or mpaddenrubin@hillsidesb.org or visit hillsidesb.org.
Donate now!
hillsidesb.org
(805) 687-0788 x111
(805) 766-0896 (m)
President & CEO: Michael S. Rassler
Mission
Our mission is to provide a home that supports our residents' efforts to maximize their physical, cognitive, social, and emotional abilities so that they can attain their highest level of independence in an environment where people are treated with dignity and respect.
Begin to Build a Relationship
We know you care about where your money goes and how it is used. Connect with this organization's leadership in order to begin to build this important relationship. Your email will be sent directly to this organization's director of development and/or Executive Director.
Caring for our son JP was extremely hard on our whole family. My marriage was suffering, and I didn't really have a relationship with our daughter. It was all so overwhelming and difficult. JP's needs were too much for us to handle. Hillside has enabled us to be a family again. JP is happy, all his needs are being taken care of, and he is learning so much. I have a healthy marriage now, and a great relationship with our daughter. We are so grateful for the wonderful care and love Hillside provides our son.
Equity and Inclusion for Hillside Residents
Hillside residents live far below the poverty level. Government reimbursements cover the bare minimum: room, board, and essential medical care. In order to help residents reach their goals, Hillside must raise in excess of $800,000 a year to fund a variety of critically important services, programs, and activities including:
• One-on-One Aides – most residents require individual care for walking or wheelchair use, dressing, eating, bathing, and toiletry;
• Speech Therapy – crucial to help residents express themselves so they can let their wants and needs be known;
• Physical Education – adaptive sports and movement increase mobility and bring residents a sense of accomplishment;
• Behavioral Therapy – decreases maladaptive behavior and teaches residents techniques to help cope with their challenges; 
• Physical Therapy – maximizes residents range of motion, reduces pain, and prevents locking of joints;
• Aquatic Therapy – helps residents gain more muscle control, increase their self-confidence, and improve physical function;
• Skills Development – to achieve greater independence such as cooking, money recognition, and using assistive technologies.
Key Supporters
Ann Jackson Family Foundation
Assistance League of Santa Barbara
Henry W. Bull Foundation
Chumash Foundation
City of SB Human Services
Demboski & Chapman Financial
Brad and Cynthia Frohling
Norris and Barry Goss
Hutton Parker Foundation
IOA Insurance Services, Inc.
Jim and Chana Jackson
Latkin Charitable Foundation
Donald Logan
June G. Outhwaite Foundation
Joan Redmond & Susan Crossley
Robert Ross
Santa Barbara Foundation
Gary Simpson/SB Home
Improvement
St. Francis Foundation
Thomson Charitable Foundation
Towbes Foundation
Peter and Gina Troesch
Alice Tweed Tuohy Foundation
Williams-Corbett Foundation
Women's Fund of Santa Barbara