All Are Welcome Through December 31, 2022 to Hillside's 6th Annual Shining Light on Abilities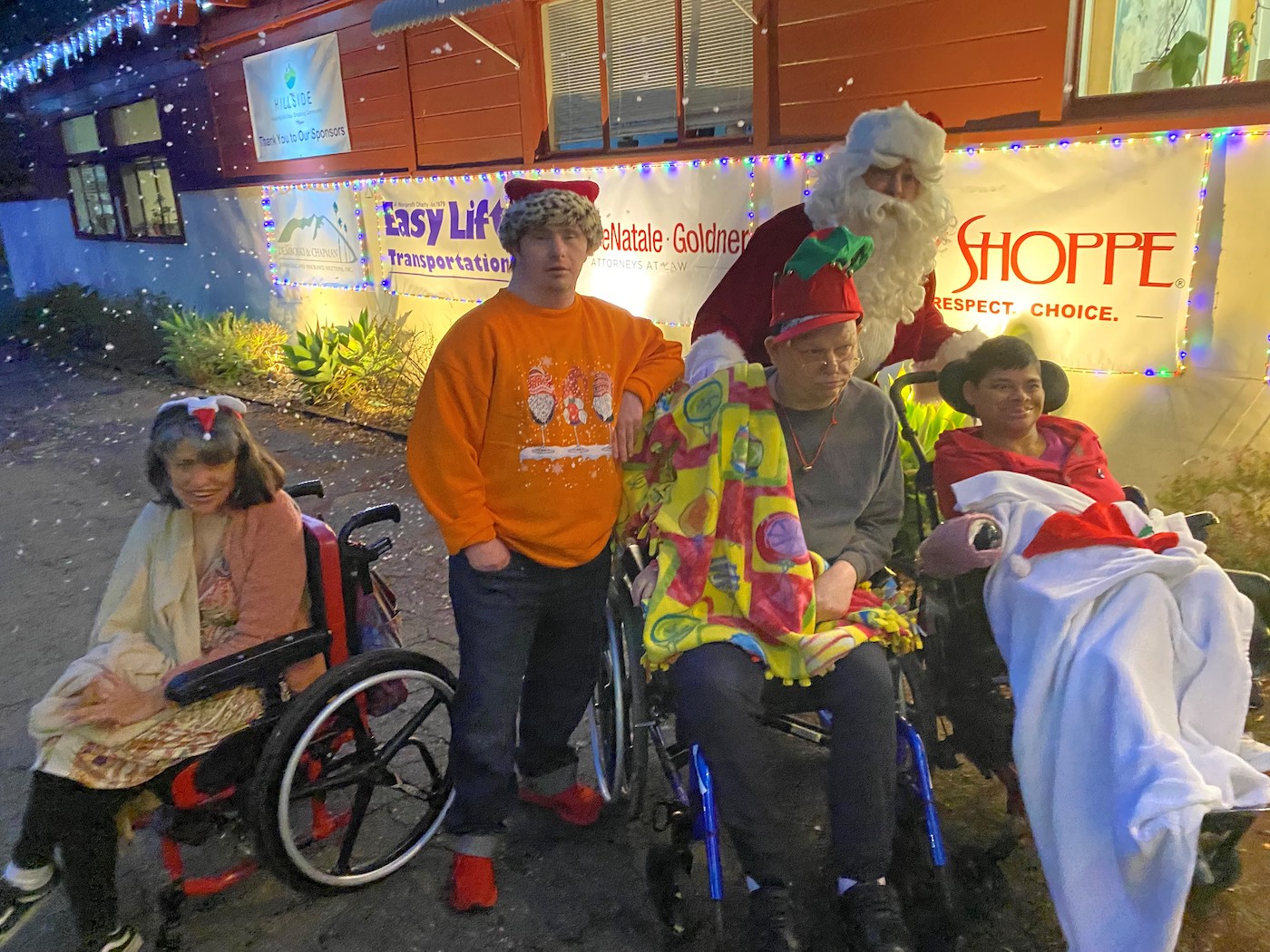 The Hillside 6th Annual Shining Light on Abilities is open! All are welcome to visit and experience the festive display of holiday decorations and brilliant lights nightly through December 31. Admission is free for this family-friendly, must-see holiday extravaganza at Hillside, 1235 Veronica Springs Road, Santa Barbara.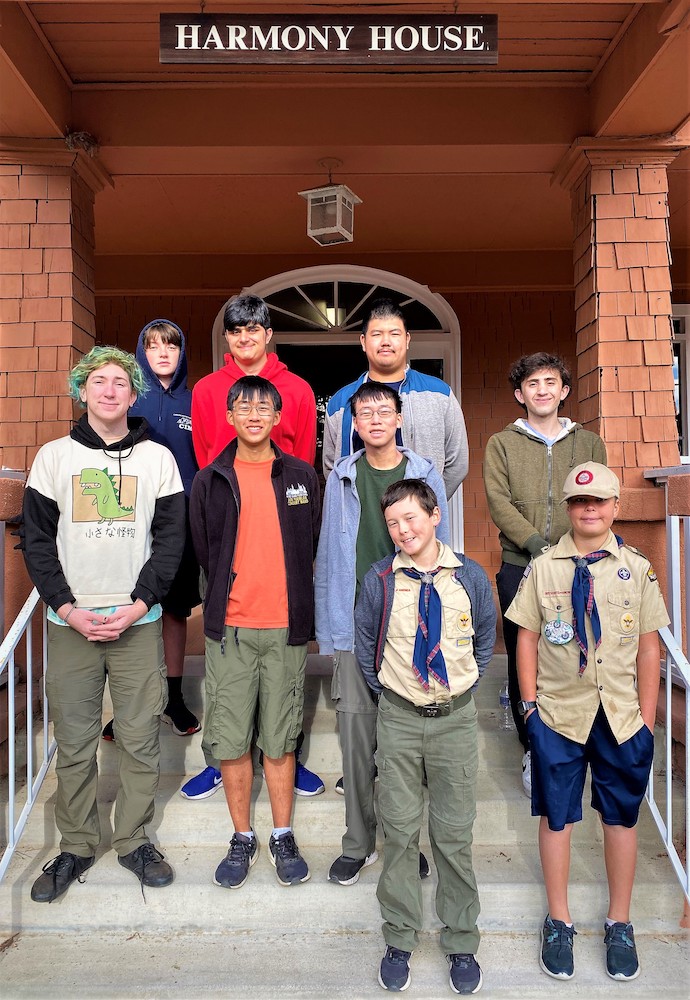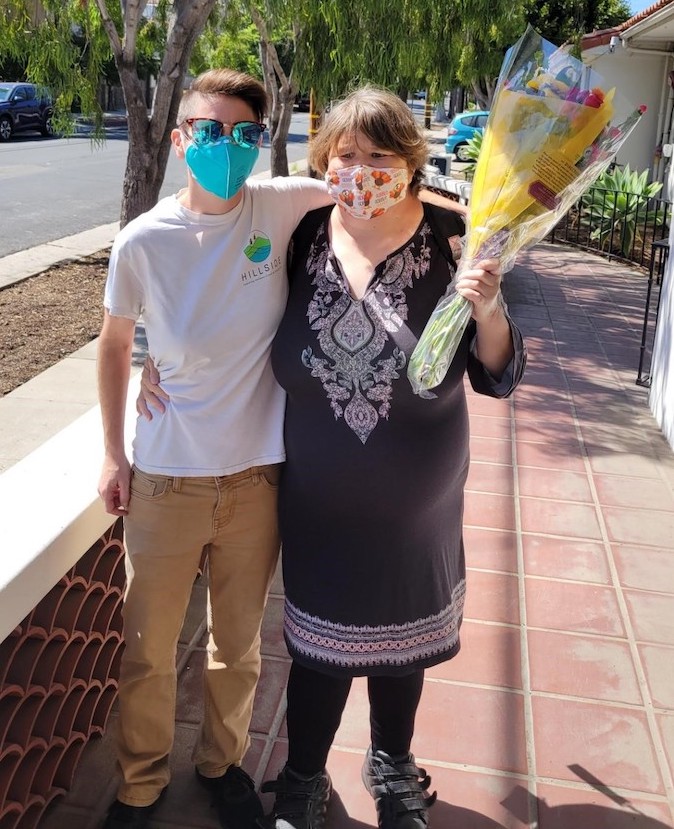 Earlier this month, the Assistance League® of Santa Barbara carolers led by Ann Rudolph; Gail Campanella, accordionist extraordinaire; and Santa Claus joined residents; their families and loved ones; and other attendees and sang Christmas and Hanukkah songs. Snowflakes fell just as Michael Rassler, President & CEO; Santa Claus; and Candace, Hillside resident, led the countdown to the lighting of the decorations and lights. It was magical, and the residents were thrilled! To close the program, everyone sang "Happy Birthday" to the residents celebrating their December birthdays. Santa Claus reminded everyone: "Be good and no peeking!" 
"I am grateful to the Hillside Facilities Team and those who helped create such a beautiful presentation for everyone to enjoy – residents, their families and loved ones, staff, neighbors, sponsors, donors, volunteers, the Santa Barbara community, and all on the trolley lights tours," said Michael Rassler. Lending the Facilities Team a hand with the setup were Troop 37 Scouts, who volunteered for the fifth year during their Thanksgiving break. Will Rubison of Troop 37 (bottom row on the left) had the distinction of being the Scout who traveled the farthest – driving all the way from San Francisco to be at Hillside to volunteer. Said Rubison, a junior in Alta Vista's Middle College program, "Helping at Hillside with Shining Light on Abilities around Thanksgiving has become a Troop 37 tradition; I wanted to be here to show the younger Scouts the importance of volunteering, plus Hillside always feeds us well!"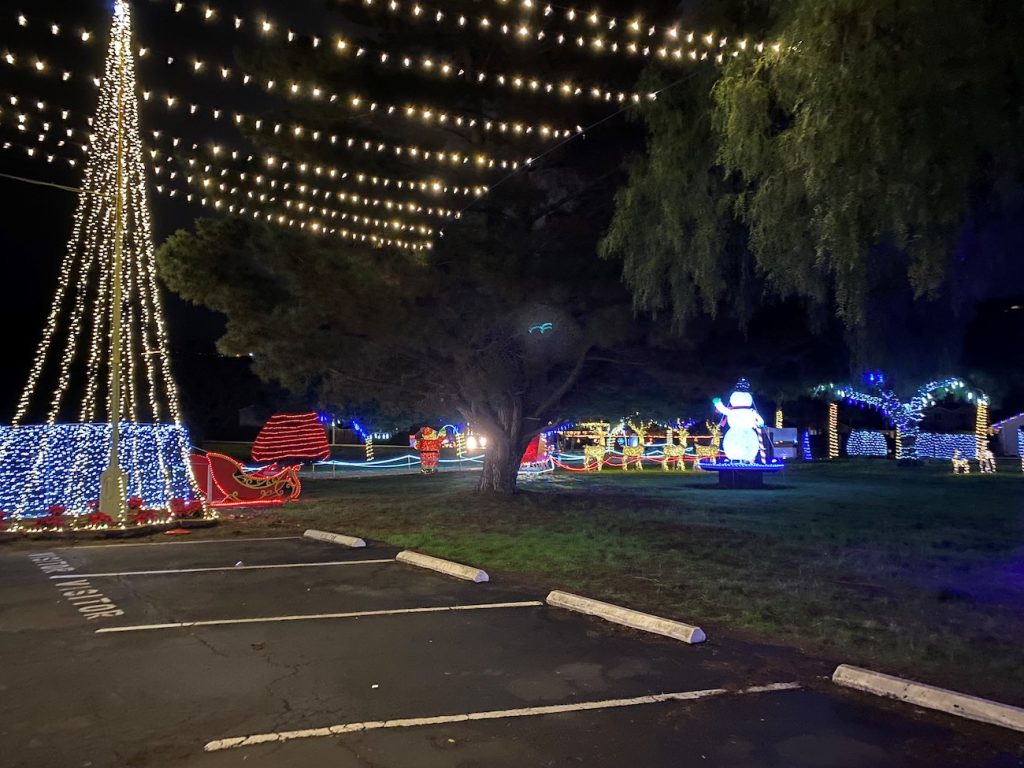 In addition to the lights and decorations, the display includes a slideshow produced by Elizabeth Arendt, Office Manager, and features some of the 59 individuals living with intellectual and developmental disabilities. Here, the residents are shining light on their abilities and sharing who they are and what they can do. "I am happy to be part of the slideshow and share that I like to help other residents," offers Mona, who has lived at Hillside since 2015, and earlier this year graduated from Project SEARCH, a job coach program of employment preparation for individuals with disabilities. The slideshow plays continuously on a large-screen monitor in the picture window of the main Hillside building. It also expresses gratitude to the Sponsors including (to date): Demboski & Chapman Financial and Insurance Solutions; Easy Lift Transportation; Jordano's; Klein DeNatale Goldner Attorneys At Law; MarBorg Industries; John D. Rubin Enterprises; and Unity Shoppe.
There is still time to be a sponsor to help "keep the lights on" at Hillside and fund therapies, programs, and the services residents rely on since many are still unable to attend their off-site day programs. For Sponsorship Opportunities, please contact Michael Padden-Rubin, Director of Development, at 805-687-0788 x115 or mpaddenrubin@hillsidesb.org or visit hillsidesb.org. Donations are welcome at https://hillsidesb.org/donate;using Hillside's QR code on the right; or via the donation lockbox at the main entrance when visiting for Shining Light on Abilities. Proceeds benefit Hillside and the residents. 
Hillside residents and staff are grateful to all who made gifts during 2022 including year-end donations this month. Thank you! Best wishes for a happy, healthy, and safe holiday season and New Year to all!
Donate now!
hillsidesb.org
(805) 687-0788, x111
President & CEO: Michael S. Rassler
Mission
Our mission is to provide a home that supports our residents' efforts to maximize their physical, cognitive, social, and emotional abilities so that they can attain their highest level of independence in an environment where people are treated with dignity and respect.
Begin to Build a Relationship
We know you care about where your money goes and how it is used. Connect with this organization's leadership in order to begin to build this important relationship. Your email will be sent directly to this organization's director of development and/or Executive Director.
Hillside is a critically important part of a healthy community because we do need to care for those who are least able to care for themselves.
It Takes a Village
Hillside's 59 residents are served by 100 staff, encompassing nurses, therapists, instructors, and program facilitators. To provide its daily opportunities, Hillside requests program funds for:
$144,000: Behavioral Therapy
$48,000: Speech Therapy
$40,000: Sensory Calming Room
$35,000: Community Outreach
$32,540: Physical Education (land and water)
$7,200: Music Therapy
Key Supporters
Adams Legacy Foundation
Assistance League of Santa Barbara
Henry W. Bull Foundation
CDBG Human Services
Ray and Susan Dingman
Gardner Grout Foundation
Barry and Norris Goss
Hutton Parker Foundation
Ann Jackson Family Foundation
Robert and Jan Kopf
Latkin Charitable Foundation
Montecito Bank & Trust
Mosher Foundation
Outhwaite Foundation
Santa Barbara Foundation
Chumash Foundation
Judy A. Shea
St. Francis Foundation
Thomson Charitable Foundation
Towbes Foundation
Peter and Gina Troesch
Alice Tweed Tuohy Foundation
Valmark Global Gift Fund
Williams-Corbett Foundation