NatureTrack Film Festival Announces Dates for 5th Anniversary Edition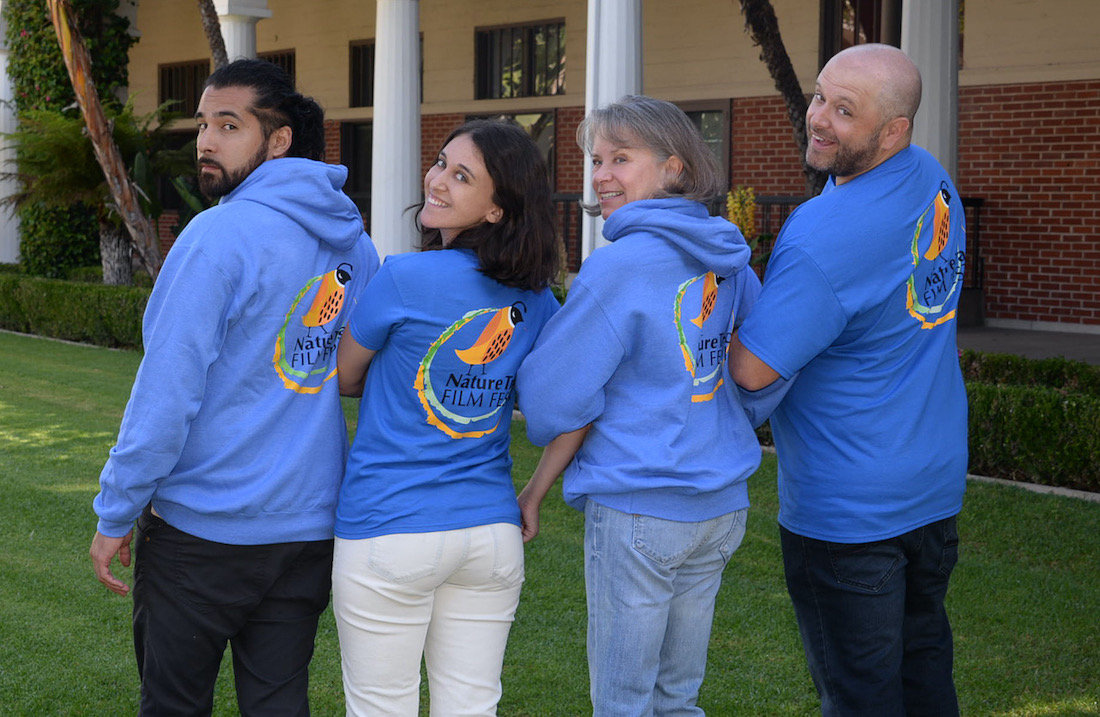 New Festival Team Revealed! First Time in Goleta at Fairview Theatre and Return to Los Olivos! Submissions Open Now – Calling for Nature-Centric Films!
Celebrating the return of the beloved NatureTrack Film Festival (NTFF) for its fifth year is cause to break out the champagne. Lots of exciting news to reveal like new co-directors for the fest, addition of a development director to the team, add in a new location, official dates, plus call for open submissions to the nature-centric film festival. Most of all, it's an in-person gathering for the fabulous fifth year.
This great little festival that can is curated with a focus on nature and outdoor-related films – its tag line is Igniting Passion for Nature Through Film. The program will include both feature-length and short films in a wide variety of genres and subjects including documentary, narrative, animation, experimental, conservation, outdoors adventure, student films, and more. Sue Eisaguirre, Founder and Executive Director of NatureTrack Foundation, announced the festival dates will be October 6-8 at Metropolitan's Fairview Theatre in Goleta for the first time. Eisaguirre stated, "Environmental concerns are in the forefront of our community's collective conscience, and I believe this festival will further inform all those interested in the natural world about other people who are doing great things around the world. The films will also excite attendees to get outdoors, connect with the natural world and enjoy the elixirs nature offers!" In addition to the three-day festival in Goleta, NTFF will screen the award-winning films in Los Olivos, where the festival all began, for a 'Best of the Fest' one-day event the following weekend. Location for this event will be announced soon.
Leading the emerging film festival are the new Festival Directors, Mitchka Saberi and Francisco Lopez. They both graduated from UCSB where Eisaguirre connected with them through Film & Media Studies professor Chris Jenkins. The team went on to collaborate on a short documentary The Accessible Outdoors co-produced by NatureTrack, and the 15-minute short doc made the rounds to film festivals in 2022 picking up several awards. They both remarked, "As filmmakers ourselves, we were very excited to be invited to become the new Festival Directors for NTFF. We hope we can curate a selection of films which will open up audiences' definition of what a nature film can be and put on an event that becomes a staple for the Goleta community as well as for filmmakers from around the world." Joining them is the new Development Director Gareth Kelly who has also collaborated with Lopez and Saberi in the past on several film projects as a producer. They are all looking forward to bringing the film festival to the Goleta and Santa Barbara communities.
Film submissions are open now on FilmFreeway. The early deadline for submissions is March 5th, and submissions will stay open until the last deadline of June 30th.
For more information about ways to get involved, upcoming ticket and pass sales, submissions, and more- check out the NTFF website (naturetrackfilmfestival.org). Follow us for updates on Instagram (@naturetrackfilm). For more info on NatureTrack Film Festival e-mail mitchka@naturetrackfilmfestival.org or call 805.844.5406.
Igniting Passion for Nature Through Film
Website: www.naturetrackfilmfestival.org
Facebook: https://www.facebook.com/naturetrackfilm/
Instagram: https://www.instagram.com/naturetrackfilm/
NatureTrack Film Festival was founded in 2018 by Sue Eisaguirre, who conceived the idea as an extension of, and fundraiser for, the non-profit NatureTrack Foundation, which she started in 2011. NatureTrack introduces schoolchildren and wheelchair users of all ages to outdoor spaces from the seashore to the inland oak woodlands of Santa Barbara County by providing cost-free outdoor field trips. Since it began, NatureTrack has provided more than 35,000 outdoor experiences for school-aged students. More information about NatureTrack Foundation can be found at www.naturetrack.org. Support for this program can be found at https:www.naturetrack.org.
For more info on NatureTrack call (805)886-2047 or email Sue@naturetrack.org
https://NatureTrackFilmFestival.org
Donate now!
www.naturetrack.org
(805) 886-2047
Founder & Executive Director: Sue Eisaguirre
Mission
NatureTrack is a 501(c)3 non-profit whose mission is to provide outdoor field trips for school-aged children at no cost to the schools or students.
Begin to Build a Relationship
We know you care about where your money goes and how it is used. Connect with this organization's leadership in order to begin to build this important relationship. Your email will be sent directly to this organization's director of development and/or Executive Director.
We both know it is vital for our young generation to be out in nature and experience what nature offers. Seeing the excitement on students' faces and their reactions to natural discoveries is always a joy. We enjoy being out on the trails and beaches, sharing nature at the moment with future stewards of our natural world.
For the Love of Nature
Transportation costs have increased significantly. In order to keep NatureTrack outdoor field trips cost-free for everyone, we need your help. Every donation you make will help us connect more kids and wheelchair users to nature.
$1,000 – Pays for 15 students to take a field trip (including transportation)
$2,500 – Pays for 35 students to take a field trip (including transportation)
$5,000 – Pays for 70 students to take a field trip (including transportation)
$6,300 – Buys 1 FreedomTrax device
PRICELESS – Becoming a NatureTrack volunteer! Join us. We have as much fun as the students!
Key Supporters
Adams Legacy Foundation
Audacious Foundation
California Coastal Conservancy
Explore the Coast
Coastal Ranches Conservancy
Coastal Resources
Enhancement Fund
Craig H. Neilsen Foundation
deLaski Family Foundation
Herbert and Gertrude Latkin
Charitable Foundation
John S. Kiewit Memorial
Foundation
Natalie Orfalea Foundation
and Lou Buglioli
Pacific HR, Inc.
Parks California – Route to Parks
Santa Ynez Valley Foundation
Santa Ynez Valley Youth
Recreation
Towbes Foundation