Cottage Health Employee Retires on 100th Birthday After 70 Years of Service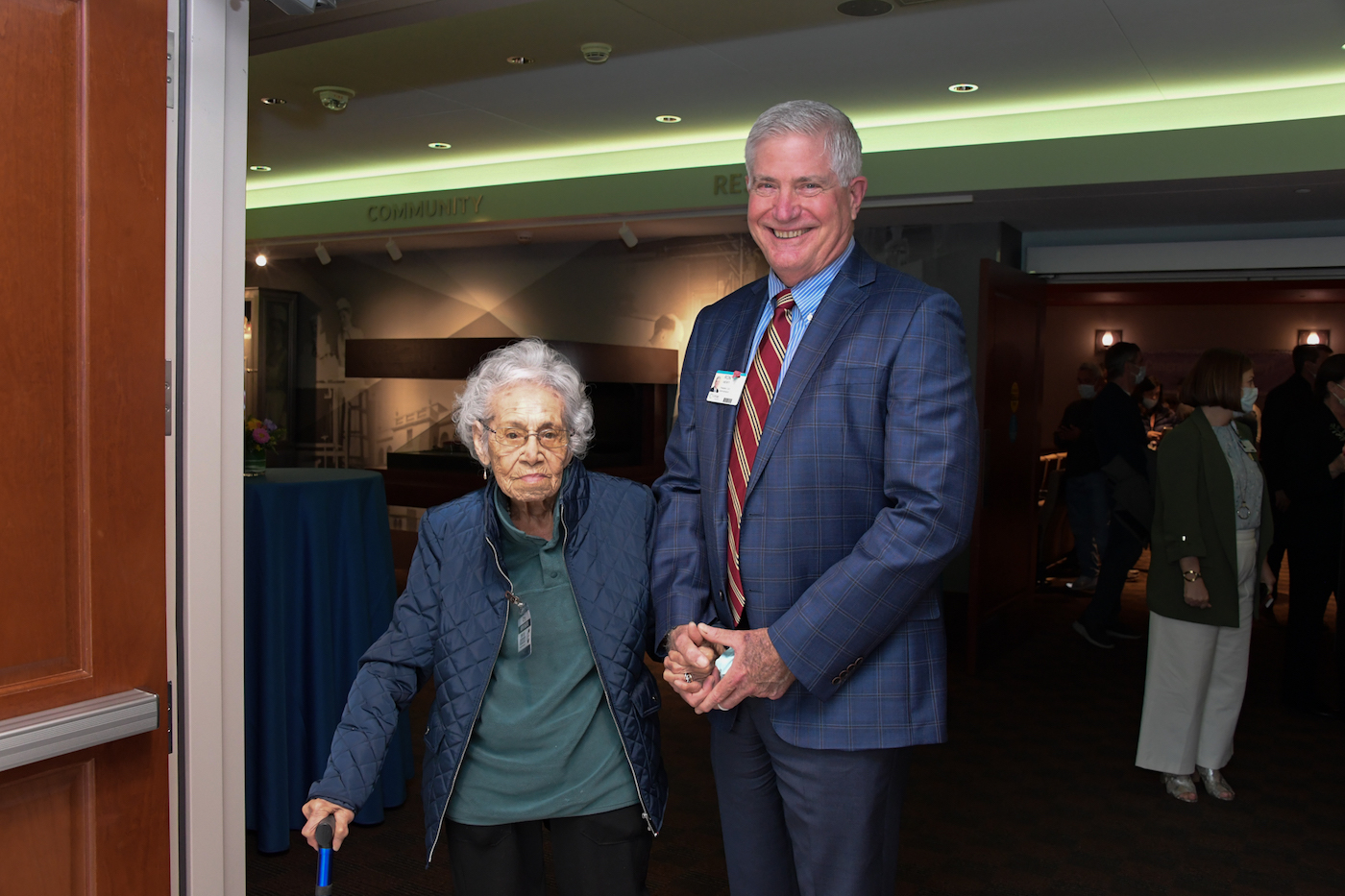 When Juana "Jenny" Cue began working at Santa Barbara Cottage Hospital (SBCH), it was 1953 and Dwight D. Eisenhower's first year as president. Jenny was 30 years old.
On March 22 this year, Jenny turned 100 and retired after 70 years of service at Cottage Health. Cottage honored Jenny and her amazing milestones by hosting a special celebration at Santa Barbara Cottage Hospital. 25 of the 26 members of Jenny's family that joined her at Wednesday's event were born at Cottage.
"We are extremely grateful for Jenny," said Ron Werft, President & CEO of Cottage Health. "She's been an important part of Santa Barbara Cottage Hospital for more than half its 131-year history and has had a positive impact on countless patients. We are definitely going to miss her."
Cottage Health is recognized as an organization with employees enjoying long, lifetime careers, and every year it honors staff and their career milestones – many of whom have celebrated 30, 40 and 50+ years at Cottage. In 2022, 594 Cottage employees reached career milestones of up to 45 years of service.
Jenny was born in Kansas on March 22, 1923, where her father worked for the railroads. When she was seven years old, her family moved to Mexico. After high school in Mexico, she returned to the U.S. in 1942 and moved to Indio, California. She and her husband, Alfredo, found Indio to be too hot, so they moved to Santa Barbara in the mid-1940s, where she worked in a local lemon packing plant.
A few years later, she joined Santa Barbara Cottage Hospital in the linen processing department. At the time, the hospital administrator, Rodney Lamb, wanted to be oriented in every SBCH department, and when he arrived in linen processing to learn, it was Jenny who trained him. Folding sheets was a two-person job and the technique resembled dance moves, so Jenny and Rodney would "dance" together as they folded sheets. That memory still makes Jenny smile.
In the early 1990's, Jenny was trained in the sterile processing department to wrap linen and basins for sterilization, and her responsibilities changed. "This was a good move for me, and I've always liked what I do." In 2011, Jenny transferred permanently to the sterile processing department.
Jenny is the proud mother of three, grandmother of four, great grandmother of eight and great-great grandmother of one – all four generations were born at Cottage.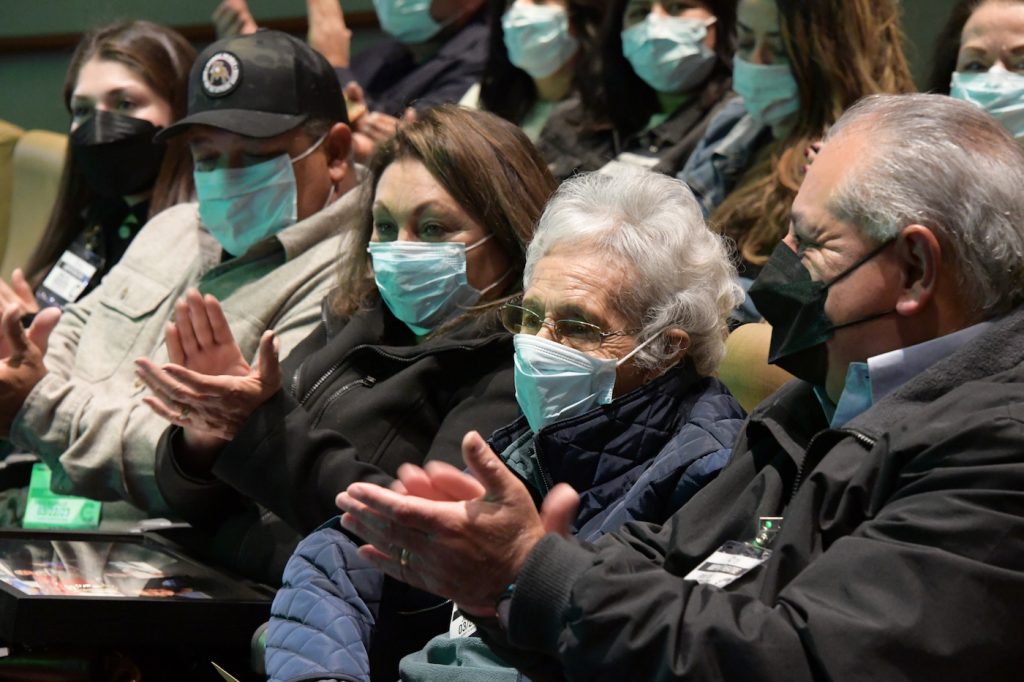 About Cottage Health cottagehealth.org
The not-for-profit Cottage Health is the leader in providing advanced medical care to the Central Coast region. Specialties include the Cottage Children's Medical Center, Level 1 Trauma Center, Neuroscience Institute, Heart & Vascular Center, Center for Orthopedics, and Rehabilitation Hospital. The Cottage Health medical staff is comprised of more than 700 physicians, many with subspecialties typically found only at university medical centers. Last year, the Cottage Health hospitals in Goleta, Santa Barbara and Santa Ynez Valley provided inpatient care for 21,000 people, treated 80,000 patients through their 24-hour emergency departments and helped deliver 2,100 newborns. Cottage Health also offers Cottage Urgent Care Centers throughout the tri-counties, as well as 24-hour access to providers via Cottage Virtual Care, an online service for common conditions.
Donate now!
www.cottagehealth.org
(860) 569-7290
Vice President for Advancement: Andrew Brown
Mission
To provide superior health care for and improve the health of our communities through a commitment to our core values of excellence, integrity, and compassion.
Begin to Build a Relationship
We know you care about where your money goes and how it is used. Connect with this organization's leadership in order to begin to build this important relationship. Your email will be sent directly to this organization's director of development and/or Executive Director.
Every staff member was totally dedicated to my healing and recovery with the goal to get me on my feet and walking again – which they did.
Providing Critical and Compassionate Health Services to our Community
Your support of Cottage Health is more important than ever. Your donations provide critical services, innovative technology, and the highest level of compassionate care to our patients and families, and to our friends and neighbors. Together, we can truly improve the health of our community – today and for generations to come.
Cottage Health Supporters
Thanks to countless donors and grateful patients who provide generous and meaningful gifts – at all levels – who help sustain our hospitals and ensure the very best care for our community.
Notable Gifts: Individual Donors
• Mary & Richard Compton – creating the Compton Center for Medical Excellence and Innovation, bringing the best medical solutions to all who live on the Central Coast
• Ben & Naomi Bollag – funding Emergency and Trauma Care excellence
• Anna & David Grotenhuis, Wayne & Sharol Siemens, Virginia Grotenhuis – providing resources to expand patient care and strengthen our future
• Craig Mally & Louise Stewart, MD – funding the first endowed chair for medical leadership at Cottage Health
• Richard & Mimi Gunner – providing educational support for nursing leaders
• Paul Guido – supporting mental and behavioral health for our community's youngest and most vulnerable patients
Notable gifts: Estates and Trusts
• Angela Minelli Starke – supporting pediatric excellence close to home
• Paul and Leslie Ridley-Tree – providing inspiration and loving support for the health and wellness of all Cottage patients
Notable Foundation Partners
•  Alice Tweed Tuohy Foundation
• Wood-Claeyssens Foundation
• Unihealth Foundation
•  Bower Foundation