SB County Board of Supervisors Approve the Racial Equity Fund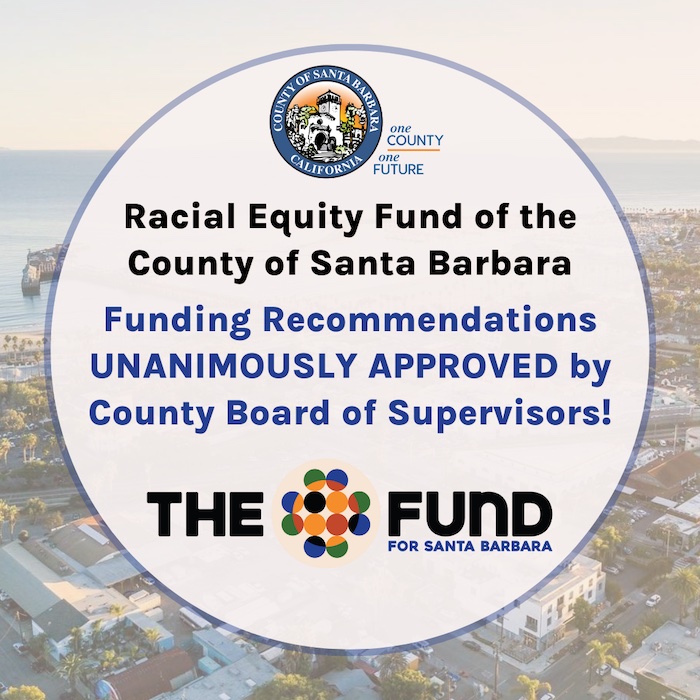 On April 4th, 2023 The Santa Barbara County Board of Supervisors unanimously approved the Racial Equity Fund recommendations made by The Fund for Santa Barbara.
The Fund for Santa Barbara would like to thank all who contributed their time to this extensive process. We applaud the County of Santa Barbara for taking concrete steps to address racial inequity in our region, and hope that this partnership initiates a more concerted effort by the County to invest in the most vulnerable and historically marginalized communities in Santa Barbara County. We congratulate the organizations receiving funding and celebrate the work they are carrying out to build a more equitable, just, and inclusive region.
History: The Racial Equity Fund of the County of Santa Barbara (REFCSB) is an initiative that came directly from grassroots organizing by Black Female leaders in Santa Barbara County who demanded that the County of Santa Barbara invest in the Black community in the wake of the killing of George Floyd and the ongoing racial justice movement. The Santa Barbara County Board of Supervisors (the "County") passed a resolution declaring racism a public health crisis, made a commitment to racial justice, and pledged
$500,000 to begin to address equity issues in the county. Roughly half of the funds were allocated to internal/institutional County equity development with the remaining funds were distributed through the Fund for Santa Barbara's ("The FUND") participatory grantmaking process in collaboration with The County of Santa Barbara. The FUND has a long history through its grant making program of supporting historically marginalized communities to be full participants in our community's social, civic, and economic life. This funding program aims to build capacity, expand, and/or stabilize historically marginalized organizations in Santa Barbara County. In 2022, the County Board of Supervisors allocated an additional $275,000 to fund a second cycle of the program.
Mission: To invest in and strengthen organizations that address anti-racism
through systems change strategies in Santa Barbara County. This fund aims to effect the culture and policy for systemic change necessary to advance racial equity and justice, and reverse the legacy of slavery and effects of racism in Santa Barbara County.
FundingRecipients: C4 Lompoc Collective Cultures Creating Change – Self Healing Communities -$78,473
Funding will support the implementation and stabilization of the Self Healing Communities project, to engage community, build leadership and self determination and begin to address the unrecognized and untreated trauma in the Lompoc community.
www.c4lompoc.org
@c4lompoc
Madi'sTreasureBox-Madi'sTreasureBox(WorldChangerInitiative)– $13,000(Yr1),$13,000(Yr2)
Funding will support the World Changer School Ambassadorship Program which provides multicultural tools to K-5 teachers, and the Santa Ynez Valley Juneteenth Celebration.
www.MadisTreasureBox.com
@MadisTreasureBox
NAACP Santa Maria Lompoc 1072 – Santa Maria-Lompoc NAACP Racial Equity Projects – Black History Celebration, Juneteenth Celebration, and addressing systemic Racism in Schools in northern Santa Barbara County – $32,500.00 (Yr 1), $32,500.00 (Y r2)
Funding to continue dismantling systems of racism, oppression, and discrimination by addressing systems that perpetuate racism, discrimination and hatred. Funding will support an annual gathering celebrating Black History, Juneteenth Celebration and work in schools addressing racism including the "the N word."
www.santamarialompocnaacp.org
@NaacpSanta
The Regents of the University of California, Santa Barbara – The Healing Space – $32,138.50 (Yr 1), $32,138.50 (Yr 2)
Funding will support the Healing Space in closing the service gap for Black community members seeking mental healthcare by reducing the cost of therapy services, improving the overall wellness of those seeking care by connecting clients to social services, and building the Black mental health workforce by providing a culturally-affirming training environment for Black psychologists-in-training.
www.sbhealing.org
@healingspaceucsb
Donate now!
www.fundforsantabarbara.org
(805) 962-9164
Development & Communications Manager: Alina Rey Keswani
Mission
Advancing progressive changes by strengthening movements for Economic, Environmental, Political, Racial, and Social Justice.
Begin to Build a Relationship
We know you care about where your money goes and how it is used. Connect with this organization's leadership in order to begin to build this important relationship. Your email will be sent directly to this organization's director of development and/or Executive Director.
Being able to bring people together, to help them engage in honest and open dialogue and then – most importantly – to give them the tools to put their intentions into action to make progressive change happen – all of these make The FUND an asset in our community and drive my commitment as a supporter
Be a Part of Local Collective Impact
The FUND raises its own money to support its annual budget; recurring monthly donations expand its ability to support organizations at the forefront of addressing inequity in Santa Barbara County.
Whether it's providing seed money to community groups that are helping to address the crucial problems of housing inequality and racial justice in Santa Barbara or training the next generation of leaders in this struggle, The FUND is there to help.
Every contribution, no matter how small, makes a difference in this vital effort. To donate, please visit:  fundforsantabarbara.org/donate
Key Supporters
Julia Hamilton
Jean Kaplan
David Landecker
Alice O'Connor
John & Gloria McManus
Sara Miller McCune
Maryanne Mott
Linda & Dennis Fenton
Natalie Orfalea
Gail Osherenko
Sheila & Jim Davidson
Ted Rhodes
Susan Rose
John & Suzanne Steed
Dale Zurawski & Geoff Slaff
Atterbury Foundation
Hutton Parker Foundation
James Bower Foundation
Santa Barbara Foundation
Wood Claeyssens Foundation