Reaching Higher Together Campaign Surpasses $130M Goal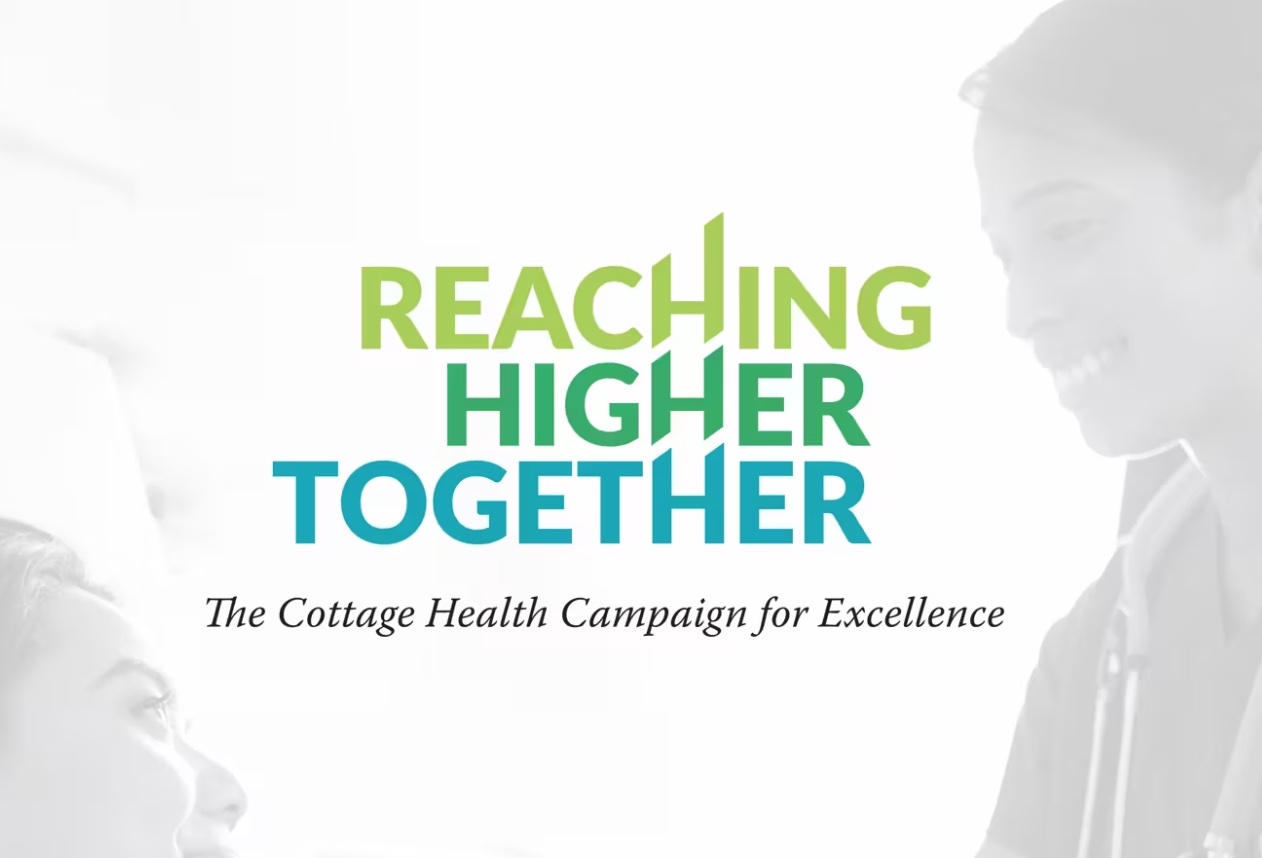 $150 Million Raised to Fulfill Cottage's Commitment to Healthcare Excellence
Santa Barbara Cottage Hospital Foundation's 7-year philanthropic campaign, Reaching Higher Together: The Cottage Campaign for Excellence, has raised $150.6 million to support Cottage Health in providing our community with world-class care and access to future innovations and advances in health and medicine.   
"The response of our community inspires us to do our best work," says Ron Werft, President and CEO of Cottage Health. We are so grateful to have the trust and confidence of Santa Barbara and the surrounding region."
During the campaign, 183 generous donors made gifts of more than $50,000, including two unprecedented gifts of $15 million. One from visionary philanthropists Mary and Richard Compton to create an endowment fund for medical excellence and innovation. And most recently in an extraordinary commitment to providing the finest emergency services and facilities to our community, Naomi and Ben Bollag made a $15 million gift to Cottage's Emergency Department Expansion Project.
In total, $150.6 million has been raised from more than 16,000 gifts, received from 4,302 donors, including gifts of all sizes from grateful patients and other individuals, private foundations, and local businesses: as well as Cottage employees, physicians and volunteers. More than half of donors (2,343) were first-time donors to Cottage.
"Together we are keeping Cottage strong so we can be at the forefront of medicine and ready to provide the highest level of care for everyone in our community," says Steve Zola, chair of Cottage Health's Board of Directors. "On behalf of all of the dedicated physicians, talented staff, and our committed Board members and volunteers – We thank all who have participated."
The campaign's goals were to strengthen patient care programs, fuel innovation, and respond to evolving new health challenges, while maintaining Santa Barbara Cottage Hospital's state-of-the-art facility and exceptional level of care. Thanks to the generosity of the community, the campaign is already having an impact:
Opening this Spring — the expansion of Level 1 Trauma Center and Emergency Services – doubling capacity, streamlining the way care is delivered, and enhancing emergency preparedness.
Fall 2022 – The new and expanded Cottage Family Suites (formerly Little Cottages) opened to accommodate more families who live out of the area with apartment-style lodging at no cost, within walking distance from the hospital.
Major support for Cottage's nursing and medical education programs are providing scholarships and endowed medical chairs, helping to attract and retain the top clinical talent who will care for our community.
A new state-of-the-art Patient Simulation Center is under construction where caregivers will be trained in the latest techniques in a simulated care environment – improving quality and safety.
Jelinda DeVorzon and Greg Faulkner — longtime volunteer leaders and supporters of Cottage — co-chaired the Reaching Higher Together campaign together with a Campaign Task Force including: Hollye Jacobs;
Peter MacDougall, EdD; Babji Mesipam, MD; Gretchen Milligan; Robert E.M. Nourse; Richard S. Ponce, MD; Lady Leslie Ridley-Tree; Ginger Salazar; Marshall "Chip" Turner Jr. and Steven Zola.
"More donors than ever are supporting Cottage and we can't thank them enough for helping us to reach this milestone. There is no doubt that donor support helps save lives," said Greg Faulkner.
"The efforts and generous contributions from members of this community have made our wonderful hospital possible and we've only just begun" added Jelinda DeVorzon.
To learn more about the Campaign and to Reach Higher Together for the health of our community, visit https://reachinghighertogether.org/ or call 805-879-8980.
About Cottage Health cottagehealth.org
The not-for-profit Cottage Health is the leader in providing advanced medical care to the Central Coast region. Specialties include the Cottage Children's Medical Center, Level 1 Trauma Center, Neuroscience Institute, Heart & Vascular Center, Center for Orthopedics, and Rehabilitation Hospital. The Cottage Health medical staff is comprised of more than 700 physicians, many with subspecialties typically found only at university medical centers. Last year, the Cottage Health hospitals in Goleta, Santa Barbara and Santa Ynez Valley provided inpatient care for 21,000 people, treated 80,000 patients through their 24-hour emergency departments and helped deliver 2,100 newborns. Cottage Health also offers Cottage Urgent Care Centers throughout the tri-counties, as well as 24-hour access to providers via Cottage Virtual Care, an online service for common conditions.
Donate now!
www.cottagehealth.org
Contact:(805) 324-9929
Cell (805) 448-0293
Director of Development: Magda Stayton
Mission
To provide superior health care for and improve the health of our communities through a commitment to our core values of excellence, integrity, and compassion.
Begin to Build a Relationship
We know you care about where your money goes and how it is used. Connect with this organization's leadership in order to begin to build this important relationship. Your email will be sent directly to this organization's director of development and/or Executive Director.
Where else can one do so much for a dedicated group of healthcare students starting on their careers of service to the various communities in the world, including our own? The effect is widespread and lasting, and of increasing importance.
A New Home for Cottage Rehabilitation Hospital
Cottage Rehabilitation Hospital (CRH) is moving from its current De la Vina Street location to state-of-the-art space on the Goleta Valley Cottage Hospital campus to provide patients with:  
•spacious, private rooms for comfort and healing 
•expanded inpatient and outpatient therapy areas  
•new outdoor aquatic therapy center
•therapeutic and healing gardens
The project will exceed $40M and the Foundations at CRH and GVCH are collaborating to raise at least $15M through the new 'Rebuild & Renew' Campaign.
Generous community participation is essential. 
To learn about giving opportunities and how this campaign will strengthen Cottage's ability to serve our community please call (805) 660-2496 or visit renewcrh.org
Cottage Health Friends List
Susan Christol-Deacon
Thomas Cusack
Jelinda DeVorzon
Gregory Faulkner
Pamela Gann
Roberta Griffin
Hollye Jacobs
Dorothy Largay, PhD
Robin Malone, MD
Peter MacDougall, EdD
Babji Mesipam, MD
Gretchen Milligan
Nancy Nielsen
Robert Nourse
Steve Ortiz
Ernesto Paredes
Gamble Parks
Richard Ponce, MD
Ginger Salazar
Wesley Schooler, MD
Mark Scott, MD
Bhupi Singh
Marshall 'Chip' Turner
Yulun Wang, PhD
Steven Zola