UCSB Arts & Lectures presents Isabella Rossellini in Conversation with Pico Iyer at The New Vic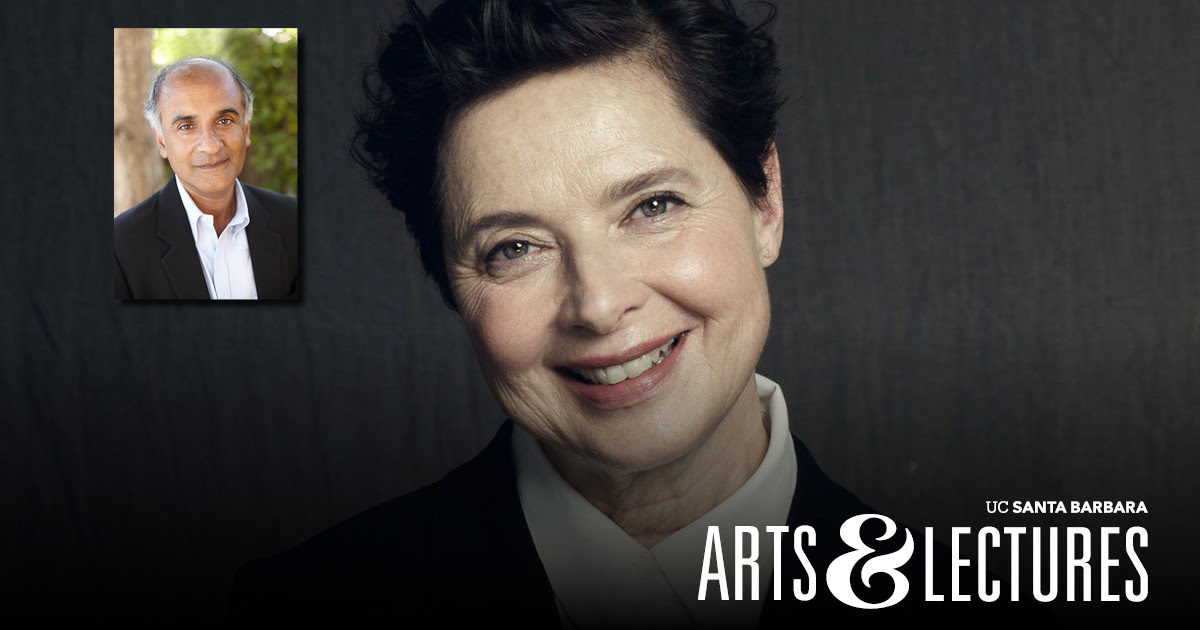 Model, film star and philanthropist will share the story of her illustrious family and multifaceted career
UCSB Arts & Lectures (A&L) presents Isabella Rossellini in conversation with Pico Iyer on Thursday, April 27 at 7:30 p.m. at The New Vic. A storied model and movie star, Isabella Rossellini represents a startling example of self reinvention. Born into European film royalty as the daughter of director Roberto Rossellini and actor Ingrid Bergman, her own performances are some of the definitive images in film. After a successful career in acting and modeling, she earned a master's degree in animal behavior and now creates unique and humorous works of performance art based on her research. Known for her philanthropic efforts in animal conservation among other areas, Rossellini runs an organic farm in Bellport, New York. As former muse and partner to artists like David Lynch, Martin Scorsese and Gary Oldman, Rossellini has stories to share and ideas of her own about the trials and tribulations of a life lived almost entirely in the public eye.
About Isabella Rossellini
Isabella Rossellini grew up in Paris and Rome. She made her cinematic debut as an actress in 1979 in the Taviani brothers' film Il Prato (The Meadow) and has appeared in numerous other films, including the American features Blue Velvet, Wild at Heart, White Nights, Rodger Dodger, Cousins, Death Becomes Her, Fearless, Big Night and Joy. She has worked with wide-ranging directors including Robert Zemeckis, David O. Russell, David Lynch, Robert Wilson, Taylor Hackford, Marjane Satrapi and Guy Maddin.She is also a successful television actress and filmmaker, with a keen interest in animals and wildlife conservation. She has a master's degree in Animal Behavior and Conservation and has received an honorary doctorate from the Science Faculty at UQAM (University of Quebec at Montreal). Her award-winning shorts Green Porno, Seduce Me and Mammas offer comical and scientifically insightful studies of animal behavior.Rossellini has been seen in Vita and Virginia, The Incredibles and the film Silent Retreat. Her television work includes Master of Photography and the series Domina for European broadcaster SKY, and the American series Shut Eye for Hulu. Her book My Chickens and I was published in several languages by Abrams Books.Rossellini's interests embrace preservation of her family's extraordinary cinematic heritage, including the films directed by her father, Roberto Rossellini and those featuring her mother, Ingrid Bergman. She is a mother of two and resides in Bellport, Long Island. She runs an organic farm in Brookhaven in association with the Peconic Land Trust.
About Pico Iyer
Pico Iyer is the author of 16 books, translated into 23 languages, and dealing with subjects ranging from the XIVth Dalai Lama to Islamic mysticism and from globalism to the Cuban Revolution. They include such long-running sellers as Video Night in Kathmandu, The Lady and the Monk, The Global Soul and The Art of Stillness. His latest book, The Half Known Life, describes experiences in Iran, North Korea, Kashmir, Sri Lanka, Jerusalem and inner Australia. He has also written the introductions to more than 70 other books, the liner notes for many Leonard Cohen albums and Criterion Collection movies and a screenplay for Miramax. Since 1986 he has been a regular essayist for Time, The New York Times, Harper's, The New York Review of Books and many others.
His four talks for TED have received more than 11 million views so far, and he has been featured in program-length interviews with Oprah, Krista Tippett and Larry King, among others.
Born in Oxford, England in 1957, he was a King's Scholar at Eton and was awarded a Congratulatory Double First at Oxford, where he received the highest marks of any student on English Literature at the university. He received a second master's degree at Harvard and was recently a Ferris Professor at Princeton. Iyer has been based in Japan since 1987.
Thursday, April 27 | 7:30 p.m. | The New Vic
One of the most successful models of all time and an iconic film actress, Rossellini has turned to animal rights activism, the study of animal behavior and organic farming in recent years
Rossellini has been partner and muse to Martin Scorsese and David Lynch
As the daughter of director Roberto Rossellini and actor Ingrid Bergman, Rossellini grew up in the limelight of cinematic success
Interviewer Pico Iyer is the author of numerous books, including his latest bestseller, The Half Known Life: In Search of Paradise (2023)
$35 General Public | $10 UCSB Students (Current student ID required) very limited availability
Tickets & Info: www.ArtsAndLectures.UCSB.edu, (805) 893-3535
"Classic and progressive, privileged and mistreated, a fearless innocent and a muse to America's two great post-war directors when they made their finest films… velvet-eyed, satin-skinned, Isabella Rossellini remains a primal, protean beauty of cerebral mischief." NPR
"Curiosity is my engine, but laughter is my fuel." – Isabella Rossellini
Donate now!
Mission
To educate, entertain and inspire.
Begin to Build a Relationship
We know you care about where your money goes and how it is used. Connect with this organization's leadership in order to begin to build this important relationship. Your email will be sent directly to this organization's Director of Development and/or Executive Director.
Enriching Program at Santa Barbara's Doorstep
Art teaches abstract thinking; it teaches teamwork; it teaches people to actually think about things they cannot see.
Your Support Is Essential in Maintaining Leading Edge Arts and Culture in Santa Barbara
It's a popular misconception that UCSB Arts & Lectures is fully funded by the university, when the truth is that support from patrons and other individual donors is essential. There are myriad ways to contribute to the organization beyond purchasing tickets, from major endowments to event sponsorships to joining the Producers Circle.
"We definitely need help from the community to keep doing what we do," Billeci says. "Without that support, this world class program and these educational offerings could not happen for the community."
Key Supporters
Advisory Council members and leaders who have helped make A&L a vibrant part of Santa Barbara:
John & Jody Arnhold
Paul & Patricia Bragg Foundation
Marcy Carsey
Marcia & John Mike Cohen
Audrey & Timothy O. Fisher
G.A. Fowler Family Foundation
Connie Frank & Evan Thompson
Martha Gabbert
Eva & Yoel Haller
Luci & Rich Janssen
Dorothy Largay & Wayne Rosing
Kath Lavidge & Ed McKinley
Patty & John MacFarlane
Manitou Fund
Sara Miller McCune
Jillian & Pete Muller
Natalie Orfalea & Lou Buglioli
Maxine Prisyon
Sage Publishing
Heather & Tom Sturgess
Anne Smith Towbes
Sherry Villanueva
Lynda Weinman & Bruce Heavin
Merryl Snow Zegar & Chuck Zegar
Dick Wolf