SB Unified Superintendent Covers Technology, Equity, and Academic Gains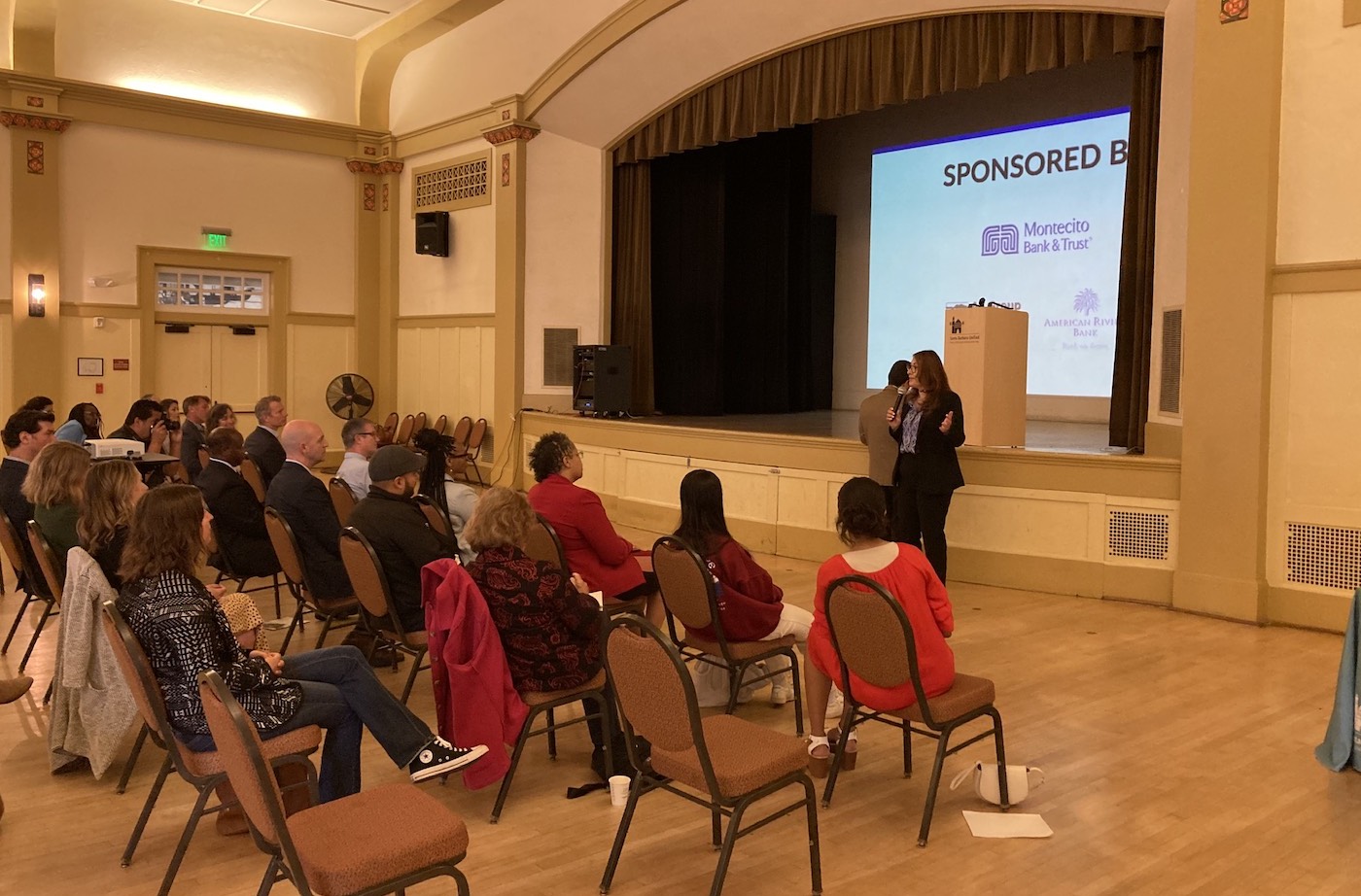 Speaking to a full house at the Carrillo Recreation Center, Santa Barbara Unified School District Superintendent Dr. Hilda Maldonado addressed the community during the Santa Barbara Education Foundation's annual State of Our Schools presentation.
Following an introduction by SBEF Executive Director, Dr. Pedro Paz, Maldonado started with a demonstration of ChatGPT to show how technological advances are drastically changing how students access and present ideas with the aid of artificial intelligence. In conjunction with changes in the classroom due to the pandemic, the landscape in public education has been altered significantly in just a few short years.
What Maldonado said has not changed is the need for schools to produce critical thinkers.
SB Unified serves over 12,000 students in 19 schools. Of these students, 61% are socioeconomically disadvantaged, nearly 10% are unhoused, 13.1% are students with disabilities, and 15.1% are Emergent Multilingual Learners. And despite all these challenges, the district has a 95.5% graduation rate.
Superintendent Maldonado outlined many ways in which District resources are organized to ensure student success, including the addition of Family Engagement Liaisons, crisis counselors, youth outreach workers, and licensed clinicians.
To help give a more complete picture of what is happening in the schools, the Superintendent invited San Marcos High School junior Kavya Suresh to share the stage and give the student perspective on today's local schools.
The Superintendent spoke of SB Unified's role in developing a strong local workforce through investment in existing facilities to provide opportunities for students to explore career pathways. With an improved Wellness Center at San Marcos High School, more students can explore health careers. The creation of an innovation center at Dos Pueblos High School will provide STEAM teacher training and curriculum development while also providing elementary school field trips.
For the first time since 2007, all elementary teachers will have a common set of materials to teach reading with the recently adopted Wit & Wisdom/Fundations curriculum.
Maldonado outlined a three-year implementation plan for teacher learning, with training starting as soon as next month.
Although the Superintendent gave details on the changes that will be made inside the classroom regarding literacy, she envisions a broader community effort to make literacy part of the local culture. "What if we held a literacy week in the cities of Goleta and Santa Barbara, where we celebrate reading and writing to help motivate kids to read, bring the joys of reading to students of all ages, and make all children feel safe, valued, and welcome?" Maldonado shared, "I imagine book fairs, writing contests, reading gardens where students can curl up with a book under a tree, celebrity guest readers in classrooms, and a multicultural festival that celebrates reading and opens windows on the world."
SBEF also wishes to recognize and thank State of Our Schools sponsors, including the Santa Ynez Band of Chumash Indians, Atkinson, Andelson, Loya, Ruud & Romo, McGillivray Construction, Chevron, KBZ Architects, Santa Barbara City College Foundation, Montecito Bank & Trust, AE Group Mechanical Engineers, and American Riviera Bank.
Santa Barbara Education Foundation promotes private support of Santa Barbara's public education system in 19 schools. For more information, visit www.santabarbaraeducation.org.
Donate now!
Mission
Santa Barbara Education Foundation (SBEF) provides and supports programs that enrich the academic, artistic, and personal development of all students in the Santa Barbara Unified School District.
Begin to Build a Relationship
We know you care about where your money goes and how it is used. Connect with this organization's leadership in order to begin to build this important relationship. Your email will be sent directly to this organization's director of development and/or Executive Director.
I have always been impressed with Keep the Beat as it fosters a love of music in children that can last a lifetime. I learned to love music when I was young and wanted to help our young folks experience that same love in their formative years.
Helping Teachers Help Students
The agenda for the 2022/2023 school year is to close the gap and achieve more funding for Teacher Grants while focusing on literacy development and mental health. Despite the $223,000 gap that the Santa Barbara Education Foundation is currently experiencing, their diligence and thoughtfulness bear every single student in mind.
You can help countless students like Bella find their voice.
Key Supporters
Arnesen Family Foundation
Timothy and Louise Casey
Andrew and Mary Jane Cooper
Daniel and Mandy Hochman
Elaine F. Stepanek Foundation
James S. Bower Foundation
John L. Carleton Foundation
Senator Monique Limón
J.M. Lind
Superintendent Dr. Hilda Maldonado
Sara Miller McCune
Mithun Family Foundation
Mosher Foundation
Santa Barbara Foundation
Nick Rail
April Thede
Towbes Foundation
Walter J. & Holly O.
Thomson Foundation
Wood-Claeyssens Foundation
Zegar Family Foundation