UCSB Arts & Lectures' 2023-2024 Season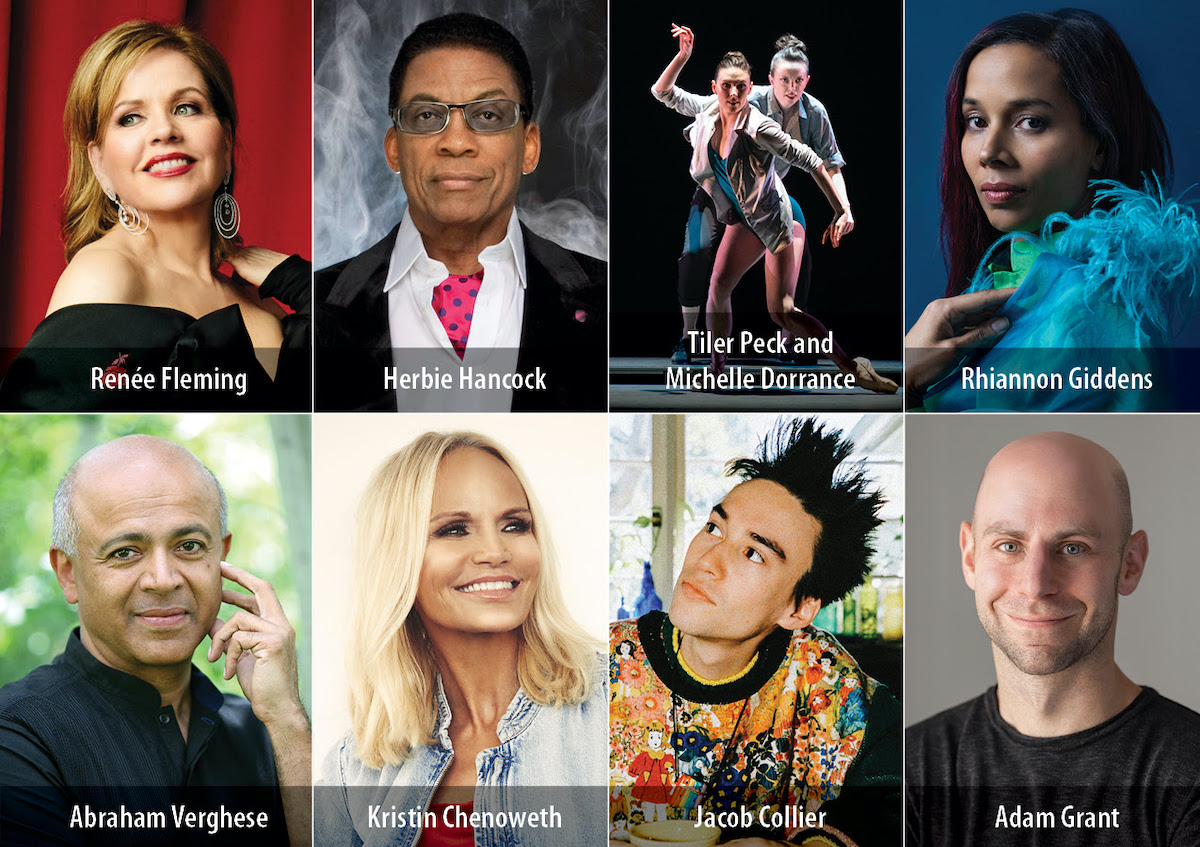 Single (non-subscription) tickets for UCSB Arts & Lectures' 2023-2024 season go on sale Friday, August 4 at 10:00AM.
UCSB Arts & Lectures presents its 2023-2034 season of world-class cultural and artistic events, from stimulating lectures and animated conversations with today's thought leaders to brilliant performances by the world's most accomplished dancers, singers, musicians and performers. Single (non-subscription) tickets for UCSB Arts & Lectures' 2023-2024 season go on sale Friday, August 4 at 10 a.m.
The 2023-2024 season begins on Sunday, October 1 with a concert and opening night festivities featuring the Santa Barbara debut of five-time Grammy-winner Jacob Collier. The spectacular opening week continues with the Martha Graham Dance Company on October 4 and Americana heroes Nickel Creek and special guest Hawktail on October 8. The classical super trio of Jean-Yves Thibaudet, Lisa Batiashvili and Gautier Capuçon arrive on October 10 to kick off another extraordinary season of the Great Performances series.
On October 25, New York City Ballet star Tiler Peck brings her highly acclaimed Turn It Out with Tiler Peck & Friends to town for its West Coast Premiere. Broadway superstar Kristin Chenoweth returns on November 5, and the Silkroad Ensemble, now under the direction of 2023 Pulitzer Prize in Music winner Rhiannon Giddens, presents the West Coast Premiere of their American Railroad project on November 9. Popular author and Penn Wharton School of Business professor Adam Grant will speak on the topic of hidden potential on November 16. On February 1, legendary soprano Reneé Fleming appears in a recital, and on February 21, Pico Iyer welcomes bestselling author of The Covenant of Water, Dr. Abraham Verghese. Jazz great Herbie Hancock brings an allstar band on April 17.
With more than 45 thrilling experiences to choose from, there's sure to be something that appeals to every member of your household. To secure the best seats and have access to the most popular events, now is the time to make your plans and purchase your tickets.
Subscriptions to curated series and the opportunity to create your own series remain available, as do associated discounts of up to 25%.
To order tickets, call the UCSB Arts & Lectures box office at (805) 893-3535 or purchase online at www.ArtsAndLectures.UCSB.edu beginning Friday, August 4 at 10 a.m.
Donate now!
Mission
To educate, entertain and inspire.
Begin to Build a Relationship
We know you care about where your money goes and how it is used. Connect with this organization's leadership in order to begin to build this important relationship. Your email will be sent directly to this organization's Director of Development and/or Executive Director.
Enriching Program at Santa Barbara's Doorstep
Arts & Lectures brings our community, the University, and its students an incredible array of artistic offerings that are unequaled in any other community of our size in this country. A&L always manages to present the kind of material that appeals to thousands – I don't know how they do it! Their robust education outreach, presented to both English- and Spanish-speaking audiences, enriches younger students immeasurably. We are incredibly fortunate to have such a varied and stellar program right here on our doorsteps!
Sustain Cultural Excellence in Santa Barbara
Arts & Lectures remains a beacon of hope in Santa Barbara, connecting art and education to the community. But they are still struggling with the impact of COVID-19 on their programs. Your support will allow Arts & Lectures to continue to play a pivotal role in the vibrancy of our community.
"Access for ALL is Arts & Lectures' suite of education and community programs, making inspirational, enriching, and dynamic learning opportunities possible for classrooms, campus, and the community," says Celesta M. Billeci, UCSB Arts & Lectures Miller McCune Executive Director.
Arts & Lectures hosts field trips for local K-12 students to see the most notable artists and thinkers of our time and also offers substantial discounts (and often even free admission) to students, as well as opportunities to learn from some of today's hottest musicians, renowned dancers, revered authors, and more.
Over the past few seasons, A&L has reached nearly 450,000 people and with your help they can offer life-changing opportunities and continue to transform the community.
Key Supporters
Advisory council members and leaders who have helped make A&L
a vibrant part of Santa Barbara:
Jody & John Arnhold
Loren Booth
Marcy Carsey
Marci & John Mike Cohen
Audrey & Timothy O. Fisher
Connie Frank & Evan Thompson
Martha Gabbert
Eva Haller
Luci & Rich Janssen
Dorothy Largay & Wayne Rosing
Kath Lavidge & Ed McKinley
Patty & John MacFarlane
Manitou Fund
Sara Miller McCune
Jillian & Pete Muller
Natalie Orfalea & Lou Buglioli
Maxine Prisyon
Heather & Tom Sturgess
Anne Smith Towbes
Sherry Villanueva
Lynda Weinman & Bruce Heavin
Bridget Yin & Russell Steiner
Merryl Snow Zegar & Charles Zegar