Unity Shoppe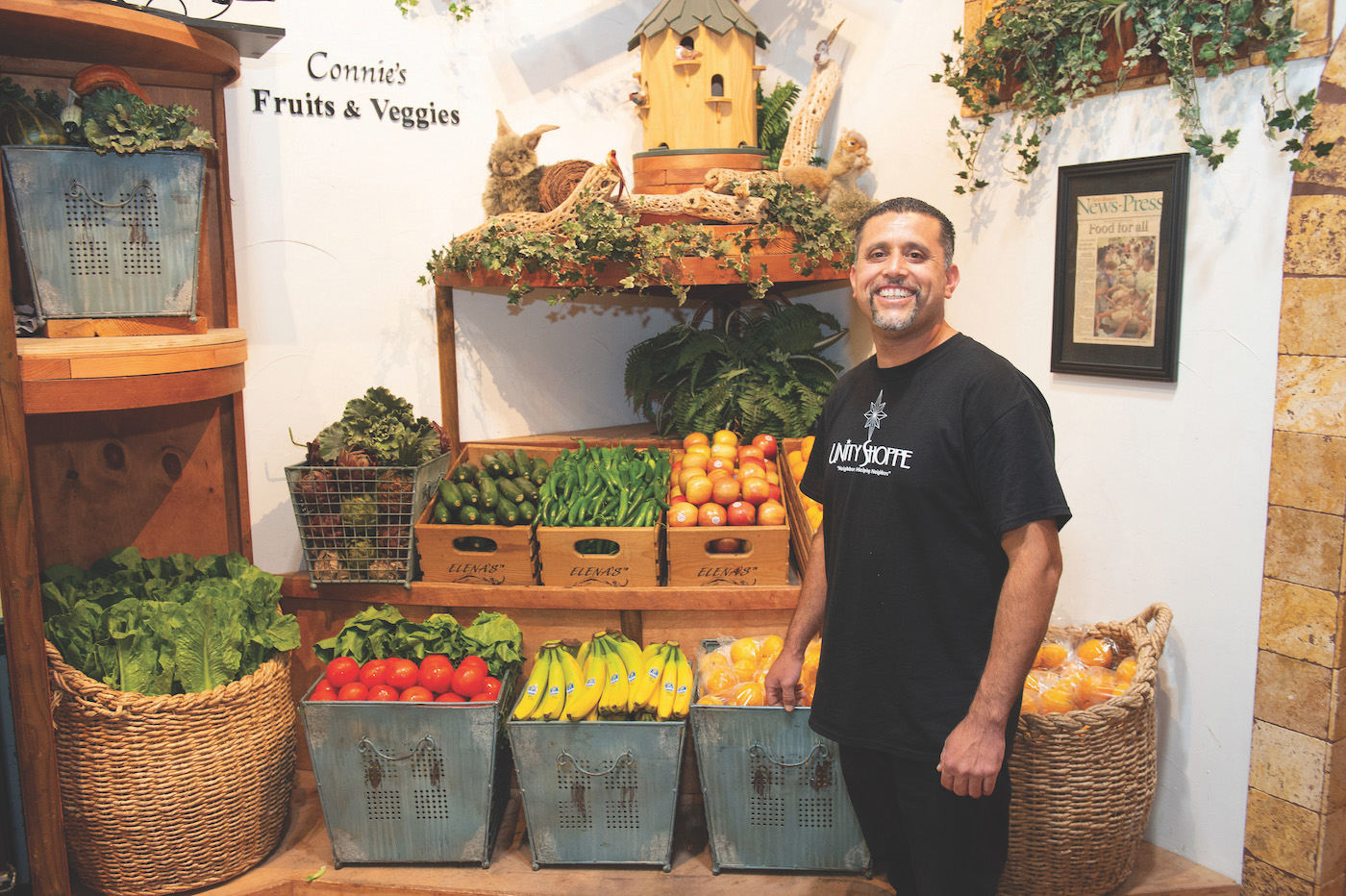 You may not have noticed, but Unity Shoppe, one of Santa Barbara's oldest nonprofits, had a significant change in its leadership just last summer. That's when Executive Director Tom Reed, who had led the organization best known for its storefront shop providing locals in need with groceries, clothing, and other essentials, as well as toys for the holidays, officially retired after 20 years at the helm. 
Stepping in as the new CEO: Angela Miller-Bevan, whose previous nonprofit experience includes working at American Heart Association and then serving as executive director of the Braille Institute in Santa Barbara. You may not have noticed the transition, because not only did Reed stay on through the end of the year to mentor Miller-Bevan, but also because the new executive director isn't new to the Unity Shoppe experience. The Santa Barbara native's family was actually a client during her childhood.
It's been about as smooth and seamless as possible. But the truth is there have been a whole lot of things happening at the 105-year-old organization.
For one thing, while Unity Shoppe experienced unprecedented growth in its client base during the height of the pandemic, the need for its vital services hasn't abated as society reopened and restrictions eased.
"Our demand has actually doubled again in the last year," Miller-Bevan said, noting that a roster of 500 clients in January 2022 grew to more than 1,000 this last January.
"We're dealing with the housing crisis and disappearing jobs," she said. "People just aren't making the income that they need to make to actually survive in Santa Barbara. The money is going to rent and car payments, and there isn't enough for food and clothing. Our goal continues to be to make sure that we take care of everyone in our community, give them the opportunity to survive, and be happy and healthy."
That happens through the Unity Shoppe experience, which allows its clients – who have been referred by hundreds of other agencies in Santa Barbara County – to shop twice a month just as they would at a regular grocery store, picking up the food items and other essentials their family wants and needs, and even checking out at the register – except no money changes hands.
"It's incredibly important for people to have the opportunity to have dignity, respect, and the choice to pick the items that they truly want and will use," Miller-Bevan said.
Although the Unity Shoppe itself remains the nonprofit's pillar, the organization has also gone through some changes under Miller-Bevan's direction, the core staff, and the help of hundreds of volunteers.
Its Disaster Relief program, the one that helped so many families during the Thomas Fire and Montecito Mudslide crises, has morphed into the Transitional Assistance program, which ties in with Unity's Job Smart program. The name change indicates a clarifying focus.
"It's one of our big accomplishments for this year, because it's dedicated to helping people when they are in transition, and bringing everything together," Miller-Bevan said. "If someone is recovering from a home fire, or from being without shelter, we're partnering with all the organizations that are helping to get people housing. We provide everything once they get into their house – furniture, dishes, blankets, anything they need – and they can use these services for a year to pick more things they realize they need, so they don't have to be overwhelmed by trying to get it all done in one visit."
The Job Smart program, just as it says, also works with other agencies to help people find employment, whether it's clothing and other equipment, or being pointed in the right direction to get resumes or fill out applications.
"It's whatever they need," Miller-Bevan said.
Including an actual job.
Through a partnership with PathPoint, clients can learn job skills by working in Unity's warehouse or shoppe, first as volunteers and later employees who learn how to barcode and tag items, stock shelves, sort food, and other goods – all the skills needed to go out and actually get a job in a grocery store. PathPoint provides their salary.
"Once they graduate, they go out into the community and get jobs at places like farms, or Whole Foods, and other markets where they already have experience doing that type of work," Miller-Bevan said.
One of Unity's newer annual projects just launched again this month: a back-to-school drive that mirrors the famous Unity Shoppe end-of-year toy drive. The big yellow boxes collected backpacks, notebooks, and other school items – even brand-new shoes courtesy of Deckers and Vans. Starting August 1, Unity Shoppe had enough stock to equip 2,500 children to be ready to head back to the classroom with brand-new outfits and items a few weeks later.
With all that's going on at Unity Shoppe, it's terrific that the organization has a newly reorganized website, one that clearly outlines the programs, how to get services, how everything works, and even points potential clients to referring agencies, and has clear instructions on how to donate to support its work.
"And I have an open-door policy; I'm very easily reached," Miller-Bevan said. "It's important to make sure that everyone in the community can always find us."
All in all, while of course Unity Shoppe's need for funding as well as donations is never-ending, Miller-Bevan is justifiably proud of her first year at the organization's helm.
"It's going absolutely fabulous. I am very pleased to say that Unity Shop is thriving."
Unity Shoppe
Angela Miller-Bevan, Executive Director
www.unityshoppe.org
(805) 331-6161
Donate now!
Mission
Unity Shoppe is dedicated to providing residents impacted by temporary conditions of poverty, natural disaster or health crisis with resources, including groceries, clothing, and other essentials, that reinforce human dignity and encourage self-sufficiency and independence.
Begin to Build a Relationship
We know you care about where your money goes and how it is used. Connect with this organization's leadership in order to begin to build this important relationship. Your email will be sent directly to this organization's director of development and/or Executive Director.
I Never Thought This Would Happen to Me
I was first introduced to Unity Shoppe when my son was volunteering for community service hours. We volunteered and worked side-by-side and saw first-hand the clients shopping with dignity by choosing items that they needed and then we watched as it appeared that they checked out at the register just like they would do in any other store but at Unity Shoppe, no payment changes hands. One of my favorite programs is Unity's Seniors Helping Seniors Center. This program provides basic need requests from hospitals, senior centers, and other organizations helping seniors who are homebound or disabled. It's no wonder why I love Unity's slogan: DIGNITY. RESPECT. CHOICE.
Taking the Legacy Countywide
Unity Shoppe is counting on the durable success of its annual telethon to continue investing in its programs and services. This includes JobSmart, which supplies low-income people with work clothes, and the Senior Resource Center, in which long-time senior volunteers knit, sew, quilt, paint, woodwork, and assemble clothes and toys to the delight and comfort of Santa Barbara's vulnerable residents. In 2023, Unity Shoppe also plans to begin serving families in north Santa Barbara County. It's a move inspired in part by Brad Paisley, who was so taken by Unity Shoppe that he brought the concept to his adopted home in Nashville. "Until now, people from north county have had to travel down to get our services," says Executive Director Angela Miller-Bevan. "In 2023, we will go to them."
Key Supporters
Patricia and Paul Bragg Foundation
Mithun Foundation
Susan and Ronald
Rodriguez Giving Fund
Golden Rule Family Foundation
John and Marcia Goldman
Bank of America Foundation
William Corbett Foundation
Maxine R. Waughtell
Donovan and Kathryn Chalfant
Santa Ynez Band of Chumash
Indians Foundation
Brittingham Family Foundation
Milton Hess
Victoria Ward
Ann Jaxson Family Foundation
MUFG Union Bank
Community West Bank
ZIA Group
Santa Barbara Foundation
Dana Newquist
Brad and Kim Paisley
Montecito Bank & Trust
Kenneth Richardson
Consumer Fire Products
Dena Stein