NatureTrack Film Festival Presented by The Land Trust for Santa Barbara County Announces 2023 Lineup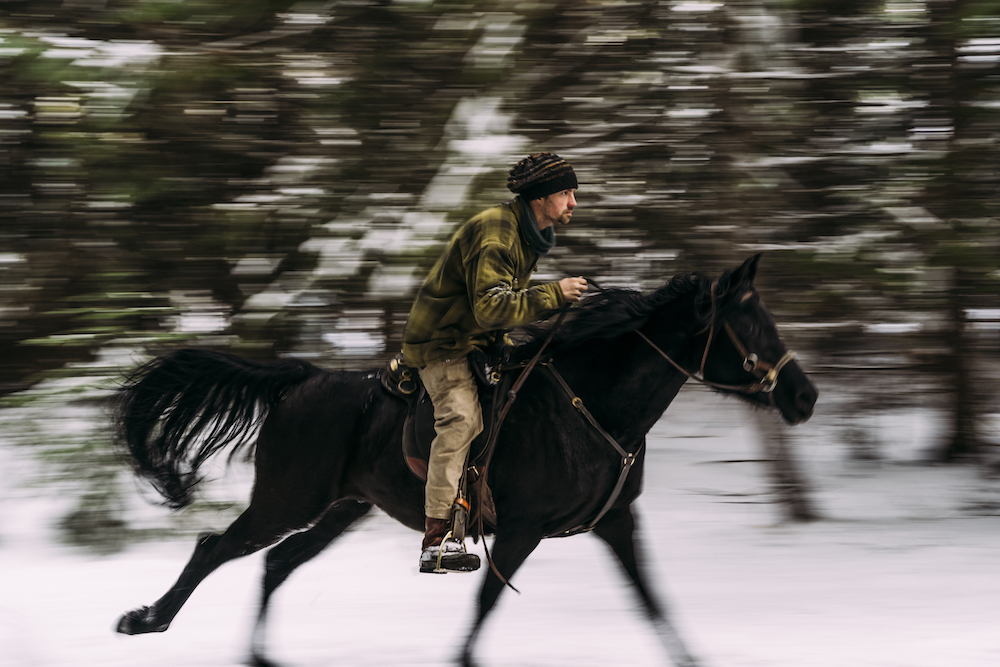 5th Anniversary Yields a Wealth of Stories about Water and Experiential Adventures Caught on Film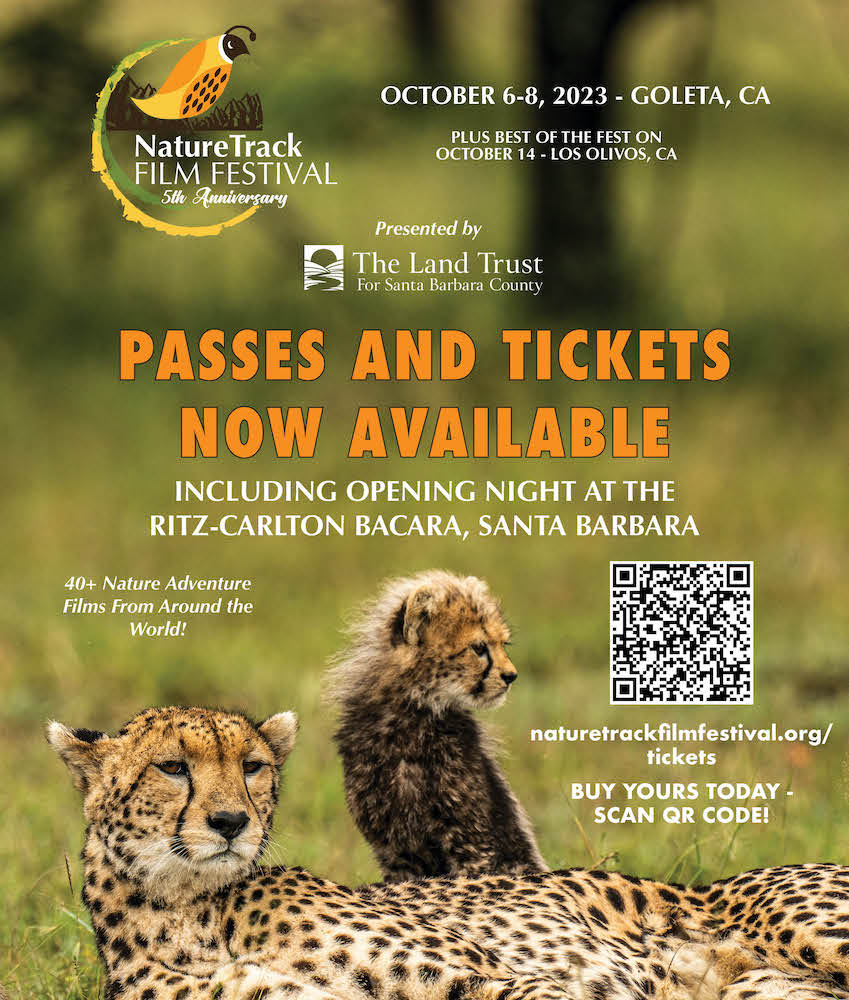 From the untapped beauty of nature to the stark realities we face in the world today, this year's program line-up is wrapped up beautifully in the curiosity which drives people to explore all Mother Nature has to offer.  The 5th Annual NatureTrack Film Festival October 6,7, & 8 at Metropolitan's Fairview Theatre in Goleta will have a dozen features, complemented by 30 shorts along with two panels, a grand opening night at the Ritz-Carlton Bacara, VIP Pass holder and filmmaker mixer on Saturday and an Awards Ceremony with a closing Party on Sunday – both at The Leta. Co-Directors Francisco Lopez and Mitchka Saberi have chosen a diverse selection of films.  Saberi stated, " I would love to shout out the variety of 'types' of films we are including in the lineup this year. Not all are traditional nature docs, this year's audiences will see how we've tried to broaden the definition of a nature film.  We believe they will inspire people to spend more time outdoors and love the earth."  Follow us on Instagram @naturetrackfilm for the updates.  Los Olivos will get its own Best of the Fest  the following weekend, Saturday, Oct. 14 from 3 – 9pm at The Grange with a Wrap Party after the final screening.  Tickets to The Grange are included in the VIP Full Festival Pass or $12 per screening. 
An in-person Field Trip is planned for early Sunday morning (10/8) to Lake Los Carneros to get an up-close look at the birds that call this place home.  Festival goers can experience what NatureTrack, the founding organization, has been doing since 2011 for more than 35,000 kids K-12 in Santa Barbara County to generate interest in becoming stewards of nature for future generations.  Founder Sue Eisaguirre noted, "As we mark our 5th Anniversary, we reflect on how this festival has become an enchanting extension of NatureTrack's enduring mission – to nurture and kindle an unwavering fascination with the natural world, fostering a lifelong love affair with the beauty that surrounds us."  Sue noted, "Many of the trails we use indeed do Ignite a Passion for Nature (our motto) which are on lands protected by our Presenting Sponsor The Land Trust of Santa Barbara County.  The Land Trust has been a consistent supporter of NatureTrack since I started this in 2011. We both share the vision of creating a new generation of stewards for nature in the future.  A better partner in this mission could not be found."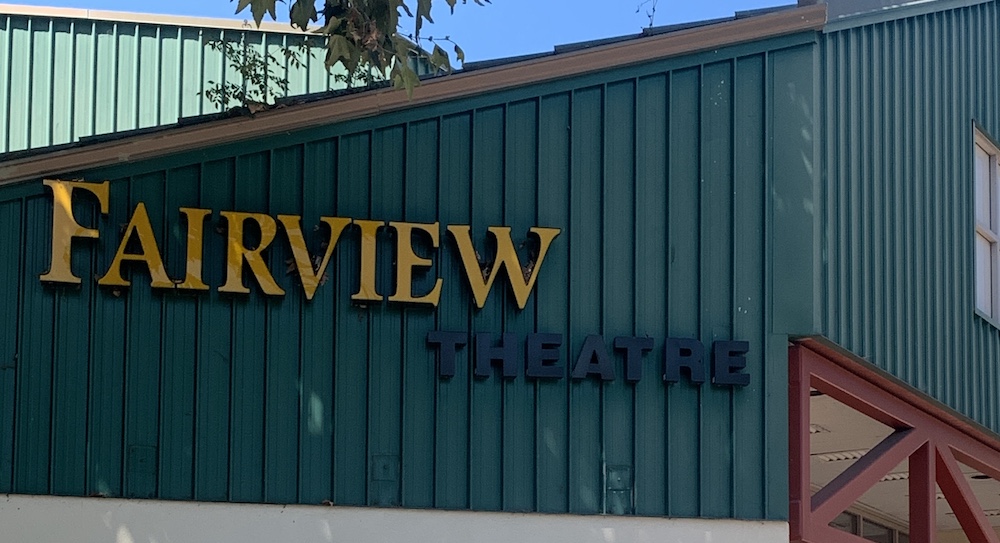 From the opening night film Wild Waters, the blending of the two prevailing themes in this year's lineup – water and experiential are front and center.  More than  70% of the Earth's surface is water. Fourteen of the films – ten shorts and four features – in the line-up look at the current state of oceans, rivers, creeks and inland lakes from the viewpoint of the experienced as well as student filmmakers. Reviewing the present nature of nature in this climate change era. The festival is designed to inspire passion for nature through film by expanding the definition of 'nature film'  through a range of genres and subjects. We invite audiences to walk, navigate, fly over, swim and paddle these wild, vital waters and a myriad of other topics with us.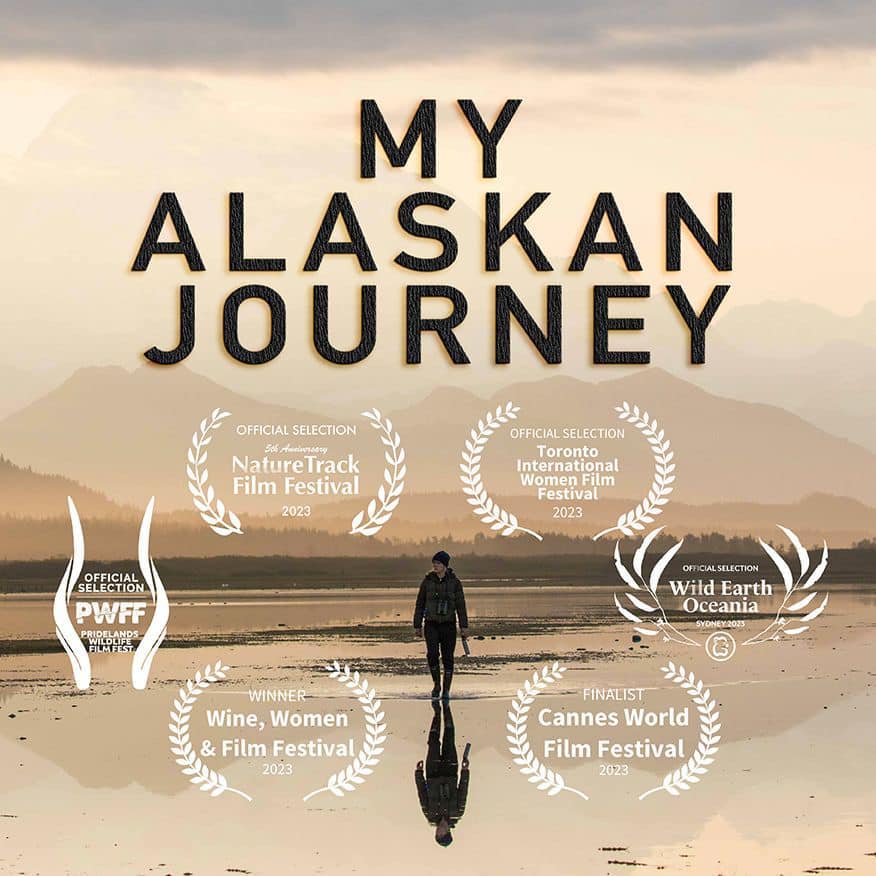 Focus on the features: Discover the annual changes, the Hudson River goes through (yes, the one we only think of as being in NYC). Award-winning filmmaker John Dutton gives us a thorough look at it in Hudson River Wild.  Saberi noted, "It was really cool getting a glimpse of all the different ecosystems along the Hudson River and the life based on its banks from the source all the way to the Statue of Liberty." She continued, "It's a beautiful Attenborough-esque doc, produced with the Smithsonian Channel by filmmaker John Dutton whose films have consistently graced the festival line-up."  Paved Paradise is a rare comedy nature doc. Lopez commented, "Super unique approach to the topic of agriculture and the environment. You don't see many comedy docs and this one really  pushes the envelope of how to present this type of material."  The Way of the Cheetah comes from the multiple award-winning team of Dereck & Beverly Joubert about these most fragile cats, both physically and in numbers, now at less than 7,000 left in the world.  We are introduced to a coalition of five male cheetahs and a female, Immani, who captures our hearts with her four cubs.  In Maasai her name means 'faith.'  Leading her cubs across the East African plains where she must avoid these brothers, along with lions, hyenas, jackals, baboons and even vultures.  Through the lens of the Joubert's over a few years, we see her gain faith in herself.  This is a personal story of this one family and its' journey through this valley of disruption, down the path of survival. The Joubert's are now considered notable world leading conservationists, as spokespeople as well as solution drivers. Out There: A National Parks Story  A very large story made on an intimate level is totally engaging.  Following two longtime friends in a car, on a mission to get to as many national parks as they can. At first driving very fast and just touching down here and there, realizing even though people say it's not the destination it's the journey, these young men turn things around to slow down and explore the destinations. For a memorable film this first-person experience is bound to incite a curiosity for every audience member to get out there and explore our National Parks – our Crown Jewels.   Epic Bill follows an endurance race enthusiast who, in his golden years, becomes continues to drive himself to endure tortuous journeys in outdoor conditions. What is the psychology behind this drive?  In My Alaskan Journey, a young woman who is a filmmaker, has heard tales from her family about the wildlife, beauty and danger of the northern most Alaskan islands. Erin Ranney had to go to see for herself and documented the trip.  Finding changes, her family's cabins, and a surprising cache of plastic as well as the resilience of nature. Sue Eisaguirre added, "There's a bonus attached to seeing this film. Everyone who comes to this screening at the festival will have the chance to win their very own Alaskan Adventure! Details TBA – stay tuned."  The remaining features will get the spotlight in an upcoming release. They are: Big Wave Guardian, Cactus Hotel, Peak Season and Until the Last Drop.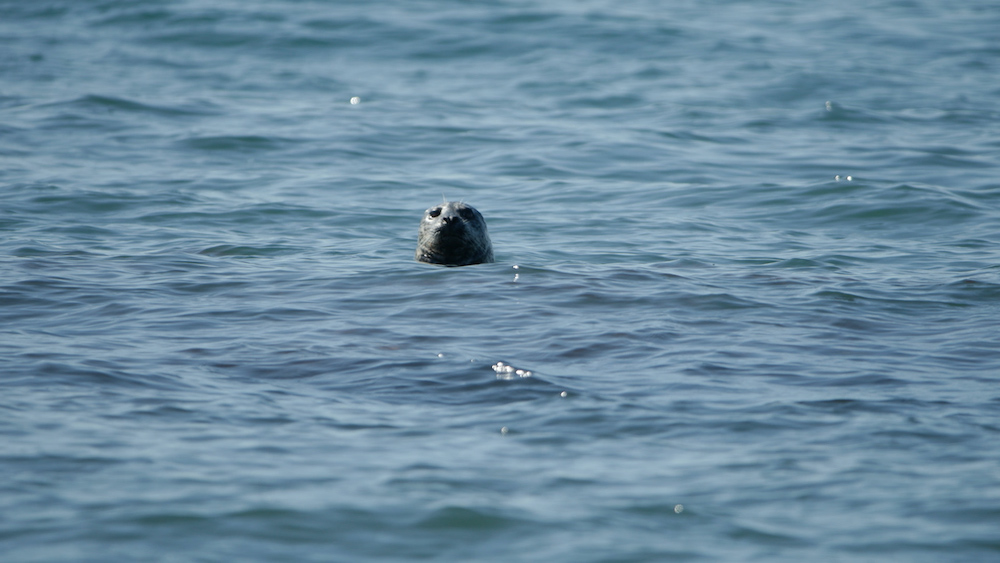 Thirty shorts are curated into the program with seven of those coming from student filmmakers. Some from the fertile ground of UCSB's GreenScreen taught by Chris Jenkins, and the UCSB Coastal Media Project, a nine-week summer class which Jenkins teaches along with Ian Kellett and Summer Gray. The assortment of P.O.Vs and subjects such as conservation and environmental topics, are woven in with long-distance running, and climbing. Some of Santa Barbara's favorite things are in here too – from condors and forests, to surfing and kayaking. The locations range from the northernmost tip of Alaska to the Channel Islands down to Brazil. Plus, this is where animation lives in the NTFF program. Don't miss Ice Merchants the Academy Award winner for Best Animated Short Film in 2022.
Further descriptions on all the films will be found on the website after August 31, where you can choose from the menu of film subjects most interesting to you to get an insider's look at nature through these dedicated filmmaker's eyes.  As filmmakers confirm their attendance it will be noted on our social feeds. Follow us @naturetrackfilm. NTFF Online Box Office is open for Opening Night, Full Festival Passes and now Single Tickets and Four-Packs are available at NatureTrack.  NTFF is grateful for the support  received from The City of Goleta, its City Council and excellent staff.  
Igniting Passion for Nature Through Film
NatureTrack Film Festival was founded in 2018 by Sue Eisaguirre, who conceived the idea as an extension of, and fundraiser for, the non-profit NatureTrack Foundation, which she started in 2011. NatureTrack introduces schoolchildren and wheelchair users of all ages to outdoor spaces from the seashore to the inland oak woodlands of Santa Barbara County by providing cost-free outdoor field trips. Since it began, NatureTrack has provided more than 35,000 outdoor experiences for school-aged students. More information on NatureTrack Foundation can be found at www.naturetrack.org.
Questions? NatureTrack call (805)886-2047 or email Sue@naturetrack.org
https://NatureTrackFilmFestival.org
https://www.facebook.com/naturetrackfilm
https://www.instagram.com/naturetrackfilm/
NTFF Schedule of Events at a Glance:
Oct. 6    Opening Night   6:30pm – 10:30pm  Screen "Wild Waters" at Ritz Carlton Bacara Resort Pre-show and post reception
Oct. 7 Film Industry Panel (names TK) 10 -11 am at The Leta
Programming all day from 11am – 8:30pm at Fairview Theatre
Evening Party Filmmaker/Pass Holder Mixer at The Leta
Oct. 8 NT Docent led guided bird-watching walk at Lake Los Carneros 8 – 9am
Filmmaker Panel (names TK) 10 – 10:45am
Programming from 11:15am – 7pm at The Fairview Theatre
Awards Party 7:30 The Leta
Land Trust for SB Co. presents Audience Award winner
Oct. 14 BEST OF THE FEST In Los Olivos at The Grange.
Times: 3:00 – 9:00 PM
Final Wrap Party – At the Grange, immediately following final viewing.
411:
5th Anniversary NatureTrack Film Festival
Oct. 6-7 & 8  and Oct. 14 
EMAIL:  info@naturetrackfilmfestival.org
PHONE: 805 844 5406
Single Tickets: $12 VIP Festival Pass: $200.
WHERE: Opening Night – Bacara Ritz Carlton Resort
Opening night 6:30 – 10PM   Oct. 6
8301 Hollister Ave., Santa Barbara, CA 93117
Metropolitan Fairview Theatre, 225 N. Fairview Ave., Goleta 93117
Oct 7-8, 2023
Saturday 11am – 6pm
Sunday  10am – 6pm
Best of the Fest
Sat., Oct 14 3pm – 9pm
The Grange 
2374 Alamo Pintado Ave, Los Olivos, CA 93441
 Final Wrap Party after final screening    
Donate now!
www.naturetrack.org
(805) 886-2047
Founder & Executive Director: Sue Eisaguirre
Mission
NatureTrack is a 501(c)3 non-profit whose mission is to provide outdoor field trips for school-aged children at no cost to the schools or students.
Begin to Build a Relationship
We know you care about where your money goes and how it is used. Connect with this organization's leadership in order to begin to build this important relationship. Your email will be sent directly to this organization's director of development and/or Executive Director.
We both know it is vital for our young generation to be out in nature and experience what nature offers. Seeing the excitement on students' faces and their reactions to natural discoveries is always a joy. We enjoy being out on the trails and beaches, sharing nature at the moment with future stewards of our natural world.
For the Love of Nature
Transportation costs have increased significantly. In order to keep NatureTrack outdoor field trips cost-free for everyone, we need your help. Every donation you make will help us connect more kids and wheelchair users to nature.
$1,000 – Pays for 15 students to take a field trip (including transportation)
$2,500 – Pays for 35 students to take a field trip (including transportation)
$5,000 – Pays for 70 students to take a field trip (including transportation)
$6,300 – Buys 1 FreedomTrax device
PRICELESS – Becoming a NatureTrack volunteer! Join us. We have as much fun as the students!
Key Supporters
Adams Legacy Foundation
Audacious Foundation
California Coastal Conservancy
Explore the Coast
Coastal Ranches Conservancy
Coastal Resources
Enhancement Fund
Craig H. Neilsen Foundation
deLaski Family Foundation
Herbert and Gertrude Latkin
Charitable Foundation
John S. Kiewit Memorial
Foundation
Natalie Orfalea Foundation
and Lou Buglioli
Pacific HR, Inc.
Parks California – Route to Parks
Santa Ynez Valley Foundation
Santa Ynez Valley Youth
Recreation
Towbes Foundation