Local Solutions, Regional Partnerships, Global Impact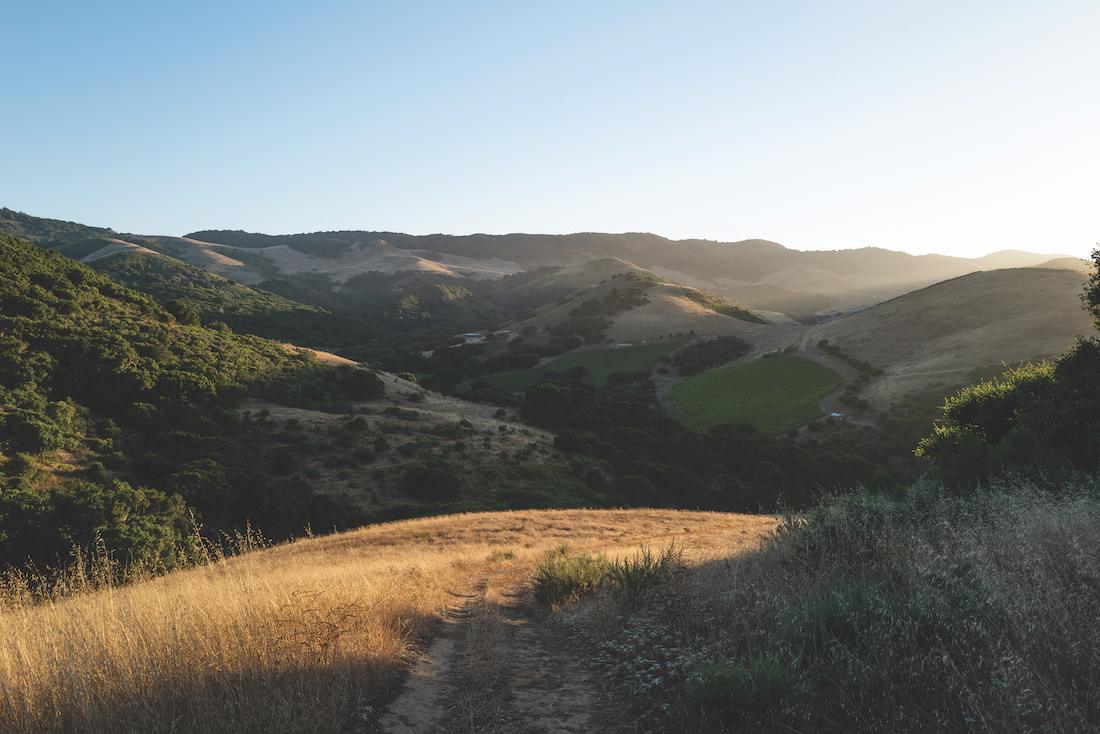 At a moment when news about the fate of the Earth may seem apocalyptic, White Buffalo Land Trust is providing hope and most importantly workable, replicable solutions for the planet. Their goal is to restore the ecosystem through agriculture. What began in 2018 on a 12-acre flagship farm has blossomed into a 1,000-acre Center for Regenerative Agriculture in Santa Barbara County, a global hub for regenerative land stewardship, ecological monitoring & research, education, training, and enterprise development. Founder and President Steve Finkel says that the Center for Regenerative Agriculture at Jalama Canyon Ranch, the epicenter of White Buffalo Land Trust, is "a profound opportunity to extend the legacy of Santa Barbara as a global leader of environmentalism." 
Their theory of change is a unique circular approach: local solutions, regional partnerships, global impact. It starts on the ground, with the demonstration of regenerative land stewardship principles and practices, followed by data collection and monitoring protocols which allow for the quantifying of impacts. This data serves to improve the management practices and informs the education and training programs. Ultimately, the bounty of the land reaches the marketplace, which contributes to ecological and community health, completing the circle.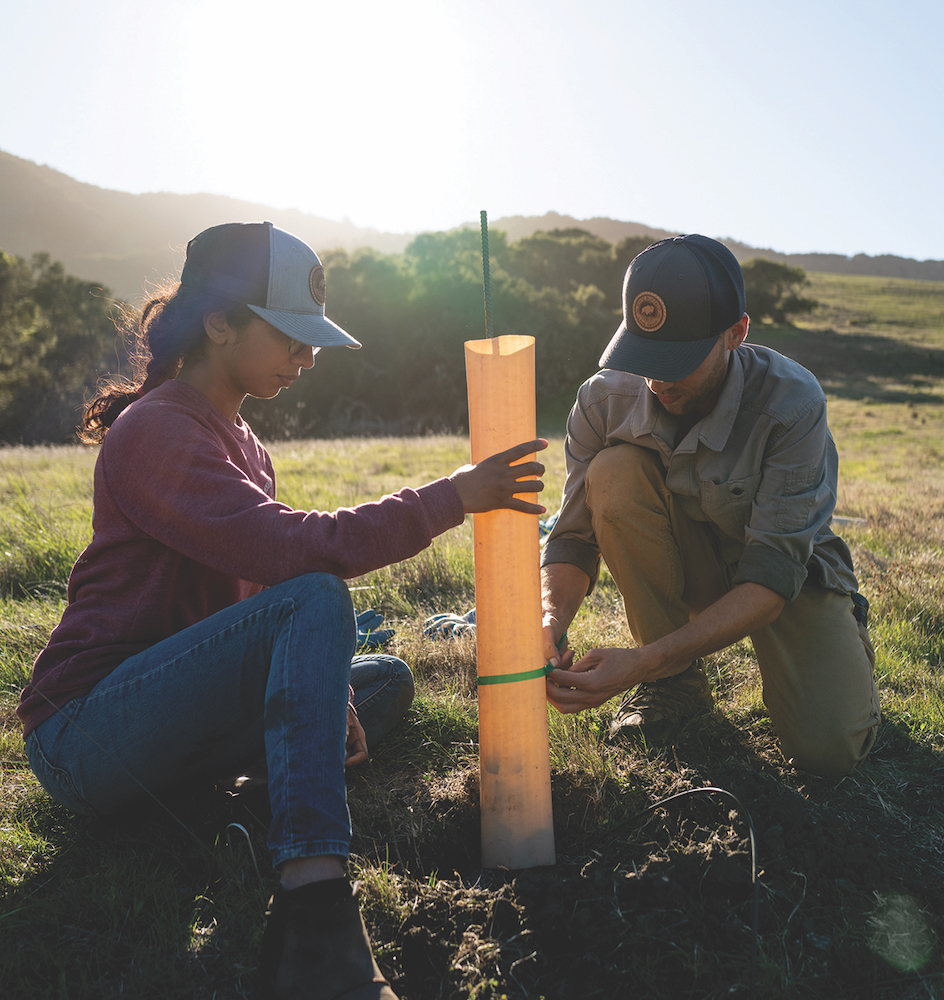 It's a holistic approach, according to Ana Smith, White Buffalo's Director of Programs and Engagement. At their core, Smith explains, is a paradigm shift. "It's time to move beyond the goal of merely doing less harm. We as humans have the ability to create positive impacts through each action we take, growing a thriving ecosystem, healthier community, and a more resilient planet, " she enthuses.
Anyone visiting Jalama Canyon Ranch can see that paradigm shift in practice every day. A primary example is the USDA-funded Elderberry Project, an ambitious five-year endeavor that is a paragon of White Buffalo's circular, holistic approach. The Western Blue Elderberry is a keystone crop of the region, long grown and tended by Native communities and essential to landscape restoration. White Buffalo has partnered with local stakeholders such as the Chumash Tribe, the Community Environmental Council, and several ranchers to use climate-beneficial practices to reestablish the Elderberry. When the harvested crop reaches the marketplace it will complete the circle, by helping restore and rehydrate riparian corridors of the local region, and creating market pathways to incentivize these climate-beneficial practices.
"It's another example of our approach of focusing on local solutions, with regional partnerships, aimed at global impact," Finkel points out.
Visitors to the ranch can see many of these enterprise partnerships at work including Richards Regenerative Beef featuring pasture-raised cattle, Sandhi Wines creating world-class Pinot Noir from the vineyard, and Flamingo Estate, a successful specialty retailer that has created a custom product line featuring essential oils distilled directly from native sages at the ranch.
The work being done at Jalama Canyon Ranch is already impacting behavior well beyond its fenceline. So far the work has reached thousands of people and impacted over 100,000 acres; and they are just getting started.
Donate now!
www.whitebuffalolandtrust.org
(818) 426-1398
Director of Development: Sam Franz
Mission
White Buffalo Land Trust practices, promotes, and develops systems of regenerative agriculture for local, regional, and global impact.
Begin to Build a Relationship
We know you care about where your money goes and how it is used. Connect with this organization's leadership in order to begin to build this important relationship. Your email will be sent directly to this organization's director of development and/or Executive Director.
Our partnership with White Buffalo Land Trust is much more than philanthropic; their team inspires and educates our employees who in turn research and design regenerative goods and products that end up in the global marketplace. I believe what White Buffalo is doing is urgent for our planet and that our local partnership with them is creating global impact and expanding our larger strategy of putting our values to work.
Be a Part of the Climate Solution
"We have assembled this incredible team at White Buffalo who are literally day by day implementing solutions that can change the world," says Founder and President Steve Finkel.  Every donation will be put to use to advance the mission and address the environmental, climate, and biodiversity crises we face today. White Buffalo relies on individual donor support for 65% of their projects. 
"I believe today that we are in such a moment of imperative that there's an application for every investment, because there is so much to be done," insists Finkel. If the past is prologue, White Buffalo Land Trust's past five years demonstrates that we have every reason to place our hope in them for our future.
Key Supporters
Manitou Fund
Roberto Foundation
WOKA Foundation
Macdoch Foundation
JS Bower Foundation
GA Fowler Family Foundation
Natalie Orfalea Foundation
Metabolic Studio
UGG
TomKat Education Foundation
Coyuchi Philanthropy Fund
Dancing Tides Foundation
Brownstein Farber Hyatt Schreck
Santa Barbara Foundation
Zegar Family Fund
Williams Corbett Foundation
Land Trust for Santa Barbara
County
Gaviota Coast Conservancy
McMorrow Family Foundation
CA Dept of Agriculture
U.S. Dept of Agriculture