Santa Barbara City College Foundation and the Promise of Higher Ed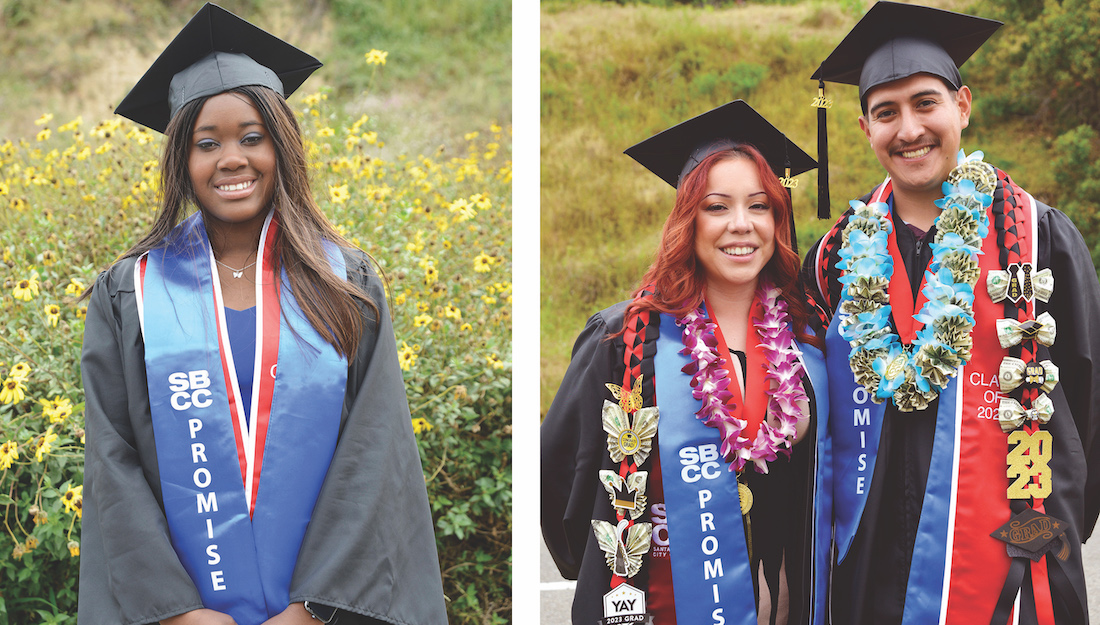 Even as a student at UC Santa Barbara, Geoff Green – CEO of the Santa Barbara City College Foundation – had an early understanding of Santa Barbara City College's inherent academic value. "At UCSB I was in a plant ecology course – a Linnaean Nomenclature course, of all things. It was my first upper-division honors section. There were 12 of us. Six of us were transfers from SBCC, and the other half – like me – had come to UCSB straight out of high school." Green arches his eyebrows. "It took me about two weeks to figure out that those SBCC transfer students were light years ahead of me." Why? "They just knew more. There's only one reason a teacher works at a community college. There's no research mission, there's very little administrative structure. You're there to teach. Community College is an efficient
teaching machine."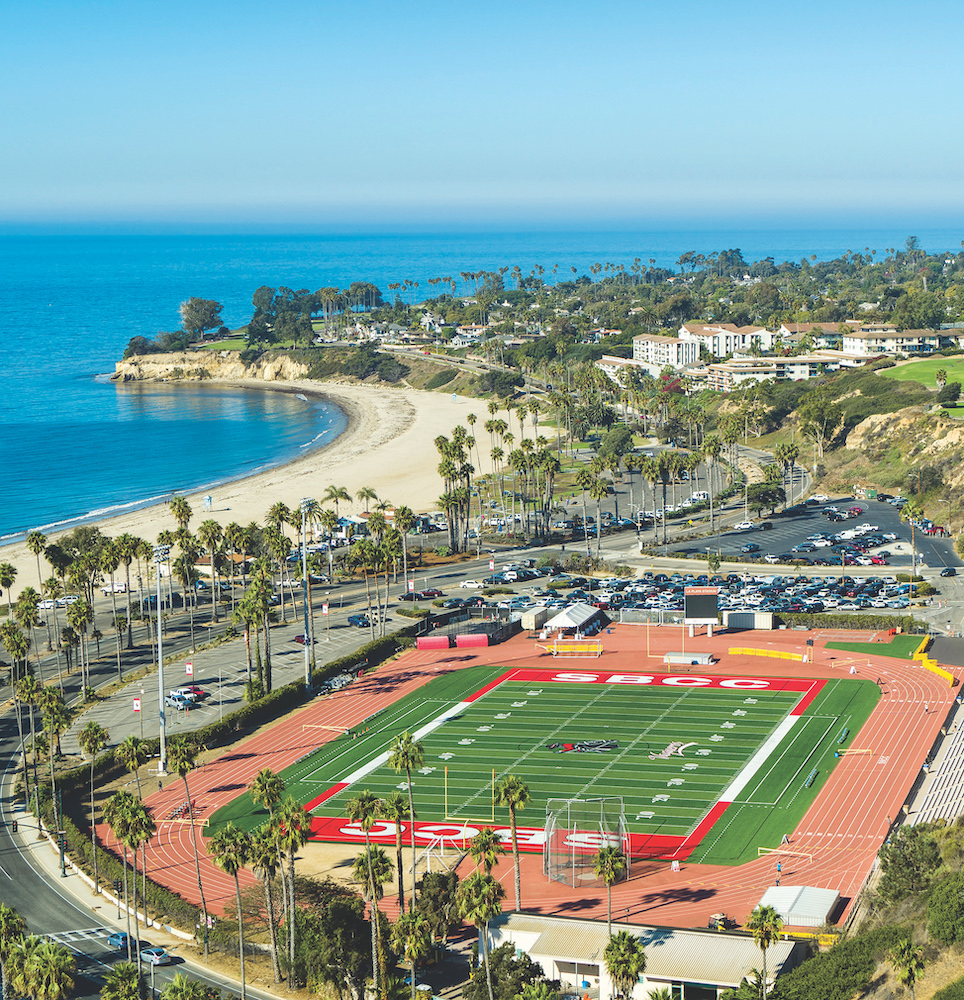 Thanks to the Santa Barbara City College Foundation and private donations, Santa Barbara City College is an efficient teaching machine that doubles as a cost-free gateway to university. The SBCC Promise is a big deal. Green breaks it down. "Every young person coming out of high school locally, we'll pay for two full years, all inclusive. So books, fees, everything. We require them to be full-time students, and require them to talk to counselors along the way so that they have a pathway and some support built in." You heard right. Graduate from a high school in the SBCC District Area or complete your GED, and you're eligible for the SBCC Promise – effectively a free freshman and sophomore year in college. Tuition, books, course materials, student health fee – SBCC will even throw in your student bus pass. Successfully complete those Promised two years at SBCC, and when you transfer to your four-year school, you will be entering the university as a junior. The SBCC Promise is an almost puzzlingly transparent example of educational beneficence. Complex loan forgiveness mechanisms are one thing; two free years at a nationally lauded, award-winning institution of higher learning are something else. "The Promise initiative is the single biggest thing we do at the Foundation," Green says. "And it's about a $2.5 million-per-year proposition."
The anodyne statement "Higher education isn't for everyone" – often murmured in a conciliatory fashion – can also be understood as "Not everyone who wants to attend a university and is academically qualified to attend a university will ever see the inside of a university." Too often, the higher ed filtering mechanism is plainly fiduciary. The Promise punches a few holes in that filter, to our common benefit.
"The SBCC Foundation," Green says, "was really put in place to bridge the gap between the aspirations of what SBCC knows it can do and the public funding streams it has access to. We offer an opportunity for the community to invest in the college."
Other SBCC Foundation points-of-pride include the Rising Scholars program, which prepares the incarcerated for college re-enrollment on their release, the SPARC program for "Single Parents Arriving Ready for College," and Guardian Scholars, which supports foster youth. SBCC Foundation represents open arms to those prospective students whose circumstances once made college an unattainable daydream.
Private donations are not just changing lives, but advancing them. "Because of the reputation of SBCC," Green says, "what we call the 'capture rate' is much higher than in most communities. That pathway was well established. But with the SBCC Promise, we wanted to remove the barriers for anyone who would have come to SBCC but didn't for fear of cost. And it worked."
Donate now!
Mission
The SBCC Foundation has provided Santa Barbara City College with private philanthropic support since 1976, serving as the vehicle through which individuals and organizations may invest in the college and its students. As an independent 501c3 nonprofit organization and partner to SBCC, the SBCC Foundation provides more than $5 million annually for student success programs, scholarships, book grants, emergency funds, and other critical needs of the college. For more than four decades, the resources raised and managed by the SBCC Foundation have supported SBCC students as they prepare for careers, transfer to four-year universities, and pursue lifelong learning goals.
Begin to Build a Relationship
We know you care about where your money goes and how it is used. Connect with this organization's leadership in order to begin to build this important relationship. Your email will be sent directly to this organization's director of development and/or Executive Director.
I was fortunate to be an SBCC Promise student during my first two years at SBCC. Without it, I would not have gone to college. As a first-generation student, it was hard to navigate college, and the thought of paying thousands of dollars for classes, starting fresh out of high school, did not seem realistic. With the Promise, I was fortunate to not have to work to pay for my classes, which allowed me to focus on school. It was a privilege.
Your Donations Can Put a Student Through Two Years of College
Donations to the Santa Barbara City College Foundation provide much needed support for students as they prepare for careers, transfer to four-year universities, and pursue lifelong learning goals. The Foundation is working to make the SBCC Promise a permanent offering through the support of generous donors, while continuing to improve and expand access to a greater share of the Santa Barbara community. The cost of one student's participation in the SBCC Promise varies with the student and their course of study, but currently ranges between $2,750 and $5,500.
Key Supporters
Laurie Ashton & Lynn Sarko
Leslie & Ashish Bhutani
Roger Durling
& Daniel Launspach
Coleen & Ted Friedel
Perri Harcourt
Bruce Heavin & Lynda Weinman
Madeleine & Peter Jacobson
Irma & Morrie Jurkowitz
Mark & Tiffany Lemons
Lillian Lovelace
Kandy Luria-Budgor
& Beno Budgor
Sara Miller McCune
John C. Mithun
& Mercedes Millington
Maryan Schall
Frank Schipper
& Leslie Meadowcroft-Schipper
Geoff Slaff & Dale Zurawski
Judy & Jack Stapelmann
Rachel Kaganoff Stern
Scott Vincent
Merryl & Chuck Zegar