Taking Bold Climate Action Together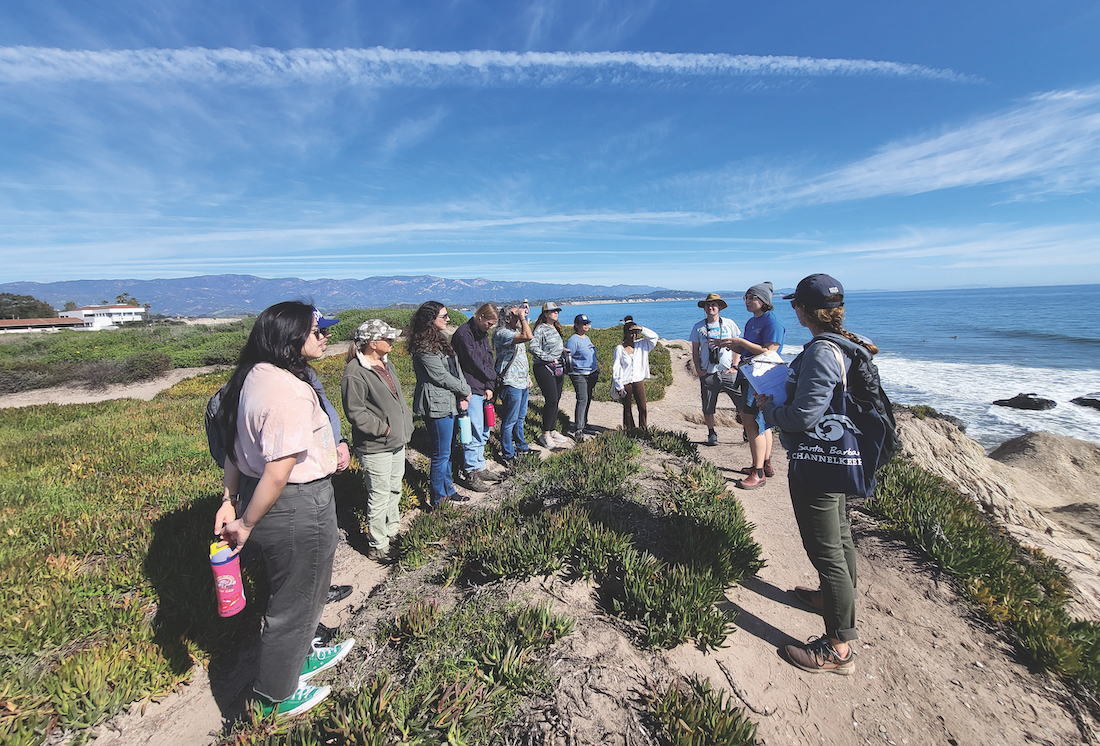 Over the last couple of years, the Community Environmental Council (CEC) has dramatically increased its efforts to combat climate change on the Central Coast. The 50-plus-year-old nonprofit has developed a bold and aggressive strategic plan to do "twice as much, twice as fast." This includes doubling its programming and geographic service area to include San Luis Obispo, Santa Barbara, and Ventura counties, and growing the staff to vastly expand its proven formula for developing and scaling innovative, rapid, and equitable solutions to the climate crisis.
Mid-2023 saw the opening of CEC's first-of-its-kind Environmental Hub in downtown Santa Barbara – a collaborative epicenter for community activism, education, entrepreneurship, media, and art – amping up its interactive approach.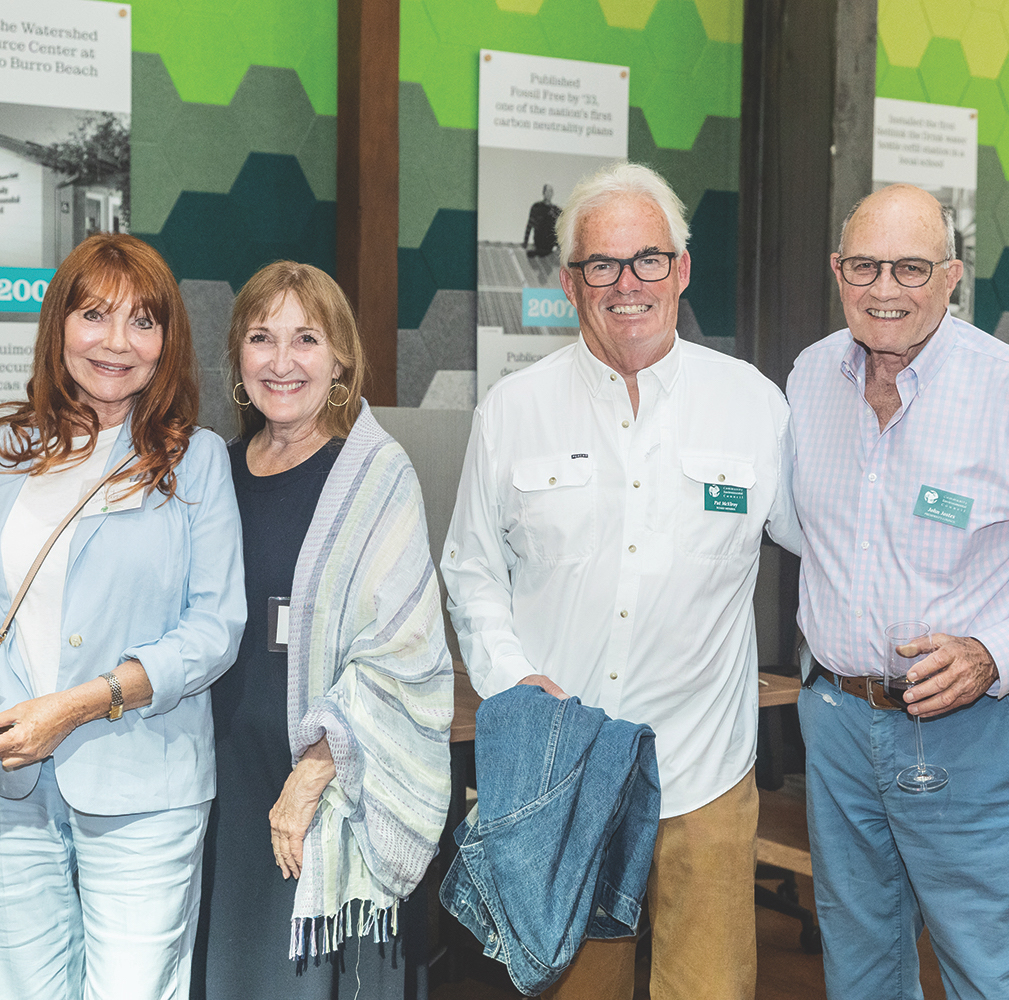 "Reverse, protect, and repair are the central focus of everything we do," says CEO Sigrid Wright. "But we can't do it alone. To solve these issues, we need all corners of the community involved at a hands-on level."
As part of its initiative to increase on-the-ground momentum to address and alleviate climate impacts, CEC has partnered with the University of California to launch the Central Coast's only Climate Stewards certification program, open to anyone wanting to take an active role in creating and implementing climate solutions in their homes, workplaces, and communities.
Addressing the doom-and-gloom scenario, participants learn about the psychology and science behind climate change and how to create connections and take action on a boots-on-the-ground level.
"The cold hard facts of climate change can be overwhelming, but the program flips the script entirely," says Wright. "People evaluate where their points of influence are, build a cohort, and learn the tools to act effectively in those areas."
Each participant completes a capstone project in one of six areas that make a direct impact in communities throughout our region in a number of ways, large and small – from public education and nonprofit spaces to neighborhoods and community gardens.
Among the 120+ Climate Steward graduates are a retired fashion expert from Ojai looking to do something to make an impact on the unsustainable "fast fashion" and manufacturing industry who created a website that includes information about the issue and how to shop second hand. A Ventura resident focused on helping her homeowners association get FIREWISE certified, while another alum designed a way to start a green team for her church in Lompoc.
"The kind of breadth and depth of impact that Climate Stewards make is something we never could have done alone," Wright says. "I can't even begin to predict what these folks are going to come up with, but the beauty of the program is that everyday people are able to get the skills and tools needed to effect change where they live. They're not just learning and going back to their daily lives – they are rippling out their knowledge and passion in really powerful ways."
Looking ahead, CEC plans to adapt the Climate Stewards program for high school students.
"They watch TikToks and Reels full of doomsday information, despondent and cynical about the future," Wright says. "We want to disrupt that, reach them with a similar program so they head off to college or the workforce more motivated and excited to make a positive impact on climate change. That's how we make a dramatic difference both today and long into the future."
Donate now!

Mission
The Community Environmental Council (CEC) advances rapid and equitable solutions to the climate crisis – including ambitious zero carbon goals, drawdown of excess carbon, and protection against the impacts of climate change. CEC was recognized as a 2020 California Nonprofit of the Year and a City of Santa Barbara Climate Hero and is led by CEO Sigrid Wright who was recently named 2022 Congressional Woman of the Year. CEC has worked since 1970 to incubate and innovate real-life environmental solutions that directly affect the California Central Coast. Our programs lead to clean vehicles, solar energy, resilient food systems, and reduction of single-use plastic.
Begin to Build a Relationship
We know you care about where your money goes and how it is used. Connect with this organization's leadership in order to begin to build this important relationship. Your email will be sent directly to this organization's director of development and/or Executive Director.
Clear Thinking on Climate Change
CEC helped me understand the basics and the complexities of climate change, and how to take steps in my life to make positive changes. I also gained a deeper understanding of how to strategically bring environmental sustainability into my work to help clients be successful.
Teaching Teens to be Climate Stewards for a Better Future for All
Community Environmental Council (CEC) piloted their Climate Stewards certification program for teens as a one-day-only workshop in the fall of 2023. The nonprofit is now raising funds to support the development and implementation of the Youth Climate program to launch more fully in 2024. 
Every donation, no matter the amount, is critical toward CEC's mission to ensure a sustainable and resilient future for California's Central Coast through such local-led initiatives that advance rapid and equitable solutions to the climate crisis, while also fostering greater community connections.
Key Supporters
Anonymous
Anonymous in honor
of Karl Hutterer
Mary Becker
Leslie Sweem Bhutani
& Ashish Bhutani in honor
of Pat & Derrell Sweem
Diane Boss
James S. Bower Foundation
Patricia and Paul Bragg
Foundation
Sheila & Tom Cullen
Emily, Dan, Casey
& Willow Engel
G. A. Fowler Family
Foundation
Dorothy Largay
& Wayne Rosing
John C. Mithun
Foundation
Mithun Family Foundation
Charles & Betsy Newman
Natalie Orfalea
Foundation
Hutton Parker Foundation
Michel Saint-Sulpice
Judy Stapelmann
Suzanne & John Steed
Elizabeth Weber
Yardi Systems
Zegar Family Foundation