The Story of Santos, Taqueria El Bajio, and the Holiday Lights on Milpas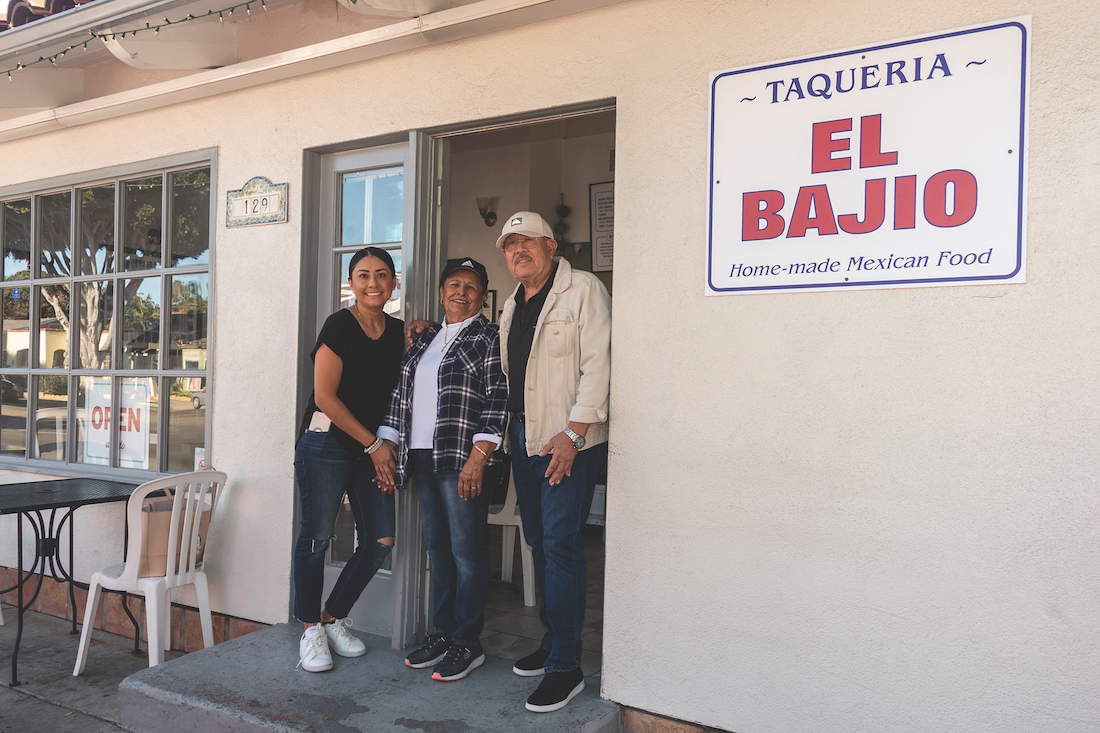 If you're wondering where to have Forbes-rated authentic Mexican food or where the holiday lights on Milpas and its roundabout come from, you can look no further than the heart and soul of Santos Guzman, owner of Taqueria El Bajio at 129 North Milpas Street.
Guzman was born in Guanajuato, México, the location of his restaurant's recipes for dorados, menudo, caldo de pollo, caldo de res, gorditas, chile rellenos, and beef tacos. It is also the home of his faith and cultural traditions.
Starting up Taqueria El Bajio in 1996, little did he realize that the restaurant would become such a popular, long-standing family institution. Not one to sit on a successful business, he decided to give back and pay it forward. Yes, those festive holiday lights are his idea and labor of love for the past 12 years.
Santos's motto says it all: "Everybody's always looking for money. But at my restaurant, what I'm looking for is the satisfaction of the customers." That motto also holds true for his dream to create a happy, safe, and prosperous Eastside Milpas community.
We met at his restaurant and talked:
Q: What made you decide to move to Santa Barbara from Guanajuato?
A: When I was in Mexico, I had a dream for a better life. I came to the U.S. in 1973. I was 22 years old and came here by myself as an immigrant with American dreams.
I first went to Los Angeles. I looked around and thought, This is not for me. I came to Santa Barbara, as I had two brothers who also had moved there.
What was Santa Barbara like for you when you arrived?
It was not easy in the beginning. I started as a janitor for two to three years making $2/hour; it was not enough. I had more dreams and got more ambitious. I started a gardening and landscape service. That was not easy. I had my family then. [He starts to fight a few tears.] To make enough money, I realized I had to sacrifice my life, my family, and I ended up working 24/7. I never saw my family during the day, because I worked from 5 am to 10 pm for almost 20 years.
How did the restaurant come about for you?
My ambition was to complete my dreams, I wanted to be an auto technician. I went to Santa Barbara City College (SBCC) and it took me six years to get my degree. By then I was 40 to 45, and I had kept working as a gardening service. In those days, I had to get a certification for pesticides; when you spray anything with it, you have to have a license. I went back to SBCC to get that license.
Suddenly one day, I discovered that somebody had a business at 129 North Milpas that was for sale, and it was a little restaurant. I decided to buy the business.
You transitioned from gardening to the restaurant…?
Honestly, I didn't have any experience, only what my mom taught me. She taught me how to cook when I was seven years old. I remember my mom told me when I got married, "You have to know how to cook!"
And I knew my wife, Gloria, knew how to cook, too.
But my wife said to me, "Why did you buy the restaurant? Who is going to buy this kind of food we eat at home?"
I said to her, "Everybody!" [We laugh.] "Everybody's going to buy it."
And my wife said, "Only beans and rice?"
I said to her, "Yeah, only beans and rice – somebody's going to buy it."
So, you opened the restaurant…
I started with all my family working with me at it. In those days, my daughters were little, and I put plastic boxes on the floor so my daughter could reach the cash register. My daughters were in school and took turns from being in class to working at the restaurant. My wife and I worked 24/7.
Where did the restaurant name come from?
For one reason or another, I put the name El Bajio as the restaurant name. And it became a huge success. A lot of people started to come in. I was surprised they liked the tortas, tacos, and the quesadillas.
Then we added the soups. When we added the soups, it was a tremendous hit! I called this little place the House of the Soups.
What caused you to decide to give back to the Eastside?
From one thing comes another one. I discovered there was an association right here on Milpas. It had members I met and came to respect, because I saw that what they were doing was very good for the community, so I became a member of the association.
How did you get the Christmas lights on Milpas and the roundabout?
Years ago, there were Christmas lights along Milpas Street, but at some point, it was not being done anymore – and no one knew who had done it prior, why it was stopped, or where those lights went.
So about 12 years ago, we did the Christmas lights on Milpas Street. And next, I thought to also decorate and light the Milpas roundabout.
How do the lights get funded, and how do the lights get put up?
These efforts are not funded by the City of Santa Barbara or any governing body. I would go door to door every year to ask for donations from the local businesses to do this, to get the lights, store them for next year, to fund putting up the lights on the poles and over the street, and get the permits. We are all volunteers that put up and take down the lights – including employees from my restaurant – along with Jose Perez and his employees, myself, and we have to contract out to safely put up the lights across the street.
As for the roundabout, the City of Santa Barbara told us there was no electricity. So first, we used solar panels, but that did not work. Next, we used gas-powered generators, and I had to use chains to hold them in place. I met with Congressman Salud Carbajal and told him we need electricity in the roundabout, and he helped somehow to provide it.
I am very proud, because the local businesses trust me and give me confidence to do this.
Why Christmas lights?
Having lights up at Christmas time is a big tradition in Latina families, which constitute the majority of people here. Since the [pandemic] lockdowns, many people do not have the money to even get a Christmas tree, so coming to Milpas Street and seeing holiday lights is important. Lights are a visual gift to the community. Also, we found out that because we put up the lights, more people feel safe to be on the sidewalks at night to view the Milpas Holiday Parade. The community loves it.
What are your dreams for the future?
We need more help and money to do this. I would love Cabrillo Boulevard along the beach lit up for Christmas, and to have traditional festivals and community gatherings.
My wish is that the city recognizes the power as Latinos that we have in this city. You don't realize how much effort the Latinos make to live here and contribute, working in construction, plumbing, as cooks, landscaping, professors, engineers, and entrepreneurs.