A Botanical Nirvana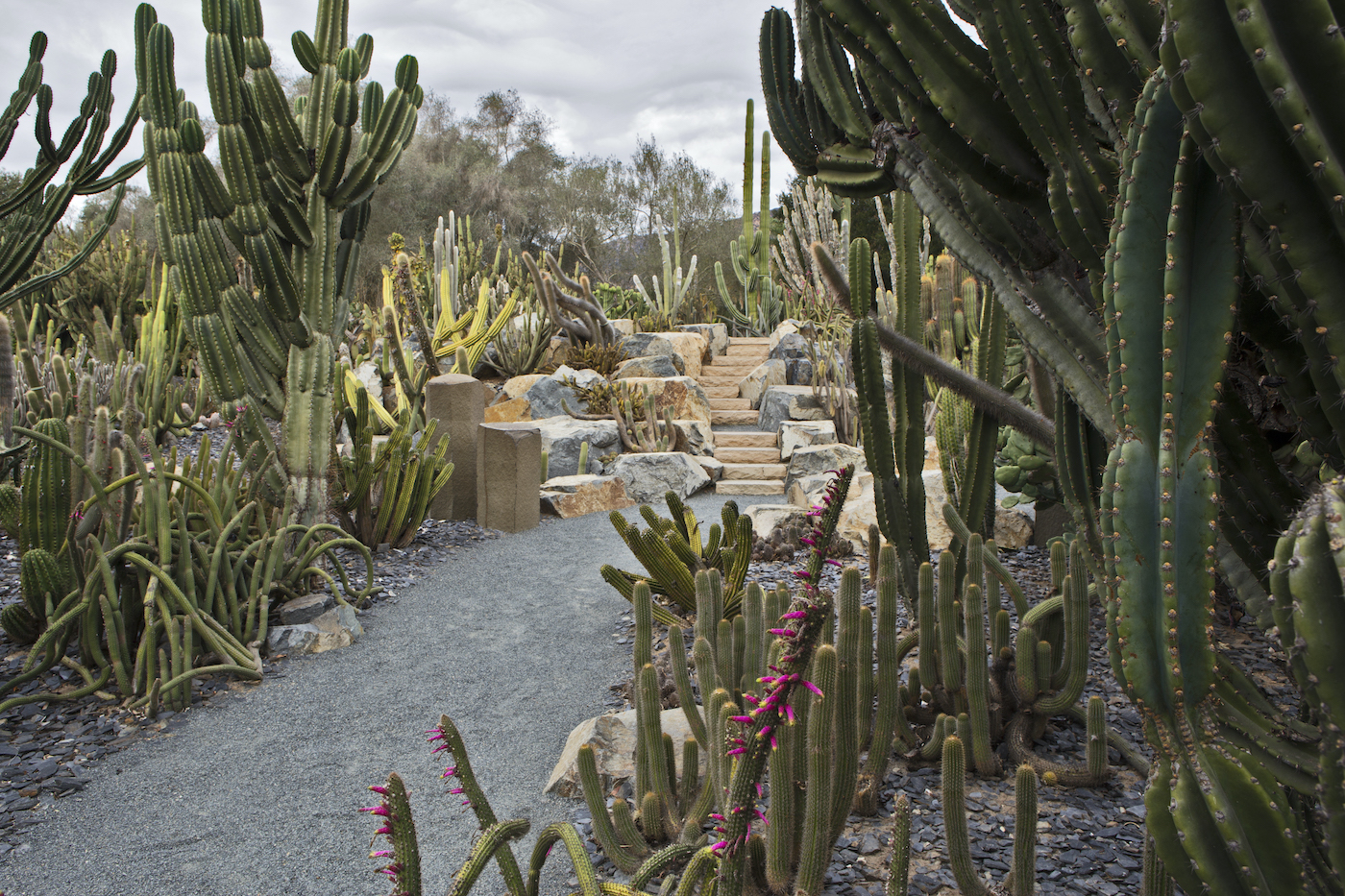 In Montecito, a land of spectacular architecture and pristine gardens, there lies a property like no other: Lotusland. 
Set across 37 acres, this sprawling estate turned public garden boasts 3,500 plant species from across the globe, many dating back 140 years, with towering palms and cacti, brilliant water gardens, and some of the most endangered fauna in the world. Then layer in the life of its enigmatic creator, Madame Ganna Walska, and you have a landscape that is a living work of art.
"Part of the magic of Lotusland is the size and the scale of these mature specimen plants," says Executive Director Rebecca Anderson. "Lotusland is grand and historic. When you enter, you are transported to a magical world where fantasy, whimsey and horticultural genius create a botanical masterpiece."
In late 2020, USA Today readers voted Lotusland one of the top 10 botanical gardens in the country. 
This remarkable garden was made even more so by its founder, Madame Ganna Walska, an Opera singer of intermittent fame, married six times, who purchased the property in 1941. She originally named it Tibetland, in anticipation of the Tibetan monks who were to be invited to study on the estate. When that plan dissolved, she renamed the gardens Lotusland due to the presence and symbolism of this exceptional flowering plant. Before her death in 1984, Madame created her signature masterpiece; converting the swimming pool into a water garden, creating a sanctuary for more than 200 species of Cyads (among the rarest plants on Earth) and erecting 20 themed gardens and filling the estate will sculpture and treasured collections.
It wouldn't be until 1993 that Walska's dream of converting Lotusland into a public garden was realized. Given the estate's location, in the heart of residential Montecito, it took nine years and 64 Santa Barbara County Board of Supervisors meetings to approve the nonprofit garden for public visitation. With that approval came severe restrictions on visitation: today, just 15,000 guests may visit per year as well as 5,000 school children.
"We want to discredit the myth that we are exclusive by design," Anderson says, "Despite its appearance, Lotusland is not affluent. We struggle every year to raise the funds necessary to preserve and share Ganna Walska's vision."
Anderson points out that maintaining a 37-acre garden and property is a massive commitment that requires our community's attention. "For the first 27 years of our operations, we appropriately put the Garden's care and tending above all. Now, the 100 year old buildings and grounds have begun to show their age and need considerable investment."
Her charge is to ensure that the entire property is brought up to the level it deserves for the education and enjoyment of the next generation. Lotusland is more than a beautiful place – it is a porthole to history, an important link in global plant preservation, a center for learning and a refuge for unparalleled spiritual elevation.
"People crave the respite and reset brought by immersing in nature," Anderson says. "Lotusland is an oasis that is healing to body and soul. Its benefits are palpable and its important plant collections are unparalleled. Visit Lotusland and be transported by a botanical nirvana that is tranquil, verdant and lush."
Donate now!
Mission
Lotusland preserves and enhances the unique, historic estate of Madame Ganna Walska, cares for and improves its collections, and develops its conservation and horticulture programs, so they educate us, inspire us, and advance our understanding and appreciation of the importance of plants in our lives and in the life of the planet.
Begin to Build a Relationship
We know you care about where your money goes and how it is used. Connect with this organization's leadership in order to begin to build this important relationship. Your email will be sent directly to this organization's director of development and/or Executive Director.
Madame Ganna Walska has planted seeds of imagination, beauty, spirituality, and growth. I choose to honor my mother and father's legacies through supporting Lotusland.
Help Preserve a Montecito and World Treasure
With Cycads threatened globally, Lotusland is squarely focused on renovating its renowned Cycad Garden and preserving its stunning specimens. Lotusland has had tremendous success in the management of threatened Cycad species. The Cycad Garden recently experienced an Armillaria flare-up and has begun the large undertaking of fungus eradication. This is an extensive project, requiring the removal of plants, triaging diseased specimens, excavating all host material, adding subterranean and surface drainage systems, replacing the soil, and creating new planter beds for improved environmental conditions. This project includes renovating pathways, improving accessibility, and securing plant health within the Cycad Collection for many years to come. When complete, Lotusland Curators will be able to be secure in their work to advance scientific methods to ensure the legacy of these species. The anticipated cost for the remainder of the work in this internationally significant garden is $300,000. Lotusland is at the front line of a worldwide scientific community to save these rarest of plants. 
Your support helps to advance and accelerate this critical work, and ensure Lotusland's participation, prominence, and impact in the global conservation community.
"We are not only a historic site and a legacy garden," Anderson says, "we are at the forefront of sustainable horticulture. This is an exciting moment where historic preservation and conservation works are paramount, and at the same time, we are innovating to use Lotusland as a center to model both horticultural and sustainability excellence."
Help keep this century-old Montecito jewel gleaming for many years to come.
Board of Trustees
David M. Jones, President
Mari Mitchel, Vice President
Lesley Cunningham,
Immediate Past President
Ashley Adelson
Jeanne Anderson
Daniel Bifano
Laura M. Bridley
Merryl Brown
Ron Caird
Geoff Crane
Rachael Douglas
Connie Flowers Pearcy
Anthony Grumbine
Joseph Marek
Jeffrey Romano
Stephen P. Schaible
Mark Schmidt
Wendy Schmidt
Caroline Thompson
Rick Vitelle
Lisa Bjornson Wolf
Crystal Wyatt