Easy Lift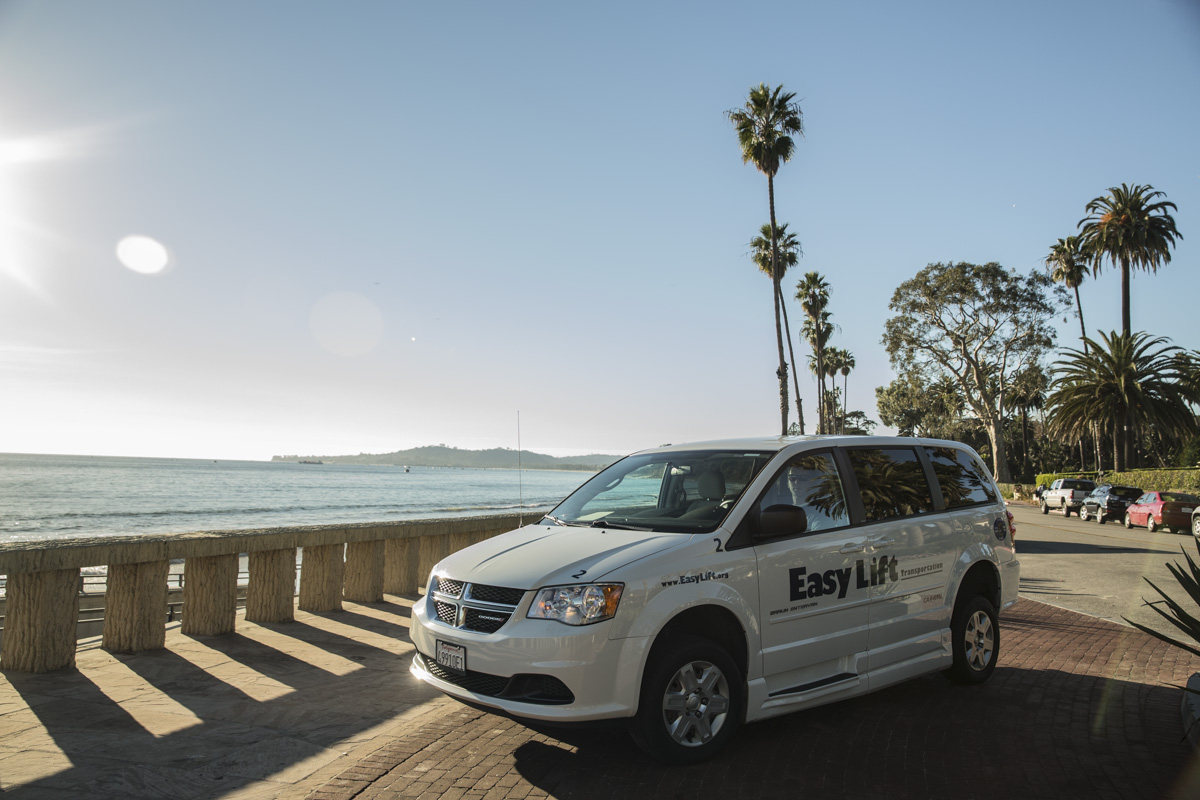 Several years ago, my elderly neighbor gave up driving due to recurring hip injuries and a debilitating autoimmune disease. Sometimes I'd look across our cottage complex and notice a taxi waiting to take her to doctor appointments or grocery shopping – she was old-fashioned enough to not even own a smartphone, so Lyft and Uber were out of the question. Finally, after trading in her walker for a wheelchair, she found out about Easy Lift, the Santa Barbara nonprofit whose mission is to restore some dignity to the disabled through providing mobility.
Now I'd peer out the window to see the nonprofit's easily recognizble Dial-a-Ride vans pulling up to her door, and watch the friendly, always punctual driver lower the mechanical lift and then wheel Rose into the van before making sure she was secure in her seat. Then the van would take her wherever she wanted to go, whether to get medical treatment or pick up prescriptions or even to just go visit a park. The rides cost a mere $7 roundtrip, just a fraction of what two cab rides used to set her back, a godsend on her fixed income as a retiree.
It was one of the things that made life worth living, I remember her telling me. "Stories like that warm my heart," says Ernesto Paredes, Easy Lift's longtime executive director. "It's what has kept me motivated and inspired over all these years because for a lot of people, we are truly their only line of transportation and connection to our community."
Paredes admits he didn't always feel that way, at least not when he first started at the organization back in 1991, 12 years after Easy Lift began operations and just one year after the Americans with Disabilities Act (ADA) went into effect.
"Back then I thought I'd be with this nonprofit for a year to get some experience and then I'll move on to somewhere else," he says. "I thought transportation wasn't sexy, it's not sheltering someone or feeding someone, it's just access. But you don't realize the importance of transportation until you don't have it."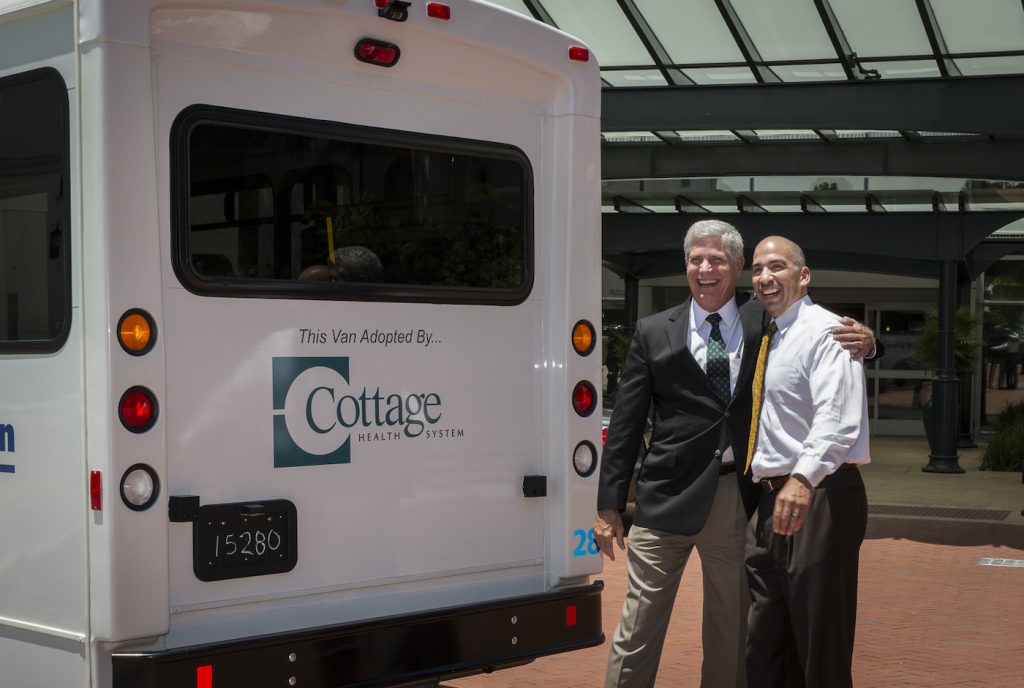 Just think about when you drop off your car at the mechanic for the day and you're dependent on someone else to pick you up and then take you back again, Paredes suggests. "You can really feel helpless, and it's just one day," he says. "That's the way some people feel every single day, like prisoners in their homes unless they have a service like Easy Lift to get them out."
With that principle in mind, Easy Lift has grown to provide, via its fleet of 30 vans, an average of 300 rides a day on demand for the elderly, disabled, and anyone physically or cognitively unable to ride MTD, even temporarily, plus nearly 1,000 rides per month for low-income Medi-Cal residents to travel to and from non-emergency medical appointments through a partnership with CenCal Health.
The ongoing pandemic has put a dent in that demand, of course, anywhere from 40-60 percent depending on restrictions, Paredes said, as the ill and elderly are most vulnerable to suffer serious effects from contracting COVID-19, so voluntary trips have declined drastically. But, Paredes points out, those who require treatment like dialysis can't just postpone it. So the drivers, whom the ED calls the heart of the organization, have stayed true to the task, working diligently to comply with the CDC guidelines for distancing and disinfecting, although, Paredes says, it's almost impossible for them to be six feet apart at all times because they have to secure the wheelchairs to the floorboards.
"We try to prepare them and educate them and give them the proper tool, but they're the ones who put themselves in harm's way," he says. "That just tells you how great our drivers are."
When the pandemic first forced the stay-at-home orders and demand decreased, Paredes also arranged for idle vans to be used to support the Foodbank of Santa Barbara County to transport food from their storage area on Hollister to its locations in North County. Easy Lift also stepped up to take over for HELP of Carpinteria, the all-volunteer nonprofit that provides similar door-to-door transportation service to non-driving residents of that city, because the organization would have had to shut down as most of its drivers were seniors who themselves wanted to shelter at home.
"We spoke to their board and their executive director and offered to continue transporting their seniors free of charge, which we're still doing today," Paredes said. "It's really about looking out for our brother and sister nonprofits because we're all in this together. The pandemic has made a lot of us closer because of what our community members are going through. And it's also given me and my fellow EDs a chance to shift from merely managing our organizations to really leading, look at our business models and see if they're still effective."
That spirit is what drives Paredes to let potential donors know that while his organization can always use more funds – partly because people often mistakenly think that Easy Lift is part of the MTD system, he said – he wants donations to go where they're most required.
"We always need ongoing support, but we're not trying to create a war chest of money," he says. "I'm a community member first. If there are other organizations that need the money more than us, we should help the ones that are really suffering. Just follow your heart." •MJ
Easy Lift
www.easylift.org
(805) 681-1181
Donate now!
easylift.org
(805) 681-1410
Executive Director: Ernesto Paredes
Mission
Easy Lift's mission is to fulfill our community's need for specialized transportation to allow individuals and organizations access to essential programs and services.
Begin to Build a Relationship
We know you care about where your money goes and how it is used. Connect with this organization's leadership in order to begin to build this important relationship. Your email will be sent directly to this organization's director of development and/or Executive Director.
Adopt-a-Van
Whether it's a person living on disability assistance or a retired person surviving on a pension, Easy Lift recognizes that most of its passengers depend on limited fixed income. That's why the organization keeps the cost of a one-way ride through Dial-a-Ride at a very affordable $3.50. The program is subsidized through donations, grants, and public transit contributions.
Easy Lift makes up for budgetary shortfalls via multiple sponsorship opportunities, including its most popular Adopt-a-Van, which provides sponsors "with a full-color rear vehicle wrap on one of our vehicles for a year." As Executive Director Ernesto Paredes says, Adopt-a-Van is "a nice fundraiser that we don't have to go out and hustle and do a big event and all the craziness that comes with it."
Board of Directors
Eric Miller, Board President
Robert Gray, Secretary
Roy McLaughlin, Treasurer
Matthew Dentinger
Dave Johnson
Craig McClellan
Kim Olson