Sanctuary | Lotusland Online Art Sale & Gallery Exhibition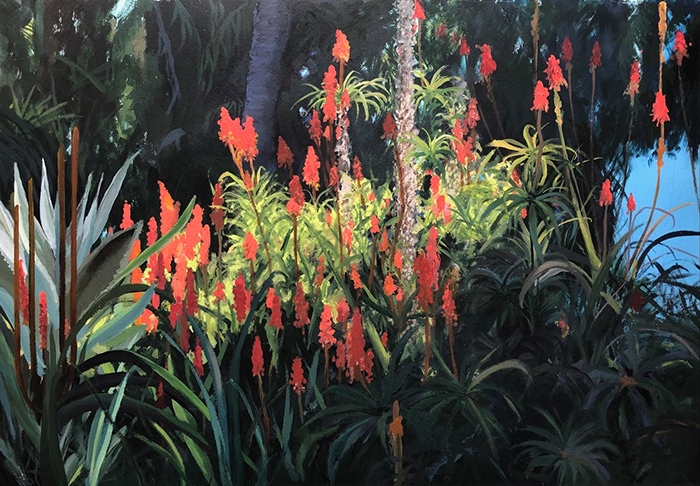 Online Art Sale & Gallery Exhibition launches on Earth Day April 22 through May 3, 2021.
Launching April 22, visit the online show or in person at GraySpace in the Funk Zone GraySpace Gallery, 219 Gray Ave., Santa Barbara, California.
Please visit: www.Lotusland.org/sanctuary/ for more information.
The invitation was sent to 36 local artists to participate. Artists were asked to create new work inspired by Lotusland. Artists were given 3 days to visit the Garden and only 8 weeks to create, capture and complete their muse at Lotusland. Whether it be a specific garden, found materials, or to create in the Garden their piece of work for the show. It was a creative concept and challenge that the artists were craving, especially this year.
Funds raised support sustainable Lotusland's sustainability programs which promote and teach individuals, groups, gardeners, and institutions about the best methods and practices in horticulture, environmental responsibility, and stewardship.
Lotusland Executive Director, Rebecca Anderson says, "In response to the pandemic, and the shortfalls we experienced as a result, we needed to rethink fundraisers. With a desire to connect the community to our mission, we dreamed up this concept for a new benefit event with participating artists from our region. We view this online sale and show as a way to foster connection with Lotusland's supporters, engage and encourage local artists, and sustain the Garden's important sustainability programs."
The artists and show are curated by volunteers Ashley Woods Hollister and Casey Turpin, and the Gallery space is sponsored by Ruth Ellen Hoag and GraySpace Gallery. "We knew this could be a special way for people to bring a piece of the Lotusland sanctuary to their own home," explain Ashley and Casey, co-curators of the exhibition.
Participating artists include:
Paulo Lima,
R. Nelson Parrish Michael Adcock Taiana Giefer
Skip Smith Meredith Brooks Abbott
Phoebe Brunner Robert Abbott Rick Garcia Baret Boisson
Leslie Lewis Sigler Ruth Ellen Hoag
Joan Rosenberg-Dent
Kerrie Smith Michael Haber Lindsey Ross Manjari Sharma Jessica June Avrutin Bobbi Bennett Connie Connally Inga Guzyte
Maria Rendon Cara Bonewitz Lynda Weinman Blakeney Sanford Erika Carter
Cathy Moholm Luis Alberto Velazquez
Sophie Gibbings George Leo Sanders Ro Snell
Olivia Joffrey Lily Hahn Whitney Hansen
Whitney Brooks Abbott Ryan Shand
"The garden is magic, and it has touched my work in a way that will give me endless ideas and new directions for much more time to come!" – Lynda Weinman, Former Lotusland Trustee, and participating artist
"Walking alone through Lotusland on those quiet Monday mornings felt like falling down the rabbit hole into a secret world. It was truly sensory overload at every turn – layers upon layers of colors and textures and smells." – Jessica June Avrutin, participating artist
Ashley Woods Hollister has long supported local artists through her work with Art from Scrap and as the former director of the Morris Squire Foundation. Casey Turpin is an avid volunteer in the Insectary Garden at Lotusland, and both are passionate about showcasing Lotusland's beauty and science through the eyes of a local artist community.
Lotusland is a precious outdoor space for the Santa Barbara community. Proceeds from this event keep the Garden growing, and remains a source of beauty and respite for visitors.
The artists' contributions advance Lotusland's mission to inspire and inform the public about protecting, conserving, and renewing nature and its precious resources.
"Through the Sanctuary Art Sale and Exhibition, our goal is to contribute to the success of Lotusland's horticultural care, as well as providing education to others about best practices and philosophies to support sustainability. We feel very lucky and excited to be a part of this wonderfully creative process." – Ashley Woods Hollister & Casey Turpin, Art Curators for Sanctuary
For more information, please Contact: Kerstin Olson Horneman, Event Manager, Ganna Walska Lotusland
khorneman@lotusland.org 805.969.3767 (130)
Donate now!
Mission
Lotusland preserves and enhances the unique, historic estate of Madame Ganna Walska, cares for and improves its collections, and develops its conservation and horticulture programs, so they educate us, inspire us, and advance our understanding and appreciation of the importance of plants in our lives and in the life of the planet.
Begin to Build a Relationship
We know you care about where your money goes and how it is used. Connect with this organization's leadership in order to begin to build this important relationship. Your email will be sent directly to this organization's director of development and/or Executive Director.
Madame Ganna Walska has planted seeds of imagination, beauty, spirituality, and growth. I choose to honor my mother and father's legacies through supporting Lotusland.
Help Preserve a Montecito and World Treasure
With Cycads threatened globally, Lotusland is squarely focused on renovating its renowned Cycad Garden and preserving its stunning specimens. Lotusland has had tremendous success in the management of threatened Cycad species. The Cycad Garden recently experienced an Armillaria flare-up and has begun the large undertaking of fungus eradication. This is an extensive project, requiring the removal of plants, triaging diseased specimens, excavating all host material, adding subterranean and surface drainage systems, replacing the soil, and creating new planter beds for improved environmental conditions. This project includes renovating pathways, improving accessibility, and securing plant health within the Cycad Collection for many years to come. When complete, Lotusland Curators will be able to be secure in their work to advance scientific methods to ensure the legacy of these species. The anticipated cost for the remainder of the work in this internationally significant garden is $300,000. Lotusland is at the front line of a worldwide scientific community to save these rarest of plants. 
Your support helps to advance and accelerate this critical work, and ensure Lotusland's participation, prominence, and impact in the global conservation community.
"We are not only a historic site and a legacy garden," Anderson says, "we are at the forefront of sustainable horticulture. This is an exciting moment where historic preservation and conservation works are paramount, and at the same time, we are innovating to use Lotusland as a center to model both horticultural and sustainability excellence."
Help keep this century-old Montecito jewel gleaming for many years to come.
Board of Trustees
David M. Jones, President
Mari Mitchel, Vice President
Lesley Cunningham,
Immediate Past President
Ashley Adelson
Jeanne Anderson
Daniel Bifano
Laura M. Bridley
Merryl Brown
Ron Caird
Geoff Crane
Rachael Douglas
Connie Flowers Pearcy
Anthony Grumbine
Joseph Marek
Jeffrey Romano
Stephen P. Schaible
Mark Schmidt
Wendy Schmidt
Caroline Thompson
Rick Vitelle
Lisa Bjornson Wolf
Crystal Wyatt