June Means it's Poker Run Time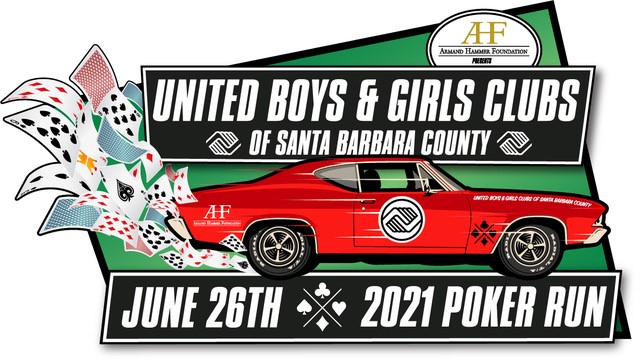 United Boys & Girls Clubs is excited to announce our summer event for our car enthusiasts, a Poker Run! Don't worry, though. Our Rally 4 Kids will be back in April of 2022.
Rev your engine for this year's goal to raise $120,000 during the Poker Run that will support the membership fee for an entire year for 100 youth at all seven locations. With your help, we can ensure no child is ever turned away and provide mentoring, sports clinics, and academic support to more youth throughout Santa Barbara County. While our services cost an average of $1,200 a year, our membership fees are only $40 per child annually. Your support is crucial to ensuring our fees remain affordable for families in need. With your support, we can continue to provide these opportunities.
Poker Run will be on Saturday, June 26, 2021. You can pay through credit card by using the link or by check. Go to https://ubgc.ejoinme.org/MyEvents/2021PokerRun/Registration to register and learn more.
Mission
The United Boys & Girls Clubs of Santa Barbara County believes that every kid deserves a great future, and provides the stepping stones that put every kid on the path to unlocking their potential.
Begin to Build a Relationship
We know you care about where your money goes and how it is used. Connect with this organization's leadership in order to begin to build this important relationship. Your email will be sent directly to this organization's Director of Development and/or Executive Director.
Uniting Makes Us Stronger
"Having the word 'United' in their name is highly appropriate and deserving of United Boys & Girls Clubs of Santa Barbara County! The 11 clubs located throughout the county are quick to react to issues and support solutions affecting club members and their families.
Uniting is what has always made us stronger. United Boys & Girls Clubs teaches our children that uniting behind strong character, academic success and supporting each other in these goals results in a safe and healthy community.
I am a proud alumni of our local Boys & Girls Clubs!"
Ever More Efficient
Now truly united, the United Boys & Girls Clubs of Santa Barbara are bent on ensuring that every dollar given is spent directly on programs and the young people engaged in them.
To get there, they need your help, and as with their merger have a clear plan. The organization needs to build a $5 million endowment, which the annual earnings would underwrite the entire organizational administrative cost annually so that 100% of any donation made would go directly into program services.
Please reach out to Laurie Leis directly at (805) 681-1315.
Board of Directors
Tony Vallejo, President
David Bolton, Vice President
Louise Cruz, Treasurer
David Beard, Secretary
Carol Del Ciello
David Edelman
Melissa Gough
Rondi Guthrie
Mike Lopez
Chris Lueck
Dave Messner
Tino Munoz
Clay Murdy
Pete Muzinich
Jeff Omdahl
Eloy Ortega
John Petote
Javier Quezada
Rich Ridgway
Ben Scott
Angel Sugleris
Jim Turner