Building Love at Lotusland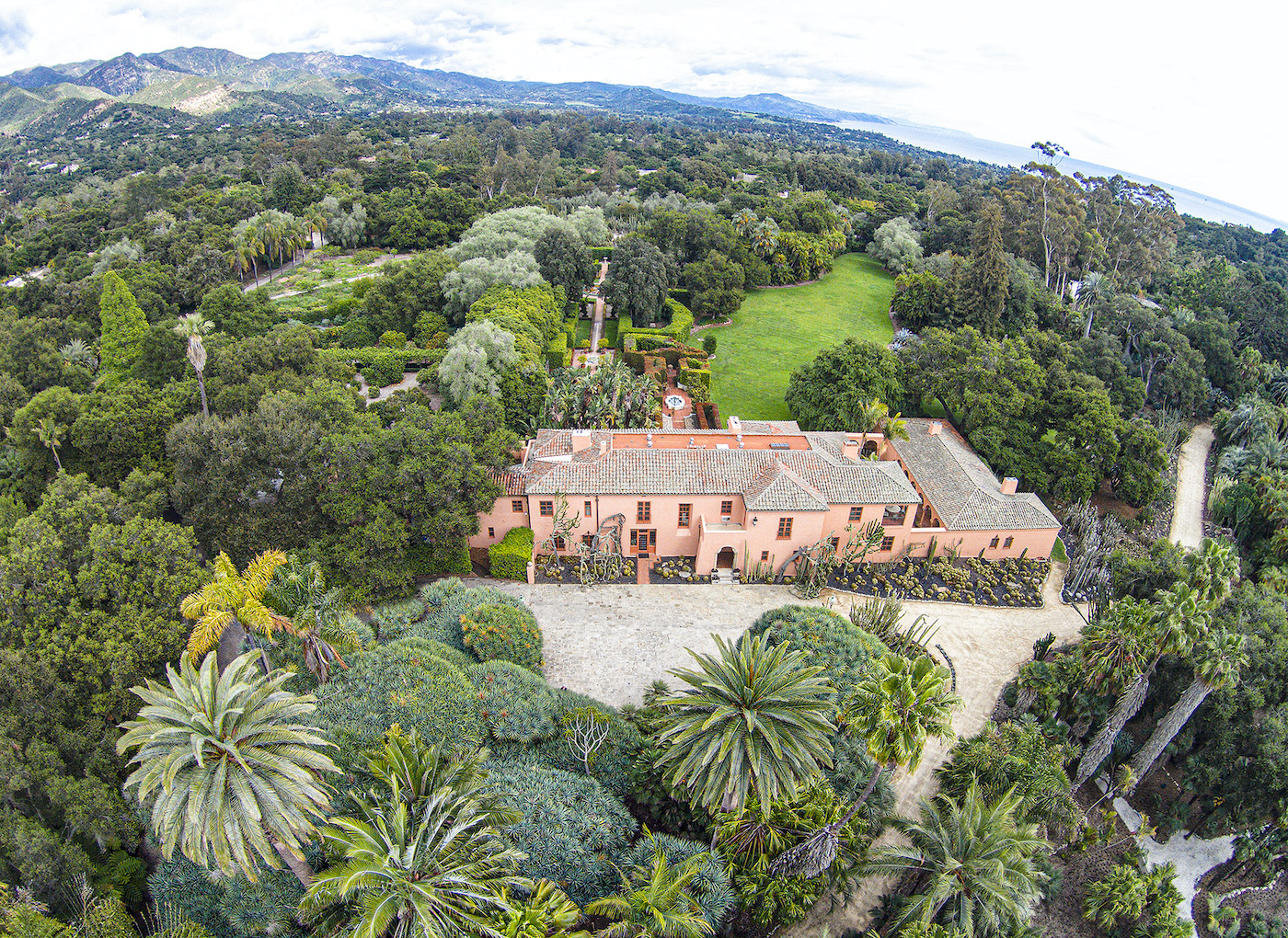 Anyone who's visited Lotusland over the past quarter-century knows that the gorgeous botanical garden in the Montecito foothills boasts 37 acres of natural wonder that encompass more than 20 distinct gardens and exhibitions. Most folks who have walked the grounds are aware of how Lotusland remains a personal expression of its former owner, the opera singer and spiritual seeker Madame Ganna Walska, penchant for the dramatic, the unexpected, and the whimsical in spaces that range from towering forests to gentle ponds to lush cacti to rare flowers — after all, the official name of the place still bears her name.
People are likely also cognizant of the differences between Lotusland and the Santa Barbara Botanic Garden, not in the least of which is that the former specializes in native plants while the Montecito spread cultivates exotic species from all around the world.
But people may not be aware of the nearly 60 years that the property was a different sort of nature preserve even before Walska waltzed in to swoop up the place in 1941.
"The Ganna Walska story is, of course, a huge part of what we are and why we're here," said Rebecca Anderson, Lotusland's executive director. "But there's also lots of interesting information that dates back to before her time, and the property has a very rich history, a very long history of growing things, including that the exotic plants we see and love today date back, many of them, to the 1880s when this was all a nursery."
Indeed, it was 1882 when Ralph Kinton Stevens purchased the private estate to house his home and a commercial nursery that he named Tanglewood.
"We have seed catalogs from then that show some of the incredible things he was experimenting with during that time," Anderson said. "He was part of a group of plantsmen who would try to grow new things on the land, trading seeds with each other and the ship merchants coming into the Harbor."
There's also the short span when the present-day Lotusland served as a guest ranch and a private school; the brief period that the property was owned by George Owen Knapp, the president of Union Carbide who three years later unloaded it when he built Knapp's Castle in the Santa Ynez Mountains; and the 23 years that it was co-owned by New Yorkers E. Palmer and Marie Gavit, who soon hired famed architect George Washington Smith to construct a perimeter wall, pavilion, stable, swimming pool, bathhouse, and several other outbuildings.
That latter part — the buildings on the property — has a lot of Anderson's attention at the moment. That's because they're very much in need of attention themselves as upkeep and renovation have taken a backseat to taking care of the gardens.
The timeline since Lotusland Foundation was created shows the repairing of walking paths, remedying of cycad fungal infections and root rot, designing the Australian garden, restoring the topiary garden, creating planting beds for cacti, and renovating the water stairs and the Lower Bromeliad, Insectary, and Japanese gardens. But there's barely a mention of building maintenance — which isn't as glamorous as the gardens and lotus plants, but vital nonetheless to Lotusland's operations.
"One of our current goals is to give the beautiful buildings on the property the much-needed attention and investment because they really are showing their age and kind of failing in our need for their functionality," Anderson explained.
To that end, Lotusland commissioned a reserve study, which looked at all the buildings on the property and the entirety of the infrastructure and came up with a $7 million figure in what might be called deferred maintenance, or as Anderson preferred to put it, "needed investments."
"We didn't do this before because the focus was on the gardens all this time," she said. "What's wonderful about this moment in time is that the garden is thriving. It's been beautifully cared for and stewarded. But now that the gardens are really where we need them to be and don't need as much attention, we're turning our gaze to the property and the buildings."
Anderson stressed that the structures themselves are also timeless works of art, not meaningless buildings.
"They're really treasures and examples of pristine architecture from an era that's celebrated and replicated all over town," she said, name-checking the Spanish colonial revival home designed by Reginald Johnson (who also designed the downtown Post Office) that serves as Lotusland's offices and the George Washington Smith-designed water bath house and abalone-lined pond among others. "We're so fortunate to have these incredible specimen buildings along with our specimen plants to preserve."
Bringing the infrastructure up to the gardens' level of care is the goal, Anderson said.
"The living collections and the non-living collections — the tile, the grotesques in the theater garden, the sculptures — we need to conserve all of those things to maintain the really exceptional experience that visitors have when they come here."
Also behind the scenes is such programs as seed propagation and preservation in hopes of repatriating them to their countries of origin — including of a South African cycad that's extinct in the wild — and serving as a spiritual sanctuary that came into prominence when Lotusland was allowed to stay open as an essential service during the height of the pandemic.
All of that takes funding, of course, and visitors to Lotusland may also not be aware of how the nonprofit finances work. While abundance abuts the space in the Montecito foothills on all sides, Lotusland itself is still somewhat struggling to make ends meet, due not in the least to the restriction to just 15,000 visitors every year, compared to, say, the Santa Barbara Zoo's 500,000.
"There's this idea that we're affluent because the gardens are big and in Montecito," Anderson said. "But the truth is that while we do have wonderful numbers of supporters, we are still a small grassroots organization, one that's only 28 years old. There's been a number of champions along the way, and we wouldn't be here without our community volunteers and supporters. And we won't be here in the future without more like-minded people who are devoted to this beautiful place."
Lotusland's website is www.lotusland.org. Call Rebecca Anderson at (805) 969-3768 ext. 104.
Donate now!
Mission
Lotusland preserves and enhances the unique, historic estate of Madame Ganna Walska, cares for and improves its collections, and develops its conservation and horticulture programs, so they educate us, inspire us, and advance our understanding and appreciation of the importance of plants in our lives and in the life of the planet.
Begin to Build a Relationship
We know you care about where your money goes and how it is used. Connect with this organization's leadership in order to begin to build this important relationship. Your email will be sent directly to this organization's director of development and/or Executive Director.
Madame Ganna Walska has planted seeds of imagination, beauty, spirituality, and growth. I choose to honor my mother and father's legacies through supporting Lotusland.
Help Preserve a Montecito and World Treasure
With Cycads threatened globally, Lotusland is squarely focused on renovating its renowned Cycad Garden and preserving its stunning specimens. Lotusland has had tremendous success in the management of threatened Cycad species. The Cycad Garden recently experienced an Armillaria flare-up and has begun the large undertaking of fungus eradication. This is an extensive project, requiring the removal of plants, triaging diseased specimens, excavating all host material, adding subterranean and surface drainage systems, replacing the soil, and creating new planter beds for improved environmental conditions. This project includes renovating pathways, improving accessibility, and securing plant health within the Cycad Collection for many years to come. When complete, Lotusland Curators will be able to be secure in their work to advance scientific methods to ensure the legacy of these species. The anticipated cost for the remainder of the work in this internationally significant garden is $300,000. Lotusland is at the front line of a worldwide scientific community to save these rarest of plants. 
Your support helps to advance and accelerate this critical work, and ensure Lotusland's participation, prominence, and impact in the global conservation community.
"We are not only a historic site and a legacy garden," Anderson says, "we are at the forefront of sustainable horticulture. This is an exciting moment where historic preservation and conservation works are paramount, and at the same time, we are innovating to use Lotusland as a center to model both horticultural and sustainability excellence."
Help keep this century-old Montecito jewel gleaming for many years to come.
Board of Trustees
David M. Jones, President
Mari Mitchel, Vice President
Lesley Cunningham,
Immediate Past President
Ashley Adelson
Jeanne Anderson
Daniel Bifano
Laura M. Bridley
Merryl Brown
Ron Caird
Geoff Crane
Rachael Douglas
Connie Flowers Pearcy
Anthony Grumbine
Joseph Marek
Jeffrey Romano
Stephen P. Schaible
Mark Schmidt
Wendy Schmidt
Caroline Thompson
Rick Vitelle
Lisa Bjornson Wolf
Crystal Wyatt