Preserve a Community Treasure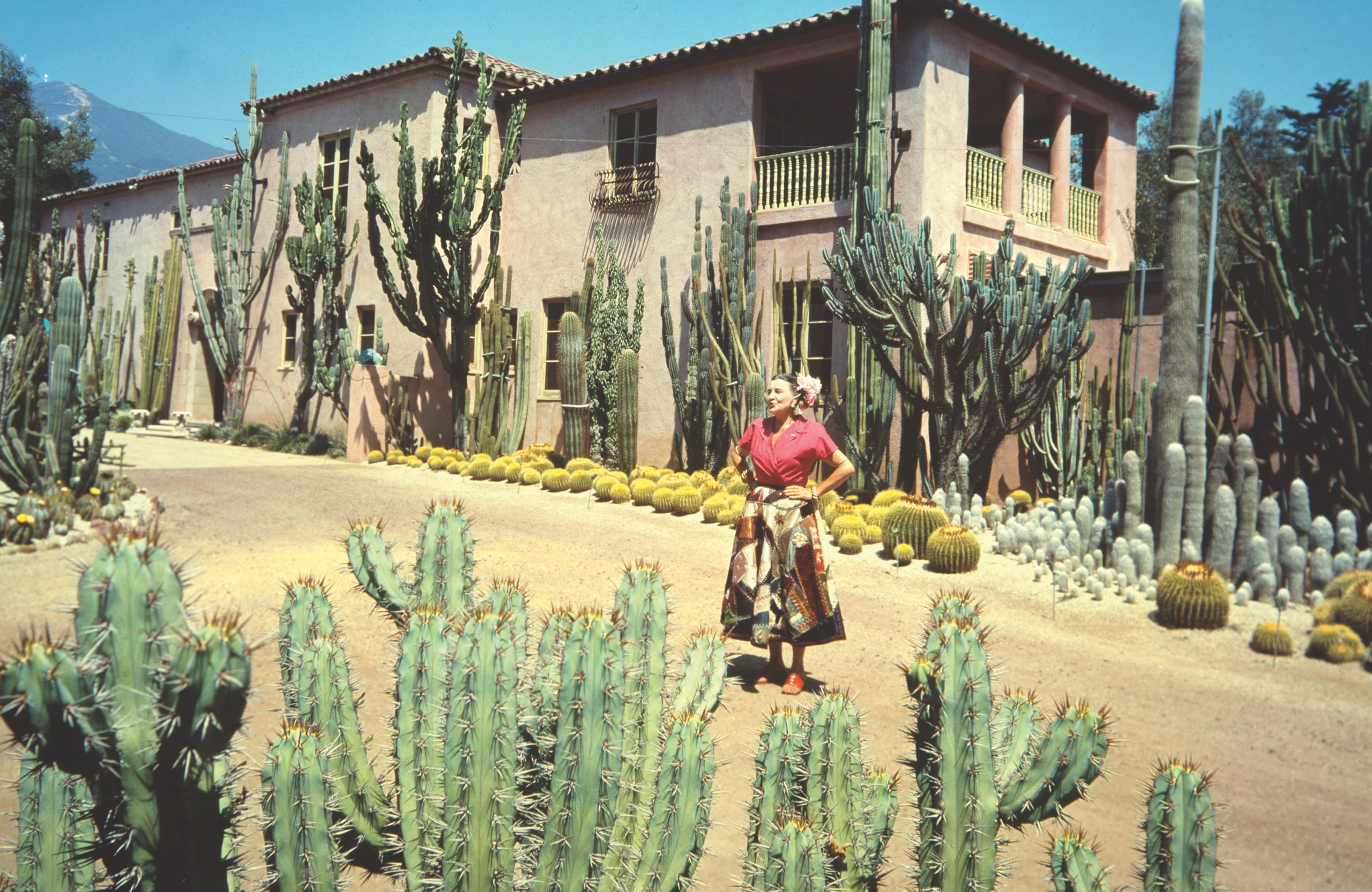 Polish opera singer and socialite Madame Ganna Walska led a life that was as colorful and flamboyant as the 3,500 species of plants that occupy her 37-acre botanic garden, known as Lotusland. This independent woman lavished all her energy and resources — even selling her dazzling jewelry collection – to help fund the garden she loved and helped to create.
Madame Walska's life and gardens are so spectacular, one might easily overlook the historical and architecturally significant buildings on the property. The Main House, a Mediterranean-style mansion, was designed by Pasadena architect Reginald Johnson, whose other noteworthy local buildings include the Biltmore Hotel, the Music Academy of the West (Miraflores), the Huguette Clark estate, and Santa Barbara's Downtown Post Office. In the 1920s, Montecito architect George Washington Smith was commissioned to add multiple Spanish Colonial Revival flourishes to the property, including enlarging the dining room, adding a garage, separate pavilion,  swimming pool with a small bathhouse, and a large horse stable that Madame later converted into her music studio. "These buildings are full of character and history. Lotusland's entire estate is truly an architectural gem." says Executive Director Rebecca Anderson.
Since the garden opened in 1993, most of its restoration projects have been to conserve and enhance the gardens. As Lotusland is charged with preserving the property, its structures, and the collections — both living and non-living, its work must extend to encompass the buildings. Regular repairs maintain the property and the long-range plan requires more substantial funds to restore structures that are more than a century old. The first priority for restoration is the George Washington Smith-designed pavilion. Today it provides a multi-purpose space suitable for exhibitions, non-living collections storage, and a home to special events.
Lotusland is developing a ten-year master plan for its buildings and grounds, and a group of dedicated community members have joined together to spearhead its realization. To learn more and contribute, contact Lotusland at (805) 969-3767. Donations are gratefully received.
Donate now!
Mission
Lotusland preserves and enhances the unique, historic estate of Madame Ganna Walska, cares for and improves its collections, and develops its conservation and horticulture programs, so they educate us, inspire us, and advance our understanding and appreciation of the importance of plants in our lives and in the life of the planet.
Begin to Build a Relationship
We know you care about where your money goes and how it is used. Connect with this organization's leadership in order to begin to build this important relationship. Your email will be sent directly to this organization's director of development and/or Executive Director.
Madame Ganna Walska has planted seeds of imagination, beauty, spirituality, and growth. I choose to honor my mother and father's legacies through supporting Lotusland.
Help Preserve a Montecito and World Treasure
With Cycads threatened globally, Lotusland is squarely focused on renovating its renowned Cycad Garden and preserving its stunning specimens. Lotusland has had tremendous success in the management of threatened Cycad species. The Cycad Garden recently experienced an Armillaria flare-up and has begun the large undertaking of fungus eradication. This is an extensive project, requiring the removal of plants, triaging diseased specimens, excavating all host material, adding subterranean and surface drainage systems, replacing the soil, and creating new planter beds for improved environmental conditions. This project includes renovating pathways, improving accessibility, and securing plant health within the Cycad Collection for many years to come. When complete, Lotusland Curators will be able to be secure in their work to advance scientific methods to ensure the legacy of these species. The anticipated cost for the remainder of the work in this internationally significant garden is $300,000. Lotusland is at the front line of a worldwide scientific community to save these rarest of plants. 
Your support helps to advance and accelerate this critical work, and ensure Lotusland's participation, prominence, and impact in the global conservation community.
"We are not only a historic site and a legacy garden," Anderson says, "we are at the forefront of sustainable horticulture. This is an exciting moment where historic preservation and conservation works are paramount, and at the same time, we are innovating to use Lotusland as a center to model both horticultural and sustainability excellence."
Help keep this century-old Montecito jewel gleaming for many years to come.
Board of Trustees
David M. Jones, President
Mari Mitchel, Vice President
Lesley Cunningham,
Immediate Past President
Ashley Adelson
Jeanne Anderson
Daniel Bifano
Laura M. Bridley
Merryl Brown
Ron Caird
Geoff Crane
Rachael Douglas
Connie Flowers Pearcy
Anthony Grumbine
Joseph Marek
Jeffrey Romano
Stephen P. Schaible
Mark Schmidt
Wendy Schmidt
Caroline Thompson
Rick Vitelle
Lisa Bjornson Wolf
Crystal Wyatt